A very warm welcome to our Year 6 class page. Year 6 is a hard year, but a memorable one. The children are our oldest pupils and they are therefore expected to be role models to the rest of the school. It is our intention that the children's experiences will stay with them and they will be able to look back at their time at Christ Church with fond, happy and special memories.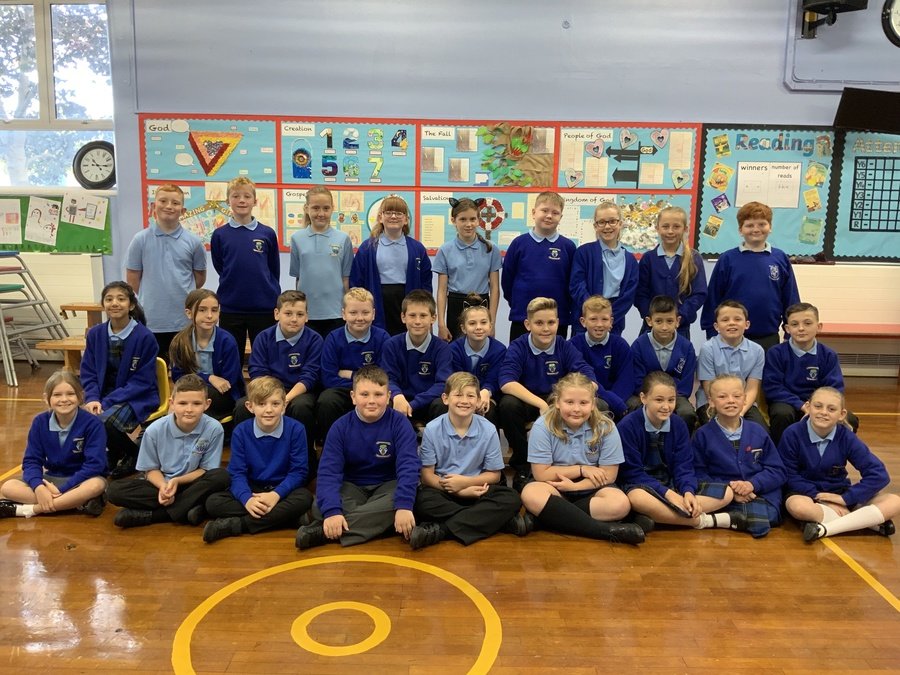 Our Year 6 Class 2019-2020
Class Information
Who's Who?
Mr Hudson- Year 6 teacher
Mrs Rowland- Teaching Assistant
Mr Southern -Pastoral Manager

Homework
Homework will be set on a Friday and should be handed in on a Wednesday. There will generally be Literacy and Numeracy work and, on occasions, topic work. In addition, they will also have spelling homework from their spelling work in class and written work. Children are encouraged to ensure that their homework is completed to a high standard and we ask parents to support us with this.
Reading
Whilst most children now are independent readers, reading at home is still crucial. Children should read for 15 minutes each night - this could be their home reader or a book of their own choice. This will be more productive if it is carried out in a calm, quiet environment. Parents/ carers are encouraged to comment in Seesaw under the picture of the reading books to acknowledge this please. Every Friday a class is chosen with the best effort in reading at home.
P.E.
P.E. lessons take place on a Monday and Friday. All children are expected to take part in a full P.E. kit and trainers/pumps. Earrings can be worn at school but, for health and safety reasons, they are not allowed during P.E.
This half term.... Autumn 2 (Oct-Dec 2019)
Over the next half term our topic will continue to be The Ancient Greeks

We will continue with this history unit before embarking on another unit later on in the term, where we will be learning all about Russia, demonstrating a range of different geographical skills. The children have already covered an awful lot with regards to the Ancient Greeks, but we'd like to learn more about Greek myths, the Gods and Goddesses that we encounter, and there will be diary entries completed from the perspective of a Greek or Trojan based on the Trojan War.
In Literacy we will begin the term by looking closely at biography writing. Throughout this unit of work the children will learning to:
Identify features of a biographical text.

sequence events in chronological order, using conjunctions, adverbials and prepositions of time.

Use correct pronouns and tense for the purpose of biography writing.

Identify passive and active voice.

Reference and demonstrate the writing skills learnt to write a biography.
There will be a number of different genres covered with links being made with the wider curriculum as we will write a letter to the headteacher to request absence from school for a pilgrimage. We will continue to explore and embed different sentence types, focusing on selecting the right sentence type for the particular genre of writing. Children will be encouraged to edit their writing by re-reading and re-drafting, fine tuning their language choice and punctuation. Grammar work will continue and will be taught through writing and also in a standalone weekly grammar lesson. Spelling continues with our new scheme; this half term we will continue look at the statutory spellings for Year 6. Don't forget also to log in to Reading Plus - our personalised reading intervention!
In Mathematics we will be really concentrating on developing out reasoning skills to explain our mathematical thinking. We shall complete the final written method of calculation, division, which is always the trickiest, trying to master the 'bus shelter' method. In addition, we shall look at: common factors, common multiples, primes numbers, square numbers, cube numbers and BIDMAS which is the order of operations. In the latter part of the term, we shall begin to look at fractions, decimals and percentages and make links between them. We will try to develop a 'sense of number' in regards to these and learn how to add, subtract, times and divide these. Fractions, decimals and percentages are a major part of the Year 6 curriculum and they are tested in both the arithmetic and the reasoning papers. Times table facts are crucial for this work, so it is vital that the children continue to work on TTRockstars at home.
In Science our topic is Electricity. We will work scientifically and use enquiry skills with the children learning to:
Explain how our understanding of electricity has changed over time.

Draw circuit diagrams using the correct symbols and label the voltage correctly.

Decide which variables to control while planning an investigation.

Decide how to report their findings.

Make new predictions based on the previous results.

Select an appropriate scientific enquiry.
RE - We will continue to look as Life as a Journey and explore pilgrimage for Christians considering:
Why do people go on a pilgrimage?

Does a pilgrimage have to be to a place of worship?
We will also carry out in depth study on pilgrimage for Muslims and in particular the Hajj.
In the run up to Christmas, we will look at Advent and we will be considering:
What is Advent?

When is Advent?

Why is Advent a time of preparation?

What is being prepared for during Advent?
In PE we look forward to having the opportunity to represent school in an inter-school Basketball tournament. The children have been working really hard in the PE sessions, learning and developing new skills such as dribbling, defending, shooting, passing and footwork. We can't wait to start our new dodgeball topic as this is always a firm favourite with the children, this will be our outdoor PE session. For our indoor PE session the children will be doing gymnastics, where they will be working on the following outcomes:
Hold controlled balances on a variety of body parts.

Hold a range of symmetrical and asymmetrical balances at different levels

Perform various counter balances and link balances with movements in a sequence.

perform a sequence in canon at different levels linking asymmetrical counter balances and transitional moves.
Computing - We are app planners
Throughout this unit of work the children will learn the following:
• Develop an awareness of the capabilities of smartphone and tablets
• Understand geolocation, including GPS.
• Identify interesting, solvable problems.
• Evaluate competing products.
• Pitch a proposal for a smartphone or tablet app.
Heartsmart- Don't forget to let Love In
You're important, you matter, you're one in a million and above all you're loved. These are messages that we all need to hear, believe and remember – because sometimes we forget. The healthier our internal dialogue, the greater our sense of worth which is the cornerstone of character and resilience. How kind are the thoughts we listen to? How patient are we with ourselves? How often do we find ourselves listening to the Scrapman?
Don't Forget to Let Love In helps us grow in self compassion. You'll notice we don't shy away from using the word love. It's a big deal. Without it we're no one, but no one is without it. The ability to receive or reject it in our lives defines us. Our actions, beliefs and very essence is shaped by our experience of it. Our hearts are made strong because of it. So in partnering with love, we partner with a strength that's stronger than any challenge life might throw at us. Although it can be a challenge to receive it, love never fails. Don't Forget to Let Love In!
Visit the website www.heartsmartprimary.com for more information on what Heartsmart is all about.
Music- The children are continuing to develop their ensemble skills (performing with others) through the performance of folk music from England and West Africa. They will compose and perform rhythmic accompaniments to contrasting songs and will learn to play a variety of complex rhythm patterns using percussion instruments. They will also be performing multiple parts within an ensemble, showing awareness of other performers.
French - Our first unit of French, 'Moi et ma famille' (Me and my family) has got off to a promising start! We have spent a lot of time on phonetical work, grasping the French alphabet and revisiting previous learning. We've also made some progress with early vocabulary learning (focusing on how to greet each other and introduce ourselves), and hope next half-term to complete this unit with a look at how we can add detail to these introductions!) Work with possessive adjectives (mon and ma) alongside work on talking about who is in our family in French, will hopefully keep us busy and allow us to even take a look at Christmas traditions in France!
Dates for your Diary:
School Book Fair: Starts Monday 28th October
Closing date for High School Applications: Thursday 31st October
Remembrance Service in Church: Friday 8th November
Children in Need: Friday 15th November
Christmas Bingo: Friday 28th November
Statutory Measuring of Heights and Weights: Tuesday 3rd December
Nasal Flu Immunisations: Wednesday 4th December
Christmas Fayre: Friday 6th December
Cinema Trip: Monday 16th December
Junior Christmas Party: Wednesday 18th December
Junior Carol Service: Thursday 19th December
NEWS!
Oh we have worked really hard this half term! There has been lots of fabulous work produced, plenty of effort and not forgetting the adventures of Robinwood! We started the new school year by going over expectations in Y6 and the children understand what an important year ahead they have, they are the oldest in school and with that comes greater responsibility :)
We have had lots of amazing experiences already, the highlight of which has to be Robinwood! The children were a credit to themselves, their families and our school family. Many of the children faced real fears head on and we were so proud to see their determination and self belief develop. The staff at Robinwood spoke so very highly of all our children: we could have burst with pride! Do take time to look at the pictures on the Outdoor Learning tab in the Curriculum section of the website.
We've been working hard on our Literacy and Numeracy skills, but there is still a way to go given the requirements and demands of the new curriculum. Written methods are coming along nicely and these will stand the children in good stead for the Arithmetic test and problem solving. Place value work and addition, subtraction and multiplication skills are pleasing and the children's resilience to problem solving is getting better. In Literacy, the children used David Guetta's video 'Titanium' as a writing stimulus to complete a number of different written activities: report writing, setting descriptions and diary entries. The resulting work that was produced was truly deserving of Year 6 status. We've enjoyed reading 'Who let the Gods out', a story which has fitted in nicely with our topic work on Ancient Greece, and allowed us to further develop our VIPERS reading skills. We didn't manage to finish the book, so this will be a priority next half term.
Writing has shown promise, especially the diary entries, and the children all have targets to work on. As always, we're trying to master the non-negotiables, but we do still see missing full stops and capital letters. Reading Plus, our online reading program, is in full swing and it is pleasing to see children unlocking new levels.
The children have loved the Light topic in Science, planning and carrying out investigations related to reflection and refraction. The children have been able to understand that light travels in straight lines from light sources to our eyes and been able to investigate how a prism changes a ray of light to show the spectrum.
We have been amazed with the children's art skills - their Ancient Greek vases were wonderful, and are proudly displayed on our topic working wall. The children continue their DT work - creating Greek sandals, and the project is developing nicely!
In Music, the children learnt to perform together in an ensemble and make musical decisions in order to refine their performance work. They also learnt about musical structure and arranged a set of complex rhythms into a group 'body percussion' composition that featured contrasts in tempo (speed) and dynamics (volume). Finally they used traditional musical notation to record their ideas.
On our final week of term, we learned all about what to expect as we approach puberty with a visit from HH Kids team. As ever, the children listened intently, with a few giggles and 'oohs' along the way! Finally, as part of Mental Health Awareness Week, we discussed what the term actually means, and potential triggers that can effect our own mental health. The children were really sensitive and thoughtful in their responses, and created some lovely artwork which was displayed to the rest of the school.
So, all in all, a very busy first half term - there's more hard work on the way, but we'll definitely rise to the challenge!