A very warm welcome to our Year 4 class page. In Year 4 we are looking forward to the challenges ahead as the children are now fully settled into KS2. During this year the children will be encouraged to be proactive in their independent learning as well as building good relationships in order to work effectively as teams. The children will be nurtured and encouraged to work alongside others in a variety of contexts with a focus on problem solving, research and sharing ideas.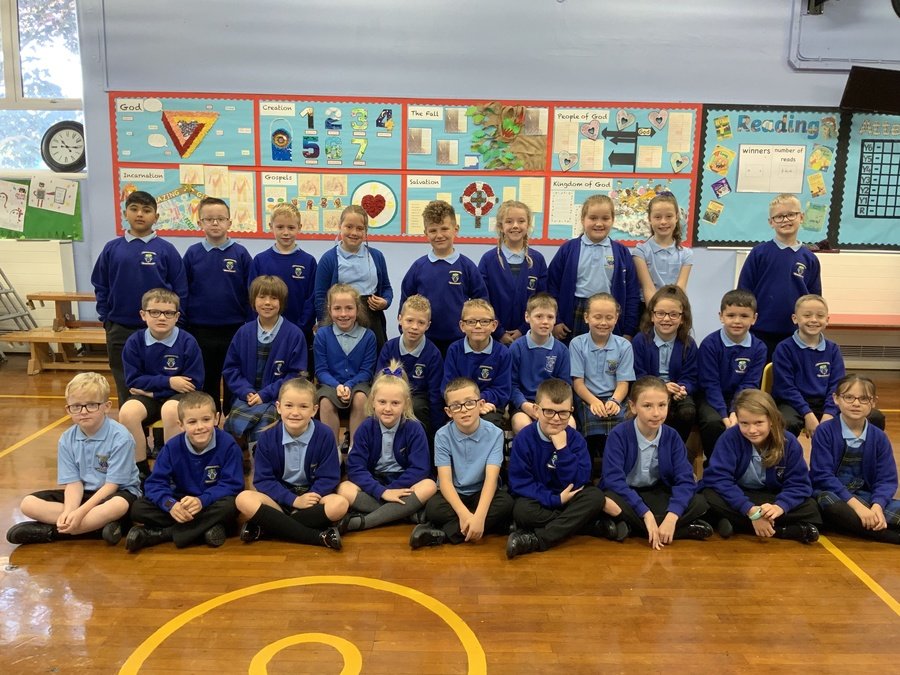 Our Year 4 Class 2019-2020
Class Information
Who's Who
Mrs Monaghan- Year 4 teacher
Mrs Jones- Teaching Assistant
Miss German- Teaching Assistant
P.E takes place on Tuesdays (Indoor PE) and Fridays (Outdoor PE). The children must have their full kits in school for these lessons so that they can take part.
Homework will be given out each Friday. This is to be completed by the following Wednesday.
Reading is encouraged both in school but also at home. Reading for enjoyment is as important as reading to learn. The classroom has a comfortable reading area as well as a listening station for audio books to help the children to learn about expression and tone when reading. The children are also encouraged to use the library and to choose books that they enjoy.
It is important that the children read a range of books/comics/newspapers at home and develop their comprehension skills and vocabulary. This will help consolidate the reading work we will be doing in class. In Year 4, we feel it is important for the children to develop a love of reading as this gives their 'imagination wings'.
We will be introducing Spelling Shed this year and the children will be encouraged to use this at home as well as in school. The children will also be bringing home a list of the Year 3/4 words they are still not sure how to spell. Please practise these at home(little and often).
In Year 4, the children have the fantastic opportunity to learn to play the guitar. Each child will be given their own guitar for the year so they can practise at home. They will need to bring their guitar to school every Thursday as the whole class have a lesson on Thursday afternoon. A guitar teacher from Wigan Music Service teaches these sessions. At the end of the school year all the children have the experience of performing in a concert.
This half term.... Autumn 2 (Oct-Dec 2019)
We will be continuing with our Class reader 'Charlie and the Chocolate Factory.' By Roald Dahl
'Charlie Bucket loves CHOCOLATE and Mr Wonka , the most wondrous inventor in the world, is opening the gates of his amazing chocolate factory to five lucky children. It's the prize of a lifetime! Gobstoppers, wriggle sweets and a river of melted chocolate delight await. Charlie needs just one Golden Ticket and these delicious treats could all be his.
We will also be continuing to develop our comprehension skills and thinking carefully about our reading VIPERS (vocabulary, infer, predict, explain, retrieve, sequence or summarise) It is important that the children continue to read at home and develop their comprehension skills and vocabulary. This will help consolidate the reading work we will be doing in class.
In English we will continue our writing work based around our class reader. The children will be writing to entertain and producing their own chapter 15, which will include their very own golden ticket winner. We will be thinking carefully about the use of dialogue in stories and how it is used to convey character or move the action on. We we also be looking at war poetry and the book 'Where the Poppies Grow' when we reflect on Remembrance.
After this we will be starting our non-fiction writing unit based around the theme of animals. The children will have the opportunity to learn about the structure and layout of information texts and non-chronological reports as well as researching and producing their own piece of information writing (Writing to inform). After this we will move on to explanation texts. This will be a new genre of writing for the children and can be tricky at first. We will be linking this work with our Science work on the digestive system. We will finish the term off by creating our own Christmas poetry.
Non-Negotiables for Y4:
Capital letters for the start of sentences, 'I' and all proper nouns.
Example: Can I go to London this weekend?
Spell of and off correctly.
Example: The BFG ran off into the night.
Beware of the dog!
No misplaced capital letters.

Full stop (or ?/!) used correctly at the end of every sentence.
Throughout this term we will continue to practise our joins (please continue to do this at home too!) in our handwriting lessons. On Tuesday's the children will have an English lesson with Mrs Kirkman focusing on their punctuation and grammar.
In Mathematics we will continue to develop our times tables. TTrockstars, Hit the Button and Maths Shed are excellent resources, so please encourage your child to practise them regularly. It is crucial that the children continue to practise these at home along with counting in different multiples. We will be completing a short assessment based around our learning from Autumn 1 on the first day back and please could the children continue to consolidate their understanding of place value at home:
Roman numerals to 100

counting in 25's and 1000's

ordering 4 digit numbers

negative numbers

rounding numbers to the nearest 10, 100, 100

If you would like some advice or extra work with any of these then please call in to speak to me or send a message via SEESAW.
This half-term we will start our work on addition and subtraction and then move onto a short unit about length and perimeter and then onto multiplication and division. The children are continuing to develop their reasoning skills and each week I will be putting a reasoning question on SEESAW to consolidate their thinking.
Small Steps for addition and subtraction
Add and subtract 1s, 10s, 100s and 1000s

Add two 4-digit numbers (no exchange)

Add two 4-digit numbers (one exchange)

Add two 4-digit numbers (more than one exchange)

Subtract two 4-digit numbers (no exchange)

Subtract two 4-digit numbers (one exchange)

Subtract two 4-digit numbers (more than one exchange)

Efficient subtraction

Estimate answers

Checking strategies
RE -We will start by continuing to reflect on the stories of David in the book of Samuel. After this we will be looking closely at the Psalms and thinking about the imagery within them. This topic focuses on the three Christian values of friendship, responsibility and creativity. The key question the children will be thinking about is: What is God like?
Our focus will then turn to Christmas. In Year 4 we explore the symbolism of light. Key questions we will be thinking about are:
Why is Jesus described as the light of the world?

What did the light do to the dark?

Why is light such a powerful symbol?

Is light a good metaphor for Jesus?

The sun already lights the world so how can Jesus be the light?

How does Jesus bring light?
The children will also have the opportunity to learn about Christingles and make their own. During this unit, we will also look at light in the Jewish faith, focusing on the festival of Hanukkah.
Science - We will spend the first week finishing off our unit on Electricity. We will recognise some common conductors and insulators and associate metals with being a good conductor.
Our next topic after this will be 'Teeth and Eating' We will be learning:
To classify and identify different types of teeth and their functions.

To recognise why and how we must take care of them.

To make observations and form conclusions.

To describe the function of parts of the human digestive system.

To make observations and record findings using scientific language and labelled diagrams.

To recognise what a food chain represents.

To construct and interpret a variety of food chains.

To identify producers, predators and prey.
Topic: History
We will start the half-term off by continuing our work on Roman Britain. We will be thinking about:
The Roman Empire and its impact on Britain.

British resistance. (Boudicca)

'Romanisation.' of Britain. (Technology, culture and beliefs)
Key Questions will be:
Should the Celts take on the Romans?

What image do we have of Boudicca today?

How were the Romans able to keep control over such a vast empire?

What have the Romans ever done for us?
Key Skills
Chronology, knowledge & understanding – When I talk or write about the past, I include details which show some understanding of what things were like before and after this at local, national and world level.

Chronology – I can place historical periods I have studied on a timeline, as well as information about my topic.

Significance – I can suggest which people and causes& consequences of change are more historically important.

Understanding historical interpretation – I can compare evidence to help me identify reliable information
Topic: Geography
The second part of the half-term we will start our Geography unit on the UK. We will continue this after Christmas. During this topic the children will:
Use maps to locate features of the UK e.g. rivers, mountains, large cities.

Explain which are physical and which are human features.

Label counties, cities, mountains and rivers.

Study photographs and maps of 3 different locations in the UK.

Ask Geographical questions e.g. How was the land used in the past? How has it changed? What made it change? How may it continue to change?

Use locational language to describe the location of points on a map of the different counties.
Computing - We will using the software 'Scratch' and 'Kodu' to complete two exciting computing projects.
'We are Toy Designers'
Design and make an on-screen prototype of a computer-controlled toy.

Understand different forms of input and output (such as sensors, switches, motors, lights and speakers).

Design, write and debug the control and monitoring program for their toy
'We are Software Developers'
Develop an educational computer game using selection and repetition.

Understand and use variables.

Start to debug computer programs.

Recognise the importance of user interface design, including consideration of input and output.
DT - We will complete a DT project towards the end of term. The children will have the opportunity to design a simple Christmas Toy/Christmas jumper, which uses a simple circuit. This links well with our Science work on electricity.
Art- The children will have the opportunity to further develop their sketching skills by producing a sketch of the school in their sketch books and then transferring this to a scratch art board.
French - Our first unit of French, 'Moi et ma famille' (Me and my family) has got off to a promising start! We have spent a lot of time on phonetical work, grasping the French alphabet and revisiting previous learning. We've also made some progress with early vocabulary learning (focusing on who is in our family), and hope next half term to complete this unit with a look at how we talk to our pets in French! Work with possessive adjectives (mon and ma) and some further phonetical work will hopefully keep us busy and allow us to even look at Christmas traditions in France!
P.E - This half-term the children will continue with their fortnightly outdoor PE with Wigan Athletic on a Friday.
In our indoor PE sessions on Tuesdays we will be looking at the skills involved in dodgeball. I will be looking closely at the children's team work as well as their resilience.
Key areas for assessment are:
to understand how to work alongside and against others when attacking and defending.

to demonstrate an understanding and interpretation of the rules.

to accept the decisions given.

to develop an effective throwing technique.
In our outdoor PE the children will continue their unit on Outdoor Adventurous Activities with Wigan Athletic. The children will be focusing on:
Teamwork

Collaboration

Communication
They will be thinking creatively to find solutions to challenges and problems. OAA shows the children a different side to outdoor PE in that it isn't always a tactical game; solving physical challenges requires thought and consideration. This unit really supports the children in the personal and social elements of the PE curriculum, developing leadership skills and working in a range of contexts.
Our sporting value for this half-term is self belief.
Music- The children will be continuing with their WOPPS guitar lessons on a Thursday afternoon with Barry and Sam. So far, the children have learnt the open string notes: E,A,D,G,B,E. They have also learnt the song 'Big Blue Bear'. This half-term the children will be continuing to develop their guitar playing whilst learning new songs.
HeartSmart - 'Don't Forget to Let Love In.'
Visit the website www.heartsmartprimary.com for more information on what Heartsmart is all about.
Self-worth. Learn how to love and value yourself well.
You're important, you matter, you're one in a million and above all you're loved. These are messages that we all need to hear, believe and remember – because sometimes we forget. The healthier our internal dialogue, the greater our sense of worth which is the cornerstone of character and resilience. How kind are the thoughts we listen to? How patient are we with ourselves? How often do we find ourselves listening to the Scrapman?
Don't Forget to Let Love In helps us grow in self compassion. You'll notice we don't shy away from using the word love. It's a big deal. Without it we're no one, but no one is without it. The ability to receive or reject it in our lives defines us. Our actions, beliefs and very essence is shaped by our experience of it. Our hearts are made strong because of it. So in partnering with love, we partner with a strength that's stronger than any challenge life might throw at us. Although it can be a challenge to receive it, love never fails. Don't Forget to Let Love In!
Dates for your Diary:
School Book Fair: Starts Monday 28th October
Remembrance Service in Church: Friday 8th November
Children in Need: Friday 15th November
Times Table Check Meeting: Wednesday 20th November
Christmas Bingo: Friday 28th November
Nasal Flu Immunisations: Wednesday 4th December
Christmas Fayre: Friday 6th December
Cinema Trip: Monday 16th December
Junior Christmas Party: Wednesday 18th December
Junior Carol Service: Thursday 19th December
NEWS!
During the first half of Autumn Term we have found our feet! We had a great half-term, developing routines and relationships and the children have amazed me with their work ethic and team work. We have shared learning in our History, Science and RE lessons as well as in English and Maths. We have shared our ideas and understand how working as a team or with a partner can help our own learning journey. I am proud of all the hard work the children have put into their learning this half term!
I have absolutely loved sharing Charlie and the Chocolate Factory with the children and can't wait to continue reading it together this half-term. The children have developed both their reading and writing skills through our class novel and it has been wonderful to see them engaged and reading for pleasure. I enjoyed reading their setting descriptions of Charlie's house and along with their persuasive letter to Willy Wonka. I think he would have had a very tricky choice choosing his favourite sweet! The character descriptions the children did of one of the golden ticket winners blew me away. The children are really developing into confident writers who are not afraid to challenge themselves. I am also pleased that they are beginning to proof read their work more and working hard to make sure all their sentences make sense. We will be introducing more editing this half-term, another important skill for a developing writer. The children's inference skills are slowing starting to develop and they are now starting to use evidence from the text which is pleasing to see. We will continue to develop our comprehension skills through our VIPERS questions.
In Maths we have spent the half-term focusing on place value. The children have shown through their explanations that they are developing their reasoning skills and are able to show examples of their thinking. This is a key area we will continue to develop throughout the year. They have enjoyed using all the concrete equipment and have slowly become more confident with 4-digit numbers. It is crucial that the children continue to practise all the skills we have learnt to keep it bubbling!
Our Science lessons have been a hive of activity. The children have loved investigating how torches work and how to light a bulb in a simple circuit. It is been wonderful to see them so engaged and enthused about their learning and thinking scientifically. They also worked well in a team which was a pleasure to see!
In History we have travelled to Mexico and Central America (Mesoamerica) to learn more about the Mayans. This will help us make comparisons with the Anglo-Saxons and Vikings later on in the year! We have also begun our topic on Roman Britain and learnt more about why Julius Caesar and Claudius wanted to invade to Britain. We also developed our sketching skills through looking at Roman Architecture and created a Roman dance in PE.
Through our RE, Heartsmart lessons and Picture News the children have shown great sensitivity and really developed their reflective thinking. They have really thought about the choices they make and what God looks for in our hearts. We have also explored friendship and the qualities of a good friend. We had the lovely opportunity to visit the prayer room at Christ Church Pennington and think about all the people we want to pray for. The children were a credit to you all during this visit and were extremely respectful.
I loved watching all the presentations the children did on someone who inspires them. It was fantastic to see such a range of people and that some children had been inspired by our new range of 'Little People, Big Dreams' books in the school library. The children's responses, questions and ideas during our Mental Health Day were astounding and really showed a deep level of thinking. It is an absolute pleasure to teach class who really think about the needs of others as well as the importance of their own mental wellbeing.
A highlight for me was our theatre trip with Year 3 to watch 'Awful Egyptians' in Manchester. It was a fantastic opportunity to watch a live theatre show and I know this is something that the children really enjoyed as many hadn't been to the theatre before. Once again their behaviour was great and they were great ambassadors for our school.
The children have also been developing their music skills through their guitar lessons with Barry. Over the last couple of weeks I have really seen a big improvement and I know that Barry is very pleased with the progress they are making and all the practising the children are doing at home. Keep up the hard work everyone!
As you can see it has been a very busy seven weeks in Year 4. I have loved getting to know all of the children and it is delightful to see them grow in both their friendships, confidence and learning. The children have worked hard and begun the year with a great attitude. Here's to another half-term of great learning and fun!