A very warm welcome to our Year 4 class page. In Year 4 we are looking forward to the challenges ahead as the children are now fully settled into KS2. During this year the children will be encouraged to be proactive in their independent learning as well as building good relationships in order to work effectively as teams. The children will be nurtured and encouraged to work alongside others in a variety of contexts with a focus on problem solving, research and sharing ideas.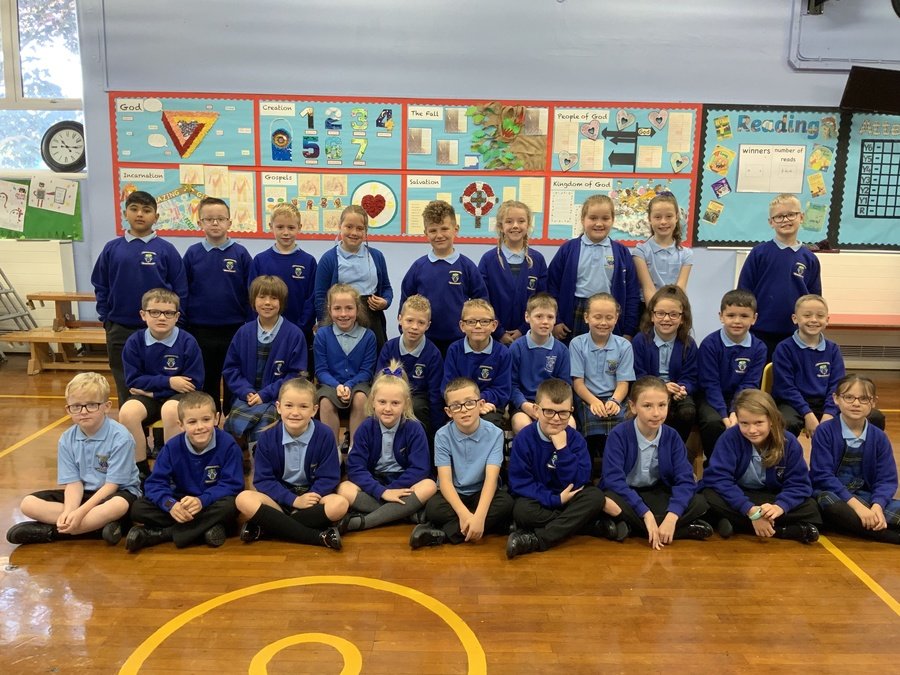 Our Year 4 Class 2019-2020
Class Information
Who's Who
Mrs Monaghan- Year 4 teacher
Mrs Jones- Teaching Assistant
Miss German- Teaching Assistant
P.E takes place on Tuesdays (Indoor PE) and Fridays (Outdoor PE). The children must have their full kits in school for these lessons so that they can take part.
Homework will be given out each Friday. This is to be completed by the following Wednesday.
Reading is encouraged both in school but also at home. Reading for enjoyment is as important as reading to learn. The classroom has a comfortable reading area as well as a listening station for audio books to help the children to learn about expression and tone when reading. The children are also encouraged to use the library and to choose books that they enjoy.
It is important that the children read a range of books/comics/newspapers at home and develop their comprehension skills and vocabulary. This will help consolidate the reading work we will be doing in class. In Year 4, we feel it is important for the children to develop a love of reading as this gives their 'imagination wings'.
We introduced Spelling Shed In the Autumn Term, the children are encouraged to use this regularly at home as well as in school. The children will also be bringing home a list of the Year 3/4 words they are still not sure how to spell. Please practise these at home(little and often).
In Year 4, the children have the fantastic opportunity to learn to play the guitar. Each child will be given their own guitar for the year so they can practise at home. They will need to bring their guitar to school every Thursday as the whole class have a lesson on Thursday afternoon. A guitar teacher from Wigan Music Service teaches these sessions. At the end of the school year all the children have the experience of performing in a concert.
This half term.... Spring 2 (February - April 2020)
In English, we will start the half term finishing our class reader 'The Boy at the Back of the Class.'
'There used to be an empty chair at the back of the class, but now a new boy called Ahmet is siting in it. He's nine years old (just like me), but he's very strange. He never talks and never smiles and doesn't even like lemon sherbets, which are my favourite!
Our reading sessions in English will focus on our class reader and the children will continue to develop their VIPERS skills (vocabulary, infer, predict, explain, retrieve, sequence or summarise). It is important that the children continue to read regularly a range of books/comics/newspapers at home and develop their comprehension skills and vocabulary. This will help consolidate the reading work we will be doing in class. In Year 4, we feel it is important for the children to develop a love of reading as this gives their 'imagination wings' We will also complete two pieces of non fiction writing based around this book. The children will produce a persuasive leaflet on London (writing to persuade) and also create an information page on the refugee crisis (writing to inform).
After this we will start our new class reader 'I was there a Viking Invasion' by Stuart Hill. This links nicely with the work we will doing in History around the Anglo-Saxons and Vikings. Through this book we will be developing their journalistic writing. The children will be producing a newspaper report based on a Viking invasion. This is a tricky genre of writing and we will be practising and developing all the key skills involved before the children produce their final newspaper report. We will also be doing some cross-curricular writing with RE, with the children writing an emotive piece based around the events of the Easter Story.
We will finish the half-term by developing our performance poetry skills, look out on Seesaw for the final performances.
We will also continue with our SPAG work. We will also be extending our grammar knowledge and learning some more about determiners, fronted adverbials and past, present, perfect verbs!
Non-Negotiables for Y4:
Capital letters for the start of sentences, 'I' and all proper nouns.
Example: Can I go to London this weekend?
Spell of and off correctly.
Example: The BFG ran off into the night.
Beware of the dog!
No misplaced capital letters.

Full stop (or ?/!) used correctly at the end of every sentence

.
In Maths we will be finishing our work on multiplication and division. We will start by consolidating our understanding of multiplying 2/3 digits by 1 and looking carefully at the different strategies. After this we will focus on dividing numbers and solving problems and reasoning around this. Before we move onto fractions we will look at area. We will be asking the key question 'What is area?' and look at:
Counting squares

Making shapes

Comparing area
We will then start our work on fractions and decimals. We will cover:
What is a fraction?

Equivalent fractions.

Fractions greater than 1.

Counting in fractions.

Adding 2 or more fractions.

Subtracting 2 fractions.

Subtract from whole numbers.

Calculate fractions of a quantity.

Problem solving and reasoning with fractions.

Recognise tenths and hundredths.

Tenths as decimals.

Tenths on a place value grid and a number line.

Divide two digits by ten (decimals)

Divide 1 or 2 digits by hundred (decimals)
At home, it would fantastic if you could keep some of the children's previously learning 'bubbling':
Reading times on analogue and digital clocks

Place value

Roman Numerals

Rounding to the nearest 10, 100, 1000

Number Bonds

Counting in a range of different multiples

Written strategies for addition, subtraction, multiplication and division.
By the end of Year 4 the expectation is that children can recall all their times tables facts up to 12 X 12. You can support your child by regularly asking them times tables questions at home. Making this fun will have more impact! Topmarks is a great website for maths; the game Hit the Button is a particular favourite in class and is great at helping children to become quicker at facts recall. Please take the time to have a look - even compete with them! TT Rockstars continues to be a fantastic game that all the children enjoy, especially when they are competing with each other. It would be fantastic if the children could go on this daily and complete the weekly sessions that are set.
We will also continue with our 'Fluent in 5' and 'Rapid Reasoning. Each week the children will also bring one of these home for homework. During this term we will be having weekly times tables tests to help us improve our rapid recall.
RE -We will start by continuing to learn about 'Jesus, the son of God, and 'Shabbat'. We will be digging deeper and exploring the Sabbath.
As we approach Easter we will explore the themes of ''Betrayal and Trust'
Science - Our topic after this will be 'Living Things.'
During this unit the children will have the opportunity to:
To recognise that living things can be grouped in a variety of ways.

To recognise how a simple key helps identify living things.

To ask questions that can be used to construct a key.

To observe key features of living things.

To recognise that environments can change and that this can sometimes pose dangers to living things.

To examine invertebrates in their environment.

To identify invertebrates with a simple key.

To make careful observations.
History - We will continue from where we left our timeline with the end of Roman rule in Britain and focus on Britain's settlement by Anglo Saxons and Scots. From this we will look at Viking invasions. We will:
Focus on a key historical figure – Vortogern, Hengest, Horsa.

The introduction and role of Christianity in Anglo Saxon life.

Who were the Vikings, when and why did they invade Britain?

Key aspects of Viking lifestyle.

Anglo Saxon kings and their significance across the period, including King Ethelred II and Danegeld, and the last Anglo Saxon Kings.

Law, order and justice as an Anglo Saxon.
Key Skills
Chronology, knowledge & understanding – When I talk or write about the past, I include details which show some understanding of what things were like before and after this at local, national and world level.

Chronology – I can place historical periods I have studied on a timeline, as well as information about my topic.

Significance – I can suggest which people and causes& consequences of change are more historically important.

Understanding historical interpretation – I can compare evidence to help me identify reliable information
Throughout this topic we will be comparing what is happening in Britain with the Mayan Civilisation in Central America.
DT - In DT we will focusing on healthy savouries and making bread. We will start by linking this to our work in RE on the Shabbat by making Challah. We will then think about the ingredients in healthy savouries and design and make our own bread.
Art - Our focus towards the end of the half term will be sculpture. The children will make a Viking longboat, control modelling with clay or papier-mâché – making attachments with clay. They will control the use of tools and their suitability for different tasks. The children will understand that the design process is a necessary starting Point for any sculpture – using 2-D form in sketchbooks. They will be able to name some famous sculptures e.g. 'Angel of the North', and begin to recognise the work of particular sculptors.
Computing - We will starting a computing project around the theme 'We are musicians'. This is a very exciting project as the children have the opportunity to use the app 'Garage Band' and produce their own digital music. We will:
Use one or more programs to edit music.

Create and develop a musical composition, refining their ideas through reflection and discussion.

Develop collaboration skills.

Develop an awareness of how their composition can enhance work in other media.
Heartsmart- 'Don't rub it in, rub it out!'
This unit focuses on Forgiveness and learning how to process negative emotions, disappointment and hurt.
Don't rub it in, rub it out is about choosing to forgive, leaving the pointing finger in our pocket and accepting that we too need grace just as much as we give it away. Everyone makes mistakes. Don't demand perfection, instead celebrate progress, that's what loves does.
Visit the website www.heartsmartprimary.com for more information on what Heartsmart is all about.
French - During this half-term we will be covering the topic of weather in more detail. We will also move onto months of the year and look at Easter traditions in France.
Music- The children will be continuing with their WOPPS guitar lessons on a Thursday afternoon with Barry and Sam. So far, the children have learnt the open string notes: E,A,D,G,B,E. They have also learnt the song 'Big Blue Bear'. This half-term the children will be continuing to develop their guitar playing whilst learning new songs.
P.E -
Our sporting value for this half-term is 'Respect'
'Treating everyone equally, supporting each other and working together to have fun and achieve. Celebrate each other's success and be positive team player.'
Outdoor PE - This half term we will be looking at 'Tag Rugby'. During this unit the children will learn:
how to hold a rugby ball and use the learnt grip with support

pass a rugby ball with some accuracy using elements of the correct technique while stationary and moving.

catch a rugby ball with some success

explain and demonstrate some of the rules of tagging

develop attacking and defending skills
Friday PE - This will be the children's indoor PE session (Fortnightly with Wigan Athletic) This term the children will be completing a dance unit. The children will be learning to:
think creatively to find solutions to challenges.
create phrases to depict the Vikings.
perform with poise and control.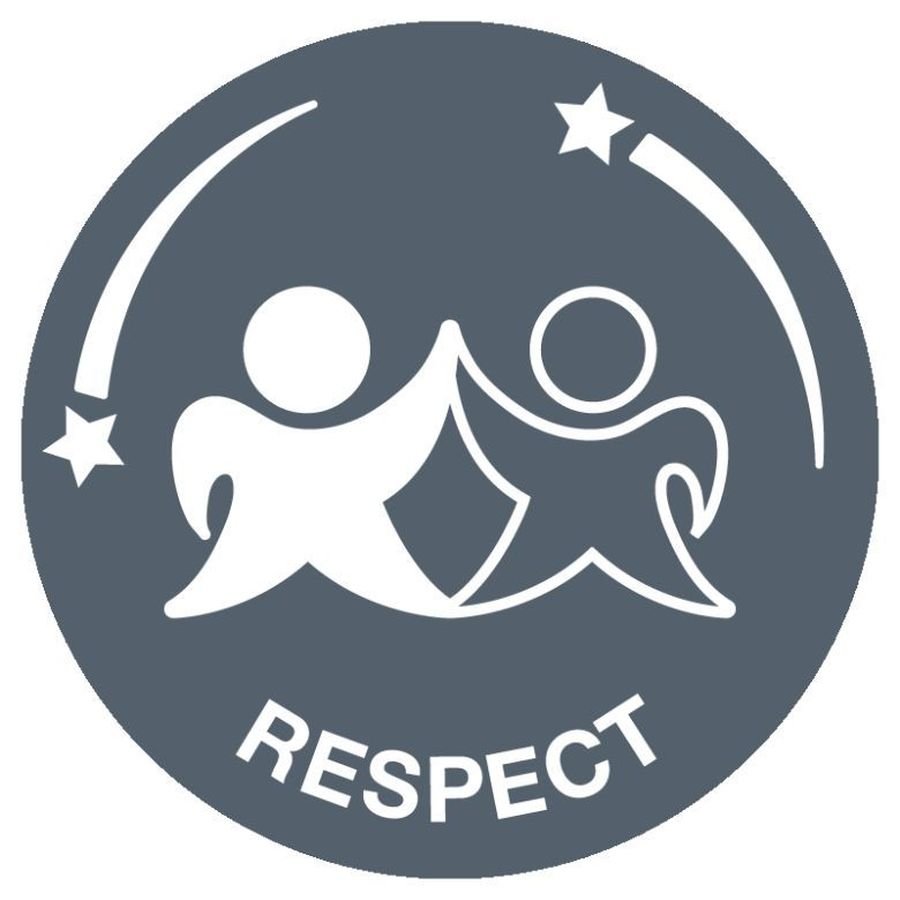 Dates for your Diary:
World Book Day: Thursday 5th March
Sports Relief: Friday 13th March
Hinning House: Wednesday 18th March - Friday 20th March
Easter Service in Church: Friday 3rd April
Spring Term 1 NEWS!
What a busy and action packed half term it has been! We can't believe we are approaching March and our much anticipated trip to Hinning House! The children continue to amaze me and make very proud. They are growing in confidence and maturity and are continuing to work together as team and show respect for each other.
The children have continued to work hard in Maths this term and shown a good understanding of multiplication and perimeter. Their times tables are improving and they have developed a good understanding of the written methods for multiplication. As a class we have continued to develop our problem solving and reasoning skills and will continue to do this next term.
In English we have been enjoying our class reader 'The Boy at the Back of the Class.' The children have shown great sensitivity when discussing the Refugee Crisis and have loved guessing if the narrator is male or female. They have developed their VIPERS skills and have produced some wonderful writing linked to this book. A highlight was also the pomegrante tasting!
The new year got off to a keen start in French with the children learning how to tell the time. We began with revision/sticky learning of the numbers 1 to 24, then began with simple stock phrases such as 'o'clock, quarter past, half-past, quarter to' before progressing to 'five minutes past, ten minutes past' and do on! The children enjoyed making their own clocks from paper plates , which will be useful for practising time-telling in the future! Our next topic was days of the week and the children were interested to learn that French days of the week don't require capital letters! A catchy song helped us learn the vocabulary in this topic and the children produced some lovely work on their favourite day of the week.
In Science the children loved learning about the digestive system and produced some fantastic explanations in their cross-curricular writing. The children loved this topic and showed a great understanding of the functions of our teeth and food chains. Through our Geography lessons the children learnt more about the UK and the physical features. Their map reading skills have gradually developed and they were able to locate, counties, cities and rivers. This half term also saw us begin our History topic on the Anglo Saxons, Miss Turner (our student teacher) has been teaching this unit to the class. They have all had a great time learning about why the Anglo Saxons invaded, the seven kingdoms of the Anglo Saxons and Anglo Saxon place names. We will be continuing with this topic, learning more about Anglo Saxon life and the invasion of the Vikings. In PE we had the Wigan Healthy Lifestyles Team working with us each week. The children's overall fitness improved and they learnt lots about healthy eating. Through our Heartsmart, RE lessons and Picture News the children have shown maturity, created lots of discussion and grown in confidence when giving their opinions. It is a joy to see the children discussing global and important issues with each other and reflecting deeply. Great job everyone!
It has been a very busy half-term and i'm sure the next will be just as busy, especially with our 3 days away at Hinning House! Well done everyone, you continue to amaze me everyday, I am very proud of each and everyone of you.
Autumn Term 2 NEWS!
Wow, it has been an extremely busy half term in Year 4 and the children have continued to amaze me with their attitude and confidence. It has been lovely to see the children continue to work well with others and develop their social skills inside and outside the classroom. Respect and compassion are important Christian values in Year 4, the children demonstrated a real understanding of these values during our RE and Heartsmart work and didn't just talk the talk but walked the walk. Without a doubt they let their 'light 'shine through!. It has been a pleasure to see a positive working atmosphere continue to develop in the classroom.
As well as learning about how to respect ourselves, our RE lessons based around Judaism helped the children to understand and respect other faiths. The children showed great sensitivity during this topic and understood that even though someone might have a different belief to us it is important that we show respect to them and value their opinions. After this, we looked at Jesus as the light of the world. As a class we discussed how each one us can shine our light on the world. Throughout the term we saw some wonderful examples of this! We had a lovely visit from Revered Saunders and had lots of fun making our own Christingles and learning about what each part represents.
The children have continued to work hard in maths this term.A highlight for me is how they are developing their reasoning skills and using a range of mathematical equipment to support their learning. They have worked hard on all their number work and now have an effective strategy they can use for addition and subtraction. We are making progress with or times tables but please still continue to practise at home as this is starting to have an impact.
During our English lessons the children continued to developed their non-fiction writing skills, producing some excellent information pages on an animal of their choice. The children took on the challenge with enthusiasm and a positive work ethic. Independently, they researched their animal, organised their notes under sub-headings and produced a magnificent final draft. We finished our class reader 'Charlie and the Chocolate Factory'. We loved sharing this book together and the children got a great deal from this book, impacting both their writing and comprehension skills. We had a great discussion about the similarities and differences between the book and the original film. It is a joy to see the children reading for pleasure and discussing books together; I know that they are all really keen to bring home the 'snuggle with a book' suitcase!
We completed our work on the Romans in Britain and had some great discussions about Boudicca and the legacy the Romans have left behind. It was lovely to see the children's historical skills develop during this topic and hear them using historical language. We then began our Geography work on the UK, which we will complete after Christmas. We have looked at the countries in Uk as well as using the atlases to find the counties and cities. We had an interesting discussion on whether Leigh was in Lancashire or Greater Manchester!
We had a magnificent Science Day and loved investigating in the afternoon and learning about Stephen Hawking in the morning. The children's costumes were amazing and very imaginative. It was a wonderful day of creativity, inspiration and investigating!
The children's lights shone brightly again during our end of term Christmas carol service. The children oozed confidence and pride when they stood at the front of a packed church. It was a delight see this! It was especially pleasing to see their great team work and how they supported and encouraged each other. We are extremely proud of them all!
Well done Year 4 on a super half term! Can't wait to get started again in the Spring term!
Autumn Term 1 NEWS!
During the first half of Autumn Term we have found our feet! We had a great half-term, developing routines and relationships and the children have amazed me with their work ethic and team work. We have shared learning in our History, Science and RE lessons as well as in English and Maths. We have shared our ideas and understand how working as a team or with a partner can help our own learning journey. I am proud of all the hard work the children have put into their learning this half term!
I have absolutely loved sharing Charlie and the Chocolate Factory with the children and can't wait to continue reading it together this half-term. The children have developed both their reading and writing skills through our class novel and it has been wonderful to see them engaged and reading for pleasure. I enjoyed reading their setting descriptions of Charlie's house and along with their persuasive letter to Willy Wonka. I think he would have had a very tricky choice choosing his favourite sweet! The character descriptions the children did of one of the golden ticket winners blew me away. The children are really developing into confident writers who are not afraid to challenge themselves. I am also pleased that they are beginning to proof read their work more and working hard to make sure all their sentences make sense. We will be introducing more editing this half-term, another important skill for a developing writer. The children's inference skills are slowing starting to develop and they are now starting to use evidence from the text which is pleasing to see. We will continue to develop our comprehension skills through our VIPERS questions.
In Maths we have spent the half-term focusing on place value. The children have shown through their explanations that they are developing their reasoning skills and are able to show examples of their thinking. This is a key area we will continue to develop throughout the year. They have enjoyed using all the concrete equipment and have slowly become more confident with 4-digit numbers. It is crucial that the children continue to practise all the skills we have learnt to keep it bubbling!
Our Science lessons have been a hive of activity. The children have loved investigating how torches work and how to light a bulb in a simple circuit. It is been wonderful to see them so engaged and enthused about their learning and thinking scientifically. They also worked well in a team which was a pleasure to see!
In History we have travelled to Mexico and Central America (Mesoamerica) to learn more about the Mayans. This will help us make comparisons with the Anglo-Saxons and Vikings later on in the year! We have also begun our topic on Roman Britain and learnt more about why Julius Caesar and Claudius wanted to invade to Britain. We also developed our sketching skills through looking at Roman Architecture and created a Roman dance in PE.
Through our RE, Heartsmart lessons and Picture News the children have shown great sensitivity and really developed their reflective thinking. They have really thought about the choices they make and what God looks for in our hearts. We have also explored friendship and the qualities of a good friend. We had the lovely opportunity to visit the prayer room at Christ Church Pennington and think about all the people we want to pray for. The children were a credit to you all during this visit and were extremely respectful.
I loved watching all the presentations the children did on someone who inspires them. It was fantastic to see such a range of people and that some children had been inspired by our new range of 'Little People, Big Dreams' books in the school library. The children's responses, questions and ideas during our Mental Health Day were astounding and really showed a deep level of thinking. It is an absolute pleasure to teach class who really think about the needs of others as well as the importance of their own mental wellbeing.
A highlight for me was our theatre trip with Year 3 to watch 'Awful Egyptians' in Manchester. It was a fantastic opportunity to watch a live theatre show and I know this is something that the children really enjoyed as many hadn't been to the theatre before. Once again their behaviour was great and they were great ambassadors for our school.
The children have also been developing their music skills through their guitar lessons with Barry. Over the last couple of weeks I have really seen a big improvement and I know that Barry is very pleased with the progress they are making and all the practising the children are doing at home. Keep up the hard work everyone!
As you can see it has been a very busy seven weeks in Year 4. I have loved getting to know all of the children and it is delightful to see them grow in both their friendships, confidence and learning. The children have worked hard and begun the year with a great attitude. Here's to another half-term of great learning and fun!