A very warm welcome to our Year 4 class page. In Year 4 we are looking forward to the challenges ahead as the children are now fully settled into KS2. During this year the children will be encouraged to be proactive in their independent learning as well as building good relationships in order to work effectively as teams. The children will be nurtured and encouraged to work alongside others in a variety of contexts with a focus on problem solving, research and sharing ideas.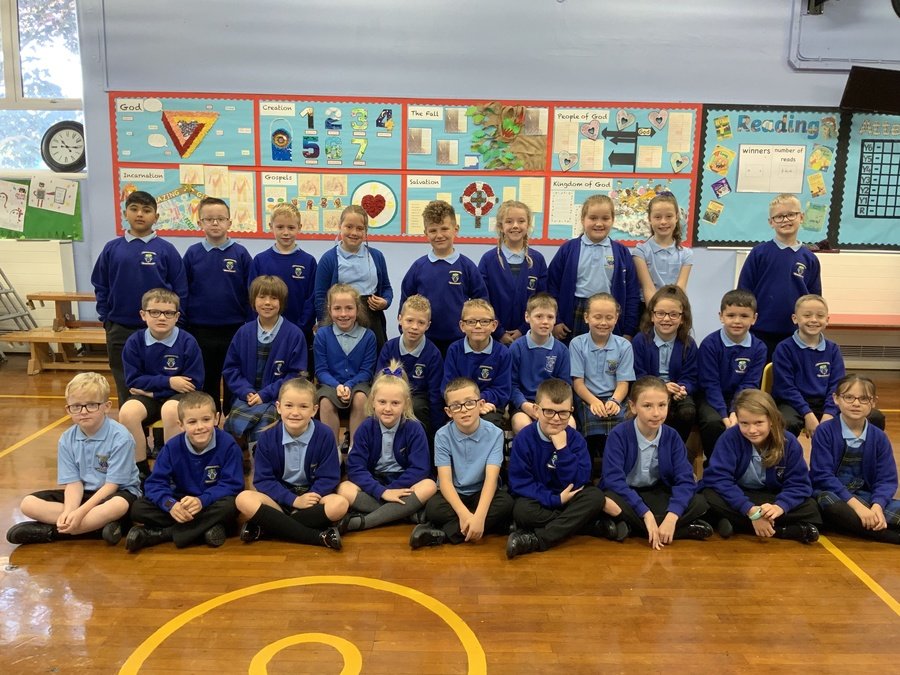 Our Year 4 Class 2019-2020
Class Information
Who's Who
Mrs Monaghan- Year 4 teacher
Mrs Jones- Teaching Assistant
Miss German- Teaching Assistant
P.E takes place on Tuesdays and Fridays. The children must have their full kits in school for these lessons so that they can take part.
Homework will be given out each Friday. This is to be completed by the following Wednesday.
Reading is encouraged both in school but also at home. Reading for enjoyment is as important as reading to learn. The classroom has a comfortable reading area as well as a listening station for audio books to help the children to learn about expression and tone when reading. The children are also encouraged to use the library and to choose books that they enjoy.
It is important that the children read a range of books/comics/newspapers at home and develop their comprehension skills and vocabulary. This will help consolidate the reading work we will be doing in class. In Year 4, we feel it is important for the children to develop a love of reading as this gives their 'imagination wings'.
We will be introducing Spelling Shed this year and the children will be encouraged to use this at home as well as in school. The children will also be bringing home a list of the Year 3/4 words they are still not sure how to spell. Please practise these at home(little and often).
In Year 4, the children have the fantastic opportunity to learn to play the guitar. Each child will be given their own guitar for the year so they can practise at home. They will need to bring their guitar to school every Thursday as the whole class have a lesson on Thursday afternoon. A guitar teacher from Wigan Music Service teaches these sessions. At the end of the school year all the children have the experience of performing in a concert.
This half term.... Autumn 1 (Sept-Oct 2019)
Over the next half term our class reader will be 'Charlie and the Chocolate Factory' by Roald Dahl
English
Over the next half term our theme will be 'Charlie and the Chocolate Factory' by Roald Dahl.
'Charlie Bucket loves CHOCOLATE and Mr Wonka , the most wondrous inventor in the world, is opening the gates of his amazing chocolate factory to five lucky children. It's the prize of a lifetime! Gobstoppers, wriggle sweets and a river of melted chocolate delight await. Charlie needs just one Golden Ticket and these delicious treats could all be his.
We will also be developing our comprehension skills and thinking carefully about our reading VIPERS (vocabulary, infer, predict, explain, retrieve, sequence or summarise) It is important that the children continue to read at home and develop their comprehension skills and vocabulary. This will help consolidate the reading work we will be doing in class.
We will be developing our writing using our class reader as inspiration. The children will be thinking about characterisation, setting and how stories are structured. Developing a love of writing is extremely important and I feel that this is the perfect story to do this!
We will be consolidating the writing skills the children developed in Year 3 and introducing new techniques and learning new vocabulary to help us to describe. We will be discussing our new non-negotiables and working hard to always check these in all of our work. By the end of this topic the children will produce their very own chapter 15 and have created their own character who is lucky enough to visit Mr Wonka in his Chocolate Factory.
Non-Negotiables for Y4:
Capital letters for the start of sentences, 'I' and all proper nouns.
Example: Can I go to London this weekend?
Spell of and off correctly.
Example: The BFG ran off into the night.
Beware of the dog!
No misplaced capital letters.

Full stop (or ?/!) used correctly at the end of every sentence.
Each week the children will have a designated punctuation and grammar lesson with Mrs Kirkman. This half term will be spent consolidating the basics and the grammar they learnt in Y3. We will be covering:
Word classes

Speech

Apostrophes for contractions
Mathematics
In Maths this half term we will be developing our understanding of place value to 4 digits as well as working on mental and written addition and subtraction methods. I will be sending home the calculation booklet for year 4, so the children can practise their written strategies at home.
We will be covering:
Roman Numerals to 100

Round to the nearest 10 and 100

Count in 1000's

1000s, 100s, 10s, 1s

Parititioning

Number line to 10,000

1,000 more or less

Compare numbers

Order numbers

Round to the nearest 1000

Count in 25s

Negative numbers
All of the activities will give the children the opportunity to develop their reasoning and problem solving skills. We will have daily 'Captain Conjecture' questions and counting activities. These help the children to develop their mathematical thinking.
By the end of Year 4 the expectation is that children can recall all their times tables facts up to 12 X 12. You can support your child by regularly asking them times tables questions at home. Making this fun will have more impact! Topmarks is a great website for maths; the game Hit the Button is great at helping children to become quicker at facts recall. Please take the time to have a look - even compete with them! Also please continue to encourage your child to go on TTRockstars regularly. This is a great game that really will have an impact on your child's recall of their times tables facts.
Reading, telling and writing the time in analogue and digital clocks remains a key aspect for the children to practise regularly at home.
Science
We will be starting a unit based around electricity. (Power it up!)
We will learn:
Unit 5.1 Living with electricity
To identify common appliances that run on electricity.

To classify and record appliances as mains or battery operated.

To understand the difference between mains and battery-operated appliances.

To understand that electricity can be dangerous.
Unit 5.2 Let's make circuits
To construct a simple series electrical circuit, identifying and naming its basic parts, including cells, wires, bulbs, switches and buzzers.

To identify whether or not a lamp will light in a simple series circuit, based on whether or not the lamp is part of a complete loop with a battery.

To recognise that a switch opens and closes a circuit and associate this with whether or not a lamp lights in a simple series circuit.
Unit 5.3 Be alarmed!
To recognise some common conductors and insulators, and associate metals with being good conductors.

To use a simple circuit to create a devise.
Topic: History
We will start with a week long project on the Mayan Civilisation. This will give the children a brief introduction on the Mayan and help them to make comparisons throughout the year between the Mayan and our other studies; Romans, Anglo-Saxons and Vikings.
After this, the children will start our topic of Roman Britain. We will be thinking about:
The Roman Empire and its impact on Britain.

The Roman Empire by AD42 and the power of its army.

The successful invasion by Claudius.

British resistance. (Boudicca)

'Romanisation.' of Britain. (Technology, culture and beliefs)
Key Questions will be:
Why did the Roman Emperor Claudius leave Italy to invade Britain?
The Roman Invasion: have the books got it right?
Should the Celts take on the Romans?
What image do we have of Boudicca today?
How were the Romans able to keep control over such a vast empire?
What have the Romans ever done for us?
RE - Our topic for this half term with be God, David and the Psalms.
The children will learn about the stories of David and reflect upon the values that God wants to see within us. They will also look at some Psalms and think about the imagery within them that reveal the nature of God.
This topic focuses on the three Christian values of friendship, responsibility and creativity. The key questions the children will be thinking about are:
What values to you consider to be important?
Who inspires you?
What are the qualities of a good king?
What is God like?
PE - Our sporting value this half term which will run throughout all our PE sessions is 'PASSION'.
For our indoor session on Tuesday's we will be looking at gymnastics skills and fortnightly on a Friday the children will have an outdoor PE session with Wigan Athletic.
Art
In Art we will thinking about Roman Architecture. We will be discussing the characteristics and developing our own sketching skills.
PSHE- HeartSmart
This half term we will be introducing HeartSmart and looking at how we can work effectively as a team.
Visit the website www.heartsmartprimary.com for more information on what Heartsmart is all about.
French
Les enfants vont apprendre a propos de leurs animaux de compagnie. (The children will learn about pets this term! They'll also do a small section on their families).
Dates for your Diary:
Roald Dahl Day - Friday 13th September (We will be doing some fun activities based around Roald Dahl our class author for this half term)

World Mental Health Day - Thursday 10th October (wear something yellow)
Harvest Service: Friday 11th October
Parents' Evening: Tuesday 15th and Wednesday 16th October

Bags to School Clothing Collection: Thursday 17th October