A very warm welcome to our Year 1 class page. In Year 1 the children make the transition from Foundation Stage to the National Curriculum. The children's confidence blossoms as they quickly develop the skills to become even more independent in their learning. We learn through practical and concrete activities and work as a team to develop our knowledge and understanding. The staff within the classroom are committed to providing the best learning experiences possible and are always on hand if you need them.

We look forward to a very busy and fun year where we will all have our time to shine!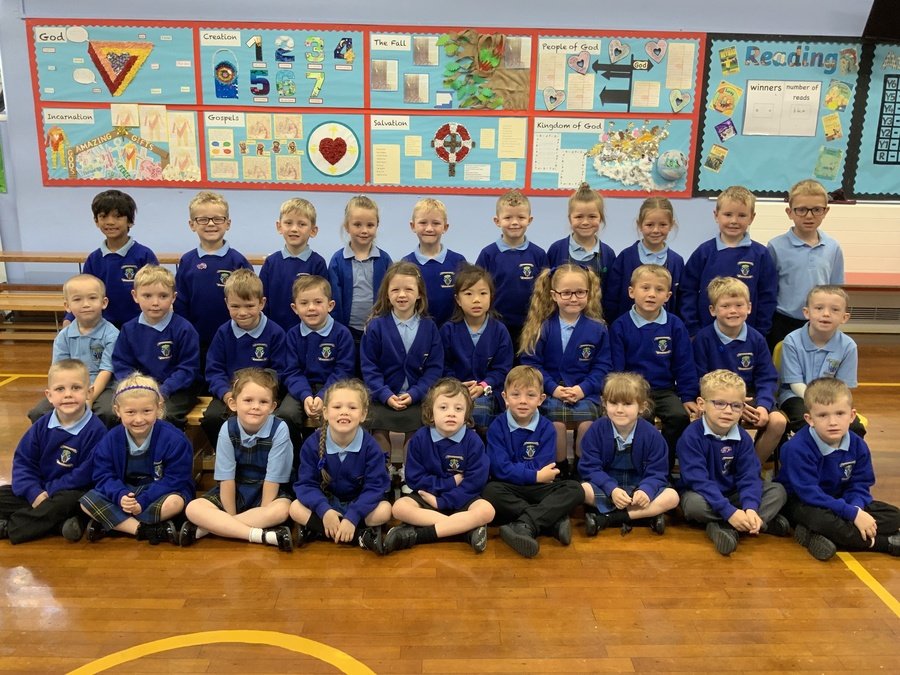 Our Year 1 Class 2019-2020
Class Information
Who's Who
Miss McCulley- Y1 Teacher
Miss Thistlethwaite- Teaching Assistant

Literacy
In Year 1 we hope to embed a deep love of reading and therefore base all of our learning around a key text that links with the half termly topic. We study one book either fiction or non- fiction each half term, taking our time to look at it's key features, characters and story line. Taking our time to develop key skills such as inference and comprehension, the story will also be enhanced through wider continuous provision activities within the classroom across each half term. During Year 1 we develop our own ability to read independently and it is really important that reading is celebrated as much as possible at home. In school we will also develop our English skills through daily RWI lessons.
The Phonics Scheme we use in Year 1 is:
Read, Write Inc


Each day we undertake a RWI lesson. During this time we review the set 2 sounds learnt in Reception and will learn a new Set 3 sound each day. After the Speed Sounds lesson we look at a key text for the following three days. Across the three days we read the book numerous times, answer questions about the story and practice our writing skills by completing 'hold a sentence' each day. RWI is really helpful for embedding spellings and during each lesson we come across new 'Red Words' which, we learn how to spell and are encouraged to use in our independent writing. We really enjoy our RWI time (particularly the partner work, actions and rhymes!)

Mathematics
In Year 1 the main mathematical focus is on becoming secure with basic number skills. Some of these key skills include: being able to confidently count forwards and backwards within 100, counting on and back from any given number. Identifying one more and one less than a given number to 100, addition and subtraction of one and two digit numbers within 20 and being able to recall number bond facts to 10 and 20. We enjoy learning through lots of practical activities and embed our skills through daily reasoning and problem solving activities. As the year progresses we also learn to work both pictorially and mentally, developing our quick recall of basic number facts in preparation for Year 2.
It is important to keep working hard both at school and at home with Maths, so don't forget there are lots of online sites such as; 'Topmarks, ICT games and Busythings' that we can use to keep our Maths brains active!
Homework
At the beginning of Year 1 your child will be given a packet that will be used as both a homework and reading packet, homework will be given out each Friday. We like to keep homework fun and engaging therefore, the children will be given a variation of activities, both written and practical. All of which will be related to either the children's current learning or recent learning. Homework instructions will be given out each Friday via Seesaw, this will explain the task and highlight whether it is an interactive activity based on Seesaw or a written activity which will be in their packet.
Reading
As you are aware reading is high priority for us in school, particularly in Year 1, as this is the crucial time in which your child will become an independent and fluent reader! We change reading books once a week on a Tuesday. The children are encouraged to be independent and change their own books as they enter school in the morning, a picture of your child's books will then be put onto Seesaw. Remember to comment and date underneath this picture each time your child reads at home that week so that they can receive their tally. It is really important that we see evidence of your child reading across the year and I love to watch videos of them reading, so please remember to upload videos as often as possible!
Seesaw
We love Seesaw in Year 1 and it is our key tool for observations, assessment and communication. You will receive daily updates of your child's progress and I am sure that you will enjoy seeing what they get up to everyday! As stated above we use Seesaw as a regular tool for communication, sending school and class messages through it, so please remember to check it regularly. It is also important that just like in Reception you continue to contribute to your child's learning journey by sending regular observations of your child's home learning and experiences.
This half term.... Autumn 1 (Sept-Oct 2019)
Over the next half term our topics will be:
English: This half term we will take our time to settle into Year 1. Firstly we will revisit all of the set 2 sounds learnt in Reception before beginning to work on learning new set 3 sounds. Across this half term we will immerse ourselves in the key text 'The Gruffalo' by the well known author Julia Donaldson. We will continue to build on the skills learnt in Reception, writing simple sentences ensuring that we use capital letters and full stops. After sharing the story together we will work on sequencing and orally retelling the story, before identifying rhyming words and searching for specific written features in the text such as, capital letters, full stops, exclamation and question marks. Once fully familiar with the story we will focus on the use of adjectives. By the end of the half term we will have; labelled the Gruffalo using the text to help us, written simple sentences describing him, used the internet to create our own fantastic creature independently and then to finish of this topic we will use all of this knowledge to produce out first piece of independent writing. This piece will be a 'wanted poster' for the Gruffalo. We will learn about the specific features used when writing for this purpose and then have a go at creating our own.
Maths: This half term we will be focusing on Place value to 10 and 20. We will begin by building on our skills of sorting, counting and representing objects and numbers. We will ensure that we can confidently sort a set of objects and count them accurately. We will then move onto being able to identify one more and one less than numbers to 20, or even 50 if we are feeling very confident! The place value unit encourages the children to explore the wide range of practical resources available to them and become confident using them independently. We will also use lots of songs and rhymes to orally count within 100. Across the unit the children will become confident using the vocabulary, greater than, less than, equal to, more than and less than.
Our topic work this half term is titled 'All About Me!'
Science: Across the half term we will learn all about the human body. To begin the unit we will focus on human growth, particularly how the human body changes from being a baby to child and then adult. We will look at baby pictures of ourselves and make some simple comparisons to ourselves now. Working in groups we will; labeling parts that we know and talking about their uses. From this we will explore the 5 senses and how we use these every day. After learning about humans we will then take a look at animals, learning how to sort them into specific groups such as, reptiles, mammals, birds, insects etc. We will also look at how animals have adapted over time and the similarities and differences between them and ourselves.


In Geography we will focus on our local environment. We will begin by talking about what we already know about where we live, we will learn about the importance of our home addresses and the common physical features of our local area. During this half term we will also be introduced to Barnaby Bear and will help him to 'find his feet' in our school and environment. We will develop our map reading and drawing skills, spending some time orienteering outside and will learn how to mark on maps with an aerial view. We will then test out our map building skills with a map lead trip to the park, who knows where we might end up! Autumn is also upon us and during our trip to the park with Barnaby we will keep our eyes open for signs of Autumn and may even bring some leaves back with us to create some Autumn art.
In Art/ DT:

T

his half-term sees the children learning what a self portrait is and all about other artists who have created self portraits such as Frida Kahlo, Pablo Picasso, Vincent Van Gogh and Andy Warhol.

The children will learn about the positioning of facial features when drawing a self portrait and symmetry in faces: both of which will hopefully inspire them to draw an outline of their face ready for painting!

Next half-term we will switch our focus to Design Technology, with the children completing a unit of work which gets them to consider the design of buildings, the properties of building materials and the contrast between the materials used in modern buildings and around the time of the Great Fire of London. The children will finally get to make a 3D model of a Tudor street! Plenty for the children to look forward to!
PE- This half term we will take part in both an indoor and outdoor PE lessons. In our outdoor lessons we will focus on movement skills. Beginning by working on how to move around in a space in different ways safely and confidently. We will then move onto; developing speed and being able to control our own speed as we move around a space, making and following movement patterns, working with a partner and as part of a small group, performing, changing direction and understanding tactical games. The indoor lessons will focus on gymnastics, specifically balancing and spinning on points and patches. These lessons will also include performance skills. It is really important that we not only focus on our physical development during our lessons but also on our personal and social development so, throughout our lessons we will focus on the School Games Sport value of Passion, this will also link into our 'Heartsmart' learning.

RE- Harvest. Across this half term we will be learning all about the Christian festival of Harvest, thinking about where our food originates from, how it travels all around the world before getting to our supermarkets, what charities there are around the world to help farmers during the harvesting season and of course thinking about how we can thank God for all of the wonderful gifts and blessings that he gives to us. Harvest is also a time to encourage the children to think about the community around them and we will be taking the time to think about how we could help people in need around us at this time of year.
Heartsmart-

Get Heartsmart! This group of lessons focuses on what it means to be 'Heartsmart.' About making the right decision for us.
Dates for your Diary:
P.E. days are Tuesday (PM) and Friday (AM) (Please ensure that your child has the correct kit in school.)
Trip to Imagine That: Wednesday 2nd October
Harvest Service: Friday 11th October
Parents' Evening: Tuesday 15th and Wednesday 16th October
Bags to School Clothing Collection: Thursday 17th October