A very warm welcome to our Year 1 class page. In Year 1 the children make the transition from Foundation Stage to the National Curriculum. The children's confidence blossoms as they quickly develop the skills to become even more independent in their learning. We learn through practical and concrete activities and work as a team to develop our knowledge and understanding. The staff within the classroom are committed to providing the best learning experiences possible and are always on hand if you need them.

We look forward to a very busy and fun year where we will all have our time to shine!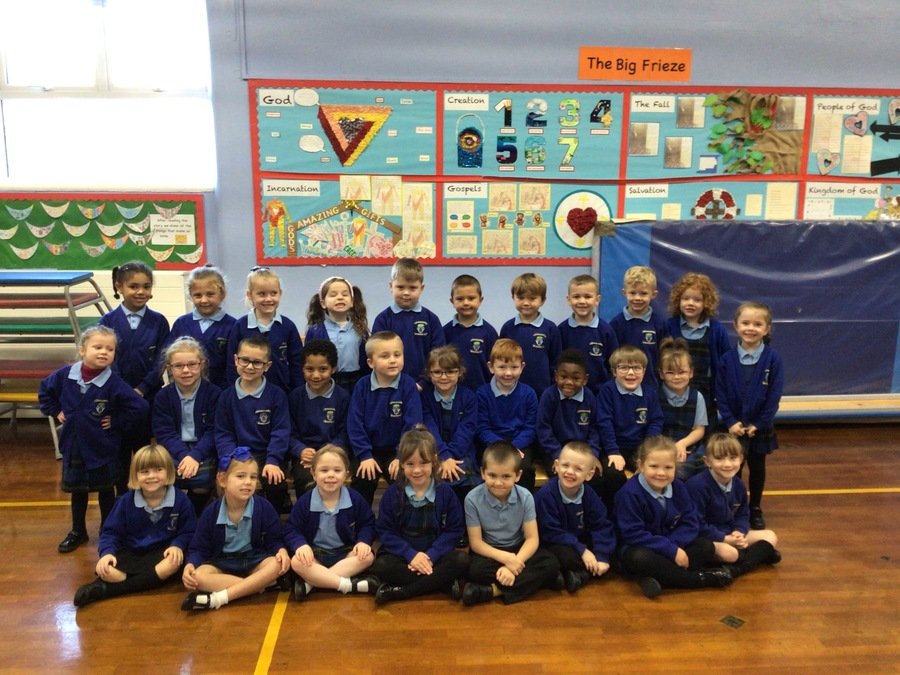 Our Year 1 Class 2020-2021
Class Information
Who's Who
Miss McCulley- Y1 Teacher
Mrs Keay- Teaching Assistant
Mrs Bayatti- Teaching Assistant

Literacy
In Year 1 we hope to embed a deep love of reading and therefore base all of our learning around a key text each half term that can be both fiction and non - fiction. This year we are introducing a new way of writing called 'The Write Stuff.' This focuses on the mechanics of writing as we teach the children how to write with an awareness of audience, purpose and context, whilst increasingly developing new and wide vocabulary. As we work through our focus texts each half term we will use the writing rainbow lenses to construct our writing and form our narratives. We also encourage a love of reading by sharing a whole class text each term, which we read daily together.
The Phonics Scheme we use in Year 1 is:
Read, Write Inc


Each day we undertake a RWI lesson. During this time we review the set 2 sounds learnt in Reception and will learn a new Set 3 sound each day. After the Speed Sounds lesson we look at a key text for the following three days. RWI is really helpful for embedding spellings and during each lesson we come across new 'Red Words' which, we learn how to spell and are encouraged to use in our independent writing. We really enjoy our RWI time (particularly the partner work, actions and rhymes!)

Mathematics
In Year 1 we use Power Maths. The aim of Year 1 is for the children to become secure with basic number skill, being able to; confidently count forwards and backwards within 100, count on and back from any given number, identify one more and one less than a given number to 100, add and subtract one and two digit numbers within 20 and be able to recall number bond facts to 10 and 20. We enjoy learning through lots of practical activities and embed our skills through daily reasoning and problem solving activities.
It is important to keep working hard both at school and at home with Maths, so don't forget there are lots of online sites such as; 'Topmarks, ICT games, Maths Shed and Numots' to keep our Maths brains active!
Homework
At the beginning of Year 1 your child will be given a packet that will be used as both a homework and reading packet, homework will be given out each Friday. Each week the children will be given a Spelling Shed activity sheet that highlights that spelling list and rule for that week. For Maths we are now using the interactive all 'School Jam' this sets fun and interactive maths games for the children to attempt at home that are directly in line with their learning in school. Alongside this we expect the children to read at least 3 times a week at home also. Homework instructions are given out weekly via Seesaw a d can be found under the 'homework instructions' folder. Any work completed at home and evidence via Seesaw is awarded with Dojo points.
Reading
As you are aware reading is high priority for us in school, particularly in Year 1, as this is the crucial time in which your child will become an independent and fluent reader! We change reading books once a week on a Friday. The children are encouraged to be independent and change their own books as they enter school in the morning, a picture of your child's books will then be put onto Seesaw. Remember to comment and date underneath this picture each time your child reads at home that week so that they can receive their tally. It is really important that we see evidence of your child reading across the year and I love to watch videos of them reading, so please remember to upload videos as often as possible!
Seesaw
We love Seesaw in Year 1 and it is our key tool for observations, assessment and communication. You will receive daily updates of your child's progress and I am sure that you will enjoy seeing what they get up to everyday! As stated above we use Seesaw as a regular tool for communication, sending school and class messages through it, so please remember to check it regularly. It is also important that just like in Reception you continue to contribute to your child's learning journey by sending regular observations of your child's home learning and experiences.
This half term.... Autumn 2 (November - December 2020)
Over the next half term our topics will be:
Literacy - This half term all children in Year 1 will be continuing to work on Read, Write, Inc and will begin to learn the Set 2 and 3 sounds. During our English lessons we will focus on the story 'The Train Ride' using a variety of lenses to produce a guided story about a journey on a train. The children will then plan, develop and write their own version of the story.

Mathematics - We will begin Unit 3 - addition and subtraction within 10. Within this unit we will; use the part whole model to add two numbers below ten together, earn techniques to add more and find a missing part within an addition sentence, find number bonds to numbers within ten and solve word problems practically. Within Unit 4 we will move onto subtraction learning how to; find how many are left, subtract by breaking apart, explore related addition and subtraction facts, subtract by counting back, find the difference and problem solve.

Topic

- We will begin by looking at the life of local hero Alfred Wilkinson. Learning about his life as a soldier and how soldiers are important to us now in the modern day. Following on from this we will start a brand new unit on the Wright Brothers, we will learn about their early lives, their successes and how their life work affects the modern day. During our History units we will also learn how to place events along a timeline and will reflect on when events happened.

ART/ DT- Aeroplanes! Linked with our History unit, we will explore simple structures in the form of aeroplanes, learn all about plane structure and eventually plan to make our own plane structure. During this activity we will identify what equipment and materials we will need and how to make the structures stable and secure when free standing.

Music-

Also linked to our History unit this half term in music we will explore; pitch, focusing on matching and identify high and low sounds, play tuned instruments and matching these to physical movements. We will listen to the song 'Magnificent Men in their Flying Machine' exploring our likes and dislikes, finding a basic rhythm and beat and listen for the different pitches within the music. Lastly we will explore graphic score practically using string and learn to match our vocal sounds to this.

RE- We will explore the Christmas story, in particular focusing on why Christians give and receive gifts. Through this topic we will also focus on the gift that Jesus was to Christians, listening to the Nativity story and exploring the true meaning of Christmas.



Computing- We are Celebrating- Through this unit we will develop our basic typing skills, use the web to find and select images, learn how to save these to an IPad and then explore how to combine images with text to create our own Christmas card for someone special at home. At the end of the unit we will reflect on our completed cards, discussing why we chose the images and how they are personally suited to our target audience.

HeartSmart-

Don't Forget to Let Love in!

PE-

Indoor and Outdoor

Indoor PE - Dance- Starry S

In this unit the children will learn to;

Use their bodies to express ideas, make different shapes with their bodies, dance in different formations and perform simple movement patterns as part of a group.

Outdoor - Athletics.

Throughout this unit the children will develop balance and co- ordination and master basic movements when exploring a range of activities. They will learn to correctly hold a racket in order to hold a bean bag, apply racket skills to play a target game, use a cricket bat to control a ball along the ground, hit a ball with control and apply all of their skills when playing a sided game.
Our sporting value this half term is SELF BELIEF and this links directly to our HeartSmart unit 'Don't forget to let love in'.
Autumn Term 1 NEWS!
What a busy half term we have had! All of the children have settled into Year One very well and have shown a real love of learning.
In Science, we have enjoyed the topic 'All About Me!' and exploring animals including humans. We started our learning by labelling life size versions of ourselves, thinking about each body part and how we use them. From this we then discovered that we have 5 senses and learnt all about what these are, what part of the body they are linked to and how we use these to do basic daily tasks. We also explored the question 'Are humans animals?' We enjoyed learning about the different types of animals and the groups that they belong to and comparing them to ourselves. We were very shocked to learn that humans are in fact animals!
As a class we really enjoyed exploring the new writing rainbow through the story 'Last Stop on Market Street.' During the first few weeks back to school we focused on being able to form and write a simple sentence. Following on from this we explored the text 'The Gruffalo' using the noticing lense to identify what the Gruffalo looked like and wrote basic adjectives within a sentence to describe him.
In music we began by playing simple copy me games and follow me games within which we had to copy a basic rhythm and steady beat. Following on from this we explored body percussion through the story 'Starry eyed Stan' a musical starfish. We worked in small groups exploring, basic notation through pictures and finally were able to compose a short body percussion sequence that we performed in front of each other.
In Geography we have enjoyed lots of outdoor practical activities to develop our basic mapping skills. We started our unit by going out into our local area for a walk to the park. On our journey we looked for local landmarks such as; the canal, the bus stop, the church and the park. Along our journey we learnt how to orientate a basic map and marked off each landmark as we went along. Once back in school we continued our map skill work by exploring aerial and non aerial views, learning about the importance of map symbols, eventually creating our own symbols and adding these to our maps of the local area. To finish our unit we spent some time reflecting on the landmarks in our area and talked about our own likes and dislikes.
We linked our computing unit to our Geography mapping unit. Working in small teams we wrote our own algorithms to direct Beebot around the board to different landmarks that we saw in our local area. Most of us were confident directing Beebot and could also 'debug' him and make changes to our algorithm when we hit a problem. We are super problem solvers!
We began our Art work by recapping on our knowledge of primary and secondary colours enjoying lots of colour mixing ideas. Following on from this we studied the work of various artists, beginning with; Bridget Riley, using a specific technique to create our own painting. We then moved on to the artist Paul Klee, we went on a colour walk around school and used these colours to create a piece of abstract art focusing on lines and shapes. Finally, we studied the art of Wallis Kandisky and created our own pictures using one of his techniques 'squares with concentric circles.'
In PE we have explored the school games value of passion through a gymnastics unit. We began our unit by learning how to safely move equipment around the hall, learning how to lift and carry safely and we understand that this is a key skill. Following on from this we learnt how to travel safely around the hall, at different speeds, levels and in different ways, we pretended to be different zoo animals to help us with this. Throughout the unit we learnt how to make and hold different shapes such as; log rolls, egg rolls, Teddy bear rolls and straight jumps, tuck jumps and star jumps. Towards the end of our unit we focused on being able to link two actions to make a sequence and to also link two or more actions with a movement. We worked independently and were able to perform our sequences in front of each other.
The children have really impressed me so far with their hard work in RWI and it is great to see such enthusiasm and eagerness to read and write, they are continuing to develop reading fluently and we can't wait to continue this next half term.
In RE we enjoyed learning all about Harvest, learning how and why as Christians we celebrate it within England and enjoyed putting this into practice through our church Harvest celebration.