A very warm welcome to our Year 3 class page. In Year 3 the children are new to the juniors, so they need to spend time adjusting to new routines and expectations. The children enjoy the opportunity to develop their skills further and generally settle in really quickly to Key Stage 2. They become confident working independently in groups and sharing their ideas, but especially enjoy Wednesdays because they get to go swimming!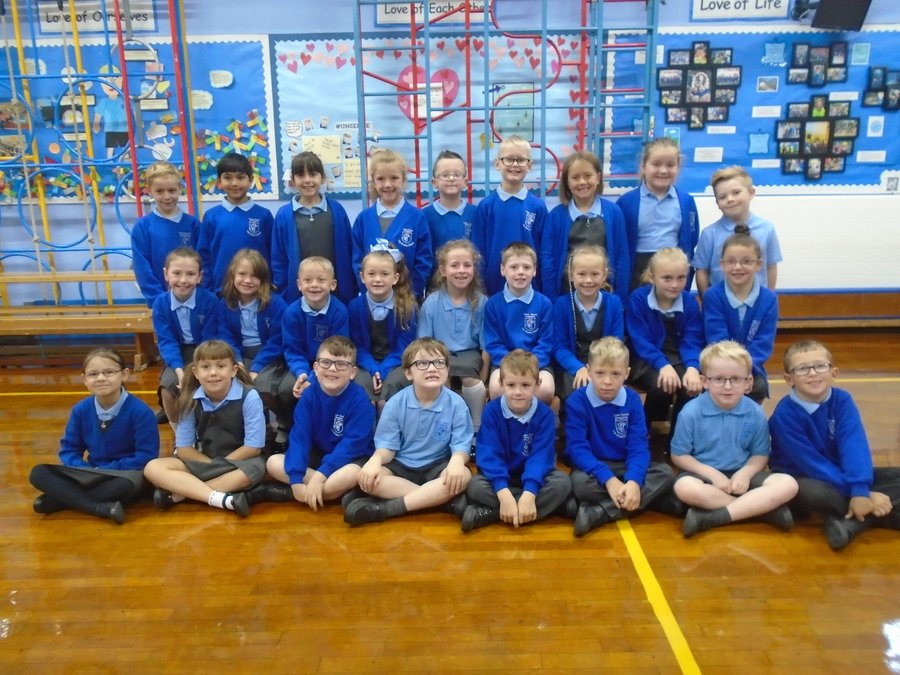 Our Year 3 Class 2018-2019
Class Information
Who's Who
Mrs Evans- Year 3 teacher
Mrs Kirkman- Part-time teacher
Mrs Cottrell- Teaching Assistant
Miss German- 1 to 1 Teaching Assistant
Things to remember
Please remember that homework is due in on WEDNESDAY each week.
P.E. lessons are on a Tuesday afternoon, the children must wear full kit.
Swimming is on Wednesdays so don't forget your kit!
Please remember to write your child's name on all of their uniform and sports kits to avoid confusion within class.
It is important that children read regularly at home, we appreciate that it may not always be possible but encourage you to do so.
This half term (the final one!).......(June-July 2019)
English - We are beginning with creative writing from different perspectives! This is a real challenge!! We will use Anthony Browne's Voices in the Park as a starting point - this lovely book tells the story of a walk in the park from 4 different view points. The children will really get to know the characters in the story, and explore how they feel about them and why, before writing a short monologue as if they were one of the characters. They will then use this knowledge of characterization to develop their own World's Worst Child! We will spend some time looking at how David Walliams has created his gruesome children before creating our own and writing from their perspective. the children will then write an explanation of how flowering plants grow, which will link in with their Science work. Finally we will write about the Egyptians using lots of historical vocabulary!!
Maths - Fractions! The children will develop their knowledge of fractions and, naturally, times tables. The bar model will be their new best friend! They will also cover length, perimeter and further work on angles. And, again, we will return to telling the time! The children have worked hard on developing their reasoning and problem solving skills and have really shown how they can help each other by working in pairs.
Science - The children's final Science unit is plants. They get to dissect them to find out what different parts they have, and what role they play in keeping the plant alive, and helping seeds to spread. We will work scientifically to explore what function the plant stem has and how it does its job and we will also set up lots of growing experiments to find out the effects of not having much room, few nutrients and little air on a plant's growth! Busy!
RE - The children have a little work to complete on Mary Seacole for their Called By God unit, then they will move on to Jesus, the Man Who Changed Lives. We look at how the belief in Jesus affects people both in the Bible and in more recent times.
History - The children will learn about the Ancient Egyptians. They will learn about their way of life, the importance of the Nile and of the afterlife. They will use their developing skills to 'be historians' and infer and deduce from some of the evidence the Egyptians left us. We will also compare them to some other Ancient civilisations. The children will record their historical knowledge on a class Wiki as part of their Computing unit. We also design and make a shaduf for DT!
Geography - We will be creating maps of school! We will be creating surveys as part of our Computing data unit to find information out about the environment. We will then take these surveys to Blackpool on our trip and ask the same questions so that we can compare Leigh to Blackpool. We will also highlight the what aspects are human geography and what is physical.
Music - we are lucky enough this half term to be joining the Wigan Youth Orchestra to take part in a Music Gala! This will include various musical pieces including some opera! The children will join in with some of the songs, and for other just get to experience something completely different!
French - Summer 2 is the home of French Day! The children experience a French breakfast, play games in French and come in colours of the French flag. It's one of my favourite days!
Wow! We have a lot to do!!
HeartSmart - 'No Way Through' isn't True!
Dates for your Diary:
Sports Day: Wednesday 19th June 1.30pm
Class Photographs: Thursday 27th June
Summer Fayre: Saturday 29th June 12pm
Blackpool Trip: Tuesday 2nd July
Music Gala: Monday 15th July
Last day of term: Friday 19th July (finish at 3pm as usual)
NEWS!
During Summer 1...
Where did the half term go?! It seemed to whizz by and was incredibly short! Nevertheless we managed to cram alot in. The children wrote some fantastic non-chronological reports on their chosen animal. We had narwhals, meerkats, bees and all types of snakes! They even managed to do their own research to find facts to include. They were really interesting to read! In Maths we have begun work on angles and learnt about pictograms and statistics. We also covered Money - you can continue to help your child with this by letting them pay when they might go to the shop, and try to work out what change they will get! We worked very hard on this! Our RE unit about God's Calling was excellent. We had a visit from the PAIS team at Church who talked to us about why they feel they have been called by God, how this makes them feel and what kinds of things they do to share God's word. We learnt about lots of different prophets, like Jonah, Elijah and Isaiah and some of us retold the stories using the Eggsplorers eggs. Science was fantastic! We had LOTS of class discussions about rocks and unpicked some of the children's misconceptions. We investigated permeability and hardness and discovered why chalk couldn't have been used to build Stonehenge. We made our own fossils too! The children then begun to create animations about how fossils are formed on Scratch. We also spent some time during Mental Health Week thinking about BIG feelings, good or bad, and how we might learn to deal with these when we feel them. We read Michael Rosen's SAD book and then created our own designs in the style of the illustrations in the book. This half term the children were also put into Sports Houses and took part in their first intra-school sports event where Starey were crowned House Winners for Summer 1. The school had a visit from GB Athlete Jenny Meadows and completed a circuit to gain points for their house. We had a super day! In PE we learnt how to play Cricket! I think the children were surprised by both how hard it was to hit the ball (and bowl!), but also how much they improved!! A fab half term indeed!
During Spring Term 2......
The second half of the spring term seemed to whizz by! We've completed some very practical aspects of learning! It started with a great visit from Danny and his Curious Critters. We met lots of unusual animals including a giant lizard, a barn owl and a skinny pig! The children learnt where each had its skeleton (the inside or the outside) and watched how they move depending on this. Then we spent some time investigating our own skeleton, trying to name some parts and understand what job they do. Jelly became our brain and we tried to simulate our leg bones and hip joint using paper and sellotape. A great challenge! Have a look at the photos! We designed a pizza as part of a balanced meal and then made it, took it home and ate it! Yum!
In Maths, the children began thinking about shapes and their properties. They were faced with questions such as Is a square a rectangle? Does a 2d shape have edges? What 2d shapes can you see on a 3d shape? Does a cone have a point or a vertex? We made some 3d shapes using modelling equipment and practised drawing 2d shapes too. Geometry is a great topic and a brilliant opportunity to get the children spying for real life examples. As always, number facts and times tables were high on the agenda, and will continue to be so.
Towards the end of the term we began our preparations for Easter. Following a visit from the Eggsplorers, some of the children retold and filmed parts of the Easter story using then egg characters, adding their own narrative over the top. These were used in the end of term Easter service! The Easter RE unit is quite challenging as it asks the children to understand the sad and joyful parts of Holy Week, and we we feel these. As part of the work, we completed diary entries of someone in the crowd on Palm Sunday. We also contemplated some very difficult questions such as 'Is Good Friday the end?' 'Why is it called Good Friday when it is the day that Jesus died?' The children showed a great depth of thought regarding this.
As well as retelling stories, Year 3 also used their filming skills to complete a storyboard for the Greek myth Theseus and the Minotaur. After a lot of comprehension based work on captions and summary skills, and some drama work on facial expressions, 5 completely different movie trailers were produced. Some of the creative ideas to show their ideas were completely original. You can view some of these on the website page. Furthering their dramatic skills, the children spent time understanding, performing and writing some performance poetry. Great fun! This really teaches them about use of expression and they always enjoy watching Michael Rosen's Chocolate Cake several times - they always end up doing all the 'mmmmmmmmm' noises!!
Our history learning was quite a challenge! The Ancient Greeks topic is quite a difficult one as it focuses on quite abstract and challenging ideas. The children were introduced to the idea that the Greeks were some of the first people to use democracy, and that the landscape made some of their achievements possible. We showed this through lots of role play and acting out the stories as this seems to help the children remember and envisage what was going on back then. We also had some interesting discussions about what was going on in elsewhere in the world when the Ancient Greeks were busy creating their history!
In PE the children enjoyed practising their target skills. We used various skills, such as rolling, throwing and kicking to try to get a ball to hit a target. The children really seemed to enjoy this unit, and we certainly found some secret bowlers! The children often had to work in pairs and again, showed that they have really matured in this area.
Well done everyone - keep working hard. You're doing a grand job!!
During Spring Term 1 we worked hard...where did the time go?!
We have tried to focus alot this half term on the basics; presentation of work, spelling words correctly that we know how to spell, handwriting, basic number facts. This will continue as it is HUGELY important!
In our reading and writing, we have spent time understanding various Greek Myths, including Perseus and The Gorgan and Pegasus and Bellerophontes. We have written some fabulous descriptions of settings and mythological beasts, with a focus on adverbial phrases and choosing vocabulary for a purpose. We thought carefully about HOW we could frighten our reader, for example. Some of us even used different length sentences. Brilliant! Using Cerberus and the Underworld as the beast and setting, we then invented our own hero and planned our own Myth, including a review of writing dialogue accurately. The children then put all the pieces together to write the plot of their myth!
We have spent time in Maths really getting to know our x3 x4 x8 tables. This will continue into Spring 2 as we begin to use written methods for multiplication and division. Further, we have seen our Reasoning and Problem Solving challenges increase in number, which will continue further into Spring 2. How to reason, both verbally and in a written way, is a skill the children need to be taught and practise. Sometimes it's frustrating but it's also very satisfying when we find a solution! Moreover, the children have been very excited since the launch of Times Table Rockstars. Keep up the hard work! We dipped in and out of telling the time also, thinking about things like how many minutes in an hour, seconds in a minute etc. This is all needed for later when the children will begin to compare durations of time. PLEASE KEEP PRACTISING AT HOME.
In our PE lessons, we learnt all about balances! We tried some counter balances and counter-tension balances, learnt how to forward roll properly and safely aswell as log roll with control, we balances on small and large body parts and learnt different positions such as pike, tuck and star. The children spent a lot of time working in partners or small groups during this unit and did a great job! We also finished our swimming lessons this half term. The children have worked very hard throughout their swimming time and I have thoroughly enjoyed watching them progress. They were always a credit to the school on their journey to and from the pool and the teachers spoke highly of their effort and perseverance. It was a pleasure to take them - I will miss it and I am sure they will too!
Our Science work centred around understanding the different food groups, what foods are in each group and what they give to the body. We sorted some of our own meals into food groups, and thought what we could add to make it balanced if it wasn't. We also discussed how people with particular diets still get some of each food group. Alongside this, the children began their DT work, planning their own pizza, after conducting some basic research. The pizza had to be designed as part of a balanced meal. We will make these the first week of Spring 2 and then evaluate how successful we were (and whether they tasted nice!)
In RE this term, we looked at Rules for Living in other faiths. We spent a while understanding some of the similarities and differences between Judaism and Christianity before looking at some of their rules. We learnt about eating Kosher food and Shabbat, as well as finding an explanation for why some Jews wear Kippahs and have long braids. We then looked at the Five Pillars of Islam and asked some great questions of one of our own class members! The children were very interested in how a Muslim's religious life is different to a Christians and also found it quite difficult to grasp that a Muslim believes in a different God!
We also learnt about Computer Networks! We found out about the different hardware needed, and what equipment in school was on the school network. We understood the role of the Server and hunted around school for all the clues that show us the network is around us.
Finally, we took a trip to visit the Guide Dog Centre to understand more about where our money is going for our sponsorship of Fletcher. The children learnt a little of the history of the charity, before watching some dogs in training and understanding how important it is not to distract a working Guide Dog. They then had a turn at being guided by one of the trainers and met Doogle! After a tour of the outside area where they saw how the car park is part of the training, as well as areas where the dogs can have some 'down time', the children met Tracey and Tamzi. Tracey had lost her eye sight due to a condition and explained to the children how much of a difference Tamzi had made to her life. We had a great time!
Here's to another jam packed half term!
During Autumn 2 we carried on working our socks off! The children are now thoroughly settled into Year 3 life. As always the children worked VERY hard in November and had an exciting December beginning to celebrate Christmas. We have continued improving our narrative writing skills using The Girl with the Yellow Bag to introduce adverbs (the 'how' or the 'when') and prepositions (the 'where') to expand our sentences. We are always looking out for new vocabulary to wow readers with too and we certainly found some when we wrote instructions for How to Wash a Woolly Mammoth! Following some drama work, the children also wrote some wonderful poems for anti-bullying week based on the clip 'For the Birds'. We also completed a letter to the Man on the Moon, based on the John Lewis Christmas advert 2012. All the children should be proud of the writing they have produced this half term!
In Maths we began to review telling the time. This is an ongoing learning strand and should also be practiced at home. Children need to be able to tell the time accurately to the minute on an analogue and digital clock. We will return to this regularly in class but the more you can do at home, the better! We have worked on fluency with addition and subtraction, looking at patterns for adding or subtracting 10 or 100. We worked out which questions were trickier ones, when other columns change. The children were also introduced to the written methods for both addition and subtraction. These are drawn as base 10 to allow the children to understand exchange ready for Year 4. The children also met Roman Numerals for the first time in preparation for telling the time from a Roman Numeral clock. They loved it!
As always, the children have enjoyed Science this half term with a focus on magnets and forces. In Year 3 we like to teach Science in a very practical way and this certainly seems to help the children's understanding. They have been very enthusiastic when it comes to investigating magnets and understanding their force. We conducted a test based around friction, encouraging the children to plan and carry this out themselves in groups. They also had to record results themselves in tables which all supported their working scientifically skills.
Mrs Baines was very impressed with the amount of effort the children have put into their French projects this term. The children have worked really hard and found out a lot of information about living in France and the French way of life. During this term, we will be having a celebration afternoon to reward the children's effort. Tres Bien tout le monde!
During our Geography work, the children learnt about some of the counties of the UK using interactive maps. They also discovered where some cities were, building on their knowledge of capital cities. We used the 8 compass points to explain where cities were in relation to each other. Trickier than you might think!!
At swimming, all the children have really worked hard to become little fishes! They haven't got many weeks left and I hope that all the children continue to swim, but especially those children who were brand new swimmers. We still have many who can not yet swim 25m and so we would encourage home, if possible, to continue their lessons in this hugely important skill. That said, I am amazed by the amount of progress that they have all made in such a small amount of time and the amount of courage they have shown. I suspect their highlight this half term was parents and family members coming to watch! Personally, mine was the whole class singing Jingle Bells all the way to the Sports Village! During P.E. we have focused on social skills and have shown our skills whilst working as a team, also practicing attacking and defending as well as agility!
Our R.E. journey has led us to think about why we have rules and how they help us. We have considered which People of God were important in helping God pass his rules to us, and how The Fall of Man shows us who didn't follow them! We read the story of Moses receiving the Ten Commandments and discussed had quite an in-depth discussion about which one is hardest to follow! Towards Christmas we discussed the Christmas story and how this helps us to feel God is with Us. This centers around the Incarnation and the understanding that Jesus was God's way of being on Earth with us. This is quite a difficult concept for the children to grasp but they made some perceptive and thoughtful comments during the lessons. We read the story of Papa Panov to show how, by helping others, we are helping God too. When discussing how we might help others, the class decided to sponsor a Guide Dog. This fitted well with the school value of Generosity and with their RE unit, and so we welcomed Fletcher to the class! The end of term carol concert was fantastic and a very fitting end to the term.
During the first half of Autumn term........
We were very busy settling in, and we did a great job too! We are all now used to the Key Stage 2 routines and have really tried to bring our behaviour up to the same expectations and of course earn those all important Dojo points! The children have made good head way into more independent decision making and organisation. Moving into Year 3 has been a huge step and I look forward to watching the children grow even more during the coming weeks.
In our learning, we have become very knowledgeable on the Stone Age, and particularly enjoyed furthering this learning with our History Alive visitor. The children were very engaged with the artefacts and costumes and asked some amazing questions! The children also learned about the topic through the book Stone Age Boy. This is a wonderful story, with lovely illustrations and really brings to life the idea of how alien the Stone Age would be to the children now. The class have worked hard on 3 digit numbers, trying hard to secure their place value knowledge. We have also worked on our recall of basic facts and have definitely improved, but got some way to go too! We have learnt about how different countries celebrate Harvest, as well as thinking about why and how we celebrate it. PE has seen us practising our hopscotching backwards as well as side stepping with a pivot! This has proved trickier than the children expected but are good fundamental co-ordination skills to master! And of course, we've been swimming!! We are all amazed by how quickly the children have grown in confidence. They proud smiles really do fill up our days! I think it is our favourite time of the week (hopefully, as we get used to it we will stop being so sleepy on a Wednesday afternoon, too!). At the end of term, we thought really carefully about diversity and people who inspire us and were introduced to Erik. Erik is a blind adventurer who has conquered all of the world's highest summits, as well as sky diving and extreme kayaking. We had some truly thought provoking conversations about celebrating people's differences and having a 'no barriers' attitude to our learning and the children should some real maturity and acceptance in this.
The class has genuinely made me smile this half term, in so many different ways. It is a pleasure to see them become Juniors!
We can't wait to get cracking next half term - it's a busy one and always has a lovely feel as we move towards Christmas!