A very warm welcome to our Year 3 class page. In Year 3 the children are new to the juniors and sometimes a little nervous, so they need to spend time adjusting to new routines and expectations. The children enjoy the opportunity to develop their skills further and generally settle in really quickly to Key Stage 2. They become confident working both independently and in groups, seeing the huge benefits of sharing their ideas and learning. They especially enjoy Wednesdays because they get to go swimming!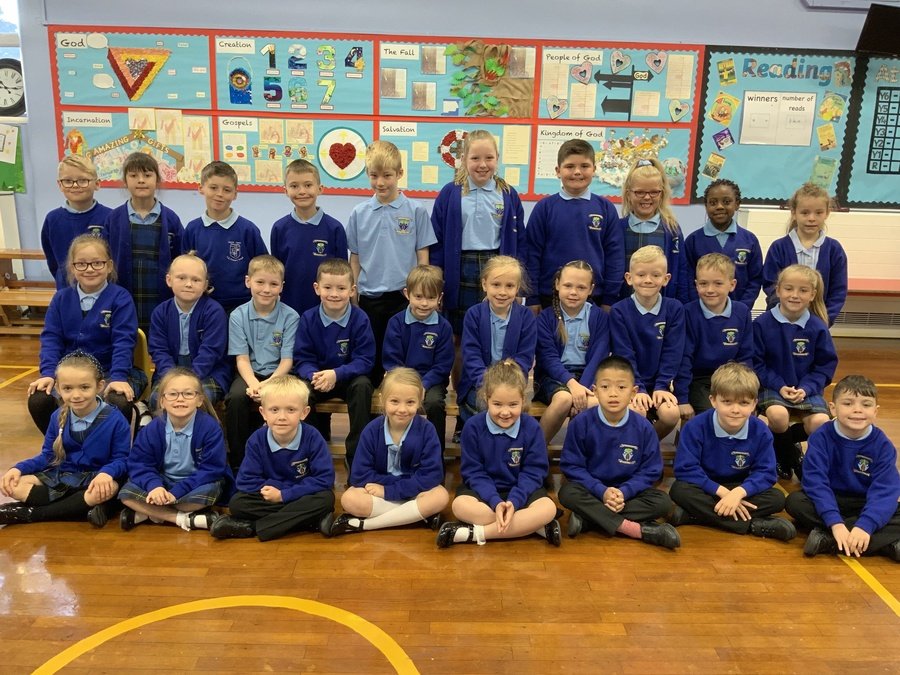 Our Year 3 Class 2019-2020
Class Information
Who's Who
Mrs Evans- Year 3 teacher
Mrs Waqar- Teaching Assistant
Things to remember
Please remember that homework is due in on WEDNESDAY each week.
P.E. lessons - Indoor PE is on a Tuesday afternoon. Outdoor PE is on a Wednesday afternoon. Children must have a full kit to participate.
Swimming begins in February. More details will follow nearer the time.
Please remember to write your child's name on all of their uniform and sports kits to avoid confusion within class.
It is important that children read regularly at home, we appreciate that it may not always be possible but encourage you to do so. The reading record is now to be sent through on Seesaw, with the Reading Record folder tagged. We ask for one video every few weeks to be sent as we can give feedback on how you can help your child improve at home.
This half term.... Autumn 1 (Sept-Oct 2019)
We love Autumn Term! The children have some fantastic topics and learning to focus on as they begin to settle into the Juniors. Above are some of the texts we will be using during Autumn 1. Read on to find out more....
Our English and History will be taught alongside each other. In History the children will be developing their historical skills through learning about the Stone Age, Bronze Age and Iron Age in Britain. They will search out answers to such key questions as 'How did life change for prehistoric man when they learned how to farm?' and 'Why was Stonehenge built?'. Importantly, the children will also think about how on earth we know about early man when there was no writing about it! To support the children's knowledge of this period, we use several texts. Stone Age Boy allows the children to write a diary entry as Om, the girl from the Stone Age who shows the boy her life. It is a great text for the children to both listen to and spend time on the illustrations which give lots of clues to Stone Age life. In writing a diary, the children will practise written skills such as choosing the appropriate tone, remembering to include lots of feelings and experiences and developing a character's voice. They will have to imagine what it might be like for a Stone Age girl to suddenly arrive in the 21st century! The class will also use 'How to Wash a Woolly Mammoth' in order to write instructions on such a difficult task! Figuring out how to clean such a big, hairy, prehistoric beast is great fun and helps the children to develop their imaginative writing aswell as allowing them to be a little creative with their work! As an informative piece of writing, this teaches the children the use of sub-headings and organisational devices in non-fiction work. It also provides us with lots of opportunities to review verbs and learn lots of new adverbs! Finally, the class reader for the half term is The Boy with the Bronze Axe. This is an old story, but is set in Skara Brae which is a key archaeological site and, again, allows the children to play detectives and pick out the many clues and lots of historical vocabulary to support them in building their knowledge of pre-historic life. In addition, History Alive come to visit! We spend an entire morning learning about the Bronze Age and Iron Age, how things changed during these times and how it made a difference. The children are able to see artefacts (including some weapons!) and dress up as pre-historic people.Throughout, the children will be provided with lots of opportunities for the children to work together in groups and share ideas, which always helps with writing.
Spellings - Year 3 and 4 have a statutory spelling list. We split this list in half and work our way through it during the year, in addition to teaching the required spelling rules. We will begin by reviewing and learning more about adding -ly to root words. There will be a spelling test each week on a Friday afternoon for words that have been taught, plus some key words. These maybe from the statutory list or maybe key vocabulary from other subjects. Exciting news this year is that we will be using Spelling Shed in school. This is a website
Maths- The most fundamental aspect of maths is a good understanding of number and of place value. These two elements are our first maths mission in Year 3 as the children move on to using 3 digit numbers. Although many of the children may be able to count into the hundreds already, this doesn't always mean that they are able to manipulate those numbers, or even order them. To develop their 3 digit understanding, we will use lots of different equipment, drawing and maths talk, representing numbers in many ways. This will help them to be able to develop a mental number line in their head, as well as understand what each digit is worth in a number. Place value is a key foundation before moving on, as without it, the children struggle to apply addition, subtraction and many other operations later in the year. It is particularly important when crossing a boundary into another ten or another hundred! To further our understanding, we prove ideas right or wrong, solve problems practically or using pictures, and explain HOW we found our answer. The children begin to compare and order numbers, using their place value knowledge, before adding and subtracting 10 and 100. Alongside this, the children will need to practise reading and writing the numbers that they will be using through out the year. There will be lots of counting in 50s and 100s too! In addition to this, we will review the times tables that the children have learnt previously, then begin to move on to the 4 times table. This links with the 2s and we can introduce lots of pattern spotting to help them to learn it! Hit the Button and TTRockstars are a must to support the children's learning too.
During Year 3, the children are also expected to learn to tell the time, both on analogue and digital clocks, and converting from one to the other. Time is almost always a tricky one to master and can not really be taught in isolation. As such we try to do it little and often, creating opportunities for the children to practise whereever possible. You could do the same at home! This year, we will be approaching it slightly differently using a method from Shanghai. This allows the children to grasp minutes on the clock before we talk about the hour. It also introduces the digital clock sooner. Lots of info and support will be posted on Seesaw as we teach it so that your child can come home and teach you how we have done it in class. This is great for developing their understanding and they love playing teacher!
Science - Our Science work this half term will be all about magnets and forces. This is always a firm favourite with the children as they absolutely enjoy investigating magnets and their seemingly magical forces! There are often several misconceptions regarding magnets and forces and so we focus on showing why this are not quite accurate, using the correct vocabulary as best we can. We learn about the poles of a magnet, how they act and how this has been applied to things in real life. The children work scientifically by investigating friction as a force. This is always quite a difficult concept for them to understand and so it may be investigated in more than one way in order to demonstrate it. In addition, as well as a scrapheap challenge to sort magnetic and none magnetic materials, we also try to understand why some pennies are magnetic and some aren't! Science is often a subject that can be well supported at home with further activities so look out for these coming through on Seesaw. Children never fail to be engaged with scientific investigations and the conversations that can be had to show their learning are both hugely interesting and an invaluable window into their understanding of the world around them.
Art - The children learn about tinting and shading (and that they aren't the same thing!). They experiment using colours to create their own 'shade card' before using their new-found blending techniques with acrylic paint to create a sunset or twilight effect to make Stonehenge silhouette art. It's quite difficult for them to be able to only add a 'freckle' of paint to an existing colour and to mix the small amount thoroughly enough each time!
PE - School Games Sports Value - PASSION
Indoor PE (Tuesday) Gymnastics Linking movements together The children will use different movements, such as turns and balances, to perform with control, poise and flow. They will be able to use their creativity to find ways to join moves together to create a sequence. They will also be introduced to some gymnastic vocabulary which they can then apply to their planned sequences - such as straddle arms, pike legs and tuck legs. This unit will build on the children's core strength as they use balancing to try to control and co-ordinate their bodies.
Outdoor PE (Wednesday) Target Games. This unit is all about hitting a target in different ways with differing equipment. The children will learn to improve their accuracy with their dominant and non-dominant hands and feet, whilst they also work on skills and techniques such as rolling, kicking, under arm throws and using a ball and racket. They will evaluate each other's performance, trying to use the right vocabulary and giving helpful feedback. These are skills which they can apply in competitive games and so will support their performance in other units.
Virtual Classroom (October - November) - This is new challenge across the school where each class competes to be the best class in the country. The children have to practise and complete 3 challenges - a 5 metre shuttle run, a tennis ball throw and a standing long jump. These are basic tasks, but cover w wide range of physical skills - agility, stamina, hand-eye co-ordination, balance.... and all can be worked on at home too! More details will follow in September.
RE - We begin our Year 3 RE with Harvest. The children will already know a little as they take part in the school Harvest service in church every year. As such, we will create opportunities for them to ask questions of the topic to see what else they might like to find out. the children will understand where the Bible references Harvest and which Bible stories are important in this festival. We will also learn about what goes in to a Christian celebration, looking at the words at some prayers and hymns, and understanding how the celebration has changed in the recent past. The class will learn who else celebrates Harvest and how - such as the Rice Harvest in Bali and the Olivagando in Italy. Being closely linked to the Christian value of 'Thankfulness', the children will also spend time reflecting on what exactly we are thankful for at this time. Finally, they will revisit the Jewish festival of Sukkot and how this is celebrated, understanding the significance of a Sukkah to the Jewish faith.
We then move on to thinking about Christian Rules for Living. The children think about why we have rules. and what would happen if we didn't have any. This idea is closely linked with the Christian concept of The Fall and the story of Adam and Eve. We then learn about God's gift of the ten Commandments followed by Jesus' new command in the Gospel to love each other. This unit greatly supports the children in building their knowledge of the bible as we cover stories from both the Old and New Testament. During this learning, two of our school values, Love and Forgiveness, are important and so we link this learning with our Christ Church school rules to understand how these are based in Christian values and how, as a school family. we live these out every day.
French - Simply entitled 'Moi' (All About Me), the first unit we will tackle in French with Year 3 hopes to teach the children how to introduce themselves, greet others and say how they are. We will begin by responding to and asking questions about names and ages. numbers from 1 to 10, possessive adjectives (mon and ma) and some phonetical work with on, u, j and ere will underpin work we also complete which opens the children's minds up to the fact that French is spoken in France and elsewhere.
Heart Smart - Our Heart Smart (and Boris!) theme for this half term is Get Heart Smart. The children learn that choices help or hurt their own heart, and the feelings of others. They think about ways to use their power in positive and negative ways.
Visit the website www.heartsmartprimary.com for more information on what Heartsmart is all about.
Dates for your Diary:
Horrible Histories Theatre Trip: Wednesday 27th September
History Alive Visit:Thursday 10th October
Harvest Service: Friday 11th October
Parents' Evening: Tuesday 15th and Wednesday 16th October

Bags to School Clothing Collection: Thursday 17th October