A very warm welcome to our Year 3 class page. In Year 3 the children are new to the juniors and sometimes a little nervous, so they need to spend time adjusting to new routines and expectations. The children enjoy the opportunity to develop their skills further and generally settle in really quickly to Key Stage 2. They become confident working both independently and in groups, seeing the huge benefits of sharing their ideas and learning. They especially enjoy Wednesdays because they get to go swimming!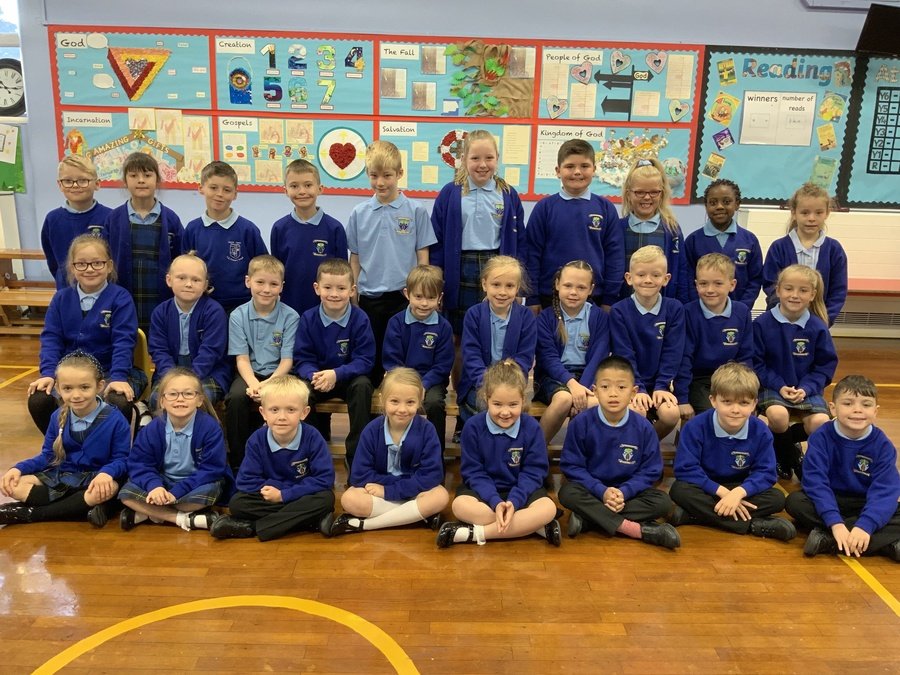 Our Year 3 Class 2019-2020
Class Information
Who's Who
Mrs Evans- Year 3 teacher
Mrs Waqar- Teaching Assistant
Things to remember
Please remember that homework is due in on WEDNESDAY each week.
P.E. lessons - Indoor PE is on a Tuesday afternoon. Outdoor PE is on a Wednesday afternoon. Children must have a full kit to participate.
Swimming begins in February. More details will follow nearer the time.
Please remember to write your child's name on all of their uniform and sports kits to avoid confusion within class.
It is important that children read regularly at home, we appreciate that it may not always be possible but encourage you to do so. The reading record is now to be sent through on Seesaw, with the Reading Record folder tagged. We ask for one video every few weeks to be sent as we can give feedback on how you can help your child improve at home.
This half term.... Autumn 2 (Oct-Dec 2019)
Over the next half term we will be Scientists and Geographers!
English & Geography - We completed some fabulous work on the Stone Age last half term, and have our instructions on How to Wash a Woolly Mammoth outstanding! This will be our first little project, before moving on to linking our writing with our Geography work. Our class reader this half term is The Firework Maker's Daughter. From this the children will write a key event as Lila, the main character in the story, as she travels to volcanoes. They will also revisit and show off their knowledge of how to use non-fiction written features, such as subheadings and a formal tone, as they write an information text about volcanoes. Incase you hadn't guessed yet, our Geography topic is Volcanoes and Mountains. This is an amazing theme that the children always engage with; finding out about how and why volcanoes erupt, what impact they have on life around them, and where they are. We look at the Pacific Ring of Fire and at Sicily as a comparison to our own area. The children will also find out about the key features of mountains. We integrate map work - both digital and atlases. In the run up to Christmas the children will turn their attention to the John Lewis advert, The Man in the Moon. This is an excellent opportunity to develop reading skills through film, before developing our abilities to use conjunctions within a letter to The Man on the Moon.
Spellings - We continue to use Spelling Shed, following the Year 3 scheme. We will also be dipping back to review rules the children have learnt previously, such as -es plurals! Year 3 statutory words were given out a Parents' Evening and should be continued to be practised along side.
Mathematics- we haven't rushed the children through Place Value as understanding the value of digits in numbers is of such importance. This will continue to be embedded through starter activities and homework as we move on to addition and subtraction. For this, teaching will follow the school's calculation policy and would encourage parents to call in to class if you would like to see how we teach addition and/or subtraction. This will help you to support your child at home, particularly as many of the strategies are different from several years ago. Children will be exposed to problems and reasoning, aswell as Active Maths once a week. This is a fun way of practising strands of maths, and keeping those all important skills based around place value bubbling along. At home, you can support your child by counting across hundreds, in 1s, 5s or 10s as this often is needed when using number lines. Accessing Top Marks Daily 10 is also a simple and very effective way to support mental skills, and can be set to suit your child's ability.
TT Rockstars remains a key resource for the children both in and out of school. We will be continuing to consolidate the 3 times table and moving on to counting in 4s.
Children will also spend a little time on Time as we feel this needs to be 'drip-fed' and referred to often. If children have a watch at home, they are welcome to wear it in school (though please only watches with hands and no beeping!).
Science - Rocks; this fits perfectly with our volcanoes topic as, once we have learnt about the process of a volcanic eruption, the children then learn about how igneous rocks are formed. This leads them to discover other types of rock before setting up investigations based on their properties, including permeability and hardness. The children will be using their skills of close observation a lot during this unit, as well as finding ways to record results. We also look at fossils; How they are made, the different types (even frozen Stone Age men!), presenting our understanding in different ways. We will even try to make one. Finally the children think about how soil is made and what it consists of. They work scientifically again by observing closely and getting mucky hands!
PE - School Games Value is SELF BELIEF which complements the Heart Smart theme of Don't Forget to Let Love In which teaches the children to value themselves and see that they are worthy of being loved.
Indoor - Gymnastics
During our Gymnastics last half term, we discovered that we needed to back track a little on some skills. Therefore we will still focus on Linking Movements Together this half term, whilst encorporating the jumps, leaps, turns and rolls we learned in Autumn 1. At the end, the chidlren will be asked to put a sequence together in small groups to showcase their learning.
Outdoor - Handball
This unit allows the children to learn throwing and catching skills, attack and defence tactics and moving within space in the context of a game that they may not have played before! Handball is a fast moving team sport - we will finish with a mini tournament! It also builds on the target games that the children practised last half term as now they can apply aiming accurately at a target within a sport.
RE - As the children needed more time on Harvest to develop their RE knowledge and understanding of this festival within Christianity, we begin this half term with Rules for Living. The children focus on Understanding Christianity, looking at concepts such as the Fall, People of God and the Gospel. They understand where Christian rules come from, and how Moses received them,and debate whether the ten commandments are still as relevant today.
We then move on to God With Us. This is our unit focusing on the Christmas story which thinks about how God is with us at this time and what it feels like to be in the presence of God; getting ready for the arrival of someone special and important. We think about how we prepare for a special visitor and read the story of Papa Panov.
We will return to Rules for Living in Spring, when we think about rules of other faiths.
Computing - The Wiki unit is ongoing and will be used to gather information on a given topic during the half term,moving the children towards working collaboratively to develop a page, and learning how to include photographs or images.
http://whatyear3know.pbworks.com
In addition, we are also hoping to complete out Emailing unit, sending small group emails to 2 real life geographers who have visited Vesuvius!
Design and Technology - This links nicely with our Geography unit! The children will firstly carry our a brief study of Brunel, learning how mistakes led to him understanding how to stiffen and strengthen structures. They will then apply this learning to creating a mountain! They will have to choose suitable materials to keep the mountain stable, before then choosing materials to represent the snow line and tree line of the mountain. I can't wait to see the models!
Music- The children will be exploring the different sound qualities (timbre) of the human voice and different musical instruments. They will learn techniques to play a variety of classroom percussion instruments and will use these instruments to practise playing pulse and rhythm together, keeping in time with others and creating accompaniments to a variety of songs.
French - Our first unit of French, 'Moi' (All About Me) has got off to a flying start! We spent a long time considering France as a country, where French is spoken in the world and investigating different aspects of French culture – the children were most impressed with some footage shown to them of the moment when contact was made between British and French engineers in the Euro Tunnel back in 1990! We've also made some impressive progress with early vocabulary learning (focusing on greeting each other, introducing themselves and saying how they are feeling), and hope next half-term to progress towards responding to and asking questions about ages as we attempt to learn numbers from 1 to 10. Work with possessive adjectives (mon and ma) and some further phonetical work as we also move towards learning colours, will hopefully keep us busy and allow us to even take a look at Christmas traditions in France!
Heartsmart- 'Don't Forget to let Love In'
Visit the website www.heartsmartprimary.com for more information on what Heartsmart is all about.
Dates for your Diary:
School Book Fair: Starts Monday 28th October
Remembrance Service in Church: Friday 8th November
Children in Need: Friday 15th November
Christmas Bingo: Friday 28th November
Nasal Flu Immunisations: Wednesday 4th December
Christmas Fayre: Friday 6th December
Cinema Trip: Monday 16th December
Junior Christmas Party: Wednesday 18th December
Junior Carol Service: Thursday 19th December
NEWS!
During the first half of Autumn term........
We were very busy settling in, and we did a great job too! We are all now used to the Key Stage 2 routines and the children have made good head way into more independent decision making and organisation. Moving into Year 3 has been a huge step and I look forward to watching the children grow even more during the coming weeks.
In our learning, we have become very knowledgeable on the Stone Age, and particularly enjoyed furthering this learning with our History Alive visitor. The children were very engaged with the artefacts and costumes and asked some amazing questions! The children also learned about the topic through the book Stone Age Boy. This is a wonderful story, with lovely illustrations and really brings to life the idea of how alien the Stone Age would be to the children now. They have maintained their regualr reading at home, which has enabled us to begin to develop VIPERS skills within class. The children have worked hard on 3 digit numbers, trying hard to secure their place value knowledge, trying to apply it fluently, yet flexibly around problems and reasoning. They have worked particularly hard on using the correct vocabulary - digit, place value, sum, to name just a few. We have learnt about how different countries celebrate Harvest, as well as thinking about why and how we celebrate it and spent particular time going a little deeper into the value of 'Thankfulness' in Harvest. PE has seen us improving our throwing, rolling and kicking skills, towards a target. Inside, we have learnt about Gymnastics rolls (forward rolls proving particularly tricky!), shapes such as the pike, straddle and tuck, and jumps and leaps with turns. The children needed time to understand these and think about the positions of their bodies as they performed them safely and accurately, and with stability. They will continue to build on this in Autumn 2. In addition, the children have completed the first round of Personal Challenges, which included a square run, throw catch and clap aswell as a jump challenge. We have an up and running class Wiki page...
http://whatyear3know.pbworks.com
Feel free to take a look if you wish. For now, we have learnt how to log on and edit our own and others' pages, following netiquette rules when doing so.
The class as a whole have been practising listening skills, and trying to find solutions for small problems we might come across during the day. They are gaining confidence in making such decisions (and seeing how it goes!) and have the potential to be a very mature and responsible group of young people. They have been a pleasure to spend my days with, especially as they have begun to 'come out of their shells!'.
In Music we have been learning to 'Pitch Match' (sing in tune) by listening to and imitating song phrases, pitch-matching each other and the teacher and singing as a class, group and as individuals. We have developed our awareness of Pitch (high and low) and have started to learn to recognise subtle changes in pitch and volume (dynamics) in a range of more complex songs. We have practised controlling sounds by singing and playing instruments quietly and loudly.
We can't wait to get cracking next half term - it's a busy one and always has a lovely feel as we move towards Christmas!