A very warm welcome to our Year 5 class page. In Year 5 we look forward to the challenges and responsibilities of being in the upper juniors. During the year the children continue to develop their independent learning, research and team work skills. Children also have the opportunity to take on more responsibility by becoming playleaders and helping the younger children in school.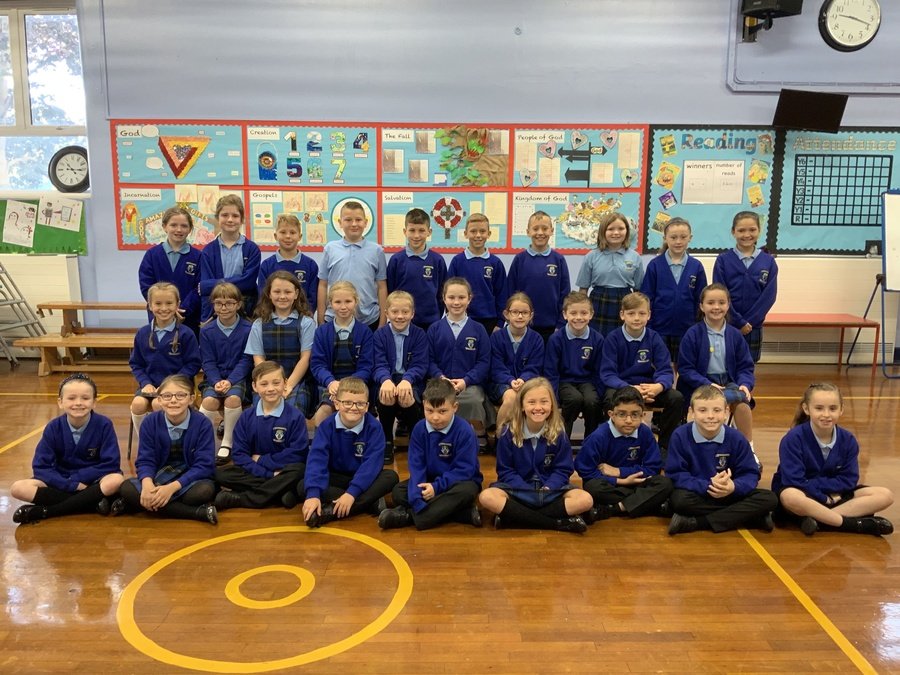 Our Year 5 Class 2019-2020
Class Information
Who's who?
Mr Wilkinson - Year 5 teacher
Mrs Cottrell- Teaching Assistant
Homework
Homework will be set on a Friday and should be handed in by Wednesday. There will generally be Literacy and Numeracy work, and on occasions, topic work. In addition they will also have spelling homework from their spelling group. Children are encouraged to ensure that their homework is completed to a high standard.
Reading
Whilst most children now are independent readers, reading at home is still crucial. Children should read for 15 minutes each night- this can be either their home reader or a book of their own choice. This will be more productive if it is carried out in a calm, quiet environment. The children are also encouraged to use the school library and bring books home that they enjoy. Regular readers will be rewarded handsomely!
PE
PE lessons take place on a Monday and Tuesday. All children are expected to take part in a full PE kit and trainers/pumps. Earrings can be worn at school but, for health and safety reasons, they are not allowed during PE.
This half term.... Autumn 2 (October-December 2019)
English - In English we will now be focusing on our class reader 'The Boy in the Tower'. By Polly Ho-Hen.
'Ade is a just a ordinary boy with an ordinary life. He loves living at top of a tower block and he loves his life, but one day a building falls randomly near his home, an incredibly stable building. Luckily no one is hurt, but the buildings keep falling with seemingly no reason whatsoever'.
There will be a number of different genres covered in our writing lessons. We will be learning how to effectively note and develop our initial ideas, drawing on reading where necessary. Children will be developing their skills to use a wide range of devices to build cohesion within and across paragraphs. We will also be focusing on being able to evaluate the effectiveness of our writing, by assessing our own and others writing. It is extremely important in Year 5 that we are able to effectively edit our writing to ensure we are using all of the different linguistic devices we have learned.
Mathematics - In Maths we will be moving on to our next unit of work which will be based on Statistics and Multiplication and division. It is crucial that children continue to practice their times tables to ensure they have quick recall, so it is important that the children continue to use resources such as TTRockstars ans Maths Shed to improve and maintain their speed.
Our Small Steps for Statistics:
Read and interpret line graphs

Draw line graphs

Use line graph to solve problems

Read and interpret tables

Two-way tables

Timetables
Our Small Steps for Multiplication and Division:
Multiples

Factors & Common factors

Prime numbers

Square numbers

Cube numbers

Multiply and divide by 10, 100, 1000

Multiples of 10, 100, 1000.
Science - Our Science topic this half term is Forces. In this this forces unit we will learn about the different types of forces such as gravity, friction, water resistance and air resistance. The children will be working scientifically to understand and test the effects of each of these forces in a variety of ways, such as testing air resistance by creating their very own parachute, designing their own mechanism, testing gravity using Newton meters, as well as much more!
We will be learning to:
identify forces as pushes and pulls;
• explain gravity as a force that pulls objects down;
• identify Isaac Newton's discoveries;
• explain the effects of friction, including air and water resistance, on moving objects;
• identify different mechanisms;
• recognise that there are different variables in an investigation;
• predict what will happen in an investigation;
Computing -
In computing, we will be using software such as Inkscape and Scratch to complete our next topic, 'We are Artists'.
Develop an appreciation of the links between

geometry and art.

Become familiar with the tools and techniques of

vector graphics package.

Develop an understanding of turtle graphics.

Experiment with the tools available, refining and

developing their work as they apply their own

criteria to evaluate it and receive feedback from

their peers.

Develop some awareness of computer-generated

art, in particular fractal-based landscapes.
P.E - This half term our indoor P.E lessons will be based on Gymnastics. The children will work on their agility, balance coordination and precision. In outdoor P.E, the children will be completing a topic on Team Building and Problem Solving. This will provide the children to developed their communication skills, develop leadership skills, and to be able to work creatively torino solutions to challenges.
French - Our first unit of French, 'Je me presente' (Let me introduce myself) has got off to a promising start! We have spent a lot of time on phonetical work, grasping the French alphabet and revisiting previous learning. We've also made some progress with early vocabulary learning (focusing on how to greet each other and introduce ourselves). This half-term we will complete this unit with a look at how we can add detail to these introductions! Work with possessive adjectives (mon and ma) alongside work on talking about who is in our family in French, will hopefully keep us busy and allow us to even take a look at Christmas traditions in France!
Art - This half term we hope to look at portraits that have been painted over time of royals and the monarchy – this will compliment the work that the children will undertake in their topic work on historic royals like William the Conqueror and King John. We'll then switch to a Design Technology project which also supplements their learning in this curriculum area.
Heartsmart
Visit the website www.heartsmartprimary.com for more information on what Heartsmart is all about.
Self-worth. Learn how to love and value yourself well.
You're important, you matter, you're one in a million and above all you're loved. These are messages that we all need to hear, believe and remember – because sometimes we forget. The healthier our internal dialogue, the greater our sense of worth which is the cornerstone of character and resilience. How kind are the thoughts we listen to? How patient are we with ourselves? How often do we find ourselves listening to the Scrapman?
Don't Forget to Let Love In helps us grow in self compassion. You'll notice we don't shy away from using the word love. It's a big deal. Without it we're no one, but no one is without it. The ability to receive or reject it in our lives defines us. Our actions, beliefs and very essence is shaped by our experience of it. Our hearts are made strong because of it. So in partnering with love, we partner with a strength that's stronger than any challenge life might throw at us. Although it can be a challenge to receive it, love never fails. Don't Forget to Let Love In!
Dates for your Diary:
School Book Fair: Starts Monday 28th October
Closing date for High School Applications: Thursday 31st October
Remembrance Service in Church: Friday 8th November
Children in Need: Friday 15th November
Christmas Bingo: Friday 28th November
Statutory Measuring of Heights and Weights: Tuesday 3rd December
Nasal Flu Immunisations: Wednesday 4th December
Christmas Fayre: Friday 6th December
Junior Christmas Party: Wednesday 18th December
Junior Carol Service: Thursday 19th December
NEWS
During Autumn 1 the children have been extremely busy indeed! In our English work this half term, we have focused on our book 'Leon and the Place Between'. This has provided the opportunity for some inspired writing! We started by making predictions about the book and what it might entail. We then went on to create our very own setting description of a scene from the book. It was amazing to see the amount of description the children managed to include; I could really imagine what it would be like to be right inside the book! We then moved on to a diary entry, with children writing from the perspective of different characters. We discussed what the characters thoughts and feelings were, and the children were able to transport themselves into the minds of each character. In our reading lessons we have been focusing on another book, 'The Boy in the Tower'. The children have been using their 'VIPERS' skills to answer questions and make predictions about the book, and they the children are very excited to start writing lessons using this book over the next half term.
In our Maths work, we have been working incredibly hard and we have been working with some very large numbers indeed. We started the term with work on place value which has provided the foundation for our work on addition and subtraction. The children have really enjoyed our addition and subtraction topic and have excelled when using abstract methods, such as the column method. The children then expanded their learning by using their knowledge to solve problems in different contexts. They were able to solve addition and subtraction word problems, where they had to think carefully about which operations they needed to use to solve the problem. Their favourite, however, was when they had to become the teacher and spot mistakes in examples of work. This really stretched their knowledge and helped consolidate what they know.
This half term in our Science work, we have been learning about the uses of materials and carried out lots of different scientific investigations. We have been learning about thermal conductors and thermal insulators and how to separate different materials. The children particularly enjoyed testing the best material to use for floodlights on a sports pitch, to keep teams in light in the winter months!
Our Geography work on Marvellous Maps has been really interesting and we found out lots of fascinating facts. We have learned about the different types of maps, what different, how to direct people from place to place, as well as looking at how maps have changed over the years.
In P.E we have focused on Hockey. We built on the skills children learned in Y4 and reminded ourselves of how to correctly hold a hockey stick. We focused on our dribbling technique and how to use both sides of the stick to move swiftly across the pitch. As well as this, we learned how to do a correct push pass, to get the most control. This was something the children struggled with, but after a lot of practice, we made some real progress. Some of the children from Y5 were even chosen to represent our school in a 'Quicksticks' Hockey competition.
In Music, our topic for this half term has been 'Tamboo Bamboo' where we have developed our skills at keeping a steady beat, whilst expanding on this by following different rhythms at the same time. It is a really difficult skill to maintain a steady beat when there are other children following a different pattern. However, I was very impressed by the way in which we improved this. We were then able to start to use our Bamboo's to add our take on 'I can see clearly now'.
Art has provided some very busy Wednesday afternoons have been very busy in Year Five over the last half term! Using the inspiration of portrait work by various Zentangle artists, the children enjoyed creating their very own Zentangle Portraits, adding some very individual and unique patterns to form their 'Zentangle hair'. Following that, we looked at various examples of art work by painter Giuseppe Arcimboldo. His unusual portraits, especially his piece called Autumn, inspired the children to work in groups to produce a collage – a portrait using fruit, vegetables and flowers. Their finished work really does showcase the talents and enthusiasm shown by the children in this unit of work on portraits this half-term.
Our first unit of French, 'Je me presente' (Let me introduce myself) has got off to a promising start! We have spent a lot of time on phonetical work, grasping the French alphabet and revisiting previous learning. We've also made some progress with early vocabulary learning (focusing on how to greet each other and introduce ourselves), and hope next half-term to complete this unit with a look at how we can add detail to these introductions!) Work with possessive adjectives (mon and ma) alongside work on talking about who is in our family in French, will hopefully keep us busy and allow us to even take a look at Christmas traditions in France!
Our computing unit on blogging has been so interesting and we will be updating our class blog regularly throughout the year. There have been blogs about a variety of different topics and it has been wonderful to see the different interests of our class and the creative ideas that some of the children have shared. Keep it up Year 5!
Our work in RE has brought many opportunities for reflection and discussion. We have been studying the Bible in great depth. We considered key questions such as: How and why is the Bible used? Do you need a Bible to be a Christian? discussions that followed were really interesting, with the children showing a real depth of understanding.
All in all, it has been a very busy half term indeed, with the children really settling in nicely to Year 5 life. It has been an absolute pleasure having them in the classroom and we can't wait to find out more things over the next term.