A very warm welcome to our Year 5 class page. In Year 5 we look forward to the challenges and responsibilities of being in the upper juniors. During the year the children continue to develop their independent learning, research and team work skills. Children also have the opportunity to take on more responsibility by becoming playleaders and helping the younger children in school.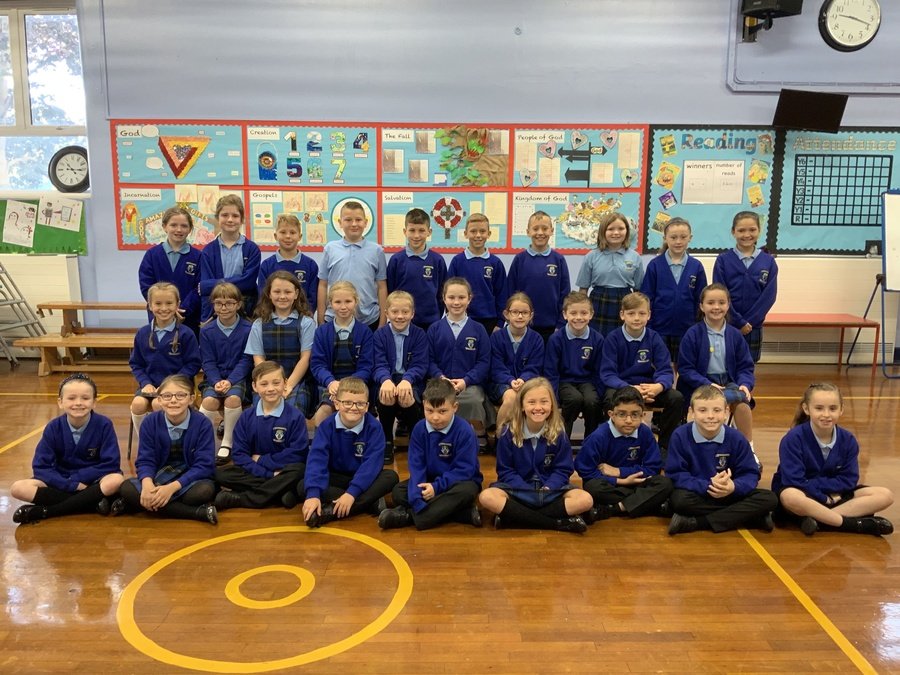 Our Year 5 Class 2019-2020
Class Information
Who's who?
Mr Wilkinson - Year 5 teacher
Mrs Larner- Teaching Assistant
Mrs Cottrell- Teaching Assistant
Homework
Homework will be set on a Friday and should be handed in by Wednesday. There will generally be Literacy and Numeracy work, and on occasions, topic work. In addition they will also have spelling homework from their spelling group. Children are encouraged to ensure that their homework is completed to a high standard.
Reading
Whilst most children now are independent readers, reading at home is still crucial. Children should read for 15 minutes each night- this can be either their home reader or a book of their own choice. This will be more productive if it is carried out in a calm, quiet environment. The children are also encouraged to use the school library and bring books home that they enjoy. Regular readers will be rewarded handsomely!
PE
PE lessons take place on a Monday and Wednesday. All children are expected to take part in a full PE kit and trainers/pumps. Earrings can be worn at school but, for health and safety reasons, they are not allowed during PE.
This half term.... Autumn 1 (Sept-Oct 2019)
Over the next half term our topic will be 'Marvellous Maps'
Our unit of work on Marvellous Maps allows the children to explore the range of maps available to geographers and to develop their understanding of the key features of maps. The children will study a range of maps and atlases, including digital maps, and compare their features. They will learn to use the eight compass points to give directions and give grid references to locate places on a map. By comparing maps of the same place, children will learn about the way that places have changed over time - interesting stuff!
Our Science topic is called 'Material World.' In this topic, the children will learn about materials and how they change. First we will test properties of materials, before looking at how materials dissolve, what a solution is and evaporation. Towards the end of the topic the children will compare reversible and irreversible changes. During this topic it would be great if the children could find out some interesting fun facts about materials at home and bring them into school to put on our facts board. Here is one to get them started. A thread of spider silk breaks less easily than a thread of steel!
In Literacy We have a really exciting unit of work planned this half term. Our work will be based around the story 'Leon and The Place Between' where the children will have lots of fun doing many different tasks to test the literacy skills. They will be placing themselves in Leon's shoes, exploring his thoughts and feelings, predicting what might happen, just to name a few!
In Numeracy we will start off with a unit of work on place value. During this first half term we will also be thinking carefully about and practicing our written methods for addition and subtraction. Work covered will include rounding numbers to 10,100, and 1,000, comparing and ordering numbers to 100,000, working with negative numbers and working with numbers up to a million!
It is important that the children keep learning their times tables at home and practicing their number bonds as this will help them with their number work in school!
RE - We will be thinking about and discussing why Christians read the Bible. Throughout this unit of work children will be learning about how and why Christians read the Bible, why the Bible is presented in many ways, how the Bible gives guidance for daily living and how to reference a Bible.
Computing - Our unit of work is called 'We are bloggers'. Children will be learning a range of new skills including: becoming familiar with blogs as a medium and genre of writing, creating a sequence of blogs on a theme, commenting on the posts of others and they will develop a reflective view or a range of media.
PE - Children will be taking part in a range of different activities related to improving their coordination and agility.
Heartsmart - 'Get Heartsmart' During these lessons the children will be taught what it is to be HeartSmart and how we can 'Power ON' to love ourselves and others as well.

Dates for your Diary:
Harvest Service: Friday 11th October
Parents' Evening: Tuesday 15th and Wednesday 16th October

Bags to School Clothing Collection: Thursday 17th October