A very warm welcome to our Year 5 class page. In Year 5 we look forward to the challenges and responsilbilities of being in the upper juniors. During the year the children continue to develop their independent learning, research and team work skills. Children also have the opportunity to take on more responsibility by becoming playleaders and helping the younger children in school.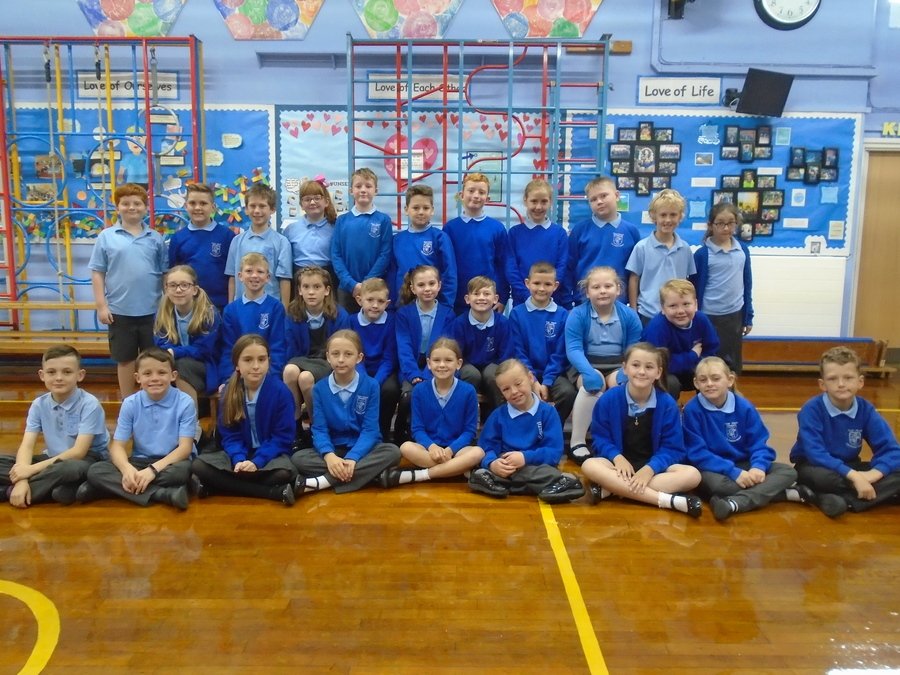 Our Year 5 Class 2018-2019
Class Information
Who's who?
Mr Hudson - Year 5 teacher
Mrs Larner- Teaching Assistant
Mrs Rowland- Teaching Assistant
Homework
Homework will be set on a Friday and should be handed in by Wednesday. There will generally be Literacy and Numeracy work, and on occasions, topic work. In addition they may also have spelling homework from their spelling group. Children are encouraged to ensure that their homework is completed to a high standard.
Reading
Whilst most children now are independent readers, reading at home is still crucial. Children should read for 15 minutes each night- this can be either their home reader or a book of their own choice. This will be more productive if it is carried out in a calm, quiet environment. Parents / carers are encouraged to sign the planners to acknowledge this please. The children are also encouraged to use the school library and bring books home that they enjoy. regular readers will be rewarded handsomely!
PE
PE lessons take place on a Monday. All children are expected to take part in a full PE kit and trainers/pumps. Earrings can be worn at school but, for health and safety reasons, they are not allowed during PE.
This half term.... Summer Term 2 (June -July 2019)
Over the next half term we will be finishing off our topic work on 'Enough for everyone'. Throughout this unit of work our class will think about the needs of a settlement, and the needs of the planet as a whole. They will find out where resources such as power and food come from, and look at ways in which natural resources can be conserved. After discussing the idea of carbon footprint, the children will have the chance to consider how their actions impact on others around the world, and to think about the changes that they could make to try and ensure that natural resources are shared so there is enough for everyone.
We will be starting a new Science topic 'Living Things and Their Habitiats. The children will have the opportunity to take cuttings from plants The focus will be on how new plants are made and the life cycles of plants. They will learn about different mammals and make life cycle wheels to present their learning. After this topic has been covered, a short unit on 'Super Scientists' will be taught. The children will learn all about the work of Jane Goodall leading them to create their own charity advertisement.
In English, we will be progressing through a unit of work on poetry. The children will study the narrative poem 'The Raven' by Edgar Allen Poe, using it as a stimulus for a third piece of assessed writing and as a back-drop to some study on figurative language used by writers like similes, metaphors, personification, alliteration and repetition. In readiness for their transition in to Year 6, we will also concentrate on the remaining sentence styles that we need to practice in Year 5, including the use of relative clauses, prepositional phrases and subordinate clauses. Work on Non-Negotiables will also be on-going as well as essential reading skill practice, especially inferencing and the exploration of the language used by writers for effect.
In Maths we will start the term by looking again at Geometry, more specifically Shape. Children will be learning to identify, describe and represent the position of a shape following a reflection or translation. Children will also be learning how to measure accurately using a protractor, and will be completing various different angle problems. Time will also be spent going over those tricky maths subjects that we found difficult to grasp earlier on in the year. We really want the children to be ready and prepared for the work that they will face next year when they reach Year 6!
As always, it is very important that your child continues to regularly practise their times tables at home. You can support your child at home by going through these together and regularly reinforcing number bonds, counting forwards and backwards in a variety of multiples, practising telling the time in analogue and digital and converting a variety of measures.
RE - We will be learning about Daniel from the Bible, and be finding out more about a Non Christian faith.

HEARTSMART- No Way Through Isn't True
Heartsmart is a resource that helps build resilience, emotional intelligence and empathy in the hearts of children. Visit the website www.heartsmartprimary.com for more information on what Heartsmart is all about.
Computing - The topic for the half term is We are architects'. Throughout this unit of work the children will learn to understand the work of architects, designers and engineers working in 3D. They will also develop familiarity with a simple computer aided design tool. Children will also develop spatial awareness by exploring and experimenting with a 3D virtual environment.
PE - The topic for this term is Personal - There are many aspects to this topic that the children will undertake. Throughout the course of this unit of work the children will be encouraged to give and receive critical feedback and make changes, recognise strengths and weaknesses, setting appropriate targets and persevering with tasks to improve performance through regular practice. The children will also get the opportunity to get ready to perform in preparation for our school Sports Day.
Dates for your Diary:
Sports Day: Wednesday 19th June 1.30pm
Class Photographs: Thursday 27th June
Summer Fayre: Saturday 29th June 12pm
Last day of term: Friday 19th July (finish at 3.00pm as usual)
NEWS!
With the dawn of a new Summer Term came the start of a new topic in English: Shakespeare! The children enjoyed learning all about life for rich and poor Elizabethans, and the work completed on The Globe Theatre in class led to some amazing 3D models for homework! And despite being spoilt for choice, we eventually decided upon 'Hamlet' as our play, and its central theme of revenge proved great to get our teeth into! Firstly Year 5 became imaginative playwrights themselves when they tackled the first of two assessed pieces of writing: writing a play script of their own with a revenge plot. Then, when it came to looking at the play 'Hamlet', we were confident enough to have a go at some acting out of Act 1 Scene 5 and even managed to work with the original Shakespearean text (no modern day translations needed for us in this class!) A second piece of assessed writing - in the form of a letter from Hamlet to Horatio - then provided an opportunity for the children to showcase their writing skills once again, and in particular to showcase how well they'd picked up the use of dashes in writing and the use of brackets for parenthesis.
In Maths we have been racing through our work - yet again! Children have been working hard learning all about decimal numbers this Term. Work included:
reading, writing and ordering numbers with up to 3 decimal places.

Recognising and using thousandths and relating them to tenths, hundredths and decimal equivalents.

Rounding decimals with two decimal places to the nearest whole number.

Solving problems involving number up to three decimal places.

Recognising the cent symbol and understand that per cent relates to number of parts per hundred and to write percentages as a fraction with denominator 100, and as a decimal.
We have been really proud with how the children have coped with the level of demand in regard to their maths work - keep it up guys!
Number Crunchers was particularly well attended towards the end of the term, which was really pleasing to see. It was lovely to see how the children wanted to improve their own work and they were really honest in sharing the maths topics that they found particularly difficult and needed more help with. These sessions will continue into the second half of the Summer Term.
We have lots planned for the upcoming term, with plenty to cram in!
What a start to the Spring Term! The children have been so busy and have produced some work to be truly proud of. Our unit on UFO's created quite a stir, and the resulting hoax newspaper reports were really impressive. We've loved reading our book, 'The Boy in the Tower' which has given us the chance to practise and perfect our VIPERS skills (ask your child!). Towards the end of the term the children produced some stunning pieces of persuasive letter writing, remembering to include typical persuasive techniques using our 'FORESTPIE' (ask your child!). Finally we saved our best work until last. We watched a short video clip called 'The Girl and the Fox' and the children were asked to write a dramatic recount of this tale - the results were absolutely incredible!
In Maths we continued to explore the topic of Fractions and towards the end of the term we looked at Decimals and Percentages. The children have been flying through different aspects of the topic, continuing to amaze us with their ability to investigate, problem solve and reason. Despite having only completed two terms of Year 5 so far, lots of children have already filled their Maths books and are moving on to starting in new ones next term...that's an indication of how much work they have been getting through! This work will continue after the holidays.
The children have enjoyed the opportunity to learn about Rainforests and the people and animals that can be found there. We studied the work of Beatriz Milhazes and some really impressive art work has been created. We are looking forward to learning more about this subject when we come back to school.
Lessons in RE have been very thought provoking as we discussed the importance of Easter in the Christian calendar, and the children wrote some very emotive pieces of writing depicting the last days of Jesus. The children showed a great understanding and the resulting work was of a superb standard.
Thank you to all the family members and friends who made the journey to The Bridgewater Hall to watch our performance. I'm sure you'll agree that the children were absolutely incredible and the commitment to the project was definitely worth it. We were all so proud, and I'm sure that the children have created memories that they will never forget - what an opportunity!
To complete a wonderful Spring Term together, we all came together in Church in the final week for our Easter Service. Those of you who were there to share this special time with our children will already know that Year 5 played leading roles in the performances we enjoyed! We are so proud of all the children who took part! In the last couple of weeks before the holidays our class took part in the 'Bikeability' course, and we are pleased to say that all children involved in this safer bike-riding initiative passed the course and proved to be model cyclists! Another proud moment for all of us!
Again another really busy half term in Year 5, with lots of hard work completed. In our English work we produced some wonderful writing linked to the Sci-Fi genre. Children were asked to create a report on the fictional moon 'Pandora'. We focused on the different elements of report writing, and children enjoyed the opportunity to create a description of their own hexapod - an animal found on Pandora. Sticking with the theme of Sci-Fi, the children were also asked to create their very own UFO hoax in the style of a newspaper article. It's fair to say that we have lots of children in our class with very impressive imaginations!
Maths work continued at a great pace, with plenty to get through. We looked closely at perfecting our written methods for multiplication and division, and started a really tricky unit of work on fractions, this will continue into Spring 2.
Our RE work on Jesus the Teacher was very thought-provoking with children showing the key skills of reflecting, applying and analysing throughout their work.
Tons and tons of fabulous Science work was completed during the first half term with children getting to grips with some potentially very difficult concepts. We looked at gravity and carried out investigations linked to other types of forces such as air resistance, water resistance and friction. We also discussed the meaning of key vocabulary linked to our unit such as mechanism, resistance, apply, balanced and unbalanced.
Lastly, we continue to work with the Halle Orchestra and the Northern Ballet School, and can't wait for our performance at the Bridgewater Hall - what an opportunity!
We are looking forward to the next term and the opportunities it will bring.
What a really busy Autumn 2 term it has been! All the children have worked really hard, we especially enjoyed the build up to the Christmas celebrations and loved performing in church on the final day of term. We hope you enjoyed our performance too!
The children have been extremely busy in their Maths lessons and worked really hard in all aspects of their work. We did lots of multiplication and division work and looked at written methods for particularly difficult questions. The children were introduced to the 'bus stop' method for division and 'column multiplication' - tricky stuff! The children continue with their Big Maths work and are understanding the importance of being able to work quickly but accurately in relation to their addition and multiplication facts.
We also spent time looking at area and perimeter, and we will continue with this work when we get back after Christmas. The children worked on measuring and calculating perimeter of composite shapes, and estimated and calculated the area of rectangles and irregular shapes.
The second half of the Autumn Term saw the children completing a piece of narrative writing called The Ridge. After weeks spent carefully crafting and editing their stories, gaining confidence and skill as writers, the children had some truly wonderful work to be proud of! Look out for your child's story when you next see their English book! In the lead up to Christmas our attention then turned to a short story by Michael Morpurgo (the significant author we studied in the first half of this term). Coming Home was written to partner a 90 second Christmas advert for Waitrose, and both advert and short story tell the tale of a robin's return home from his migration to spend the Christmas with his 'loved one'. With focus upon the techniques used by Morpurgo in his writing (repetition, descriptive techniques and similes), the children were asked to write using this same style. The poems they created were thoughtfully and cleverly crafted... we're still waiting to hear from Morpurgo himself as to what he thinks about them, as a sample of our work was sent off to his website for his opinion! (we're sure he's as proud as we are of the children's efforts!).
The children enjoyed their topic work on the Monarchy. They found out lots about the kings and queens of England and how their reigns shaped the country we live in today. We researched and found information on things such as: describing how how different monarchs had to fight to become powerful, understanding the importance of an heir to the throne, researching the British Empire, and showing a sound knowledge and understanding of chronological order in relation to monarchs and events.
In our RE work the children have covered a number of different units of work. There was lots of opportunity for discussion and sharing our thoughts with each other. We have been discussing the importance of the Bible for Christians and talked about how the Bible can be used to give us guidance and offer answers in difficult or challenging circumstances. We also looked at other sacred religious books, and drew comparisons with the Bible. In the build up to Christmas we looked at how other cultures celebrated the event and drew similarities with the nativity story.
During Autumn 1 the children have been extremely busy indeed! Our topic work on Marvelous Maps has been really interesting and we found out lots of fascinating facts. In our Science work we have been learning about uses of materials and carried out lots of different scientific investigations. We have been learning about thermal insulators and how to separate different materials. We even got chance to make our own egg parachutes - cracking! In our Maths work we have been working incredibly hard and we have been working with some very large numbers indeed. We have done lots of work on addition and subtraction, and have been getting to grips with some work on statistics.
Our English work has impressed so many of our adults in school! We are really getting to grips with our class book, having especially enjoyed working in teams to create our own non-chronological reports on orangutans. A lot of our writing has been centered around Michael Morpurgo's wonderful novel - Kensuke's Kingdom, with the children writing their own descriptive paragraphs, Ship's Logs and persuasive letters.
Our computing unit on blogging has been so interesting and we will be updating our class blog regularly throughout the year. It has been wonderful to see so many confident children blogging on a regular basis.
Our work in RE has brought many opportunities for reflection and discussion. We have been studying the Bible in great depth. We considered key questions such as: How and why is the Bible used? Do you need a Bible to be a Christian? Why is the Bible holy? and Why is it a best seller? The discussions that followed were really interesting, with the children showing a real depth of understanding. This unit of work also gave the children the opportunity to use their sketching and shading skills following a lesson looking at the work of William Tyndale in translating the Old Testament. It was the first time we got to use our new sketching books, and it's clear that we have some very talented artists!
Finally, as part of our British Values work the children learnt about and studied the life of Nelson Mandela. The children showed great empathy in their responses, and created their own video clips, depicting Mandela's life using software on the ipads, the results were so impressive!
All in all it has been a very busy half term indeed, with the children really settling in nicely to Year 5 life. It has been an absolute pleasure having them in the classroom and we can't wait to find out more things over the next term, but we aren't allowed to mention the word 'Christmas' just yet!