A very warm welcome to our Year 2 class page. In Year 2, our children are really starting to fly! Building on previous years they become confident readers, writers and mathematicians. As school life falls into place, they find themselves our oldest infants and begin to develop a real sense of responsibility. I hope that you find all the information useful and if you have any questions I am available after school for a quick chat or you can message me on Seesaw. As you can understand I need to be in class with the children in the mornings, but if you need to speak to me, an appointment can always be made.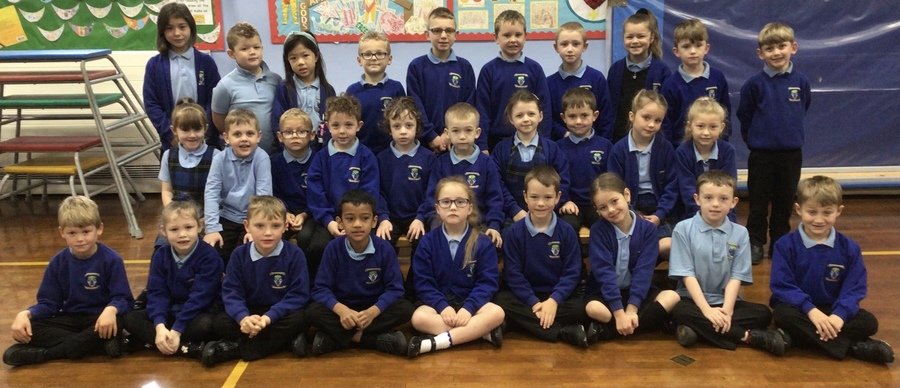 Our Year 2 Class 2020-2021
Class Information
Who's Who
Miss Barton/Mrs Clarke- Year 2 teacher
Miss Taverner- Teaching Assistant
Literacy
Reading
The guided reading schemes we use in Year 2 are:

Read, Write Inc

Oxford Reading Tree

Rigby Star
Home Reading books
Whilst your child will read regularly in school you can make a big difference by listening to your child read and asking them questions about what they have read for just ten minutes each night. In addition, using Bug Club is a fun way to build comprehension skills by answering the little quizzes in each online book.
Please note: Your child will only change their books on a Wednesday, when they will bring one book home to read the following week. This is to allow your child to become a fluent reader and have time to spend discussing the text. There will be access to a range of additional books on Bug Club, which will develop comprehension skills.
Phonics
In Year 2 we follow Read, Write Inc


Homework
Homework will be given out on a Friday and is to be uploaded to Seesaw before Thursday. In addition, maths practise will be assigned each week on 'School Jam' every Wednesday.
The homework set will be Literacy and Numeracy based and sometimes Topic and will reflect what we have been learning during the week. There will also be a spelling list assigned on 'Spelling Shed' for the children to practise for an online spelling test on a Friday. This helps to reinforce learning that has taken place during the week and also inform us of any areas that your child may need further assistance with. We also have our 'Seesaw' app which allows you to view your child's learning at home and will highlight areas that need extra practise at home to secure your child's targets.
This half term.... Summer 2 (June-July 2021)
Over the next half term our topic is : Explorers!: By stepping back in time, using our historical enquiry skills, we will discover different explorers from the past. Using old photographs and maps we will bring to light who Christopher Columbus was and how he shaped the world today. How would your life be different had he not stumbled on America? By comparing him to Neil Armstrong and Tim Peake, we will look at how the times changed and how the famous moon landing impacted on our lives today. Looking for similarities and differences between the two men, we will discover what traits are needed to become an explorer. Using the terms century, decade BC AND AD we will research other significant explorers in history.
Our Literacy topics will include: We will be completing our work on Lila and the secret of rain by writing our own story called Yaro and the secret of the watering hole. We are then going to create our own instructions on how to make a bird feeder. We will be focusing on using imperative verbs, including brackets in our writing and how we can write in steps. Once we have finished our work on instructions we will be learning how to write persuasively and reading the book The day the crayons quit.

Our Numeracy topics will include: We will be very busy looking at addition and subtraction of two digit numbers. Firstly, we will be looking at subtraction by finding the difference, then we will begin to add and subtract numbers within 100. We will still be practicing our timestables especially 2s, 5s and tens. We enjoy playing numbots and are hoping each child will complete all the levels by the end of the summer term ready for year 3!
Our RE will be: The Church - we will continue our work on the church. We will then compare our church to one from a contrasting faith, looking for the similarities and differences.

Our Science topic will include: Feeding and Exercise. To start our new science topic we are going to pretend we are stranded on a desert island and think about what we would need to survive. By looking at our diet we will discover the different food groups we need to eat to maintain a healthy lifestyle. We are going to look at different food labels so that we can understand what is in the food we are and know how to identify if a food has 'gone off.'
Linked to Literacy we are going to complete an enquiry into what food garden birds prefer to eat.
Linked to D/T we will investigate dips and dippers and make our very own healthy dip!
Our Computing topic will cover: Understanding what algorithms are; how they are implemented as programs on digital devices; and how programs execute by following precise and unambiguous instructions. We will use logical reasoning to predict the behaviour of simple programs and recognise common uses of information technology beyond school. We will also understand how to use technology safely and respectfully.
Our PE theme will be:
Invasion games - We will be playing lots of different teams games and developing simple tactics for attacking and defending.
Circuit Training - We are learning the different exercises in a circuit and putting them all together in the full circuit
HEARTSMART: 'No Way Through' isn't True!
Summer Term 1 NEWS!
During Summer 1 we were focused on showing everyone how fantastic we are in Year 2 as we prepared for the end of key stage assessments.
Literacy- We have been learning all about big cats! We have been focusing on non-chronological reports and writing our own about lions. We watched documentaries about big cats and read texts full of interesting facts, this helped us with our writing. We have been learning how to write headings, subheadings and how we structure a non-chronological report. We have also focused on the text 'Lila and the Secret of Rain by David Conway and Jude Daly' to learn new vocabulary and develop our skills of retrieval, inference, prediction, and sequencing. We used role play to explore Lila's feelings and learnt how the end of a story links back to events at the beginning. We learnt all about the 'Power of 3' sentence and revisited exclamation sentences. Using the toolkit we had developed from our reading we retold the story in more detail.
Maths - We were very busy mastering all of the skills we didn't feel 100% confident with and have been looking at multiplication and division. We have been trying very hard to learn the 2, 5 and 10 times tables! We have done lots of work on creating equal groups, writing repeat addition sentences and different ways we can divide items. We have been working on out problem solving skills and how we can work out the quickest way to solve different calculations. We have been having lots of fun with our maths!
Science - We started our work on 'Materials' by finding out the different the properties of materials and what materials items in our classroom are made from. We have worked scientifically to find out which materials are absorbent, which materials are waterproof and how we can change the shape of some materials. We have focused on making predictions before we begin out experiments to see if we get the outcome right! We have made lots of mess but have had fun with our learning!
RE - In RE we started our work about the church, discussing our own special places and looking at the church as a special place for Christians. We visited our church and Reverend Saunders gave us a tour around showing us the important artifacts.
Computing - We started our work on coding, learning an algorithm is a set of instructions given to a digital program to allow it to work. We created our own simple algorithms to allow our character to complete tasks and debugged any errors as they occurred to be successful!
Geography - This term we have been on safari to Kenya in Africa, we found all 7 continents and have been able to find Africa and the UK on our world map. We talked about how different out weather in the UK is compared to Kenya, some of us said we would love to live in Kenya because it is very hot! We used our skills to direct our safari jeep around the map using a compass, we came up with a rhyme to remember the four compass points, naughty elephants squirt water! We thought that this fitted in well with our learning about Kenya and the animals that live in the Savannah. We looked at the Maasai tribe and compared how their life was different to ours and also the people living in the city of Nairobi.
Art - We explored African colours, shapes and patterns to produce our own tribal designs. After studying the different masks used by the Maasai tribe, we made our own animal masks. By looking at the work of Shirley Shelton & Sarah Shiundu we understood how beautiful the African landscape is and made our own African sunset piece of art using collage.
During Spring term we were in Lockdown, so News updates were done collaboratively through Seesaw.

Autumn Term 2 NEWS!
During Autumn Term 2 we were unbelievably busy. Continuing our work on 'Habitats' we used our data to create tally charts and bar charts linked to our computing unit. We grappled with branching keys to sort the bugs we had found and added information to a digital map to share what we had found at Pennington Flash before the holidays. After discovering the changing fashions from 1950-1970 the children designed a puppet that was dressed in their chosen decade clothes. We discovered how food and toys have changed over time by comparing birthday parties from the 1960s and now. We looked at the differences between the Mods and Rockers and compared our lives to those of the Hippies. By learning several 1960s dances, we gained an insight into the music and dance moves of this decade.
In Mathematics we have been using our knowledge of the place value of 2-digit numbers to add and subtract. It has been challenging to get to grips with tens and ones and counting forward and backwards on empty numberlines. Applying our knowledge of addition and subtraction we had to solve lots of problems, understanding whether the language was telling us to add, take or do both in two step problems.
In RE we compared the Bible to the Quran, looking for similarities and differences. Looking at the difference between good and bad news, we learnt the importance of the birth of Jesus. We learnt about how God sends us messages, especially the importance of the angels in the Christmas story and how this impacted the world then and now.
In English we looked at non-fiction books to discover how they are different to stories. Using the books 'Winter's Sleep' and the facts learnt about in Science, we produced our own non-chronological report. Learning how to use questions to grab the reader's attention and how to layout a report using headings and subheadings. We have continued to follow Read, Write Inc to develop our reading skills as well learning how to answer retrieval and inference questions in comprehension work.
Autumn Term 1 NEWS!
In Geography, we have been busy learning all about maps. Looking at photographs of the capital cities of the UK, we learnt what an aerial view is and spotted landmarks in each city. Using aerial views, we made a plan of our classroom using the shapes of the tables and chairs. We then went out and about to find landmarks in our local area and plotted them on a map of the area with the help of our grown up. Back in class we made a key, creating a symbol of each landmark that we could use on our own map. Using our symbols we made a simple map of our journey.
In Science, we have discovered what makes things alive, dead or never alive. Using this knowledge we looked for living things in their habitats. Starting with the ocean, we learnt the names of different plants and animals. We discovered what features these animals needed to be able to survive in the ocean, for example, fish have gills to breathe and fins to help them move, and how we wouldn't be able to live in this habitat. Looking in the woodland habitat, we discovered there are lots of micro-habitats which tiny creatures live in. On our visit to the woodland at 'Pennington Flash' we found lots of minibeasts and learnt the names of different plants and animals we didn't know using identification keys..
In RE we have been learning about the Bible and why it is important to Christians. We brought our own special books into school and sorted the books of the Bible into the Old and New Testament. The children enjoyed listening to lots of different stories from the Bible and choosing their favourite one. In PSHE, we have discussed how we have the power the be superstars and how we need to use the positive energy from batteries to make our school and the world a better place.
In Art, the children have looked at landscapes and cityscapes painted by Monet. The children used the tip of a paint brush and cotton buds to apply thick acrylic paint to recreate Monet's garden in Giverny, after looking the colours and brushstrokes in different Monet paintings. Using two of Monet's paintings of the 'Houses of Parliament, 1902' the children discussed how colours can be used to show the weather and time of day paintings were created. The children used pastels to create the colours in the sky, blending the colours together with their fingertips. They then used a template to cut out the shape of the 'Houses of Parliament' from black card and stick onto their sky. Using black pastels, they created the reflection of the building underneath. By looking at the landscapes painted by Vincent van Gogh, the children were able to compare the similarities and differences with their work. They again used the same thick paint, but slightly different brushstrokes (straight marks for the grass and sky, and round marks for the clouds) to re-create his painting 'Plain Near Auvers, 1890'.
The children have gained lots of new reading skills from following the Read, Write, Inc phonics scheme. They have been using their predicting and inference skills when reading the story 'Wild' using clues from the text to help with their understanding. We have been introduced to the 'Writing Rainbow' and the different FANTASTIC symbols, which we included in our retell of the story. We have recited the poem 'The Grass House' and used its structure to write our very own poems entitled 'The Forest House' using all the vocabulary we have learnt about the woodland habitat.
In Maths we have been mastering place value to 100, using lots of different resources. We have been using the part whole model to find number bonds to 20 and 100. The children have been getting to grips with our new maths scheme Power Maths by solving lots of real life problems.
In music the children have developed their listening and thinking skills. They have learned to recognise a range of simple song melodies by pitch and rhythm and have enjoyed learning to sing these melodies in time and in tune with each other. They have listened carefully to recorded music and have learned to identify and talk about interesting musical features.
In PE, we have been developing our gymnastic skills by learning new balances and jumps. We practised the log roll and worked on rocking to our feet in preparation for learning forward rolls which some of us mastered too. Applying all our new skills, we made sequences on the apparatus.