A very warm welcome to our Year 2 class page. In Year 2, our children are really starting to fly! Building on previous years they become confident readers, writers and mathematicians. As school life falls into place, they find themselves our oldest infants and begin to develop a real sense of responsibility. I hope that you find all the information useful and if you have any questions I am available after school for a quick chat or you can message me on Seesaw. As you can understand I need to be in class with the children in the mornings, but messages can be passed through Mr Southern on the playground. If you need longer, an appointment can always be made through the school office or via the contact link below.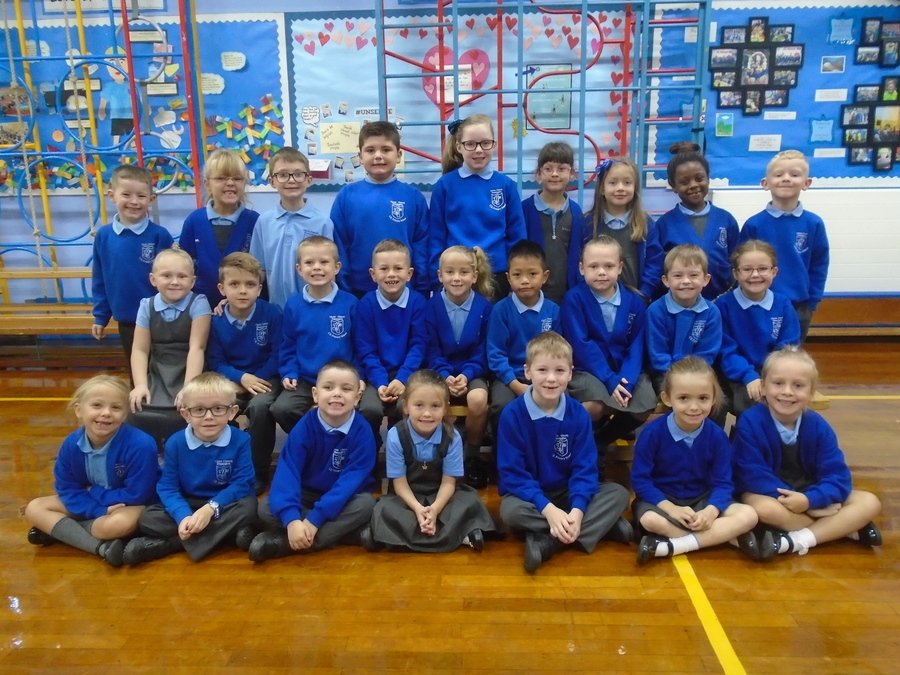 Our Year 2 Class 2018-2019
Class Information
Who's Who
Mrs Clarke- Year 2 teacher
Miss Taverner- Teaching Assistant
Mrs Bayatti- Teaching Assistant
Literacy
Reading
The guided reading schemes we use in Year 2 are:

Read, Write Inc

Oxford Reading Tree

Rigby Star
Home Reading books
Whilst your child will read regularly in school you can make a big difference by listening to your child read and asking them questions about what they have read for just ten minutes each night.
Please note: Your child will only change their books on a Monday, when they will bring two books home to read the following week. This is to allow your child to become a fluent reader and have time to spend discussing the text. This will develop their comprehension skills.
Phonics
In Year 2 we follow Read, Write Inc


Homework
Homework will be given out on a Friday and is to be handed in on a Thursday.
The homework set will be Literacy and Numeracy based and sometimes Topic and will reflect what we have been learning during the week. This helps to reinforce learning that has taken place during the week and also inform us of any areas that your child may need further assistance with. We also have our 'Seesaw' app which allows you to view your child's learning at home and will highlight areas that need extra practise at home to secure your child's targets.
This half term.... Summer 1 (April-May 2019)
Over the next half term our topic is : Let's go on Safari (Geography): We will locate Africa on a world map and identify the country of Kenya. The children will decide what to pack on their journey to Kenya after exploring the climate and weather there. Using the compass points to navigate they will position animals on a map whilst considering their basic needs. They will then explore the landscape, writing a travel journal for the next visitors. Introducing the Maasai tribe the children will find out about the people and culture of Kenya and compare how Kenya is similar and different to the UK.
In art, we will be exploring African colours, shapes and patterns. We will look at Maasai jewellery and make our own Maasai headband, then after looking at African animals and masks we will make a mask using collage. By studying African sunsets, the children will learn how to blend colours using a dry paint brush and make silhouettes to add features to their painting. For computing we will be exploring algorithms, learning the basic skills of programming and gain an understanding of debugging.
Our Science topic is: Animals including humans - We will be observing how animals offspring grow into adults. In school, we will have first hand experience observing stick insects hatch and grow. We will perform a simple test to see if children get faster, as they get older and describe the basic needs of animals.
Our Literacy topics will include: We will be using the story Lila and the Secret of Rain by David Conway and Jude Daly to learn new vocabulary and improve our skills of retrieval, inference, predicting and sequencing to answer lots of comprehension questions as we prepare for our KS1 SATs this half term. We will use role play to explore characters feelings and behaviours. By finding examples of the power of three sentences we will learn to compose our own. In addition we will develop exclamatory sentences, use planning to write a more developed ending which links to the beginning. Linked to our topic we will write questions and use the layout of non-fiction texts to record findings.
Our Numeracy topics will include: We will become experts at reading different scales and understanding why it is important to be able to master this skill. It is time to find out whether we know our left from our right, as we look at position and direction. Will we be able to navigate our friend the correct way? We will continue to develop our calculation skills by applying them to lots of different problems and increase our speed of recalling multiplication facts using 'TT Rockstars'. In addition, we will revise time, money, shape and fractions in preparation for our KS1 SATs.
Our RE will be: The Church

Our SEAL theme will be: Relationships
HEARTSMART: Fake is a Mistake!
Dates for your diary
PE: Wednesdays
NEWS!
During Spring Term 2 we were very busy and here is a snapshot of what we did:-
History - We used digimaps to find our local area and then stepped back in time to 1950 and 1890 to see how things have changed over time. We discovered there used to be mills in the area called Etherstone Mill and Mather Lane Mill. Using old photographs and a trip to Quarry Bank Mill we found out what it would have been like to be a poor child in the Victorian era.
Literacy- We loved the story of 'Mr Bunny's Chocolate Factory by Elys Dolan' learning new vocabulary and revisiting sentence types. We learnt commands start with a 'bossy' verb and wrote Debbie some instructions for her first day in the factory.
Numeracy- We worked hard to master fractions this half term. We discovered there are equal parts of a whole and the denominator tells us how many equal parts a whole has been split into. The children found out it was very similar to division as they enjoyed sharing out smarties to find the answers to simple fractions. We used our knowledge of fractions to help us to tell the time on an analogue to quarter to and past, some of us bought watches to become masters with telling the time to five minutes.

We continued to use 'TT Rockstars' to improve the speed of our recall of the 2, 5 and 10 times tables. Thanks to your tremendous efforts our 'heatmaps' are starting to show that some of us are becoming Rockstars with these tables, so we need to start to learn the three and four times tables too!
Science- We investigated materials and their properties. Using our working scientifically skills we tried to generate our own questions to investigate. We found out which materials are used for which purposes and explained why materials are suitable/not suitable for a job. We looked at the four different ways of changing the shape of materials and discovered harder materials are more difficult to change shape. We also learnt about recycling materials and why this is important for our planet, setting up a battery recycle project throughout school.
RE- In RE we talked about the importance of the Paschal candle and what the symbols on it mean, then we had a go at designing our own. We looked at the Easter story and discussed the true meaning of Easter, when Jesus died for us and how the bread and wine we have in church represents his body and blood.

DT- We looked at different vehicles to discover similarities and differences. We investigated two different ways to make chassis with axles and wheels. We then used recycled boxes to design and make out very own vehicle. We made some lovely Easter cards and Easter baskets in preparation for a visit from the Easter Bunny.
Computing - We worked as teams to research our history topic, using search engines and books we compiled our facts into mind maps. We then used these to make a powerpoint presentation using the app Keynote and presented our findings to Year 1.
During Spring 1 we explored China! Using globes and maps we found China and learnt it was in Asia. Uncovering more of the world map, we learnt the names of all seven continents and the five oceans of the world. Using our maps skills we found out where the capital city Beijing and the largest city of Shanghai are, as well as the two main rivers, the Yellow River and the Yangtze. By watching videos we learnt about what life was like in China and how their life compares to our own. We found the major tourist attractions of the Great Wall of China and the Terracotta Army, using clay in Art we recreated our very own version of the Terracotta Army. We also had lots of fun, tasting different Chinese food and learning about Chinese New Year!
In Science we discovered the names of different plants growing in our local area by visiting the local park.We became gardeners like the ones we saw in the park by planting crocus bulbs. We had to make sure we remembered to water our plant and we observed how much it grown and changed each week, recording in our diary. To prove what conditions plants need to grow healthy we set up two different investigation: one to prove plants need light and water to grow and one to see how the temperature affects growth. We were amazed to discover the plant grow without light but it was yellow! In addition, we looked at the lifecycle of a dandelion.
In Mathematics we have been using our knowledge of counting in twos, fives and tens to solve multiplication calculations. Some of us can recall these very quickly after practicing lots on 'TT Rockstars', which was launch this term. We looked at sharing in groups of twos and fives to solve division calculations and continued to practice our arithmetic skills of addition and subtraction. In addition, we have begun to study shapes in detail and can now recognise 2D shapes, describing them with the correct mathematical vocabulary. We will continue to study shape using Venn diagrams and Carroll diagrams to sort shapes, reasoning about how they could be sorted, making simple repeating and rotating patterns and looking at 3D shapes.
In Computing we have been learning all about emailing. We received an email from our headteacher, Mrs Hill, asking for our help to solve a mystery. We could open the email and reply to say we would help. Later we received another email with an attachment. We knew it was safe to open as it came from Mrs Hill, so when we opened the video, she gave us some clues to help. We then had to email another witness who provided us with more clues. Using the app numbers we created a simple spreadsheet to organise all the clues and discover the culprit!
We are now very knowledgeable about wolves and were able to produce a fact file to take back to 'Little Red Riding Hood' so she could dispel all the rumours about wolves from the fairy tale characters.
During Autumn Term 2 we were unbelievably busy. Continuing our work on 'Habitats' we used our data to create tally charts and bar charts linked to our computing unit. We grappled with branching keys to sort the bugs we had found and added information to a digital map to share what we had found at Pennington Flash before the holidays. The children have been interviewing older family members to find out what life was like in the 1960's. After discovering the changing fashions from 1950-1970 the children designed a puppet that was dressed in their chosen decade clothes. Using our class record player the children brought in LPs to listen to the music from the era and we even learnt a few dancing moves! We discovered the importance of the Beatles in the launch of the modern day pop group, looked at the differences between the Mods and Rockers and compared our lives to those of the Hippies.
In Mathematics we have been using our knowledge of the place value of 2-digit numbers to add and subtract. It has been challenging to get to grips with tens and ones and counting forward and backwards on empty numberlines. We then had to become familiar with the different coins and note we have in Britain, comparing the value of each one. Applying our knowledge of addition and subtraction we had to find totals of money.
In RE we learnt about how God sends us messages, especially the importance of the angels in the Christmas story. Whilst we were working hard in class we were also honing our acting talents to take the lead in our Key Stage One Nativity performance of 'The INN-Spectors!'. There were lots of visits to church and Rev Saunders was always there to help us out. We think you will agree that we all did great! What a team! Of course it couldn't have happened without Mrs Gornall, Miss McCulley and all of the staff who helped especially our wardrobe department and finally our supporting stars; the amazing angels in Reception and the superb flock of Year 1 sheep.
During Autumn Term 1 in Geography, we have been busy learning all about maps. First we recapped the compass rose and used north, south, east and west to direct our friends around a pirate treasure map. Looking at photographs of the capital cities of the UK, we learnt what an aerial view is and spotted landmarks in each city. Using aerial views, we made a plan of our classroom using the shapes of the tables and chairs, adding a simple key so people could understand our plan. We then went out and about to find landmarks in our local area and plotted them on a map of the area with the help of our grown up. Back in class we made a key, creating a symbol of each landmark that we could use on our own map. Using our symbols we made a simple map of our journey. Using 'Google Earth' we mapped out our journey to 'Pennington Flash' which we visited linked to our science topic.
In Science, we have discovered what makes things alive, dead or never alive. Using this knowledge we looked for living things in their habitats. Starting with the ocean, we learnt the names of different plants and animals. We discovered what features these animals needed to be able to survive in the ocean, for example, fish have gills to breathe and fins to help them move, and how we wouldn't be able to live in this habitat. Looking in the woodland habitat, we discovered there are lots of micro-habitats which tiny creatures live in. On our visit to the woodland at 'Pennington Flash' we found lots of minibeasts and learnt the names of different plants and animals we didn't know using identification keys. We have collected lots of data which we will be looking at next half term.
In RE we have been learning about the Bible and why it is important to Christians. We brought our own special books into school and sorted the books of the Bible into the Old and New Testament. The children enjoyed listening to lots of different stories from the Bible and choosing their favourite one. In PSHE, we have discussed how we have the power the be superstars and how we need to use the positive energy from batteries to make our school and the world a better place.
In Art, the children have looked at landscapes and cityscapes painted by Monet. The children used the tip of a paint brush and cotton buds to apply thick acrylic paint to recreate Monet's garden in Giverny, after looking the colours and brushstrokes in different Monet paintings. Using two of Monet's paintings of the 'Houses of Parliament, 1902' the children discussed how colours can be used to show the weather and time of day paintings were created. The children used pastels to create the colours in the sky, blending the colours together with their fingertips. They then used a template to cut out the shape of the 'Houses of Parliament' from black card and stick onto their sky. Using black pastels, they created the reflection of the building underneath. By looking at the landscapes painted by Vincent van Gogh, the children were able to compare the similarities and differences with their work. They again used the same thick paint, but slightly different brushstrokes (straight marks for the grass and sky, and round marks for the clouds) to re-create his painting 'Plain Near Auvers, 1890'.
The children have gained lots of new skills from following the Read, Write, Inc phonics scheme and are now getting much better at holding sentences in their heads and proof-reading work.
In Maths we have been mastering place value to 100, using lots of different resources. We have been using the bar method to find number bonds to 20 and 100. The children have been practising hard at using the part whole model and a number line to solve simple one digit addition and subtraction to two-digit calculations.