A very warm welcome to our Year 2 class page. In Year 2, our children are really starting to fly! Building on previous years they become confident readers, writers and mathematicians. As school life falls into place, they find themselves our oldest infants and begin to develop a real sense of responsibility. I hope that you find all the information useful and if you have any questions I am available after school for a quick chat. As you can understand I need to be in class with the children in the mornings but messages can be passed through Mr Southern on the playground. If you need longer, an appointment can always be made through the school office or via the contact link below.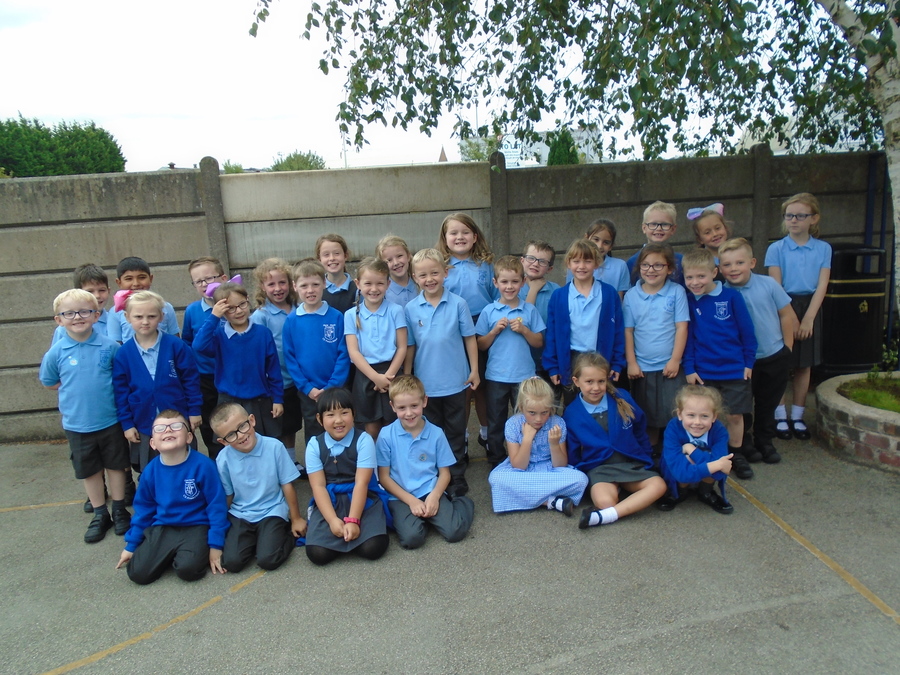 Our Year 2 Class 2017-2018
Class Information
Who's Who
Mrs Clarke- Year 2 teacher
Miss Taverner- Teaching Assistant
Miss German- Teaching Assistant
Miss Thistlethwaite- Higher Level Teaching Assistant
Literacy
Reading
The guided reading schemes we use in Year 2 are:

Read, Write Inc

Oxford Reading Tree

Rigby Star
Home Reading books
Whilst your child will read regularly in school you can make a big difference by listening to your child read and asking them questions about what they have read for just ten minutes each night.
Please note: Your child will only change their books on a Friday, when they will bring two books home to read the following week. This is to allow your child to become a fluent reader and have time to spend discussing the text. This will develop their comprehension skills.
Phonics
In Year 2 we follow Read, Write Inc


Homework
Homework will be given out on a Friday and is to be handed in on a Thursday.
The homework set will be Literacy and Numeracy based and sometimes Topic and will reflect what we have been learning during the week. This helps to reinforce learning that has taken place during the week and also inform us of any areas that your child may need further assistance with. We have also just launched our 'Seesaw' app which allows you to view your child's learning at home and will highlight areas that need extra practise at home to secure your child's targets.
This half term.... Summer 1 (April-May 2018)
Over the next half term our topic is : Farming: We will be taking a look at farming through time and we will be finding out about how farm machinery has developed. We will be using our ICT skills help us to research our farming topic and answers our own questions we wish answered. Using maps of the world we will discover the hot and cold regions and investigate how this affects what can be grown there. We will find out where the food we eat is grown and use our historical knowledge of the inventions of the aeroplane to determine how this has changed over time. We will also learn about gardening by planting seeds and growing herbs so we can become chefs next have term using our home grown ingredients. We will closely observe how they change as they grow and investigate what the essential things are for survival!
Our Literacy topics will include: We will be using the skills of retrieval, inference, predicting and sequencing to answer lots of comprehension questions as we prepare for our KS1 SATs this half term. We will continue to look at Traditional Tales, but in the form of playscripts. We will continue to practise our grammar vocabulary as much as we can through reading and writing to ensure the children feel confident with all the terms and can spot them quickly. Spelling will continue to be taught through Read, Write, Inc, and the spellings rules for this half term will be posted on Seesaw.
Our Numeracy topics will include: We will become experts at reading different scales and understanding why it is important to be able to master this skill. It is time to find out whether you know your left from your right as we look at position and direction. Will you be able to navigate your friend the correct way? We will continue to develop our calculation skills by applying them to lots of different problems and increase our speed of recalling multiplication facts using 'TT Rockstars'. In addition, we will revise time, money, shape and fractions in preparation for our KS1 SATs.
Our RE will be: Ascension and Pentecost.

Our SEAL theme will be: Relationships
HEARTSMART: Fake is a Mistake!
Dates for your diary
PE: Wednesdays and Thursdays
NEWS!
During Spring Term 2 we were very busy and here is a snapshot of what we did:-
Literacy- We have read lots of traditional stories this half term to discover the similarities between them and the characteristics of a fairytale. The class received a letter from the library for an overdue book - 'Wolves by Emily Gravett' and when they returned the book Little Red Riding Hood was waiting to ask them to help her stop the rumours about wolves in fairytale land. The children really enjoyed discovering the difference between fact and opinion and collecting evidence from non-fiction books to prove the truth about wolves. They wrote some amazing non-fiction leaflets to return to Little Red Riding Hood. We enjoyed using the Literacy Shed film clip ' The Clock Tower' to work on descriptive writing of a setting and a character. They were very inventive with their ideas of how to rescue the girl from the tower.
Numeracy- We have been working hard to master fractions this half term. We discovered there are equal parts of a whole and the denominator tells us how many equal parts a whole has been split into. The children found out it was very similar to division as they enjoyed sharing out smarties to find the answers to simple fractions. It was then time to master some measurements, as the children became very familiar with a ruler to accurately measure length in centimetres and metres. We used our knowledge of fractions to help us to tell the time on an analogue to quarter to and past, some of us bought watches to become masters with telling the time to five minutes.

We continued to use 'TT Rockstars' to improve the speed of our recall of the 2, 5 and 10 times tables. Thanks to your tremendous efforts our 'heatmaps' are starting to show that some of us are becoming Rockstars with these tables, so nwe eed to start to learn the three and four times tables too!
Science- We have been investigating materials and their properties. Using our working scientifically skills we have been trying to generate our own questions to investigate. We enjoyed launching flying fish to answer our questions and record our findings in simple tables.
RE- In RE we talked about the importance of the Paschal candle and what the symbols on it mean, then we had a go at designing our own. We looked at the Easter story and discussed the true meaning of Easter, when Jesus died for us and how the bread and wine we have in church represents his body and blood.

Art/DT- Linked to our work on Traditional Tales we all designed and made a vehicle for one of the fairy tale characters. We had some amazing princess carriages, carrot cars and all designs matched their characters perfectly. We made some lovely Easter cards and Easter baskets in preparation for a visit from the Easter Bunny.
Computing - After making our own algorithms last half term, this term we investigated existing games to see if we could work out what was happening and even determine the algorithms they used. We had lots of fun!
During Spring 1 we investigated the explorers Christopher Columbus and Neil Armstrong looking at the differences and similarities between the two men. We discovered how the world was changed for the better after each of their discoveries. Imagine life without the humble potato which Christopher brought back to England and not having America on our world map. Did you know baby food was originally invented for astronauts to eat in Space? We have studied the author 'Oliver Jeffers' and realised how his books have similar characters and how he refers to events from his previous stories in others. We have been busy creating our own adventure stories and recording them orally for our parents to listen to. It has certainly improved our vocabulary and use of sentence openers! An alien crash landed into class. The children all became police officers to find clues in poems to who could be lost in Year 2! It was discovered that it was Beegu! The children were able to emphasise with Beegu, understanding how it would feel if no-body could speak your language and looked different to you.
In Science we discovered the different properties of materials and developed our 'Working Scientifically' skills by carrying out a simple tests to find out how to keep Neil Armstrong cool in space. In DT the children looked at how different puppets are made and the different methods of joining materials. Everyone designed and made their own alien puppet, which they described as a new character for a space story.
In mathematics we have been using our knowledge of counting in twos, fives and tens to solve multiplication calculations. Some of us can recall these very quickly after practicing lots on 'TT Rockstars', which was launch this term. We looked at sharing in groups of twos and fives to solve division calculations and continued to practice our arithmetic skills of addition and subtraction. In addition, we have studied shapes in detail and can now recognise 2D and 3D shapes, describing them with the correct mathematical vocabulary. We could even use Venn diagrams and Carroll diagrams to sort shapes, reasoning about how they had been sorted, and made simple repeating and rotating patterns.
In computing we have been learning all about algorithms and using algorithms to make human robots move. We then played Daisy the dinosaur to help us understand further. Applying all this knowledge we made our own sprite and background on 'Scratch Junior' and used algorithms to move our sprite from one place to the other.
We are now knowledgeable about how to keep ourselves safe on the roads after our safe and sound day. The children all practiced the 'Green Cross Code' outside in the playground and made posters and leaflets to help others to stay safe on the roads.
During Autumn Term 2 we were unbelievably busy. Continuing our work on 'Habitats' we delved under the Ocean and discovered why some animals can live under water. We labelled the different parts which were vital for life underwater, such as gills to breathe and fins to move. We produced some lovely art work using watercolours and coloured pencils. Looking at the designers Cath Kidston and William Morris we discovered how they used repeated patterns in their designs. Using this techniques we designed our very own bag repeating ocean creatures. Using printing equipment and adding finishing touches with fabric crayons, we made our designer bags! We have become very familiar with the 'Rainforest', learning all about what it would be like there. First, we looked at which continents of the world they could be found in and how tropical rainforests are found near the equator. Next it was time to discover the names of the different layers in the rainforest and what animals lived in each one. We made a lovely watercolour painting and learnt how the different animals rely on each other for food by making food chains. Later we visited Chester Zoo and got to meet some of the animals we had been studying. In our workshop we got to hold and feel real life artefacts from the Rainforest and discovered which plants and products that we use from there in our everyday lives. Imagine if we didn't have rubbers! The children used I Pads to photograph the animals they saw to use in their computing work. Back at school they selected which pictures they wished to use in their Rainforest presentation and added labels and captions. They used google maps to pinpoint school and Chester Zoo to show their journey.
In Mathematics we have been using our knowledge of the place value of 2-digit numbers to add and subtract. It has been challenging to get to grips with tens and ones and counting forward and backwards on empty numberlines. We then had to become familiar with the different coins and note we have in Britain, comparing the value of each one. Applying our knowledge of addition and subtraction we had to find totals and difference in amounts of money.
In RE we learnt about how God sends us messages, especially the importance of the angels in the Christmas story. Whilst we were working hard in class we were also honing our acting talents to take the lead in our Key Stage One Nativity performance of 'A King is Born!'. There were lots of visits to church and Rev Saunders was always there to help us out. We think you will agree that we all did great! What a team! Of course it couldn't have happened without Mrs Gornall, Mrs Simm and all of the staff who helped especially our wardrobe department and finally our supporting stars; the amazing angels in Reception and the superb flock of Year 1 sheep.
We have been very busy this half term learning all about how to keep fit and healthy. The Year 2 children are now making more healthy food choices by trying to eat more fruit and vegetables, after studying the eat well plate and our classroom has also been brightened up by our lovely self-portraits. It has been tricky trying to remember the names of the capital cities of England, Scotland, Wales and Northern Ireland. During History the children have been looking at 'Heroes'. We have looked at what makes a hero and chosen our very own hero from history explaining what makes them our hero. We have started our work on 'Habitats' by looking at the Woodland habitat. We have studied the animals there and made simple food chains of who eats who. Getting up closer, we peered into micro-habitats to find creepy crawlies and using oil pastels we drew the micro-habitat we had seen.
In RE we have been learning about the Bible and why it is important to Christians. We brought our own special books into school and sorted the books of the Bible into the Old and New Testament. The children enjoyed retelling the story of calming the storm, emphazising with how the disciples must have felt.
The children have gained lots of new skills from following the Read, Write, Inc phonics scheme and are now getting much better at holding sentences in their heads and proof-reading work.
In Maths we have been mastering place value to 100, using lots of different resources. We have been using the bar method to find number bonds to 20 and 100. The children have been practising hard at using the part whole model and a number line to solve simple one digit addition and subtraction to two-digit calculations.