A very warm welcome to our Year 2 class page. In Year 2, our children are really starting to fly! Building on previous years they become confident readers, writers and mathematicians. As school life falls into place, they find themselves our oldest infants and begin to develop a real sense of responsibility. I hope that you find all the information useful and if you have any questions I am available after school for a quick chat or you can message me on Seesaw. As you can understand I need to be in class with the children in the mornings, but messages can be passed through Mr Southern on the playground. If you need longer, an appointment can always be made through the school office or via the contact link below.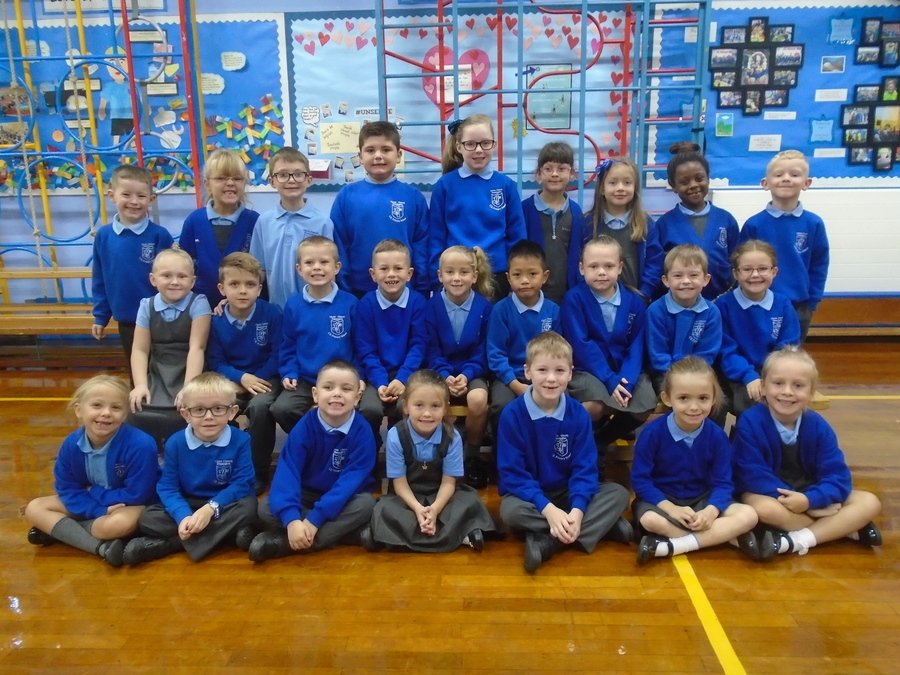 Our Year 2 Class 2018-2019
Class Information
Who's Who
Mrs Clarke- Year 2 teacher
Mrs Bayatti- Teaching Assistant
Miss Taverner- Teaching Assistant
Literacy
Reading
The guided reading schemes we use in Year 2 are:

Read, Write Inc

Oxford Reading Tree

Rigby Star
Home Reading books
Whilst your child will read regularly in school you can make a big difference by listening to your child read and asking them questions about what they have read for just ten minutes each night.
Please note: Your child will only change their books on a Monday, when they will bring two books home to read the following week. This is to allow your child to become a fluent reader and have time to spend discussing the text. This will develop their comprehension skills.
Phonics
In Year 2 we follow Read, Write Inc


Homework
Homework will be given out on a Friday and is to be handed in on a Thursday.
The homework set will be Literacy and Numeracy based and sometimes Topic and will reflect what we have been learning during the week. This helps to reinforce learning that has taken place during the week and also inform us of any areas that your child may need further assistance with. We also have our 'Seesaw' app which allows you to view your child's learning at home and will highlight areas that need extra practise at home to secure your child's targets.
This half term.... Autumn 1 (Sept - Oct 2018)
Over the next half term our topics are : Living things and their habitats
We will begin our topic on 'Living things and their habitats', the children will determine whether objects or living or not and identify the seven life processes which determine whether something is alive. They will look at the ocean and woodland habitat to identify and describe animals, saying what makes them suited to that environment. Using microscopes and simple fieldwork skills they will look at micro habitats in the local woodland at Pennington Flash. Back at school they will classify the animals found and consider how the plants and animals depend on each other to survive.
As part of our Geography topic the children will use a compass to navigate around a map and use aerial photographs and plan perspectives to recognise local features. The will devise a simple map of our journey to Pennington Flash including a simple key. Using the language of physical and human features they will be able to describe the route.
In Computing we will become photographers taking photographs of ourselves in focus and saving them as digital content. We will decide which photos are the best to keep and add titles, so we can identify them in the class portfolio.
Our Art topic will look at landscapes and cityscapes by studying the work of Monet, Vincent Van Gogh and Jean Metzinger. We will use a range of medium to recreate their work including paint, pastels and collage.
Our Literacy topics will include:
Our literacy work will start by looking at a 'Literacy Shed Unit' called 'The bridge' which looks at working together to succeed! The children will sequence events and explain the meaning of the story. They will become familiar with the four types of sentences studied in Y2, (statement, command, question and exclamation). In addition they will gain an incite into past and present tense. Most of our literacy work will be taught through Read, Write, Inc. this half term. However, this will be enriched through story time. We will become familiar with 'Percy the Park keeper'.
Our Maths topics will include:
This half term the children will become experts at place value. They will make two-digit number using 'Numicon' and 'Base 10', understanding the important of the position of each digit. They will be able to manipulate these numbers by adding/subtracting multiples of 10 and single digits, and seeing which digit changes. This will then lead onto addition and subtraction of two, two-digit numbers. Throughout our Maths work the children will need to reason and explain their working out and be able to apply their knowledge to problem solving!
Our RE will be: – The Bible and special books from non-christian faiths.
Our Heartsmart theme will be: Get Heartsmart
Our SEAL theme will be: New Beginnings
Dates for your diary
PE: Monday and Wednesday
Parents Evening: 16th & 17th October

Online Safety Enrichment Day: Friday 19th October