Our Reception Class



A very warm welcome to our Reception class page. In Reception, our children start their journey by settling into school life and begin to develop into confident, independent learners. I hope you find all the information that we send home useful and if you have any questions don't hesitate to ask us. The staff are always on hand both before and after school and our parent drop in runs every fortnight on a Tuesday afternoon between 1.15-2.15pm.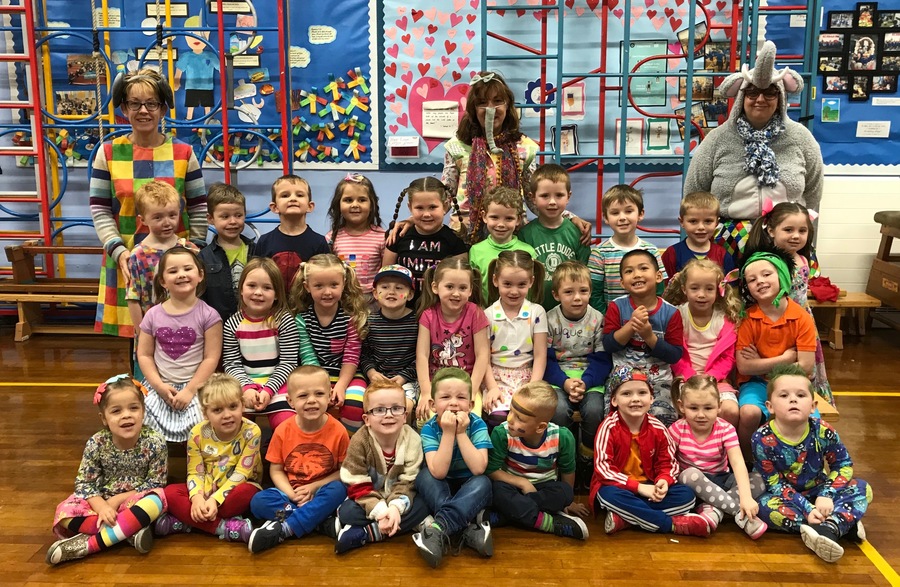 Our Reception Class 2017-2018
Class Information
Who's Who
Mrs Gornall- Assistant Headteacher & Reception teacher
Mrs Baines- Higher Level Teaching Assistant
Mrs Jackson- Teaching Assistant (Mornings)
Miss Thistlethwaite- Teaching Assistant (Afternoons)
Communication, Language & Literacy Development Information
The Reading Schemes we use in Reception are:
Floppy's Phonics & Pearson Phonics Bug (Individual Home Reading Books)

Read, Write Inc (Guided Reading Books)
The Phonics Scheme we use in Reception is:

Find out more about Read, Write Inc here
Reading books
Please note, if your child has a reading book that needs changing, it should be placed in the books for changing box in the outdoor area each morning. Children who have been given a reading book should now be changing them regularly, at least once a week and should be reading at least 3 times a week at home.
Homework
At the beginning of Reception your child has been given a homework toolkit (Stripy zip bag) which was kindly paid for by Friends of School. This is to be kept at home and is to be used to help your child complete their homework. Please can you ensure that all the items are put safely back in the bag each time they are used as these need to be used throughout their time in Reception.
Please can you make sure that Homework Packets are returned to school by Thursday morning, so that they can be updated and sent out again on a Friday afternoon. Thank you.
Seesaw
Seesaw is our observation and assessment app which is used daily in class to record evidence for your child's learning journey throughout their year with us in Reception.
Don't forget to send Mrs Gornall postcards from home through Seesaw, as it is extremely important that parents are able to contribute to their children's learning journeys just as much as the practitioners. If you don't have internet access at home then you can still contribute by completeing a parent observation sheet and returning these to school when they are complete and you need a new one.
Requests
Please can you help!!! We are constantly trying to add to our resources and are always on the look out for the following items: Comics, magazines, prams, dolls, small world toys such as farms/train sets etc. scooters, bikes, jigsaw puzzles, games, dressing up costumes etc. If you are having a clear out please could you check with Mrs Gornall whether we could use any items before throwing them out. Thank you.
This half term.... Spring 1 (January - February 2018)
Over the next half term our topics will include:
When I grow up...... (1 week)

Traditional Tales / Houses and Homes (5 weeks)
In our Literacy time we will be looking at the following texts- I want to be a Cowgirl, The Gingerbread Man, The Three Billy Goats Gruff, The Three Little Pigs, Little Red Riding Hood, Goldilocks and the Three Bears and What's the time Mister Wolf?

We will be using a selection of traditional tales and other well known stories to learn about how stories are structured (beginning, middle and end), discussing the different types of characters found in these stories and the different settings they take place in.
In our Maths time we will continue to use Numicon to develop more accuracy with our counting and ordering skills, finding numbers that are 1 more/less than a given number, learning to add and subtract single digit numbers, reinforcing the numbers 0-10 and starting to work more confidently with numbers 11-20. We will also be learning about ordinal numbers, comparing and ordering objects by size, repeating patterns, o'clock times, 3D shape and reinforcing positional vocabulary.

We will also have 2 new role play areas- one inside and one outside. The first will be a DIY Store and the second will be a Arctic Expedition Base Camp.
In our Topic work we will be learning about:
People who help us and their jobs

Our Goals (short and long term) Discussing what we would like to be when we are older.


Designing & creating simple structures- Walls & Bridges.

Different types of houses and homes in the local environment and also around the world.

Different parts of a house and the materials they are made from.

Different rooms in a house and the furniture that we might find in them.
Our SEAL theme will be looking at 'Going for Goals'
Our RE focus will be 'Stories Jesus Heard'
Dates for your Diary:
Parent Drop In: Every other Tuesday afternoon from 16th January 1.15- 2.15pm
PE: Monday Mornings and Friday Afternoons
Parents Evening: 13th and 14th February 2018
Enrichment Day: Friday 16th February 2018
NEWS!
The 7 weeks leading up to Christmas were extremely busy in class and we learnt lots of new things through our Light and Dark, Space, Dinosaur and Christmas topics.
It started with us looking at seasonal change and the signs of Autumn. We enjoyed exploring outside, experiencing different weather conditions, collecting Autumn treasure and using it to help us with our learning. We discovered that some animals begin to go into hibernation at this time of year because they don't like the cold and that others are nocturnal and only like to come out when it's dark outside. We got really messy when we used clay to make our own hedgehogs.
When we read the story 'Whatever Next!' we were lucky enough to travel into space in our very own rockets, just like Baby Bear did in the story. We used colanders for our helmets, wellies for our moon boots and packed a picnic to eat when we landed on the moon. Mrs Gornall turned our small world area into space and we created our own moon landing stories. We looked at different light sources, found out how to light a bulb and also learnt about festivals associated with light that are celebrated by different world faiths such as Diwali and Hanukkah.
We then moved onto learning about Dinosaurs and discovered what it would have been like on earth when the dinosaurs were in existence. The children created their own junk model dinosaurs and enjoyed using non-fiction books and search engines on the iPads to find out lots of information about them.
During the last two weeks we focused on the Christian festival of Christmas and spent some time with our buddies. We learnt about the true meaning of Christmas and told the story beautifully through our fabulous Nativity performance.
In our RE time we also learnt about Jesus, what a special person he was and listened to stories from the Bible about some of the amazing things that he did to help people, when he was alive. We then discussed some of the special people that are alive today and the important jobs that they do to help us. Rev Saunders came into school to tell us all about his special job as a Vicar.
What a busy first 8 weeks we have had in school! We began our Autumn Term 1 by welcoming our new children into school and helping them to settle in. The children met their Year 6 buddies for the first time and got to spend an afternoon getting to know them, which was great fun!
Our first topic of "Ourselves" helped us to learn all about our bodies, what they look like both inside and out and we explored our 5 senses with lots of fun activities. We learnt about our skeletons by reading the story 'Funnybones' and the different parts of our bodies by looking at a non-fiction book called 'All about me'. We also learnt about how we grow and change and what we will look like as we grow older. Molly, a 3 week old baby came in to visit us, so we could compare the things she could do, to the things we can do. We finished the topic off with a fantastic day out at Underwater Street where we explored our bodies further with lots of interactive activities and found out about keeping healthy.
During our 'Colours' topic we listened to the story of 'Elmer' which helped us to understand that it is ok to be different. We found out what happens when we mix colours and made repeating patterns with colours and shapes. We even had our own Elmer Day were we dressed up in lots of different colours and celebrated diversity. The story of 'The Rainbow Fish' taught us the importance of friendship and learning to share with one another.
In RE time, our 'I am Special Chatterbox' helped us to understand that we are all 'Special' and that God loves each one of us as an individual.
We also enjoyed learning lots of new rhymes and songs, which we now sing everyday to help us with our daily routine.
Adam from the Healthy Lifestyle team came in every Monday for 6 weeks to help us learn about how to stay healthy. We danced, learnt about fruit and vegetables, played with the parachute, made a smoothie and wraps, learnt how to brush our teeth properly and did some physical exercise.