Friends of School
Throughout the year our Friends of School team, a group of staff, parents, grandparents and members of the local community volunteer to fundraise to provide extra resources and experiences for all the children within our school. We hold a variety of events during the school year and these are posted regularly on our newsletter page. We have a list of commitments each year which we provide for the children these include a present from Father Christmas, a free pantomine as a Christmas treat for every child, as well as a donation to the Christmas cinema trip. Our biggest commitment each year is to provide each class with a donation for their Summer School trip these are a valuable learning experience for the children, but also enable them to have a fun packed day out.

Our Next Friends of School Meeting is on: TBC
Our events coming up in the next few months:
York Christmas Shopping Trip- Saturday 25th November
Christmas Bingo- Friday 1st December @ 6pm
Christmas Fayre- Friday 8th December @ 6.30pm
STAMPtastic
Are you fed up with your child losing bits of uniform in school, even though you have written their names in at the beginning of the year?
We have found a solution. STAMPtastic is a new way to label your child's uniform and know that it will still be there wash after wash. It is a personalised stamp made in the Uk, usable on fabric, metal, wood and some plastics. No more sewing or ironing in labels. One ink pad lasts at least 2-3 years and provides over 2000 impressions.
Click on the link below to find out more information and to place your order. When placing your order please remember to use the following password WN74HB.
Welcome Back to School Discos
The children had a fantastic time at the Welcome Back Discos on Wednesday 20th September and throughly enjoyed themselves. It was a great opportunity to welcome our new Reception children and their families into our school and the older children loved making their own music requests to dance along to. We managed to make a profit of just over £280.00 which was a brilliant amount to start this years fundraising, we shall be using this money towards buying a Christmas present for each child in school.
Christ Church has Talent
Our talent show on Friday 7th July was a tremendous success and we were very proud of all our performers. We had some fantastic acts and are really lucky to have so many talented children in our school, all the children really impressed us. Thank you to everyone who supported the event. We managed to raise just over £200, as well as £80 in donations for Derian House and The Royal Manchester Children's Hospital. A special thank you to Rev Saunders for allowing us to hold the show in church and to Matt for his expert support with our music and sound. Well done to all our children who performed, you were amazing.
Summer Fayre 2017
Our Summer Fayre on Saturday 1st July was very well supported this year and for once the sun shone. It was lovely to see so many families and all the children were very keen to sell their Dragon's Den stall products. We have a fantastic day and we managed to raise just over £1520, which was amazing. We are currently planning to update the Infant playground using some of this money. So keep your eyes open. Thank you to everyone who supported us this year, especially all the staff, children and volunteers who made this event possible. Well done everyone!
Family Disco at Leigh Cricket Club.
On Friday 16th June we had a fantastic evening full of fun at Leigh Cricket Club. Thank you to all the families who came along to join us and support our fund raising efforts for the infant playground. We raised just over £440.00 which was amazing. A big thank you to all the parents and local businesses who provided us with some fabulous prizes. The children really enjoyed dancing along to the latest tunes. We will definitely be holding this event again.
Annual General Meeting- Tuesday 25th April
A big thank you to everyone who attended our Annual General Meeting this year. It was a great opportunity to look back over the last year and see how valuable our fundraising efforts have been to the children in school. During the last twelve months we have raised just short of £5000.00, which is a fantastic amount of money.
We would like to take this opportunity to thank all our parents and volunteers for their continued support and we hope to be able to carry on our efforts over the coming year. Our next project is to help provide some fabulous new resources for our infant playground.
Easter Bingo
As always our Easter Bingo was well attended on Friday 24th March and there was a lovely atmosphere. Everyone really enjoyed themselves and there were some great prizes. A special thank you to Mrs Gornall our resident Bingo caller. We raised just over £115.00 on the evening and this will also be used as a contribution towards the children's school trips in the Summer term.
Mother's Day Shop
Our Mother's Day Shop was very successful and the children enjoyed choosing a gift for their Mum's/Carer's. We managed to raise £370.00, which is fantastic and this will be used as a contribution towards the childrens' school trips in the Summer term.
Key Stage 1- Trolls Movie Night
The Key Stage 1 children had a fabulous time on Wednesday 1st March st their first movie night. They really enjoyed the Trolls Movie and an opportunity to spend an evening with their friends.
Key Stage 2 Games Night
On Wednesday 8th February we held our Key Stage 2 Games Night and the children really enjoyed themselves. They played beetle drive and bingo and then joined together in mixed year group teams for a fun quiz. We found out some fasinating facts about our teachers too. Everyone showed great teamwork, but the winning team was 'AEBO.' In celebration worship they were each presentedwith a £5 Asda voucher and sweets.
Christmas Fayre
Our Christmas fayre was very well supported and our Junior choir were amazing opening the fayre with a selection of Christmas carols. We managed to raise just short of £ 850.00, some of which will be using for Christmas treats for the children. We really appreciate the help and support of the school staff, pupils past and present, as well as the parents and volunteers for thie event, especially at this very busy time of year. Thanks again and well done everyone!
Christmas Bingo Night
As usual our Christmas Bingo Night was a sell out and we had a great evening. There was a fantastic atmosphere and it really helped to get us into the festive mood. We raised £ 196.12 and we would like to thank Mrs. Gornall our resident bingo caller.
Tea Towel Project.
Our recent Tea Towel Project was another great success and they sold like hotcakes. Every child in school had their picture on there and we have a framed copy on display in our school entrance. See if you can spot yourself on there!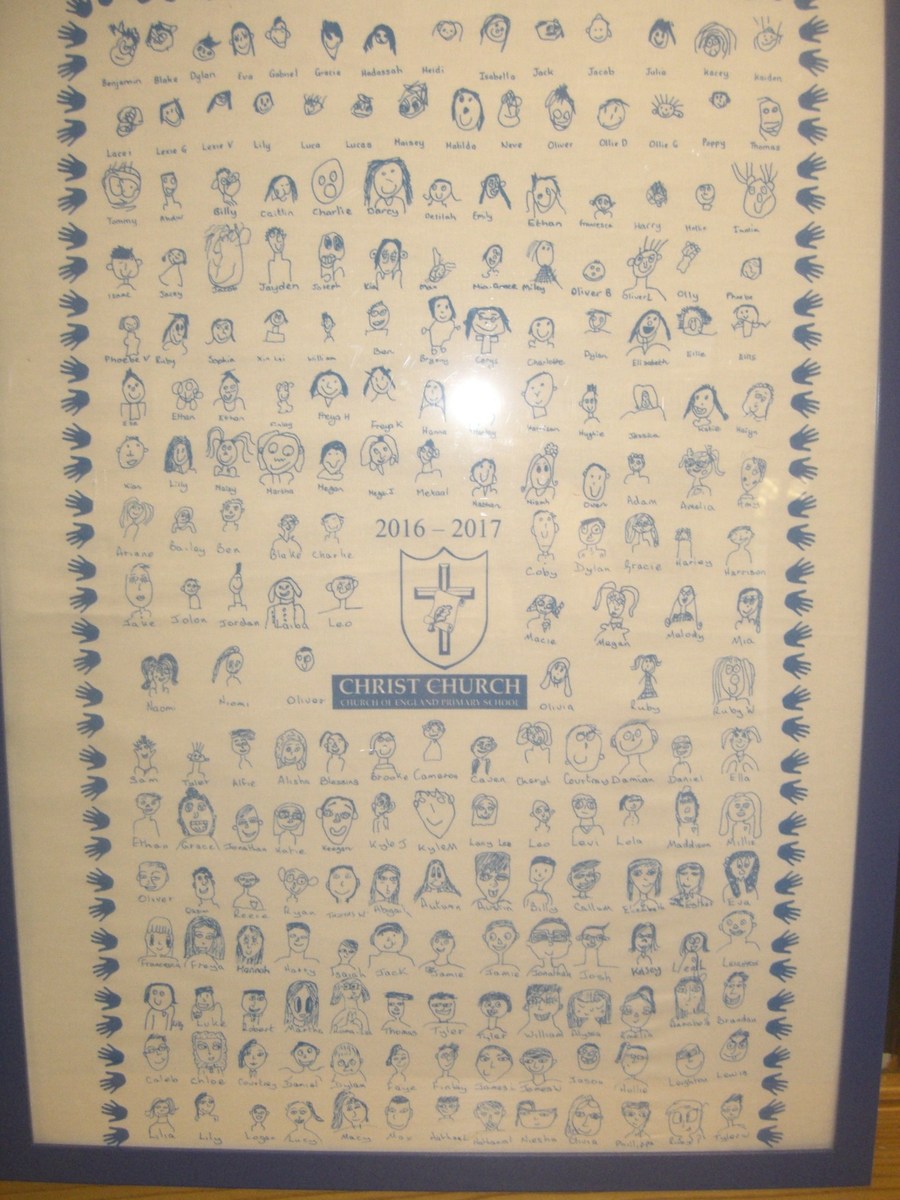 Movie Night- Key Stage 2
Our very first KS2 Movie Night was a great success and the children really enjoyed our early screening of Alice Through the Looking Glass. It was a lovely atmosphere in the hall, with the lights out and everyone just chilling in their Pj's. The movie night raised just over £ 200.00 which will be used towards Christmas treats for the children. A very popular event which we hope to host again very soon.
Louby Lou- Key Stage 1
On Wednesday 5th October the children had an amazing time with a magic show performed by Louby Lou. She was fantastic and made sure that all the children joined in the fun. A big thank you to everyone who helped host this event, it is very much appreciated. We managed to raise just over £ 125.00 which will be used towards Christmas treats for the children. We are sure that the children will want to see Louby Lou again.
Parent Feedback
We are always keen to include all children wherever possible, so if any parents/carers are experiencing difficulties with the times of our events for dropping off or collecting children, then please call into school and we will do our best to help.