A very warm welcome to our Year 5 class page. In Year 5 we look forward to the challenges and responsilbilities of being in the upper juniors. During the year the children continue to develop their independent learning, research and team work skills. Children also have the opportunity to take on more responsibility by becoming playleaders and helping the younger children in school.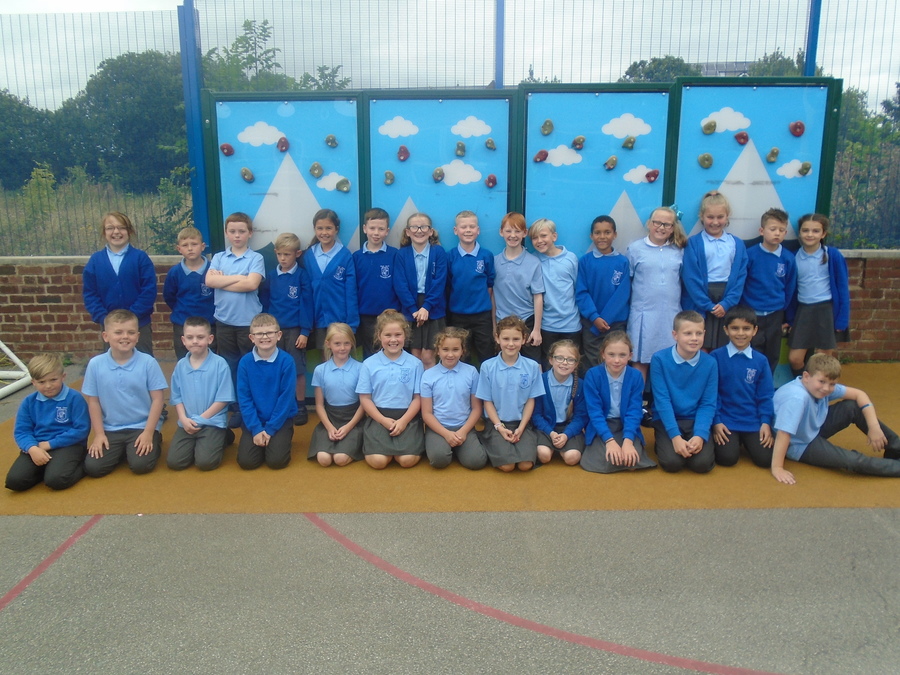 Our Year 5 Class 2017-2018
Class Information
Who's who?
Mrs Hudson - Year 5 teacher
Mrs Kirkman- Part Time Teacher
Mrs Cottrell - Teaching Assistant
Mrs Jones- Teaching Assistant
Homework
Homework will be set on a Friday and should be handed in by Wednesday. There will generally be Literacy and Numeracy work, and on occasions, topic work. In addition they will also have spelling homework from their spelling group. Children are encouraged to ensure that their homework is completed to a high standard.
Reading
Whilst most children now are independent readers, reading at home is still crucial. Children should read for 15 minutes each night- this can be either their home reader or a book of their own choice. This will be more productive if it is carried out in a calm, quiet environment. Parents / carers are encouraged to sign the planners to acknowledge this please. The children are also encouraged to use the school library and bring books home that they enjoy. regular readers will be rewarded handsomely!
PE
PE lessons take place on a Monday and Wednesday. All children are expected to take part in a full PE kit and trainers/pumps. Earrings can be worn at school but, for health and safety reasons, they are not allowed during PE.
This half term.... Spring Term 1 (January - February 2018)
Over the next half term our topic will be 'Marvellous Maps'. Throughout this unit children will learn to locate the world's countries, using maps to focus on Europe. They will learn to name and locate cities of the UK and their human and physical characteristics. Children will use symbols and a key to build knowledge of the UK and wider world. The class will also learn to use the eight points of a compass and use four and six-figure grid references to build their knowledge of the wider world.
Literacy - As the New Year and new academic term gets off to a flying start, we are busy developing a character called Bazza who was first introduced to us by visiting author Dan Worsley! Bazza is about to feature in a piece of writing which we will take take to create and refine... Watch this space! Further into the Spring Term we intend to begin a unit of work on Myths and Legends, with plenty more opportunites for our children to shine as creative and imaginative writers!
In Numeracy we will start of the term focusing on multiplication and division, moving on to working with fractions. Children will be multiplying numbers up to four digits by a one or two digit number. We will also be dividing numbers up to four digits by a one digit number. Towards the end of this topic there will be lots of problem solving work related to the work covered previously. In their fractions work the class will be comparing and ordering fractions, adding and subtracting fractions and multiplying proper fractions with the same denominator.
RE - We will start off the term by looking at 'Jesus the Teacher'. We will be carefully considering the messages of the parables and how they impact on the lives of practising Christians.

HEARTSMART- Too much selfie isn't healthy!
PE - The ability focus for this half term is 'Social'. Children will be doing lots of different activities related to balance and movement. The class will be encouraged to motivate, give sensitive feedback and help organise roles and responsibilities.
SEAL- Going for Goals
Dates for your Diary:
Parents Evening: 13th and 14th February 2018
Enrichment Day: Friday 16th February 2018
NEWS!
What a really busy Autumn 2 term it has been! All the children have worked really hard, we especially enjoyed the build up to the Christmas celebrations and loved performing in church on the final day of term. We hope you enjoyed our performance too!
The children have been extremely busy in their Maths lessons and worked really hard in all aspects of their work. We did lots of multiplication and division work and looked at written methods for particularly difficult questions. The children were introduced to the 'bus stop' method for division and 'column multiplication' - tricky stuff! The children continue with their Big Maths work and are understanding the importance of being able to work quickly but accurately in relation to their addition and multiplication facts.
We also spent time looking at area and perimeter. The children worked on measuring and calculating perimeter of composite shapes, and estimated and calculated the area of rectangles and irregular shapes.
The second half of the Autumn Term saw the children completing a piece of narrative writing called The Ridge. After weeks spent carefully crafting and editing their stories, gaining confidence and skill as writers, the children had some truly wonderful work to be proud of! Look out for your child's story when you next see their English book! In the lead up to Christmas our attention then turned to a short story by Michael Morpurgo (the significant author we studied in the first half of this term). Coming Home was written to partner a 90 second Christmas advert for Waitrose, and both advert and short story tell the tale of a robin's return home from his migration to spend the Christmas with his 'loved one'. With focus upon the techniques used by Morpurgo in his writing (repetition, descriptive techniques and similes), the children were asked to write using this same style. The poems they created were thoughtfully and cleverly crafted... we're still waiting to hear fro Morpurgo himself as to what he thinks about them, as a sample of our work was sent off to his website for his opinion! (we're sure he's as proud as we are of the children's efforts!).
The children enjoyed finishing their topic work on the Mayans. We learnt all about Maya cities and identified countries in Mesoamerica using atlases. The children learnt about religious beliefs and rituals of the ancient Maya people and found out more about the gods that they worshipped. The class also researched the types of food eaten by the ancient Maya people and the significance of corn and chocolate to the Maya people.
Our Science work has been fascinating! We have been learning all about the different forces and researched all about Sir Isaac Newton. The children had great fun making their own Marble Maze using their knowledge of friction, the results were amazing! The children also really enjoyed the opportunity to make their own parachutes in work based on air resistance.
In our RE work the children have covered a number of different units of work. There was lots of opportunity for discussion and sharing our thoughts with each other. We have been discussing the importance of the Bible for Christians and talked about how the Bible can be used to give us guidance and offer answers in difficult or challenging circumstances. In the build up to Christmas we looked at how other cultures celebrated the event and drew similarities with the nativity story.
During Autumn 1 the children have been extremely busy indeed! Our topic work on the Mayans has been really interesting and we found out lots of fascinating facts. In our Science work we have been learning about uses of materials and carried out lots of different scientific investigations. We have been learning about thermal insulators and how to separate different materials. We even got chance to make our own egg parachutes - cracking! In our Maths work we have been working incredibly hard and we have been working with some very large numbers indeed. We have done lots of work on addition and subtraction, and have been getting to grips with some work on statistics. Our English work has impressed so many of our adults in school! We are really getting to grips with our class book, having especially enjoyed working in teams to create our own non-chronological reports on orangutans. We have even squeezed in time to look at persuasive charity posters, and created our own for the charity WWF! In our computing work we got the chance to design and create our own webpages and discussed hat we considered made a good website. We can't wait to find out more things over the next term, but we aren't allowed to mention the word 'Christmas' just yet!