A very warm welcome to our Year 5 class page. In Year 5 we look forward to the challenges and responsilbilities of being in the upper juniors. During the year the children continue to develop their independent learning, research and team work skills. Children also have the opportunity to take on more responsibility by becoming playleaders and helping the younger children in school.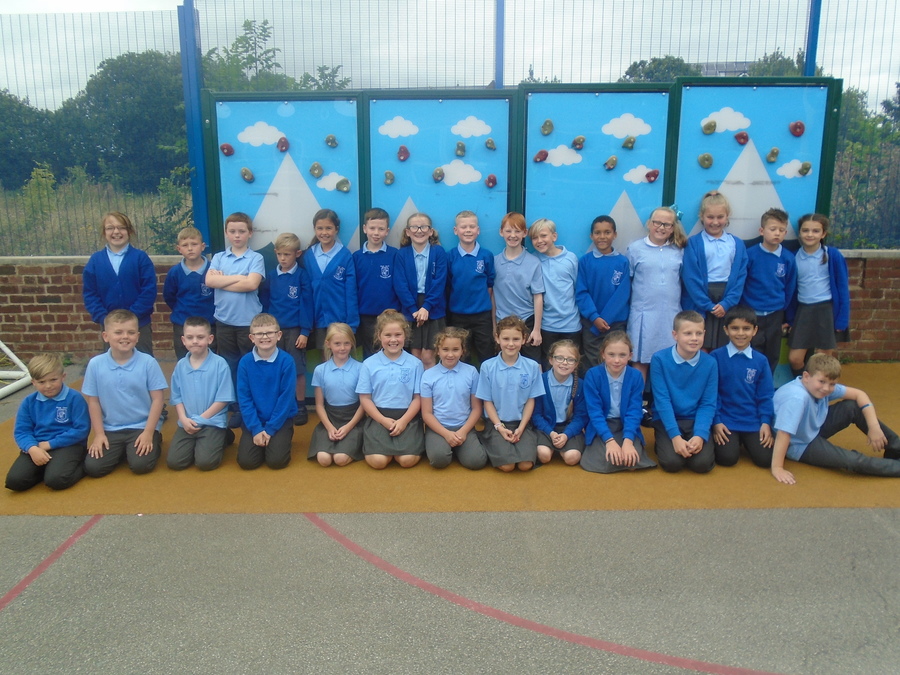 Our Year 5 Class 2017-2018
Class Information
Who's who?
Mrs Hudson - Year 5 teacher
Mrs Kirkman- Part Time Teacher
Mrs Cottrell - Teaching Assistant
Mrs Jones- Teaching Assistant
Homework
Homework will be set on a Friday and should be handed in by Wednesday. There will generally be Literacy and Numeracy work, and on occasions, topic work. In addition they will also have spelling homework from their spelling group. Children are encouraged to ensure that their homework is completed to a high standard.
Reading
Whilst most children now are independent readers, reading at home is still crucial. Children should read for 15 minutes each night- this can be either their home reader or a book of their own choice. This will be more productive if it is carried out in a calm, quiet environment. Parents / carers are encouraged to sign the planners to acknowledge this please. The children are also encouraged to use the school library and bring books home that they enjoy. regular readers will be rewarded handsomely!
PE
PE lessons take place on a Monday and Wednesday. All children are expected to take part in a full PE kit and trainers/pumps. Earrings can be worn at school but, for health and safety reasons, they are not allowed during PE.
This half term.... Autumn 2 (Oct-Dec 2017)
Over the next half term our topic will be Marvellous Maps! - Children will study a range of maps and atlases, including digital maps, and compare their features. They will learn to use the eight compass points to give directions and give grid references to locate points on a map. By comparing maps of the same place children will learn about the way that places have changed over time. Interesting stuff!
In English our work will continue to be based around our class reader 'Kensuke's Kingdom'. Still investigating Michael Morpurgo's style as a significant author, the children will also experience working with the story mountain structure to complete a story which fits the adventure genre. We will also be focusing on our grammar and sentence types, starting the new half term off by learning the 'Noun, which, who, where' sentence and progressing towards the correct use of our Non-Negotiables and correct use of direct speech. A short unit of poetry is also planned for the final few weeks of the half term, during which the children will analyse personification and other figurative language used in poetry before creating their own poems! Based on their hometown of Leigh, our budding poets will attempt to create and perform the personification poems which they have been inspired to write!
In Numeracy we will continue to work on our four operations of number, particularly multiplication and division calculations. We will start the term by finishing our unit of work on statistics, which includes reading and interpreting line graphs, solving graph problems and looking at timetables. We will then move on to multiplication and division where the children will be learning about factors, square numbers and cube numbers. Children will be multiplying and dividing numbers in their head using their know facts. Finally we will be finishing the term learning all about perimeter and area. Children will be measuring and calculating the area of composite shapes, calculating and comparing the area of rectangles and using their estimating skills when looking at the area of irregular shapes. It's going to be a busy time!
In Science we will be looking at forces. Children will learn about balanced and unbalanced forces, gravity and friction and the use of mechanisms such as levers, gears and pulleys. The children will identify forces and complete force diagrams. They will do a little research about Isaac Newton and hi discoveries about gravity. We will also look for patterns and links between the mass and weight of objects. Finally we will investigate air and water resistance. There will be lots of fun practical activities too so this should be a very exciting topic!
RE - We will be learning about Christmas around the world. The children will be talking about and discussing some key questions such as, How do Christians in the UK celebrate Christmas? How is Christmas celebrated around the world? How do the celebrations reveal Christian beliefs? and Why is the celebration of Christmas different around the world? The aim of this unit is to develop the children's perceptions of Christmas beyond their experiences in Britain and to increase their understanding of Christianity as a world faith.

HEARTSMART - Don't forget to let love in! Children will be learning lots during this unit of work and will be taught the essential skills of self reflection, decision making, resilience, respect and equality.
PE - The children will be learning how to be creative in PE. There are lots of activities planned for them to use variety and creativity, and respond imaginatively to different situations.
Dates for your Diary:
Christmas Panto: Friday 1st December
Cinema Trip: Monday 11th December
Junior Christmas Party: Tuesday 19th December
Junior Carol Service: Wednesday 20th December
NEWS!
During Autumn 1 the children have been extremely busy indeed! Our topic work on the Mayans has been really interesting and we found out lots of fascinating facts. In our Science work we have been learning about uses of materials and carried out lots of different scientific investigations. We have been learning about thermal insulators and how to separate different materials. We even got chance to make our own egg parachutes - cracking! In our Maths work we have been working incredibly hard and we have been working with some very large numbers indeed. We have done lots of work on addition and subtraction, and have been getting to grips with some work on statistics. Our English work has impressed so many of our adults in school! We are really getting to grips with our class book, having especially enjoyed working in teams to create our own non-chronological reports on orangutans. We have even squeezed in time to look at persuasive charity posters, and created our own for the charity WWF! In our computing work we got the chance to design and create our own webpages and discussed hat we considered made a good website. We can't wait to find out more things over the next term, but we aren't allowed to mention the word 'Christmas' just yet!