A very warm welcome to our Year 5 class page. In Year 5 we look forward to the challenges and responsilbilities of being in the upper juniors. During the year the children continue to develop their independent learning, research and team work skills. Children also have the opportunity to take on more responsibility by becoming playleaders and helping the younger children in school.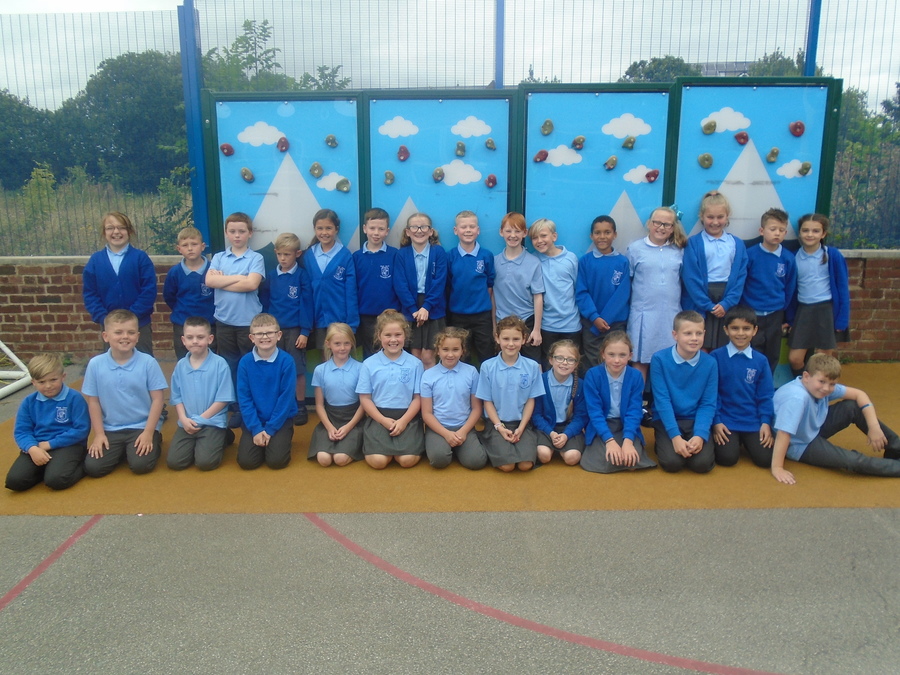 Our Year 5 Class 2017-2018
Class Information
Who's who?
Mrs Hudson - Year 5 teacher
Mrs Kirkman- Part Time Teacher
Mrs Cottrell - Teaching Assistant
Mrs Jones- Teaching Assistant
Homework
Homework will be set on a Friday and should be handed in by Wednesday. There will generally be Literacy and Numeracy work, and on occasions, topic work. In addition they will also have spelling homework from their spelling group. Children are encouraged to ensure that their homework is completed to a high standard.
Reading
Whilst most children now are independent readers, reading at home is still crucial. Children should read for 15 minutes each night- this can be either their home reader or a book of their own choice. This will be more productive if it is carried out in a calm, quiet environment. Parents / carers are encouraged to sign the planners to acknowledge this please. The children are also encouraged to use the school library and bring books home that they enjoy. regular readers will be rewarded handsomely!
PE
PE lessons take place on a Monday and Wednesday. All children are expected to take part in a full PE kit and trainers/pumps. Earrings can be worn at school but, for health and safety reasons, they are not allowed during PE.
This half term.... Autumn 1 (Sept-Oct 2017)
Over the next half term our topic will be 'The Maya Civilisation'

The children will learn who the Ancient Maya people were and where they lived. They will use atlases and maps to locate Maya cities and identify countries in Mesoamerica. In addition to this they will learn about the religious beliefs and rituals of the ancient Maya people and find out about some of the many gods that they worshipped. Children will also learn about the Maya number system and have the opportunity to read and write Maya numbers and solve number problems. They will also learn about the types of food eaten by the ancient Maya people, and will find out more about the significance of corn and chocolate.
Our Science topic is called 'Material World.' In this topic, the children will learn about materials and how they change. First we will test properties of materials, before looking at how materials dissolve, what a solution is and evaporation. Towards the end of the topic the children will compare reversible and irreversible changes. During this topic it would be great if the children could find out some interesting fun facts about materials at home and bring them into school to put on our facts board. Here is one to get them started. A thread of spider silk breaks less easily than a thread of steel!
In Literacy We have a really exciting unit of work planned this half term. We will be learning all about 'significant authors' - In particular Michael Morpurgo. We will be looking at making our writing as descriptive as possible, and exploring one of his most famous stories 'Kensuke's' kingdom in depth.
In Numeracy we will start off with place value and the ordering of 5/6 digit numbers. During this first half term we will also be thinking carefully about and practising our written methods for addition, subtraction, multiplication and division. It is important that the children keep learning their times tables at home and practising their number bonds as this will help them with their number work in school.
RE - We will be thinking about our school Christian values and the Bible this half term.

SEAL- New Beginnings

Dates for your Diary:
Parents Evening: 17th & 18th October

Online Safety Enrichment Day: Friday 20th October