A very warm welcome to our Year 4 class page. In Year 4 we are looking forward to the challenges ahead and the children are now fully settled into KS2. During this year the children will be encouraged to be proactive in their independent learning as well as building good relationships in order to work effectively as teams. The children will be nurtured and encouraged to work alongside others in a variety of contexts with a focus on problem solving, research and sharing ideas.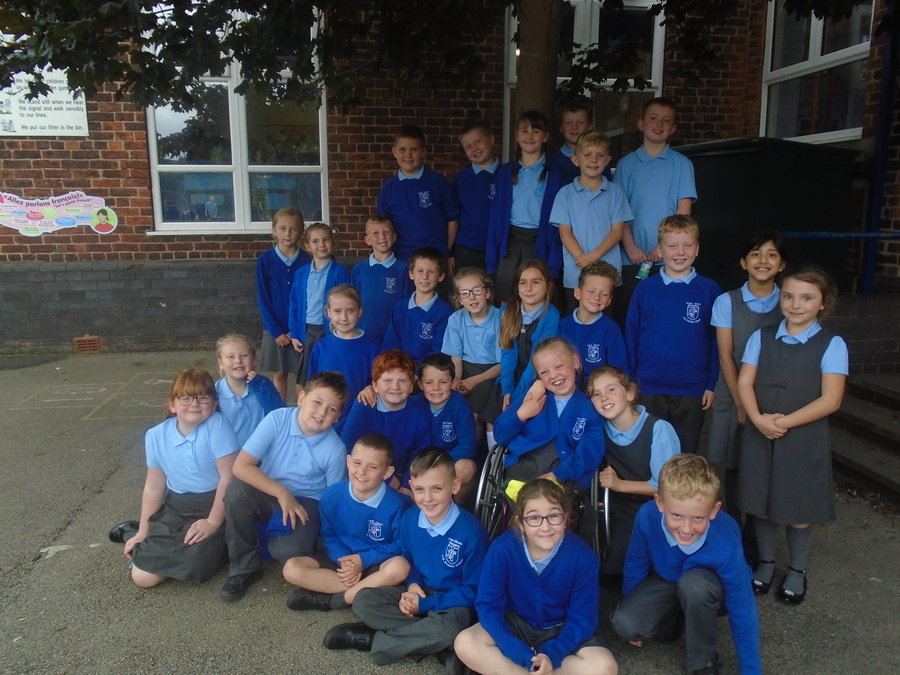 Our Year 4 Class 2017-2018
Class Information
Who's Who
Mrs Monaghan- Year 4 teacher
Mrs Carney- Higher Level Teaching Assistant

Mrs Rowland- Teaching Assistant
Mrs Larner- Teaching Assistant
P.E takes place on Tuesdays. The children must have their full kits in school for these lessons so that they can take part.
Homework will be given out each Friday. This is to be completed by the following Wednesday. Spellings log books will be brought home each night. It is important that the the children learn any of the words they have found tricky in spellings that week as well as the Year 3/4 list of words at the back of log book. The children need to bring their log books back to school each day.
Reading is encouraged both in school but also at home. Reading for enjoyment is as important as reading to learn. The classroom has a comfortable reading area as well as a listening station for audio books to help the children to learn about expression and tone when reading. The children are also encouraged to use the library and to choose books that they enjoy. A 'Reading Raffle' is drawn every Friday and the lucky ticket holder can choose a prize. The more you read the more tickets you get in the draw. Happy reading!
This half term.... Autumn 2 (Oct-Dec 2017)
In English we will start by writing up the final draft of our diary entry based around the clip 'Taking Flight'. After this we will start our non-fiction writing unit based around the theme of animals. They will have the opportunity to learn about the structure and layout of information texts as well as researching and producing their own piece of information writing. We will finish the term off by creating our own Christmas poetry.The children are still enjoying our class reader 'Charlie and the Chocolate Factory' and are looking forward to finding out what happens next. Over the half-term we will continue to develop the children's inference and deduction skills in our whole class guided reading sessions. The children will continue to develop and consolidate their narrative writing skills with a weekly writing task for homework based around a picture. This half term the children will bring home their individual writing targets as well as the Y4 expectations for writing. I would encourage the children to write an initial draft being as creative and imaginative as they can and then edit their writing, checking for non-negotiables. It would be fantastic if the children could then produce a final draft.
In Mathematics we will continue to develop our times tables. It is very important that the children continue to practise these at home along with counting in different multiples. It is also important for the children to continue to consolidate their understanding of place value at home. This half -term we will continue with addition and subtraction and then move onto multiplication and division. The children are continuing to develop their reasoning skills and each week as well as the maths work in their homework books I will be putting a reasoning question on SEESAW. The children will be solving problems using written methods in class. They can consolidate their learning at home by continuing to practise these written methods. They are all in the 'Calculation Policy' that you received at 'Meet the Teacher.' If you need another copy please call in to see me.
RE - We will learn about Christmas- Exploring the symbolism of light and making our own Christingles. During this unit, we will also look at light in the Jewish faith, focusing on the festival of Hanukkah.
Science - Our topic this term is 'Teeth and Eating'. We will be learning:
• To classify and identify different types of teeth and their functions.
• To recognise why and how we must take care of them.
• To make observations and form conclusions
• To describe the function of parts of the human digestive system
• To recognise what a food chain represents.
• To construct and interpret a variety of food chains.
• To identify producers, predators and prey.
History - Britain's settlement by Anglo Saxons and Scots - We will cover a variety of objectives during this topic which will continue after Christmas:
- The Scottish and Anglo Saxon invasion of Britain, following Roman withdrawal.
- Focus on a key historical figures – Vortogern, Hengest, Horsa.
- Anglo Saxon life and their influence on place names in Britain.
- The introduction and role of Christianity in Anglo Saxon life
Art- The children will study the 'Jungle Art of Henri Rousseau'
Henri Julien Félix Rousseau (May 21, 1844 – September 2, 1910)[1] was a French post- impressionist painter.
Computing - We will be completing a computer project in the afternoons (week beginning 6th November). We will be using the software 'Scratch' to create and develop an educational game.
French - In French the children will learn about French artist Henri Rousseau, and about Christmas and the Nativity.
HeartSmart - 'Don't Forget to Let Love In.'
Visit the website www.heartsmartprimary.com for more information on what Heartsmart is all about.
Dates for your Diary:
Christmas Panto: Friday 1st December
Cinema Trip: Monday 11th December
Junior Christmas Party: Tuesday 19th December
Junior Carol Service: Wednesday 20th December
NEWS!
During the first half of Autumn Term we found our feet! We had a great half term, developing routines and relationships and have started to work well in our teams. We have shared learning in our Topic and Science lessons as well as in English and Maths. We have shared our ideas and understand how working as a team or with a partner can help our own learning journey. I am proud of all the hard work the children have put into their learning this half term!
All the children have developed their writing skills and are continuing to grow in confidence as writers. They have loved listening to our class reader 'Charlie and the Chocolate Factory' and as a class are enjoying reading in the mornings when they first arrive in school. It is a joy to see the children enjoying and discussing a range of books. The work the children produced around our class reader was amazing. I loved the new 'Golden Ticket Winners' they created and it was an absolute pleasure to read their own 'Chapter 15' for Charlie and the Chocolate Factory. All of the children brought a copy home to share with you. The children absolutely loved reading each others chapters! It is lovely to see them encourage each other as writers.
The children have worked hard with their maths and showed a great deal of perseverance when faced with the challenging task of reasoning and problem solving. They have continued to develop these skills or as we call them in class 'Our Captain Conjecture skills' throughout the term. They are super at 'Spot the Mistake', especially when they have to tell me what mistakes I have made! We have been working hard on our understanding of place value and our counting, as well as solving addition calculations. I am very proud of the way the children are developing as mathematicians and am pleased that they are enjoying challenging themselves even if it does 'make their brain hurt'!
The children have shown respect, empathy and understanding in our RE work and have developed their reflective thinking. Science has been lots of fun and we managed to squeeze in some experiments! We have learnt all about the water cycle and the importance of conserving water. During our HeartSmart work we have developed the idea of self-reflection, resilience and friendship.
On the last week, we had the amazing opportunity to visit MUFC. The children along with Mrs Percy and myself were very excited! They had a fantastic time looking at all the trophies in the museum, developing skills and meeting the author Alan Gibbons. I have never seen the children laugh so much when Alan was sharing stories with them. It was a fantastic morning and the children did you all and the school proud! If you would like to find out more about the author Alan Gibbons then visit his website at www.alangibbons.com.
As you can see it has been a very busy first half term in Year 4. I have loved getting to know all of the children and it is delightful to see them grow in both their friendships and learning. The children have worked hard and begun the year with a great attitude. Here's to another half term of great learning and fun!