A very warm welcome to our Year 4 class page. In Year 4 we are looking forward to the challenges ahead and the children are now fully settled into KS2. During this year the children will be encouraged to be proactive in their independent learning as well as building good relationships in order to work effectively as teams. The children will be nurtured and encouraged to work alongside others in a variety of contexts with a focus on problem solving, research and sharing ideas.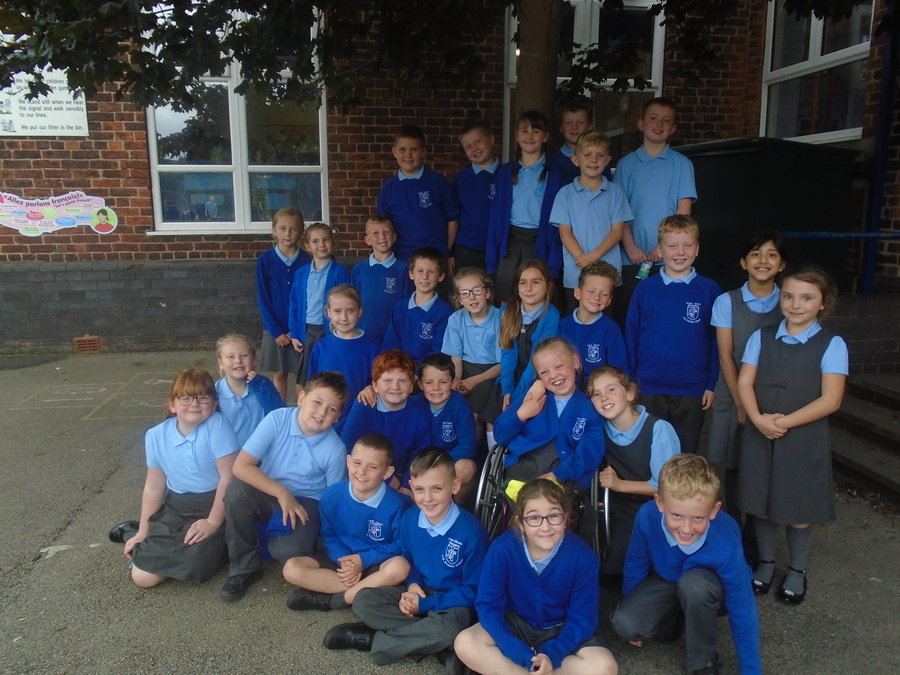 Our Year 4 Class 2017-2018
Class Information
Who's Who
Mrs Monaghan- Year 4 teacher
Mrs Carney- Higher Level Teaching Assistant

Mrs Rowland- Teaching Assistant
Mrs Larner- Teaching Assistant
P.E takes place on Tuesdays. The children must have their full kits in school for these lessons so that they can take part.
Homework will be given out each Friday. This is to be completed by the following Wednesday. Spellings log books will be brought home each night. It is important that the the children learn any of the words they have found tricky in spellings that week as well as the Year 3/4 list of words at the back of log book. The children need to bring their log books back to school each day.
Reading is encouraged both in school but also at home. Reading for enjoyment is as important as reading to learn. The classroom has a comfortable reading area as well as a listening station for audio books to help the children to learn about expression and tone when reading. The children are also encouraged to use the library and to choose books that they enjoy. A Reading Champion's Certificate and bookmark are awarded to one child from each class every Friday. Once you get all five bookmarks, you can choose a book of your very own from Mrs Percy.
This half term.... Autumn 1 (Sept-Oct 2017)
Over the next half term our theme will be 'Charlie and the Chocolate Factory' by Roald Dahl
English
We will be completing work around our class reader 'Charlie and the Chocolate Factory' by Roald Dahl. The children will be thinking about characterisation, setting and how stories are structured. Developing a love of writing is extremely important and I feel that this is the perfect story to do this! We will be consolidating the writing skills the children developed in Year 3 and introducing new techniques and learning new vocabulary to help us describe. After our narrative work we will use this book to help us with our non-fiction writing.
Mathematics
In Maths this half term we will be developing our understanding of place value to 4 digits as well as working on mental and written addition and subtraction methods. We will also begin to become masters of times tables. By the end of Year 4 the children are expected to know all the tables to 12. Don't worry though - there are plenty games and songs to help us along here!
Science
Our topic for science this half term is 'States of Matter'. We will be comparing and grouping materials into solids, liquids and gases. We will investigate gases, as well as observing how some materials change state using heating and cooling. This topic links well with the work we will be doing in Geography - thinking about the water cycle and investigating evaporation.
Topic: Geography
Our Geography topic this half term will be 'Water' This topic also links with our science work this half term. We will be learning about the Water Cycle and looking at all the different elements of it. As well as this we will be thinking about the water treating process, flooding and water pollution.
RE - Our topic for this half term with be God, David and the Psalms.
The children will learn about the stories of David and reflect upon the values that God wants to see within us. They will also look at some Psalms and think about the imagery within them that reveal the nature of God.
Art
In Art we will be learning about the artist Picasso and creating some self-portraits based around his style. We will also be creating pictures based on our RE work.
PHSE- HeartSmart
This half term we will be introducing HeartSmart and looking at how we can work effectively as a team.
French
Les enfants vont apprendre a propos de leurs animaux de compagnie. (The children will learn about pets this term! They'll also do a small section on their families).
Dates for your Diary:
Parents Evening: 18th & 19th October

Online Safety Enrichment Day: Friday 20th October