A very warm welcome to our Year 4 class page. In Year 4 we are looking forward to the challenges ahead and the children are now fully settled into KS2. During this year the children will be encouraged to be proactive in their independent learning as well as building good relationships in order to work effectively as teams. The children will be nurtured and encouraged to work alongside others in a variety of contexts with a focus on problem solving, research and sharing ideas.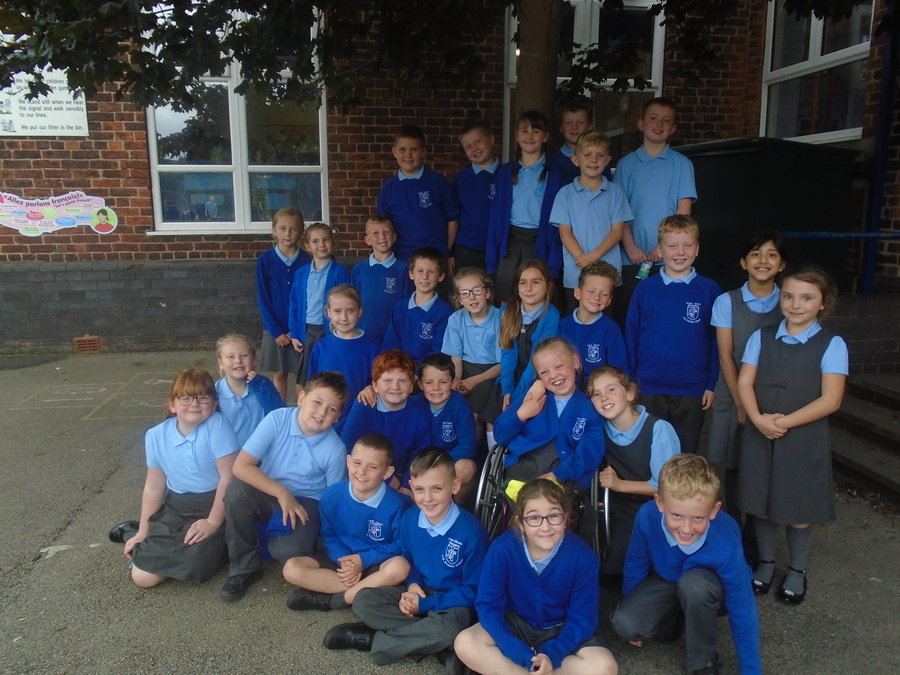 Our Year 4 Class 2017-2018
Class Information
Who's Who
Mrs Monaghan- Year 4 teacher
Mrs Carney- Higher Level Teaching Assistant

Mrs Rowland- Teaching Assistant
Mrs Larner- Teaching Assistant
P.E takes place on Tuesdays. The children must have their full kits in school for these lessons so that they can take part.
Homework will be given out each Friday. This is to be completed by the following Wednesday. Spellings log books will be brought home each night. It is important that the the children learn any of the words they have found tricky in spellings that week as well as the Year 3/4 list of words at the back of log book. The children need to bring their log books back to school each day.
Reading is encouraged both in school but also at home. Reading for enjoyment is as important as reading to learn. The classroom has a comfortable reading area and love listening and talking about books. It is very important to us as a school and class to promote reading for pleasure. The children are also encouraged to use the library and to choose books that they enjoy. A 'Reading Raffle' is drawn every Friday and the lucky ticket holder can choose a prize. The more you read the more tickets you get in the draw. Happy reading!
This half term.... Summer 1 (April - May 2018)
In English we will start by continuing our focus on persuasive writing. To begin with the children will be debating and arguing orally and so this is a great thing to practise at home - Manchester United are a better football team than Liverpool...Digestives are better biscuits than Rich Tea....the important thing is that the children don't necessarily have to agree, but they do have to be able to find arguments for and against. The children will then be producing a persuasive leaflet for a specific target audience.
After this we will start a project based around Walter Tull. http://www.bbc.co.uk/schools/0/ww1/25403975. Walter Tull was a British footballer and soldier who was born in 1888 and died in 1918. He was also the first black officer to lead British soldiers in battle. We will be basing our reading and writing activities around this project and I am sure the children will gain a great deal from it.
We will also be having a grammar push this term! It is important that the children continue to check their writing carefully, especially for non-negotiables. We will again be looking carefully at the expectations for writing in year 4 and having a good push at achieving these targets. The children will bring a sheet home to support them with this. Each week for homework, they will receive a short comprehension task to support their reading skills. Please also encourage your child to practise their joined up writing at home.
We will start our new class reader 'The Great Chocoplot' by Chris Callaghan.
It's the end of chocolate - for good! At least, that's what they're saying on TV. Eleven-year-old Jelly is horrified, but a trail of clues leads to a posh chocolate shop and its suspicious owner, the dastardly Garibaldi Chocolati. Is it really the chocopocalypse, or is there a chocoplot afoot? The winner of our Book World Cup!
We will also be developing our comprehension skills and thinking carefully about our reading VIPERS (vocabulary, infer, predict, explain, retrieve, sequence or summarise) It is important that the children continue to read a range of books/comics/newspapers at home and develop their comprehension skills and vocabulary. This will help consolidate the reading work we will be doing in class. In Year 4, we feel it is important for the children to develop a love of reading as this gives their 'imagination wings'.
We will be continuing our 'Read Write Inc' spellings each week. The children will once again bring a letter home outlining the key rules for this half term. Children need to learn these spellings at home along with the highlighted 'orange words' at the bottom of the letter.
In Maths we will be thinking about the 4 operations of numbers. One for each of the first 4 days we are back after Easter:
Tuesday- addition
Wednesday - subtraction
Thursday - division
Friday - mulitplication
After this we will continue our work on decimals. The children will be:
ordering decimals

comparing decimals

writing decimals

making a whole
All of the activities will give the children the opportunity to develop their reasoning and problem solving skills. We will also continue with our daily 'Captain Conjecture' questions and counting activities. These help the children to develop their mathematical thinking. After our work on decimals we will start thinking about shape and will have the opportunity to go around Pennington Park on a shape treasure hunt!
By the end of Year 4 the expectation is that children can recall all their times tables facts up to 12 X 12. You can support your child by regularly asking them times tables questions at home. Making this fun will have more impact! Topmarks is a great website for maths; the game Hit the Button is a particular favourite in class and is great at helping children to become quicker at facts recall. Please take the time to have a look - even compete with them! Also please continue to encourage your child to go on TTRockstars regularly. This is a great game that really will have an impact on your child's recall of their times tables facts.
Reading, telling and writing the time in analogue and digital clocks remains a KEY aspect for the children to practise regularly AT HOME. Please also take the time to look at the Calculation booklet with your child and encourage them to practise their written strategies for the 4 operations of number, especially division! If you would like any further support with this please come and speak to me.
RE - We will start off this half term by thinking about forgiveness, this is linked to the work we did on trust and betrayal at Easter. After this we will learn about 'The Church' and visit Christ Church Pennington to learn more about it.

Heart Smart- 'Fake in a mistake'

'Fake is a Mistake' is very simply about embracing truth, it can be our greatest friend. We lie because we don't want to get in trouble, we think that a carefully crafted lie or a strong denial will rid us of a looming consequence. But every time we tell a lie one of two things happens. The other person believes us or they don't. If they don't then chances are we're in more trouble than before, we've just added telling a barefaced lie to the problem! But it's worse if they do believe us. We'll get away with it which means we're more likely to do the same thing next time and the next time and the next time. The more expert we get at telling lies, the harder it is for us to tell the truth. Without thinking about it, we'll tell the odd lie here and there and each time we do we build a brick wall between us and the other person. If we're not careful, we'll begin to lose sight of the truth all together, we'll begin to lose sight of ourselves.
Love ourselves, love others and do all we can to live in truth. Truth and love go hand in hand. They travel together. As Mal Panacoast says,'telling someone the truth is a loving act,' both for for others but also for ourselves.
Visit the website www.heartsmartprimary.com for more information on what Heartsmart is all about.
Topic - Our topic work will be based around the History topic of 'The Ancient Greeks'
We will be thinking about a range of different questions.
How did the Greek empire grow and become powerful?

The Olympics – how have they changed and how did they begin?

Greek past times and theatre; Greek Gods, Goddesses and Myths;

The Trojan War and Greek preparation for battles.
Science - We will be starting a unit based around electricity. (Power it up!)
We will learn:
Unit 5.1 Living with electricity
To identify common appliances that run on electricity.

To classify and record appliances as mains or battery operated.

To understand the difference between mains and battery-operated appliances.

To understand that electricity can be dangerous.
Unit 5.2 Let's make circuits
To construct a simple series electrical circuit, identifying and naming its basic parts, including cells, wires, bulbs, switches and buzzers.

To identify whether or not a lamp will light in a simple series circuit, based on whether or not the lamp is part of a complete loop with a battery.

To recognise that a switch opens and closes a circuit and associate this with whether or not a lamp lights in a simple series circuit.
Unit 5.3 Be alarmed!
To recognise some common conductors and insulators, and associate metals with being good conductors.

To use a simple circuit to create a devise.
DT - We will completing a joint project linked with computing and science during the last week of this half term. The children will have the exciting opportunity to plan, design and make their own toy that uses a simple circuit to light up.
Our French work moves on to learning about the body (Le corps) and monsters! (Les monstres)
Computing - We will start the half term with a computing week and end the half term with a joint project linked with Science and DT. Our first unit will be 'We are co- authors!' (Producing a wiki)
We will learn to:
Understand the conventions for collaborative online work, particularly in wikis.

Be aware of their responsibilities when editing other people's work.

Become familiar with Wikipedia, including potential problems associated with its use.

Practise research skills.

Write for a target audience using a wiki tool.

Develop collaboration skills.

Develop proof reading skills.
Our second unit will be 'We are toy designers'
We will learn to:
Design and make an on-screen prototype of a computer-controlled toy.

Understand different forms of input and output (such as sensors, switches, motors, lights and speakers).

Design, write and debug the control and monitoring program for their toy.
Dates for your Diary
We will be sending a letter and a message through SEESAW when we return to school about a short assembly we will be doing based on our weekend away at Hinning House.
NEWS!
Spring 2 was very busy, action packed and flew by! A highlight for both the children and myself was our weekend away at Hinning House. (The website gallery will be uploading the pictures very soon and when we get back after Easter will will be arranging a short assembly for you to come and look at the pictures as well. Some of the pictures are also on the slideshow below). It was an amazing experience for everyone and the children were an absolute credit to you. They worked well as a team, loved orienteering, enjoyed shelter building and having fun with their friends. The dorm points competition was extremely close, well done to our winners Scarfell!
The children worked extremely hard on their persuasive letters and thought very carefully about this tricky genre of writing. They have also worked hard on improving their reasoning skills and have enjoyed working with a maths partner on a range of investigations. I am also very proud of the way they have been working hard on their fractions and decimals. They are improving all the time and with continued practise they will go from strength to strength.We continue to see that the children have been practising their times tables and telling the time at home. Keep up the hard work everyone! We all still love our times tables game TT Rockstars! This is a great resource and the children's learning can greatly benefit from it. Please encourage them to have a go regularly.
During the term the children continued to impress us with their curling skills in PE and especially with their approach to team work. It was extremely tricky choosing 4 children to represent us at the competition as all the children had displayed super curling skills. We had great fun during our class competition and this gave all the children an opportunity to have a go and a chance of winning the Y4 gold medals. A huge well done has to go to Harrison, Megan, Gracie and Sam who did an excellent job representing our class at the schools competition at Leigh Sports Village. I am very proud to say we came first in the competition but even prouder of the excellent sportsmanship they all displayed.
The children again showed sensitivity when thinking about trust and betrayal in the Easter story. This was also evident in the discussions we had during our Heartsmart work. The children are really thinking about how their actions can impact on others.
During the whole of the Spring term we were very lucky to have Mrs Bishop (student teacher) working in class. The children and myself loved having Mrs Bishop work with us and were very sad to see her leave us at Easter. (We are excited that she will be popping in to see us the first Tuesday back after Easter!) The children loved the engaging and creative science lessons Mrs Bishop did with them and they learnt a great deal about living things and light.
Well done everyone, we have had a lovely Spring Term. Lets continue to do ourselves proud in the Summer Term!
What a busy and action packed half term it has been! We can't believe we are approaching March and our much anticipated trip to Hinning House! The children continue to amaze us and make us very proud. They are growing in confidence and maturity and are continuing to work together as team and show respect for each other.
Mrs Bishop, our student teacher, has settled in and I know the children have particularly enjoyed her science lessons. She will be with us until Easter. Ising Pop was one of the highlights for me this half term. The children were amazing and showcased their singing and dancing talents. They also showed a super understanding of our Christian values when discussing the lyrics of the songs.
The children's confidence in Maths is developing as is their commitment to challenging themselves, especially when completing our timed learn it tests! As a class, we are continuing to develop our reasoning and problem solving skills and are getting better at explaining why instead of just giving an answer. We can see that the children have been practising their times tables and telling the time at home. Keep up the hard work everyone! We all love our new times tables game TT Rockstars and had great fun dressing up as rockstars! This is a great resource and the children's learning an greatly benefit from it. Please encourage them to have a go.
The children's narrative writing on 'Toki' was wonderful. They are all making good progress and have worked particularly hard on their sentence structure. It was a joy to read their stories and see how they have all developed as authors. Keep up the hard work!
We may have some future Winter Olympians on our hands! The children have loved Curling in PE and have shown some impressive skills. They have shown excellent team work throughout all these lessons. Well done everyone!
We had an excellent morning a couple weeks ago learning all about what life was like for the Vikings in Britain. The children had the opportunity to become real life Vikings by dressing up and using artifacts from the time. They asked interesting questions and showed superb listening skills. We are all very excited now to learn some more interesting things in our History lessons after half term.
Well done Year 4 on another successful half term. Keep working hard and hold your heads up high!
Having found their feet the children are now growing in confidence and continuing to develop their independent skills. Team work is something that we promote and encourage in class. It has been lovely to see the children continue to work well with others and develop their social skills inside and outside the classroom. Respect and compassion are important Christian values in Year 4, the children demonstrated a real understanding of these values during our RE and Heartsmart work and didn't just talk the talk but walked the walk. Without a doubt they let their 'light ' shine through!. It has been a pleasure to see a positive working atmosphere develop in the classroom.
As well as learning about how to respect ourselves, our RE lessons based around Judaism helped the children to understand and respect other faiths. The children showed great sensitivity during this topic and understood that even though someone might have a different belief to us it is important that we show respect to them and value their opinions. After this, we looked at Jesus as the light of the world. As a class we discussed how each one us can shine our light on the world. Throughout the term we saw some wonderful examples of this, especially when the children created Christmas cards for people in our local community who help others all year round!
The children have continued to work hard in maths this term. Highlights being the counting stick and displaying their fine voices during our daily maths songs! We are continuing to develop our reasoning skills and the children have loved our Captain Conjecture questions. They have worked hard on all their number work and now have a written strategy they can use for the 4 operations of number. We have used the bar method to help us to visualise problems and improved our overall sense of number.
During our English lessons the children continued to developed their non-fiction writing skills, producing some excellent information pages on an animal or insect of their choice. The children took on the challenge with enthusiasm and a positive work ethic. Independently, they researched their animal, organised their notes under sub-headings and produced a magnificent final draft. The children also produced some good work during our 'anti-bullying' week. Their work displayed sensitivity and and the a real understanding of ' All different, All equal'.
The children's lights shone brightly during our end of term Christmas carol service. The children oozed confidence and pride when they stood at the front of a packed church. It was a delight see this! It was especially pleasing to see their great team work and how they supported and encouraged each other. We are extremely proud of them all!
Well done Year 4 on a super half term! Can't wait to get started again in the Spring term!
During the first half of Autumn Term we found our feet! We had a great half term, developing routines and relationships and have started to work well in our teams. We have shared learning in our Topic and Science lessons as well as in English and Maths. We have shared our ideas and understand how working as a team or with a partner can help our own learning journey. I am proud of all the hard work the children have put into their learning this half term!
All the children have developed their writing skills and are continuing to grow in confidence as writers. They have loved listening to our class reader 'Charlie and the Chocolate Factory' and as a class are enjoying reading in the mornings when they first arrive in school. It is a joy to see the children enjoying and discussing a range of books. The work the children produced around our class reader was amazing. I loved the new 'Golden Ticket Winners' they created and it was an absolute pleasure to read their own 'Chapter 15' for Charlie and the Chocolate Factory. All of the children brought a copy home to share with you. The children absolutely loved reading each others chapters! It is lovely to see them encourage each other as writers.
The children have worked hard with their maths and showed a great deal of perseverance when faced with the challenging task of reasoning and problem solving. They have continued to develop these skills or as we call them in class 'Our Captain Conjecture skills' throughout the term. They are super at 'Spot the Mistake', especially when they have to tell me what mistakes I have made! We have been working hard on our understanding of place value and our counting, as well as solving addition calculations. I am very proud of the way the children are developing as mathematicians and am pleased that they are enjoying challenging themselves even if it does 'make their brain hurt'!
The children have shown respect, empathy and understanding in our RE work and have developed their reflective thinking. Science has been lots of fun and we managed to squeeze in some experiments! We have learnt all about the water cycle and the importance of conserving water. During our HeartSmart work we have developed the idea of self-reflection, resilience and friendship.
On the last week, we had the amazing opportunity to visit MUFC. The children along with Mrs Percy and myself were very excited! They had a fantastic time looking at all the trophies in the museum, developing skills and meeting the author Alan Gibbons. I have never seen the children laugh so much when Alan was sharing stories with them. It was a fantastic morning and the children did you all and the school proud! If you would like to find out more about the author Alan Gibbons then visit his website at www.alangibbons.com.
As you can see it has been a very busy first half term in Year 4. I have loved getting to know all of the children and it is delightful to see them grow in both their friendships and learning. The children have worked hard and begun the year with a great attitude. Here's to another half term of great learning and fun!