A very warm welcome to our Year 4 class page. In Year 4 we are looking forward to the challenges ahead as the children are now fully settled into KS2. During this year the children will be encouraged to be proactive in their independent learning as well as building good relationships in order to work effectively as teams. The children will be nurtured and encouraged to work alongside others in a variety of contexts with a focus on problem solving, research and sharing ideas.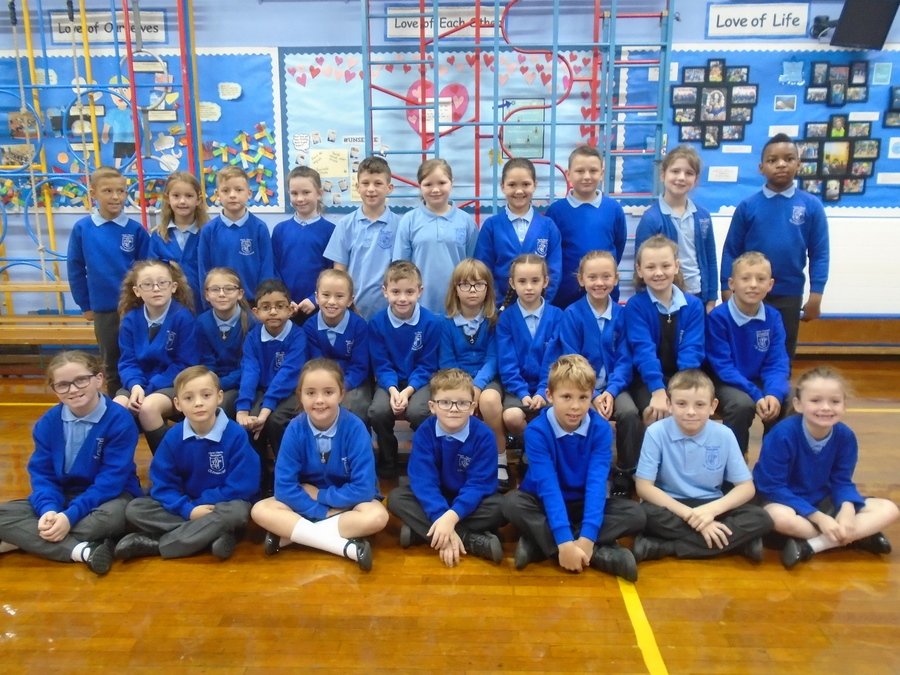 Our Year 4 Class 2018-2019
Class Information
Who's Who
Mrs Monaghan- Year 4 teacher
Mrs Kirkman- Part-time teacher
Mrs Carroll- Teaching Assistant
P.E takes place on Wednesdays. The children must have their full kits in school for these lessons so that they can take part.
Homework will be given out each Friday. This is to be completed by the following Wednesday.
Reading is encouraged both in school but also at home. Reading for enjoyment is as important as reading to learn. The classroom has a comfortable reading area as well as a listening station for audio books to help the children to learn about expression and tone when reading. The children are also encouraged to use the library and to choose books that they enjoy.
It is important that the children read a range of books/comics/newspapers at home and develop their comprehension skills and vocabulary. This will help consolidate the reading work we will be doing in class. In Year 4, we feel it is important for the children to develop a love of reading as this gives their 'imagination wings'.
We will be continuing our 'Read Write Inc' spellings each week. The children will be bringing home a list of the Year 3/4 words they are still not sure how to spell. Please practise these at home(little and often).
In Year 4, the children have the fantastic opportunity to learn to play the guitar. Each child will be given their own guitar for the year so they can practise at home. They will need to bring their guitar to school every Thursday as the whole class have a lesson on Thursday afternoon. A guitar teacher from Wigan Music Service teaches these sessions. At the end of the school year all the children have the experience of performing in a concert.
This half term.... Autumn 2 (Oct-Dec 2018)
In English we will be starting our non-fiction writing unit based around the theme of animals. The children will have the opportunity to learn about the structure and layout of information texts as well as researching and producing their own piece of information writing. After this we will move on to explanation texts. This will be a new genre of writing for the children and can be tricky at first. We will be linking this work with our Geography and Science work on the 'Water Cycle'. We will finish the term off by creating our own Christmas poetry.
When we get back after the half term we will be starting our new class reader ' Platform 13' by Eva Ibbotson. This is a very interesting story and great at developing the children's inference skills.
Under Platform 13 at King's Cross Station there is a secret door that leads to a magical island . . .
It appears only once every nine years. And when it opens, four mysterious figures step into the streets of London. A wizard, an ogre, a fey and a young hag have come to find the prince of their kingdom, stolen as a baby nine years before.
During this half-term we will continue to develop the children's inference and deduction skills in our whole class and small group guided reading sessions and through our class reader. The children will continue to develop and consolidate their narrative writing skills with a weekly writing task for homework based around a picture. We will also continue through our RWI spelling scheme. I will post the focus for the week on SEESAW. It is also important that the children continue to practise spelling from the Y3/4 list.
In Mathematics we will continue to develop our times tables. It is crucial that the children continue to practise these at home along with counting in different multiples. It is also important for the children to continue to consolidate their understanding of place value at home:
Roman numerals to 100

counting in 25's and 1000's

ordering 4 digit numbers

negative numbers

rounding numbers to the nearest 10, 100, 100

If you would like some advice or extra work with any of these then please call in to speak to me or send a message via SEESAW.
This half-term we will continue with our work on addition and subtraction and then move onto a short unit about length and perimeter and then onto multiplication and division. The children are continuing to develop their reasoning skills and each week I will be putting a reasoning question on SEESAW to consolidate their thinking. Please could the children also continue to practise their written methods at home. They are all in the calculation policy that you received at parents evening.
RE - We will start by looking at the Psalms and thinking about the imagery within them. After this, we will learn about Christmas- Exploring the symbolism of light and making our own Christingles. During this unit, we will also look at light in the Jewish faith, focusing on the festival of Hanukkah.
Science - We will spend the first couple of weeks finishing off our unit on Electricity. We will recognise some common conductors and insulators and associate metals with being a good conductor.
Our next topic after this will be changing states. During this topic the children will learn:
To compare materials.

To group materials together, based on observations on them to recognise that some materials, for example water, may exist in solid, liquid and gas states.

To make careful observations about how matter changes from solid to liquid.

To record what has been learnt in a variety of ways.

To read scales accurately

To observe that materials change state when they are heated and cooled.

To recognise when these processes, called freezing, boiling and melting, take place.

To measure and research temperature in degrees Celsius.

To explore patterns in freezing and melting.

To use research skills to find out about temperature

To recognise when evaporation and condensation take place.

To explore what happens to a material that is evaporating or condensing.

To make careful observations and record these.

To identify the part played by evaporation and condensation in the water cycle
Geography - Rivers
During this topic the children will consider how the location of these geographical features has shaped life. They will have the opportunity to ask geographical questions and make links. For example, Are their any big cities near rivers? They will also have the opportunity to:
use the language of rivers (erosion, depositation, transportation)

explain and present the process of rivers

compare how a river has changed over time

research and discuss how water effects the environment, settlement, environmental change and sustainability
DT - We will complete a DT project towards the end of term. The children will have the opportunity to design a simple Christmas Toy.
Computing - We will be completing a computer project in the afternoons (1st week back). We will be using the software 'Scratch' to create and develop an educational game. After we have completed our work around the 'Water Cycle' We will be completing a computer unit around this called 'Fixing Bugs.' In this unit the children will learn:
Develop a number of strategies for finding errors in programs.

Build up resilience and strategies for problem solving.

Increase knowledge and understanding of Scratch.

Recognise a number of common types of bug in software.
French - In French we will continue our work on 'our family' and about Christmas and the Nativity.
HeartSmart - 'Don't Forget to Let Love In.'
Visit the website www.heartsmartprimary.com for more information on what Heartsmart is all about.
Dates for your Diary:
Christmas Panto: Friday 7th December
Cinema Trip: Monday 10th December
Junior Christmas Party: Thursday 20th December
Junior Carol Service: Friday 21st December
NEWS!
During the first half of Autumn Term we have found our feet! We had a great half term, developing routines and relationships and the children have amazed me with their work ethic and team work. We have shared learning in our Topic and Science lessons as well as in English and Maths. We have shared our ideas and understand how working as a team or with a partner can help our own learning journey. I am proud of all the hard work the children have put into their learning this half term!
All the children have developed their writing skills and are continuing to grow in confidence as writers. They have loved listening to our class reader 'Charlie and the Chocolate Factory', particularly some of the 'lost chapters' from Roald Dahl's earlier drafts. As a class they are enjoying reading in the mornings when they first arrive in school. It is a joy to see the children enjoying and discussing a range of books. The work the children produced around our class reader was amazing. I loved the new 'Golden Ticket Winners' they created and it was an absolute pleasure to read their own 'Chapter 15' for Charlie and the Chocolate Factory. All of the children will bring a copy home to share with you after the half term, they will also have the opportunity to read each others chapters. After the holidays we will posting them to the Roald Dahl Museum!
The children have worked hard with their maths and showed a great deal of perseverance when faced with the challenging task of reasoning and problem solving. They have continued to develop these skills throughout the term. They are super at 'Spot the Mistake', especially when they have to tell me what mistakes I have made! We have been working hard on our understanding of place value and our counting, as well as solving addition calculations. I am very proud of the way the children are developing as mathematicians and am pleased that they are enjoying challenging themselves even if it does 'make their brain hurt'!
The children have shown respect, empathy and understanding in our RE work and have developed their reflective thinking. Science has been lots of fun especially using all of the electricity equipment! We have learnt all about how to make a simple circuit work. During our HeartSmart work we have developed the idea of self-reflection, resilience and friendship.
On the last week of term, we looked at the inspiration figure of Rosa Parks during Diversity Week. The children showed empathy and thought carefully about what life would have been like for Rosa. They discussed how her actions paved the way for change and how she is a inspiration to all of us. I was proud of the work the children produced during this week and the maturity they showed asking challenging questions and developing their own opinions on equality and segregation.
As you can see it has been a very busy first half term in Year 4. I have loved getting to know all of the children and it is delightful to see them grow in both their friendships, confidence and learning. The children have worked hard and begun the year with a great attitude. Here's to another half term of great learning and fun!