A very warm welcome to our Year 4 class page. In Year 4 we are looking forward to the challenges ahead and the children are now fully settled into KS2. During this year the children will be encouraged to be proactive in their independent learning as well as building good relationships in order to work effectively as teams. The children will be nurtured and encouraged to work alongside others in a variety of contexts with a focus on problem solving, research and sharing ideas.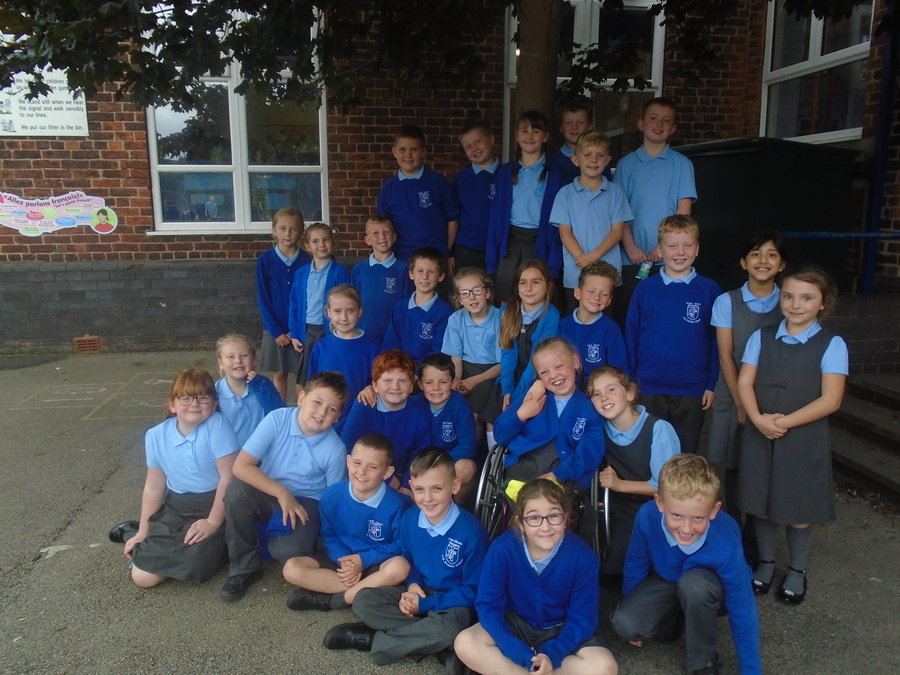 Our Year 4 Class 2017-2018
Class Information
Who's Who
Mrs Monaghan- Year 4 teacher
Mrs Carney- Higher Level Teaching Assistant

Mrs Rowland- Teaching Assistant
Mrs Larner- Teaching Assistant
P.E takes place on Tuesdays. The children must have their full kits in school for these lessons so that they can take part.
Homework will be given out each Friday. This is to be completed by the following Wednesday. Spellings log books will be brought home each night. It is important that the the children learn any of the words they have found tricky in spellings that week as well as the Year 3/4 list of words at the back of log book. The children need to bring their log books back to school each day.
Reading is encouraged both in school but also at home. Reading for enjoyment is as important as reading to learn. The classroom has a comfortable reading area and love listening and talking about books. It is very important to us as a school and class to promote reading for pleasure. The children are also encouraged to use the library and to choose books that they enjoy. A 'Reading Raffle' is drawn every Friday and the lucky ticket holder can choose a prize. The more you read the more tickets you get in the draw. Happy reading!
This half term.... Spring 1 (January - February 2018)

In English we will start the term off by looking at stories from other cultures. Using the short film clip ' Ride of Passage' from the Literacy shed website. During this topic the children will have the opportunity to:

create a story board

develop sentences into paragraphs

write a setting description

write a conversation between characters

Write an edit a narrative independently.
It is very important that as well as developing new skills in writing the children don't forget the basics and do always check that their work is punctuated correctly and makes sense. Encouraging children to grow in confidence as writers and use their imagination is paramount as developing a love of writing is important in year 4!
We will continue with our class reader 'The secret of Platform 13' by Eva Ibbotson and are eager to find out if the rescue party can save the prince and bring him back to the Island before the Gump closes for another 9 years! We will also be developing our comprehension skills and thinking carefully about our reading VIPERS (vocabulary, infer, predict, explain, retrieve, sequence or summarise) It is important that the children continue to read a range of books/comics/newspapers at home and develop their comprehension skills and vocabulary. This will help consolidate the reading work we will be doing in class. In Year 4, we feel it is important for the children to develop a love of reading as this gives their 'imagination wings'.
We will be continuing our 'Read Write Inc' spellings each week. The children will bring a letter home with the new orange words and spelling rules we will be looking at this half term. It is very important that you go through these with your child on a regular basis. I will continue to send information on Seesaw about the spelling rule and focus we will be looking at each week.
In Mathematics we will start the first couple of days back consolidating our number work from last term. This half term we will start our morning maths activities during registration 3 times a week. This is an ideal opportunity for the children to revisit their number work and build on their previous learning. After this, we will continue our work on multiplication and division, thinking about the written methods in greater detail. We will also continue to develop our 'Captain Conjecture' reasoning skills and as one child said to me 'challenging our maths brains so they hurt!' After multiplication and division, we will look at area and then towards the end of the half term begin our topic on fractions.
By the end of Year 4 the expectation is that children can recall all their times tables facts up to 12 X 12. You can support your child by regularly asking them times tables questions at home. Making this fun will have more impact! Topmarks is a great website for maths; the game Hit the Button is a particular favourite and is great at helping children to become quicker at facts recall. Please take the time to have a look - even compete with them! We will be starting a new project in a couple weeks, 'around the world with our times tables'. The children can move around the world by completing times tables quizzes and earn stickers and prizes along the way.
History - We will start our topic on the Vikings and Anglo Saxons. We will learn all about what Britain was like at the time and about the lifestyle of the Vikings. We will be having a special visitor who will help us to delve deeper into this topic. (More details to follow on Seesaw)
Art - We will research, create and make Viking longboats out of clay.
P.E - This half term, commencing Friday 19th January, the children will have an extra PE session with Wigan Athletic every Friday afternoon. The topic will be 'new age curling' and sounds very exciting! The children can bring their trainers to school in a named bag every Friday for this session as some of it may take place outside on the playground.
Science - We will complete our unit on teeth and move onto our new unit 'Living Things.'
During this unit the children will have the opportunity to:
To recognise that living things can be grouped in a variety of ways.

To recognise how a simple key helps identify living things.

To ask questions that can be used to construct a key.

To observe key features of living things.

To recognise that environments can change and that this can sometimes pose dangers to living things.

To examine invertebrates in their environment.

To identify invertebrates with a simple key.

To make careful observations.
RE - We will learn about 'Jesus, the son of God, and 'Shabbat'. The children will be exploring Jesus' authority revealed through his teaching and miracles. They will have the opportunity to explore the Jewish celebration of the Sabbath.
Key Questions:
What is authority?
How do we know Jesus had authority?
Where did Jesus' authority come from?
Heartsmart - The Heartsmart principle for this half term is 'Too much selfie, isn't healthy!' The children will be thinking about how they can be 'unselfie' by working well with others, listening to others and having a positive attitude to other peoples views, even if they are different to ours. It is about moving away from thinking about ME and starting to think about WE.
Visit the website www.heartsmartprimary.com for more information on what Heartsmart is all about.
Computing - We will start our unit 'We are Musicians'. The children will be producing digital music. They will create and develop a musical composition. This unit gives the children the opportunity to work collaboratively.
French - The children this half term will cover a range of topics in French.
* Our Pets (Mes animaux)
* Time (Quelle heure est il?)
* Days of the week (Les jours de semaine)
Dates for your Diary:
Parents Evening: 13th and 14th February 2018
Enrichment Day: Friday 16th February 2018
NEWS!
Having found their feet the children are now growing in confidence and continuing to develop their independent skills. Team work is something that we promote and encourage in class. It has been lovely to see the children continue to work well with others and develop their social skills inside and outside the classroom. Respect and compassion are important Christian values in Year 4, the children demonstrated a real understanding of these values during our RE and Heartsmart work and didn't just talk the talk but walked the walk. Without a doubt they let their 'light ' shine through!. It has been a pleasure to see a positive working atmosphere develop in the classroom.
As well as learning about how to respect ourselves, our RE lessons based around Judaism helped the children to understand and respect other faiths. The children showed great sensitivity during this topic and understood that even though someone might have a different belief to us it is important that we show respect to them and value their opinions. After this, we looked at Jesus as the light of the world. As a class we discussed how each one us can shine our light on the world. Throughout the term we saw some wonderful examples of this, especially when the children created Christmas cards for people in our local community who help others all year round!
The children have continued to work hard in maths this term. Highlights being the counting stick and displaying their fine voices during our daily maths songs! We are continuing to develop our reasoning skills and the children have loved our Captain Conjecture questions. They have worked hard on all their number work and now have a written strategy they can use for the 4 operations of number. We have used the bar method to help us to visualise problems and improved our overall sense of number.
During our English lessons the children continued to developed their non-fiction writing skills, producing some excellent information pages on an animal or insect of their choice. The children took on the challenge with enthusiasm and a positive work ethic. Independently, they researched their animal, organised their notes under sub-headings and produced a magnificent final draft. The children also produced some good work during our 'anti-bullying' week. Their work displayed sensitivity and and the a real understanding of ' All different, All equal'.
The children's lights shone brightly during our end of term Christmas carol service. The children oozed confidence and pride when they stood at the front of a packed church. It was a delight see this! It was especially pleasing to see their great team work and how they supported and encouraged each other. We are extremely proud of them all!
Well done Year 4 on a super half term! Can't wait to get started again in the Spring term!
During the first half of Autumn Term we found our feet! We had a great half term, developing routines and relationships and have started to work well in our teams. We have shared learning in our Topic and Science lessons as well as in English and Maths. We have shared our ideas and understand how working as a team or with a partner can help our own learning journey. I am proud of all the hard work the children have put into their learning this half term!
All the children have developed their writing skills and are continuing to grow in confidence as writers. They have loved listening to our class reader 'Charlie and the Chocolate Factory' and as a class are enjoying reading in the mornings when they first arrive in school. It is a joy to see the children enjoying and discussing a range of books. The work the children produced around our class reader was amazing. I loved the new 'Golden Ticket Winners' they created and it was an absolute pleasure to read their own 'Chapter 15' for Charlie and the Chocolate Factory. All of the children brought a copy home to share with you. The children absolutely loved reading each others chapters! It is lovely to see them encourage each other as writers.
The children have worked hard with their maths and showed a great deal of perseverance when faced with the challenging task of reasoning and problem solving. They have continued to develop these skills or as we call them in class 'Our Captain Conjecture skills' throughout the term. They are super at 'Spot the Mistake', especially when they have to tell me what mistakes I have made! We have been working hard on our understanding of place value and our counting, as well as solving addition calculations. I am very proud of the way the children are developing as mathematicians and am pleased that they are enjoying challenging themselves even if it does 'make their brain hurt'!
The children have shown respect, empathy and understanding in our RE work and have developed their reflective thinking. Science has been lots of fun and we managed to squeeze in some experiments! We have learnt all about the water cycle and the importance of conserving water. During our HeartSmart work we have developed the idea of self-reflection, resilience and friendship.
On the last week, we had the amazing opportunity to visit MUFC. The children along with Mrs Percy and myself were very excited! They had a fantastic time looking at all the trophies in the museum, developing skills and meeting the author Alan Gibbons. I have never seen the children laugh so much when Alan was sharing stories with them. It was a fantastic morning and the children did you all and the school proud! If you would like to find out more about the author Alan Gibbons then visit his website at www.alangibbons.com.
As you can see it has been a very busy first half term in Year 4. I have loved getting to know all of the children and it is delightful to see them grow in both their friendships and learning. The children have worked hard and begun the year with a great attitude. Here's to another half term of great learning and fun!