A very warm welcome to our Year 1 class page. In Year 1 the children make the transition from Foundation Stage to the National Curriculum. The children's confidence blossoms as they quickly develop the skills to become even more independent in their learning. We learn through practical and concrete activities and work as a team to develop our knowledge and understanding, we try to document as much of our learning on Seesaw as we can so remember to keep checking! The staff within the classroom are committed to providing the best learning experiences possible and are always on hand if you need them. Miss Lewis is available on the gate each morning to pass messages onto and you can always use Seesaw to direct message myself with any concerns or questions.Mr Southern our learning mentor is also available to speak to if you need him.

We look forward to a very busy and fun year where we will all have our time to shine!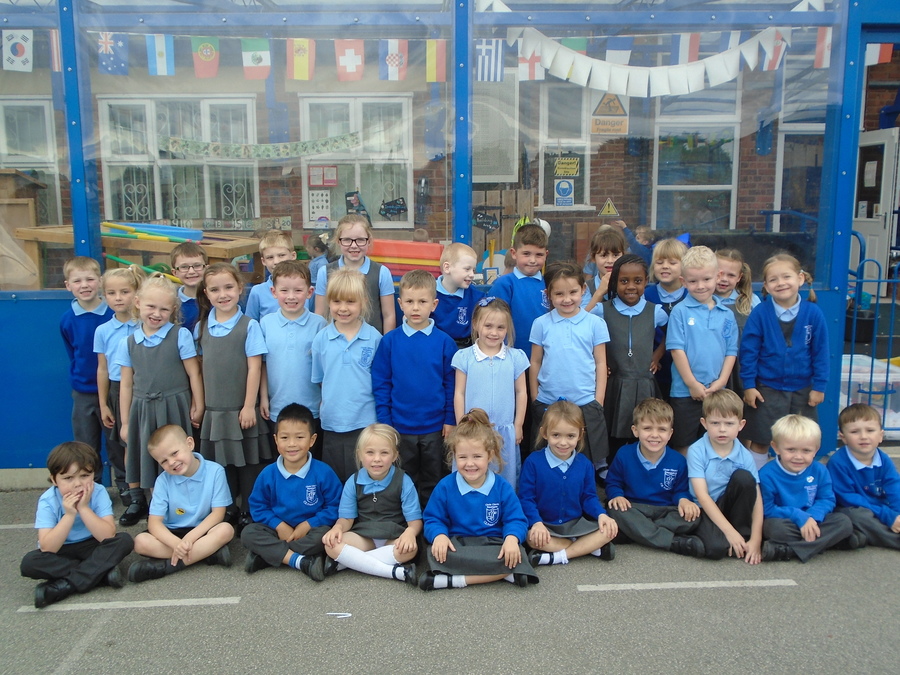 Our Year 1 Class 2017-2018
Class Information
Who's Who
Miss McCulley- Y1 Teacher
Mrs Waqar- Teaching Assistant
Miss Thistlethwaite- Teaching Assistant

Literacy
In Year 1 we love to read and share stories! During school time we use Read Write Inc as a scheme of work. the children do his for an hour each day and a grouped based on coloured levels. During Year 1 the children will work within colours purple, pink, orange and yellow, we cover mixture of fiction and non-fiction books. They also begin to become familiar with the Year 1 common exception words as they become ore confident readers. It is extremely important that the children's learning is supported by their reading at home. We send home two books that the children choose themselves. we have a compulsory book changing day which is on Tuesday however for those keen readers we also have an optional changing day of Friday too!
The Phonics Scheme we use in Year 1 is:
Read, Write Inc


During our daily phonics sessions we focus on blending and segmenting sounds to read and write new words. In addition we practise our Key Words. Read,write,inc. is then developed further to suppport your child in their writing skills.

Mathematics
In Year 1 we work on developing a secure sense of number, useing various different methods and activities to cover the key Year 1 objectives, some of which are: Number bonds to 10 and 20, counting forwards and backwards from any number within 100, writing numbers in words from 1-20, addition and subtraction and place value!
Things to remember:
Homework is will be handed out (either in books or on Seesaw) every Friday and is expected to be completed by Wednesday.
P.E Lessons are every Tuesday afternoon and Friday morning, please ensure your child has a fully labelled kit in school.
Read regularly at home each night and upload this to Seesaw so that you can be entered into the weekly raffle!
Snack money is due every Monday morning in a clearly marked envelope.
Seesaw
We love Seesaw in Year 1! We use this on a daily basis to record the children's learning and it is a great tool for seeing your child's progress. We love sharing our work on Seeesaw and it is great to see your interaction with us through comments and observations from home. We now use Seesaw as a key tool for class messages and information so it is really important that you keep up to date with it and check your Seesaw account regularly.

This half term.... Summer 1 (April-May 2018)
Over the next half term our topic will be: On Safari (A mini beast safari, not a jungle safari!)

Literacy - This half term we will be reading a range of books, some of these will include, 'What the ladybird heard' 'Jody's Beans' and 'Jack and the Baked Beanstalk.' The children will also have access to various non-fiction books related to planting and minibeasts. When sharing the books we will be targeting some of the key Year 1 reading comprehension objectives such as, discussing new vocabulary and word meaning, relating stories to our own real life experiences, discussing the importance of titles and the sequencing of various events in a story, making inferences based on what we have already read and making predictions of what might happen next, it would be great to see you focusing on these objectives when reading at home too! As we are coming into the Summer term it is really important that we now focus on developing the children as independent writers! To support this the children will be provided with various writing opportunities linked to the stories they have heard around the classroom. Some of the activities may even be that week's 'star' activity, which if completed will be rewarded with a certificate at the end of the week. The children will be encouraged to consistently use capital letters, full stops and the word 'and' to join two sentences together and to read over their writing to check for mistakes. However it would be great to see some children challenging themselves and using the suffixes 'er, est, ed and ing' and some adjectives in their writing and to see lots of independent writing at home and put onto Seesaw as supporting evidence. A big focus this half term will also be preparing for the phonics screening check by practicing all the sounds we have learnt / are learning in our Read Write Inc sessions, please support your child at home by practising the Set 2 and 3 sounds as much as you can in your spare time. (I know that can be difficult to find sometimes!)
Numeracy - We will continue our work on measure, moving on from height and length and beginning to work on measuring mass and capacity. We will have lots of fun exploring mass practically, using real scales and non standard units to measure classroom objects and will explore capacity with different sized containers and lots of water! The children will become familiar with lots of new comparative vocabulary such as: heavier/ lighter, more/less, heaviest/ largest/ lightest, full/ empty, greater/less, largest/least and volume. Within this half term we will also take a very hands on practical approach to fractions. Learning to recognise, find and name a half as one of two equal parts and a quarter as one of four equal parts of an object, shape and quantity, be warned this may involve lots of food. (Most likely cakes and pizza!)
Topic - On Safari! This half term we will begin to explore the world of minibeasts and plants. We will do lots of research of the types of minibeasts that we might find in our local area and learn new vocabulary such as vertebrate and invertebrate. We will be using all of our scientific skills to observe minibeasts closely, learning all about their different body parts and how they use them to survive and we will compare these to our own bodies! We will explore various minibeast habitats and food chains and begin to ask and answer our own questions through investigations. Hopefully we will be able to get to the wildlife garden at the park to go on a real minibeast hunt too and put all of our investigation skills to use! We will also work on being able to identify common trees and plants in our gardens, identifying the parts of a flower and how and what plants need in order to survive. We will then test our knowledge by planting and looking after our own beans, watching them grow, measuring them weekly and even writing our own bean diary! We will also be planting some vegetables in the hope that next term we will be able to make our very own salad.
RE- This half term we will looking at a unit called 'What is a Saint'. We will begin this topic by thinking about people in our lives that lead us and what makes them a good or bad leader. We will then learn about people who follow Jesus now and in the past looking at some of the more familiar stories of Jesus' disciples and think about why people chose to follow him. We will find out what makes a saint and talking about recent followers of Jesus like Mother Teresa and Desmond Tutu.

SEAL theme-

Relationships
HEARTSMART-

Fake is a Mistake!
Dates for your Diary:
P.E. days are Tuesday and Friday.
NEWS!
During Spring Term 2 we were very busy!! The children enjoyed a great Pirate topic, they enjoyed dressing up and role-playing in our very own pirate ship. We shared some lovely books together, The Night Pirates and Pirates love Underpants and some non-fiction books. The children enjoyed learning some 'pirate talk', writing messages in bottles and even pirate wanted posters. The children really enjoyed helping Miss McCulley to make her very own apple slice boat, building and writing specific instructions as they went along and found it very funny when Miss McCulley put the whole block of cheese onto the cocktail stick (not just a cube!). After watching this demonstration the children had a go at making their own independently and at the end of the week produced a fantastic piece on independent instructional writing! Our computing topic allowed us to plot a route around the pirates treasure map whilst learning all about algorithms and de-bugging; we had lots of fun using Beebot.
We have really enjoyed our Maths unit of position and direction, linking all of our learning to our pirate theme. We learnt lots of new vocabulary whilst making our own treasure maps. We are all very confident with being able to turn left and right, we are also able to use the terms clockwise, anticlockwise, quarter and half. This was a very practical unit and we enjoyed going around hiding treasure, giving our partner instructions to follow to find it and even making a huge whole class treasure map in the hall! This half term we also began our topic of Measurement, particularly focusing on measuring height and length. We have been out and about around school using non standard units such as cubes, pencils, rubbers and even paper clips to measure different objects. We have addressed various misconceptions and this has ensured that we are now very accurate when we come to measure!
In Science, we continued our look at the seasons and the changes we see happening around us as we move from Winter to Spring, we identified signs of change and created some lovely spring topic maps. The children worked in groups to plan and create their own pirate ship boats, I gave them various pieces of junk modelling equipment and then left them to it! It was great to see how they interacted as a team and listened to one another's ideas, there was a lot of scientific talk and discussion about the best shapes and materials to use for the base of the boat and whether they would sink or float. Unfortunately we did run out of time at the end of term as we were so busy, so we will make sure to find time to test our junk model boats in the water tray as soon as we get back after the Easter break.
In P.E. we have had lots of fun learning all about balancing, the children have shown their caring nature and great team work skills as they have worked together to work on being able to counter balancing with another person. They really enjoyed having the three different coloured challenges and are becoming very confident in being able to judge their own ability, knowing when they need to continue to practise a specific skill or whether they can challenge themselves by trying the green or red challenge cards. Well done everyone keep up the hard work during PE.
In R.E. we learned all about the Easter Story. We took a close look at the events of Holy week, splitting them up and learning about one event at a time, and we are begining to show a real understanding of the sequence of events. We thought carefully about the people that were around Jesus at the time, his mother and the Disciples in particular. We used an emoji wheel to think about their specific feelings at various times such as, Palm Sunday, The Last Supper, Good Friday and the day Jesus rose again. I encouraged the children to 'put themselves in their shoes' the children did very well with this and produced some great pieces of work. We then put on a lovely Easter performance in church working with the rest of Key Stage 1 to show the events of Palm Sunday. Thank you again to everyone that made such an effort to plan and create their Easter Garden, it was great to see the processes that some of you went through whilst making them and how carefully you had thought about how you could show what Easter is really about through them on Seesaw. It was a very tough decision for Mrs Malley and Mrs Percy (who were very impressed too). Well done again to our two runners up Eva and Tommy and our overall winner Luca!
We did end this half term on a slightly sad note at having to say goodbye to a fantastic member of our Year 1 team, however we wish Miss Lewis all the best in her new journey and I am sure she will pop in for a visit again soon!
All in all a very busy, but enjoyable half term, thank you for all of your hard work!
During Spring Term 1 we have been 'Polar Explorers' finding out about the Arctic and Antarctic. First, we located them on a map and globe and watched video clips to find out what it would be like. Next, we discovered which animals live at the North Pole and which live at the South Pole. We made fact files for different polar animals and researched where they lived, what they ate and how they survive. We looked at different animal bodies and discussed which were similar and which were different. We also learned that some animals hibernate or migrate and we even looked at how they camouflage themselves, so they don't get eaten. We investigated animal poo, helping us to discover whether the animals are carnivores, omnivores or herbivores this was challenging, but we are now confident with identifying and sorting animals in this way.
For our seasonal change we have looked at the changes that happen from Autumn to Winter and studied the times when it is dark and light and discovered that there are more hours of daylight in Autumn. We went on a winter walk to the park looking for signs of winter and enjoyed playing in the leaves! We then came back to school and created a piece of collage winter art.
In Literacy we have been working really hard in our Read, Write, Inc sessions: learning all our sounds, practising our handwriting and doing some lovely writing. We had lots of fun reading our book 'Betty and the Yeti' - a lovely story about a surprising friendship, we focused on adjectives and the children wrote some great descriptive sentences about the items that Betty found. We also focused on a lovely book called 'The Snowy Day' looking at story sequencing and what happens in the beginning, middle and end. We then worked to build and write our own snowy day story, recording it first as a whole class and then writing our own individual stories.
In Numeracy, we have done lots of work on number and place value, working with larger numbers from 20-100. Firstly we looked at 'tens and ones' and how to build and make a 2 digit number. We used lots of different maths equipment to 'build' the two digit numbers and can now recognise how many tens and ones are in a two digit number easily. The children can also identify and represent numbers using objects and pictures. We have also focused on the language of 'greater than, less than and equal to' in order to compare larger numbers, we have done this through concrete and pictorial representations and are becoming much more confident with this. Alongside all of this new learning we have continued to work on counting forwards and backwards in 2's, 5's and 10's and from any given number within 100.
In P.E. we have continued out 'REAL PE' lessons, focusing on balance in on beams and slow and focused movements. We have followed the story of a train and a young girl that is training to be a tight rope walker. The children have really enjoyed this topic and enjoyed being able to decide which challenge to attempt.
During Autumn Term 2 we have been learning about the Christmas story and why people give and receive gifts at Christmas. The children have deepened their understanding of the true meaning of Christmas by exploring the idea of Jesus as God's gift to the world. Linking with our Literacy skills, the children also re-told the Christmas story. In Science, we looked at the five senses and carried out the 'we are bees' experiment, using smell pots to see if we could find our way to the correct 'hive' - the children loved the experiment and enjoyed making their own smell pots at home. We also learned about different groups of animals including fish, amphibians, reptiles, birds and mammals; the children recognised many common animals and sorted them into different groups depending on whether they had fur or no fur and wings or no wings. They also discussed how animals are the same and how they are different. As part of our seasonal change topic we looked at our weather and how it changes by keeping a weather diary. We had lots of fun making our Christmas cards, baubles and other decorations!! The children enjoyed all of our work around the Nativity story and singing in the show.
In Literacy we read 'The Gruffalo' and re-told the story through sequencing pictures and role-play. The children loved working in their groups and acting out the characters. The children also wrote their own stories and descriptions of a similar character 'The Puffalo'.
In Numeracy we did lots of work on number and place value. We began by looking at the ordering of numbers and the language associated with ordinal numbers, eg, first, second, eighth, etc. We then looked at 'teen' numbers and the children learnt that these numbers always start with a one, we listened to a fun song to remind us! We used lots of different maths equipment to make teen numbers including arrow cards, Numicon and the 2-spike abacus. We also did lots of work on addition and subtraction; we mainly used numberlines although we need to work on mental strategies too by holding a number in our heads then adding on to find the answer. The children also learned about subtraction being the 'difference' between 2 numbers. We finished the half term by looking at 2D shapes and had lots of fun searching around the classroom and school to find these shapes in our environment - I know lots of you spotted shapes at home and posted pictures on Seesaw whch was lovely to see! We also ad a brief look at 3D shapes and made some cone shaped Christmas decorations which was great fun too!
In P.E. we have been working with our Wigan Athletic Coaches to develop our agility, balance and co-ordination by playing lots of fun games.
During Autumn Term 1 we have been scientists finding out all about our bodies and the five senses. We have carried out some experiments in Science; we enjoyed being 'taste detectives' - we sampled different foods whilst we had our eyes closed and we had to decide whether the taste was salty, sweet, bitter or sour. Surprisingly, a few of us enjoyed the sour lemon taste and not so surprisingly lots of us liked the bitter dark chocolate!! We also used smell pots as we pretended to be bees to find our way home to the correct hive. The children were amazed to find out that each hive has its own smell and this is used by bees to make sure that they are in the correct hive. What busy bees we have been! We had lots of fun on our trip to Underwater Street, which was amazing, we had lots of fun finding out about science and the world around us and we even made slime, bath bombs and saw a fantastic science experiment!!!
A visit to the park kick started our year long look at seasonal change. The children collected lots of autumn leaves and seeds to produce their very own piece of art, as well as learning the names of some of the trees. As part of our RE lessons we have learnt about how God created the world and by making our own creations we discovered how he must have felt.
In Maths, we practised counting beyond 100 and back, we learned about place value, addition and subtraction and learned the number bonds up to 10. We have also been doing lots of measuring and building different creations to measure using non-standard methods of measuring. For example we found out how many bricks long our hands and feet are.
We all enjoyed the story "Supertato" which inspired the children to create their own super veg character book in Computing and make our real super hero vegetables.
In P.E. we have been working using our new 'Real PE scheme which has made our lessons even more exciting and enjoyable where the focus is on each child making and challenging their own skills instead of being the best at sport we are developing co ordination and balance by playing lots of fun games.