A very warm welcome to our Year 1 class page. I hope that you find all of the information useful. In Year 1 the children make the transition from Foundation Stage onto the National Curriculum. The children's confidence with reading and writing blossoms as they quickly develop the skills to record their work independently. We enjoy carrying out lots of practical activities and investigations to aid our learning and we work as a team to develop our knowledge and understanding. As you can understand the teaching staff need to be in class with the children in the morning but any messages can be passed through Mr on the playground or relay your message directly to the teacher after school. Alternatively, if you need longer, you can make an appointment through the school office.

We look forward to a very busy but a fun learning year.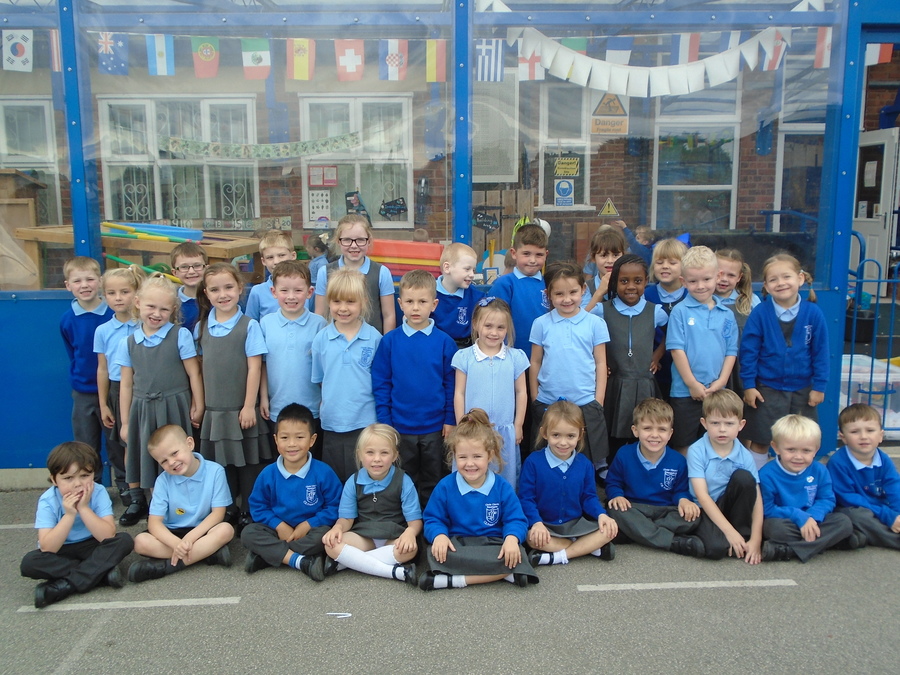 Our Year 1 Class 2017-2018
Class Information
Who's Who
Mrs Simm- Y1 Teacher
Miss Lewis- Teaching Assistant
Mrs Waqar- Teaching Assistant
Miss McCulley- Higher Level Teaching Assistant

Literacy
In Year 1 we read a range of books. In school we are beginning to read books linked to our read, write, inc.scheme of work. The children take home levelled books, which can be either fiction or non-fiction to give them a balance of reading strategies when tackling unfamiliar words. Reading books are changed on a rotational basis as it is important that the children re-read books to improve their fluency,it is important to to read regularly and to read a variety of types of books, so please remind your children to give in their book and bring it to school every day.
The Phonics Scheme we use in Year 1 is:
Read, Write Inc


During our daily phonics sessions we focus on blending and segmenting sounds to read and write new words. In addition we practise our Key Words. Read,write,inc. is then developed further to suppport your child in their writing skills.

Mathematics
In Year 1 it is very important that the children know their number bonds to 10, so if I say what goes with 6 They can say 4 straight away. Also your child needs to be able to count forwards and backwards to 100. This is vital to many mental calculations they will learn throughout school. Learning how to make different amount using 1p 2p 5p and 10p is a life skill we try to master in our class but it can prove to be very tricky. Your child will enjoy having their own shopping list and you can encourage them to tell you the prices of items. You can practise lots of our maths skills on the following website:
Homework…please try and read for 5 or 10 minutes each day with your child and write it down in your reading record.You will also have homework which is given on Friday and is expected to be returned by Wednesday. Please encourage your child to work independently but support your child when needed with their homework. This allows your child to consolidate what they have been taught in school.

Seesaw
We are very excited to be continuing to use our 'Seesaw' app, which will allow you to gain an insight into what your child is learning in school. It will help us to celebrate our learning and will highlight areas that need extra practise at home to enable your child to meet their targets. We can't wait to share our work with you, so don't forget to take a peep and leave us a like or even better an encouraging comment. This has now got the messaging facility wherby you can send a message directly to the teacher and will not be shared on your child's page or the class page.

This half term.... Autumn 1 (Sept-Oct 2017)
Over the next half term our topics will be:
English: We will be developing our reading and writing skills using the stories and books from the new' Read, Write inc.' scheme of work alongside our "This is me!" topic where we will meet Supertato learning about his adventures against the evil vegetables. We are going to design and create our own ebook which we will share once completed. We hope that you enjoy our book when it is finished

Maths:In our maths lessons we will learn about the value of numbers. We will also do lots of counting forwards and backwards to at least 100 and begin to master counting in 2's 5's and 10's to 100. Then we are going to develop our addition and subtraction skills. We will have lots of fun using practical activities to help us to understand our learning. Maybe you can do some activities at home too or even when you are out and about.

Topic - We will be finding out about our bodies and looking at a variety of animals. We will be learning about how we can keep fit and healthy. We are going to think about healthy lunch boxes and learn about the different activities that we can attend free in our community to help us acheive a healthy body. But let's get to the exciting bit! We are off to explore Underwater street where we will find out about what happens to our food and yes even poo! Ready Steady GO!!!!!

RE-God and Creation, we will be learning about how Christians believe that God created the world and everything in it. We will find out about what Christians believe about God creating the world in seven days. We are going to think very carefully about how we can look after our world and everything in it.

Dates for your Diary for this term:
P.E. days are Wednesday and Friday (please ensure that your child has the correct kit in school.)
Education visit to Underwater Street: Tuesday 3rd October
Parents Evening: 17th & 18th October

Online Safety Enrichment Day: Friday 20th October