A very warm welcome to our Year 1 class page. In Year 1 the children make the transition from Foundation Stage to the National Curriculum. The children's confidence blossoms as they quickly develop the skills to become even more independent in their learning. We learn through practical and concrete activities and work as a team to develop our knowledge and understanding. The staff within the classroom are committed to providing the best learning experiences possible and are always on hand if you need them.

We look forward to a very busy and fun year where we will all have our time to shine!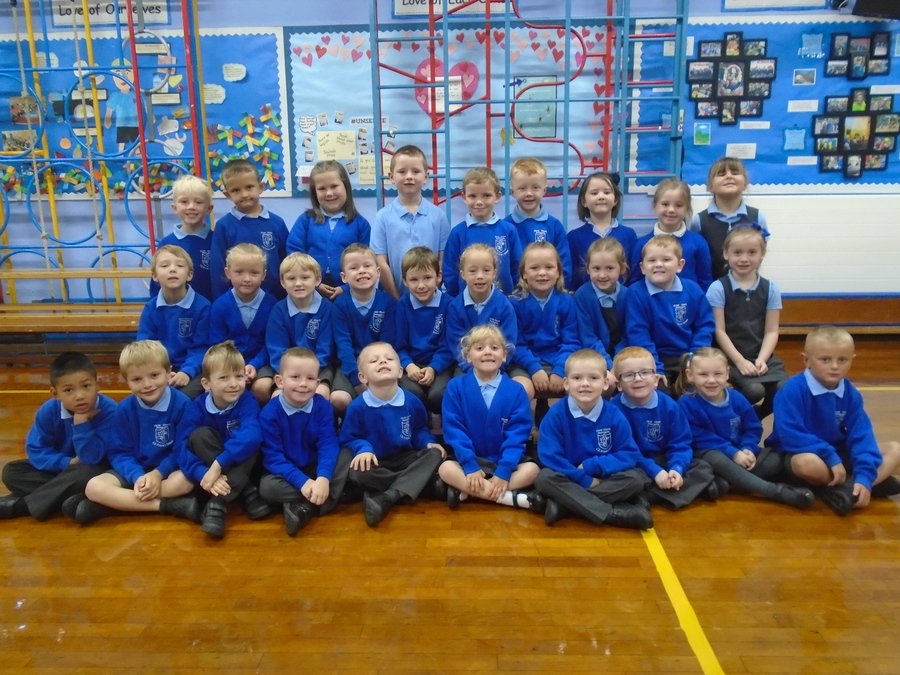 Our Year 1 Class 2018-2019
Class Information
Who's Who
Miss McCulley- Y1 Teacher
Miss Thistlethwaite- Teaching Assistant
Miss Taverner- Teaching Assistant
Mrs Hayden- 1 to 1 Teaching Assistant
Literacy
In Year 1 we hope to embed a deep love of reading and therefore base most of our learning around a key text that links with the half termly topic or unit of work. Each week we delve into a new book, both fiction and non- fiction, taking our time to look at it's key features and develop key skills such as inference and comprehension, the story will also be enhanced through wider continuous provision activities within the classroom across each week. During Year 1 we develop our own ability to read independently and it is really important that reading is encouraged as much as possible at home. In school we will also develop our English skills through daily RWI lessons.
The Phonics Scheme we use in Year 1 is:
Read, Write Inc


Each day we undertake an hour RWI lesson. Within this hour we review the set 2 sounds learnt in Reception and learn a new Set 3 sound each day. After the Speed Sounds lesson we look at a key text for the following three days. Across those three days we read the book numerous times, answer questions about the story and build up to doing our own independent writing. RWI is really helpful for embedding spellings and during each lesson we come across new 'Red Words' learning how to spell them and are encouraged to use these in our independent writing. We also work hard on different punctuation and how a sentence is structured. We really enjoy our RWI time (particularly the partner work, actions and rhymes!)

Mathematics
In Year 1 the main mathematical focus is on becoming secure with basic number skills. Some of these key skills include: being able to confidently count forwards and backwards to 100, counting on and back from any given number within 100, identifying one more and one less, addition and subtraction of one and two digit numbers within 20 and being able to recall number bond facts to 10 and 20. We enjoy learning through lots of practical activities initially in Year 1, however as the year progresses we will begin to look at Maths from both a concrete and pictorial perspective and even start to reason and problem solve!
It is important to keep working hard both at school and at home with Maths, so don't forget there are lots of online sites such at 'Topmarks, ICT games and Busythings' that we can use to keep our Maths brains active!
Homework
At the beginning of Year 1 your child will be given a plastic coloured homework and reading packet. Homework will always be given out on a Friday, it could be either written, practical or interactive through Seesaw. So it is really important that you check Seesaw every Friday for homework instruction updates. Please ensure that homework packets are sent into school on Friday mornings, so that homework can be sorted out and given back to your child.
Reading
As you are aware we had a big push on reading last year in school. It is really important to read daily with your child to encourage fluency and comprehension and it is great to see regular evidence of your child reading through Seesaw, however don't forget to record when your child reads in their new reading record book. This year it will be a whole class team effort for a reading prize, so please help the team and read regularly, so that we can get the highest amount of readers and win a prize each week! The children will be asked to independently change their books every Tuesday and Friday and a photograph of the books they choose will be added to their learning journey on Seesaw.
Seesaw
We love Seesaw in Year 1 and it is our key tool for observations, assessment and communication. You will receive daily updates of your child's progress and I am sure that you will enjoy seeing what they get up to everyday! As stated above we use Seesaw as a regular tool for communication, sending school and class messages through it, so please remember to check it regularly. It is also important that just like in Reception you continue to contribute to your child's learning journey by sending regular observations of your child's home learning and experiences.
This half term.... Autumn 1 (Sept-Oct 2018)
Over the next half term our topics will be:
English: This half term we will settle ourselves into Year 1 and will be looking at texts from a familiar author, this being 'Julia Donaldson'. We will look at various stories written by her, focusing on sentence types, key characters, patterns in language such as rhyme and rhythm and developing basic comprehension skills. Some of the stories include: 'The Snail and the Whale,' 'Sharing a shell,' The Gruffalo,' 'The Scarecrows wedding' and 'Hamilton's Hats.'
Maths: This half term we are focusing on Place value within 10 and addition and subtraction within 10. We will work on oral counting forwards and backwards to 10 and beyond and using practical equipment to add and subtract one digit numbers. We will also look at finding one more and one less that a given number, becoming secure to 20 and trying beyond 20, comparing groups of numbers using language such as, greater than, less than and equal to, ordering numbers and using a basic number line to count, add and subtract.
Topic - All About Me! This half term we will be focusing on ourselves.

In Science we will begin by looking at baby pictures comparing ourselves then and now and finding similarities and differences. We will then move onto looking at the human body as a whole, thinking about how we are made, the skeleton and labelling parts of the body. We will investigate our 5 senses, how we use them in everyday life and why they are so important to us, and we will even compare ourselves to animals!

In Geography we will be looking at our local environment, thinking about what we already know about where we live, learn all about our addresses and common features of our local area. We will also look at our area through different styles of maps. During this half term we will also be introduced to Barnaby Bear and will help him to 'find his feet' in our school and environment. We will develop our map reading and drawing skills and test these out with a map lead trip to the park, who knows where we might end up! Autumn is also upon us and during our trip to the park with Barnaby we will keep our eyes open for signs and Autumn and may even bring some leaves back with us to create some Autumn art.
In DT we will be using our knowledge of the Gruffalo story to make moving pictures and in Computing will be exploring maps again, using Beebot and programming him to take a trip to the park himself.

RE- Harvest. Across this half term we will be learning all about the Christian festival of Harvest, thinking about where our food originates from, how it travels all around the world before getting to our supermarkets, what charities there are around the world to help farmers during the harvesting season and of course thinking about how we can thank God for all of the wonderful gifts and blessings that he gives to us. Harvest is also a time to encourage the children to think about the community around them and we will be taking the time to think about how we could help people in need around us at this time of year.

Dates for your Diary:
P.E. days are Tuesday (PM) and Friday (AM) (Please ensure that your child has the correct kit in school.)
Parents Evening: 16th & 17th October

Enrichment Day: Friday 19th October