A very warm welcome to our Year 1 class page. I hope that you find all of the information useful. In Year 1 the children make the transition from Foundation Stage onto the National Curriculum. The children's confidence with reading and writing blossoms as they quickly develop the skills to record their work independently. We enjoy carrying out lots of practical activities and investigations to aid our learning and we work as a team to develop our knowledge and understanding. As you can understand the teaching staff need to be in class with the children in the morning but any messages can be passed through Mr on the playground or relay your message directly to the teacher after school. Alternatively, if you need longer, you can make an appointment through the school office.

We look forward to a very busy but a fun learning year.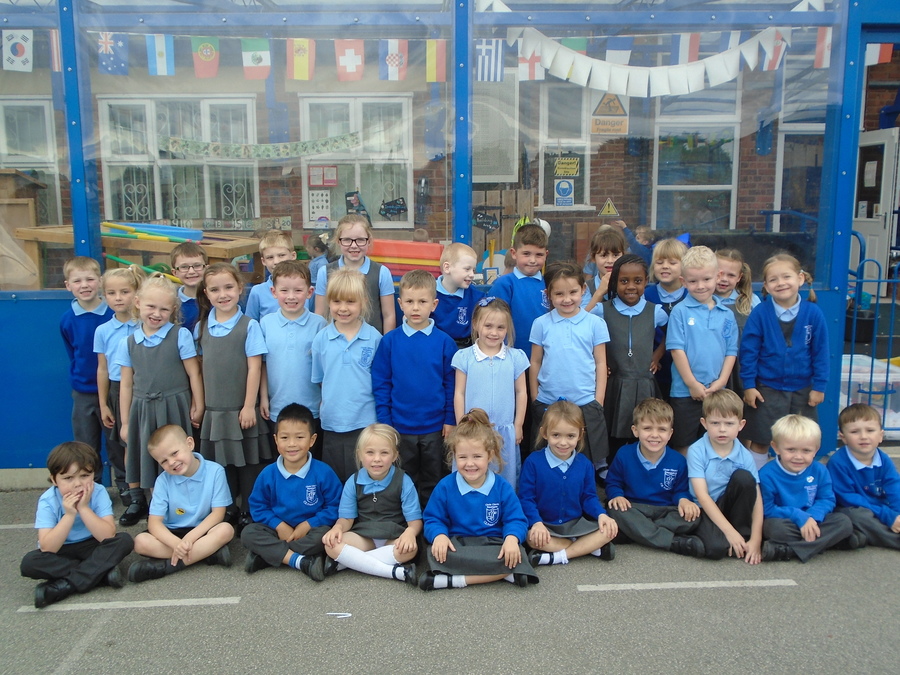 Our Year 1 Class 2017-2018
Class Information
Who's Who
Mrs Simm- Y1 Teacher
Miss Lewis- Teaching Assistant
Mrs Waqar- Teaching Assistant
Miss McCulley- Higher Level Teaching Assistant

Literacy
In Year 1 we read a range of books. In school we are beginning to read books linked to our read, write, inc.scheme of work. The children take home levelled books, which can be either fiction or non-fiction to give them a balance of reading strategies when tackling unfamiliar words. Reading books are changed on a rotational basis as it is important that the children re-read books to improve their fluency,it is important to to read regularly and to read a variety of types of books, so please remind your children to give in their book and bring it to school every day.
The Phonics Scheme we use in Year 1 is:
Read, Write Inc


During our daily phonics sessions we focus on blending and segmenting sounds to read and write new words. In addition we practise our Key Words. Read,write,inc. is then developed further to suppport your child in their writing skills.

Mathematics
In Year 1 it is very important that the children know their number bonds to 10, so if I say what goes with 6 They can say 4 straight away. Also your child needs to be able to count forwards and backwards to 100. This is vital to many mental calculations they will learn throughout school. Learning how to make different amount using 1p 2p 5p and 10p is a life skill we try to master in our class but it can prove to be very tricky. Your child will enjoy having their own shopping list and you can encourage them to tell you the prices of items. You can practise lots of our maths skills on the following website:
Homework…please try and read for 5 or 10 minutes each day with your child and write it down in your reading record.You will also have homework which is given on Friday and is expected to be returned by Wednesday. Please encourage your child to work independently but support your child when needed with their homework. This allows your child to consolidate what they have been taught in school.

Seesaw
We are very excited to be continuing to use our 'Seesaw' app, which will allow you to gain an insight into what your child is learning in school. It will help us to celebrate our learning and will highlight areas that need extra practise at home to enable your child to meet their targets. We can't wait to share our work with you, so don't forget to take a peep and leave us a like or even better an encouraging comment. This has now got the messaging facility wherby you can send a message directly to the teacher and will not be shared on your child's page or the class page.

This half term.... Autumn 2 (Oct-Dec 2017)
Over the next half term our topics will be:
Literacy - This half term all of the children in Year 1 will be following Read, Write, Inc. which will be specifically differentiated to suit the learning needs of each child. We will also continue to share a variety of both fiction and non fiction text and will learn about the different features of each genre. Linked to our "Let's celebrate" topic we will be creating simple information books with labels, captions and short sections of information. We will also read the Gruffalo by Julia Donaldson, which we will then retell through writing and drama.

Maths - During Maths lessons we will be continuing to develop our knowledge and understanding of place value and the children will be learning how to add and subtract. Once we are familiar with addition and subtraction we will use our understanding and reasoning skills to solve missing number problems. We will also spend a week learning about the properties of shape. In the next half term we will be developing quick recall of all number bonds within 20. We will also continue to count in class every day; counting to over 100 forwards and backwards from any given number and begin to start counting in multiples of 2's and 5's.
Topic - We will be studying how and why we celebrate Bonfire Night; learning about the gunpowder plot and Guy Fawkes. We will also learn about a real life superhero " Florence Nightingale" and will be comparing what she did to what our modern day nurses do. The children will have the opportunity to ask questions to a real life nurse and find out about the different things that they do. We will investigate the weather and why it changes; this links to our Seasonal Change topic in Science. We will also continue to develop our experiments in our science work by investigating materials. In Computing we will be designing and making our own Christmas cards.
RE- This half term we will look at Christmas; learning about what a 'gift' is and discuss giving and receiving. We will look at The Nativity story and make our own Christmas gifts. In addition, we will investigate the story of the real Santa - St Nicholas
SEAL theme- Getting on and Falling Out
Dates for your Diary:
Phonics Screening Check Parents Meeting: Wednesday 22nd November- 3.30pm
Christmas Panto: Friday 1st December
Cinema Trip: Monday 11th December
Infant Nativity: Thursday 14th December
Infant Christmas Party: Monday 18th December
NEWS!
During Autumn Term 1 we have been scientists finding out all about our bodies and the five senses. We have carried out some experiments in Science; we enjoyed being 'taste detectives' - we sampled different foods whilst we had our eyes closed and we had to decide whether the taste was salty, sweet, bitter or sour. Surprisingly, a few of us enjoyed the sour lemon taste and not so surprisingly lots of us liked the bitter dark chocolate!! We also used smell pots as we pretended to be bees to find our way home to the correct hive. The children were amazed to find out that each hive has its own smell and this is used by bees to make sure that they are in the correct hive. What busy bees we have been! We had lots of fun on our trip to Underwater Street, which was amazing, we had lots of fun finding out about science and the world around us and we even made slime, bath bombs and saw a fantastic science experiment!!!
A visit to the park kick started our year long look at seasonal change. The children collected lots of autumn leaves and seeds to produce their very own piece of art, as well as learning the names of some of the trees. As part of our RE lessons we have learnt about how God created the world and by making our own creations we discovered how he must have felt.
In Maths, we practised counting beyond 100 and back, we learned about place value, addition and subtraction and learned the number bonds up to 10. We have also been doing lots of measuring and building different creations to measure using non-standard methods of measuring. For example we found out how many bricks long our hands and feet are.
We all enjoyed the story "Supertato" which inspired the children to create their own super veg character book in Computing and make our real super hero vegetables.
In P.E. we have been working using our new 'Real PE scheme which has made our lessons even more exciting and enjoyable where the focus is on each child making and challenging their own skills instead of being the best at sport we are developing co ordination and balance by playing lots of fun games.