A very warm welcome to our Year 1 class page. In Year 1 the children make the transition from Foundation Stage to the National Curriculum. The children's confidence blossoms as they quickly develop the skills to become even more independent in their learning. We learn through practical and concrete activities and work as a team to develop our knowledge and understanding, we try to document as much of our learning on Seesaw as we can so remember to keep checking! The staff within the classroom are committed to providing the best learning experiences possible and are always on hand if you need them. Miss Lewis is available on the gate each morning to pass messages onto and you can always use Seesaw to direct message myself with any concerns or questions.Mr Southern our learning mentor is also available to speak to if you need him.

We look forward to a very busy and fun year where we will all have our time to shine!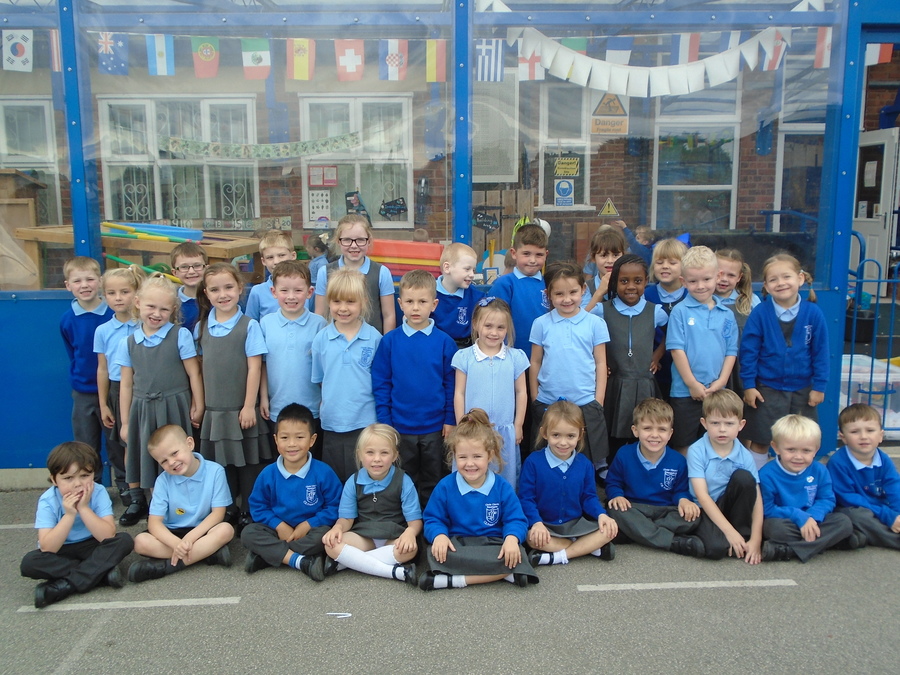 Our Year 1 Class 2017-2018
Class Information
Who's Who
Miss McCulley- Y1 Teacher
Miss Lewis- Teaching Assistant
Mrs Waqar- Teaching Assistant
Miss Thistlethwaite- Teaching Assistant

Literacy
In Year 1 we love to read and share stories! During school time we use Read Write Inc as a scheme of work. the children do his for an hour each day and a grouped based on coloured levels. During Year 1 the children will work within colours purple, pink, orange and yellow, we cover mixture of fiction and non-fiction books. They also begin to become familiar with the Year 1 common exception words as they become ore confident readers. It is extremely important that the children's learning is supported by their reading at home. We send home two books that the children choose themselves. we have a compulsory book changing day which is on Tuesday however for those keen readers we also have an optional changing day of Friday too!
The Phonics Scheme we use in Year 1 is:
Read, Write Inc


During our daily phonics sessions we focus on blending and segmenting sounds to read and write new words. In addition we practise our Key Words. Read,write,inc. is then developed further to suppport your child in their writing skills.

Mathematics
In Year 1 we work on developing a secure sense of number, useing various different methods and activities to cover the key Year 1 objectives, some of which are: Number bonds to 10 and 20, counting forwards and backwards from any number within 100, writing numbers in words from 1-20, addition and subtraction and place value!
Things to remember:
Homework is will be handed out (either in books or on Seesaw) every Friday and is expected to be completed by Wednesday.
P.E Lessons are every Wednesday afternoon and Friday morning, please ensure your child has a fully labelled kit in school.
Read regularly at home each night and upload this to Seesaw so that you can be entered into the weekly raffle!
Snack money is due every Monday morning in a clearly marked envelope.
Seesaw
We love Seesaw in Year 1! we use this on a daily basis to record the children's learning and is a great tool for seeing your child's progress. We love sharing our work on Seeesaw and it is great to see your interaction with us through comments and observations from home. We now use Seesaw as a key tool for class messages and information so it is really important that you keep up to date with it and check your Seesaw account regularly.

This half term.... Spring 1 (January - February 2018)
Over the next half term our topic will be: Polar Adventures
Literacy - This half term we will look at a various Fiction texts that relate to our topic 'polar regions' including 'Betty and the Yeti' 'Where snowflakes fall' William's Winter Wish' and 'The Snowy Day' we will focus on a book a week, taking time to share them as a whole class across the week, and will use these to focus on the Year 1 Objectives such as: adding the suffixes 'er, est, ed and ing' as well as adjectives and the prefix 'un.' We will continue our work on building full sentences using full stops and capital letters and the children will have lots of opportunities to write in our new writing area across the week!
Numeracy - During numeracy lessons we are going to use lots of different methods both practical and concrete to explore, addition and subtraction within 20, number bonds to 20, reading and writing numbers 1- 20 in words and place value within 50. We will also be doing activities each week that will develop our reasoning and problem solving skills.
Topic - We will be studying 'The Polar Regions'. We will begin our topic by finding out where the polar regions are, what the weather and climate is like there and preparing to go on our adventure, thinking about what materials will be best at keeping us warm!

We will look continue our

topic of 'Animals, including humans' focusing on animals that live in the polar regions, what they look like, what they eat, where they live and how they survive, we will even explore what an animals blubber looks and feels like. We will continue our work on the seasons, focusing on winter by going on a winter walk and then creating winter art, create an electronic animal fact file and experiment with shelter building! I can't wait to see you all become Arctic Explorers.
RE- This half term we will be looking at a unit called Jesus was Special. Initially we will focus on ourselves as friends to others and what makes a good friend. We will then look at

Jesus' special friends and how they tried to follow his teachings. We will read various stories that Jesus told and try to relate to the feelings and experiences of the characters in the stories through drama, role play and reflection.
HEARTSMART- '

Too Much Se

lfie isn't Healthy!' This topic focuses on the world and all of the people in it, how we are all different with different views and opinions. Across the weeks we will look closely at how it is important to be aware of othes, identifying other people's needs and seeing how we can work together, be a team and show love to one another.
Dates for your Diary:
P.E. days are Tuesdays and Fridays
Parents Evening: 13th and 14th February 2018
Enrichment Day: 16th February 2018
NEWS!
During Autumn Term 2 we have been learning about the Christmas story and why people give and receive gifts at Christmas. The children have deepened their understanding of the true meaning of Christmas by exploring the idea of Jesus as God's gift to the world. Linking with our Literacy skills, the children also re-told the Christmas story. In Science, we looked at the five senses and carried out the 'we are bees' experiment, using smell pots to see if we could find our way to the correct 'hive' - the children loved the experiment and enjoyed making their own smell pots at home. We also learned about different groups of animals including fish, amphibians, reptiles, birds and mammals; the children recognised many common animals and sorted them into different groups depending on whether they had fur or no fur and wings or no wings. They also discussed how animals are the same and how they are different. As part of our seasonal change topic we looked at our weather and how it changes by keeping a weather diary. We had lots of fun making our Christmas cards, baubles and other decorations!! The children enjoyed all of our work around the Nativity story and singing in the show.
In Literacy we read 'The Gruffalo' and re-told the story through sequencing pictures and role-play. The children loved working in their groups and acting out the characters. The children also wrote their own stories and descriptions of a similar character 'The Puffalo'.
In Numeracy we did lots of work on number and place value. We began by looking at the ordering of numbers and the language associated with ordinal numbers, eg, first, second, eighth, etc. We then looked at 'teen' numbers and the children learnt that these numbers always start with a one, we listened to a fun song to remind us! We used lots of different maths equipment to make teen numbers including arrow cards, Numicon and the 2-spike abacus. We also did lots of work on addition and subtraction; we mainly used numberlines although we need to work on mental strategies too by holding a number in our heads then adding on to find the answer. The children also learned about subtraction being the 'difference' between 2 numbers. We finished the half term by looking at 2D shapes and had lots of fun searching around the classroom and school to find these shapes in our environment - I know lots of you spotted shapes at home and posted pictures on Seesaw whch was lovely to see! We also ad a brief look at 3D shapes and made some cone shaped Christmas decorations which was great fun too!
In P.E. we have been working with our Wigan Athletic Coaches to develop our agility, balance and co-ordination by playing lots of fun games.
During Autumn Term 1 we have been scientists finding out all about our bodies and the five senses. We have carried out some experiments in Science; we enjoyed being 'taste detectives' - we sampled different foods whilst we had our eyes closed and we had to decide whether the taste was salty, sweet, bitter or sour. Surprisingly, a few of us enjoyed the sour lemon taste and not so surprisingly lots of us liked the bitter dark chocolate!! We also used smell pots as we pretended to be bees to find our way home to the correct hive. The children were amazed to find out that each hive has its own smell and this is used by bees to make sure that they are in the correct hive. What busy bees we have been! We had lots of fun on our trip to Underwater Street, which was amazing, we had lots of fun finding out about science and the world around us and we even made slime, bath bombs and saw a fantastic science experiment!!!
A visit to the park kick started our year long look at seasonal change. The children collected lots of autumn leaves and seeds to produce their very own piece of art, as well as learning the names of some of the trees. As part of our RE lessons we have learnt about how God created the world and by making our own creations we discovered how he must have felt.
In Maths, we practised counting beyond 100 and back, we learned about place value, addition and subtraction and learned the number bonds up to 10. We have also been doing lots of measuring and building different creations to measure using non-standard methods of measuring. For example we found out how many bricks long our hands and feet are.
We all enjoyed the story "Supertato" which inspired the children to create their own super veg character book in Computing and make our real super hero vegetables.
In P.E. we have been working using our new 'Real PE scheme which has made our lessons even more exciting and enjoyable where the focus is on each child making and challenging their own skills instead of being the best at sport we are developing co ordination and balance by playing lots of fun games.