A very warm welcome to our Year 1 class page. In Year 1 the children make the transition from Foundation Stage to the National Curriculum. The children's confidence blossoms as they quickly develop the skills to become even more independent in their learning. We learn through practical and concrete activities and work as a team to develop our knowledge and understanding. The staff within the classroom are committed to providing the best learning experiences possible and are always on hand if you need them.

We look forward to a very busy and fun year where we will all have our time to shine!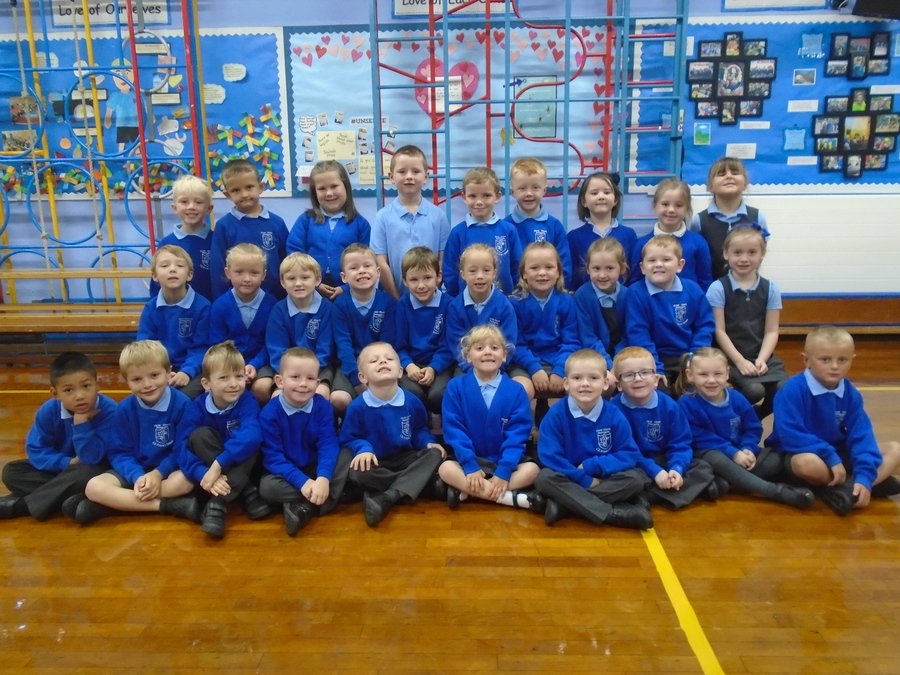 Our Year 1 Class 2018-2019
Class Information
Who's Who
Miss McCulley- Y1 Teacher
Miss Thistlethwaite- Teaching Assistant
Mrs Bayatti- Teaching Assistant
Mrs Jackson- 1 to 1 Teaching Assistant
Literacy
In Year 1 we hope to embed a deep love of reading and therefore base most of our learning around a key text that links with the half termly topic or unit of work. Each week we delve into a new book, both fiction and non- fiction, taking our time to look at it's key features and develop key skills such as inference and comprehension, the story will also be enhanced through wider continuous provision activities within the classroom across each week. During Year 1 we develop our own ability to read independently and it is really important that reading is encouraged as much as possible at home. In school we will also develop our English skills through daily RWI lessons.
The Phonics Scheme we use in Year 1 is:
Read, Write Inc


Each day we undertake an hour RWI lesson. Within this hour we review the set 2 sounds learnt in Reception and learn a new Set 3 sound each day. After the Speed Sounds lesson we look at a key text for the following three days. Across those three days we read the book numerous times, answer questions about the story and build up to doing our own independent writing. RWI is really helpful for embedding spellings and during each lesson we come across new 'Red Words' learning how to spell them and are encouraged to use these in our independent writing. We also work hard on different punctuation and how a sentence is structured. We really enjoy our RWI time (particularly the partner work, actions and rhymes!)

Mathematics
In Year 1 the main mathematical focus is on becoming secure with basic number skills. Some of these key skills include: being able to confidently count forwards and backwards to 100, counting on and back from any given number within 100, identifying one more and one less, addition and subtraction of one and two digit numbers within 20 and being able to recall number bond facts to 10 and 20. We enjoy learning through lots of practical activities initially in Year 1, however as the year progresses we will begin to look at Maths from both a concrete and pictorial perspective and even start to reason and problem solve!
It is important to keep working hard both at school and at home with Maths, so don't forget there are lots of online sites such at 'Topmarks, ICT games and Busythings' that we can use to keep our Maths brains active!
Homework
At the beginning of Year 1 your child will be given a plastic coloured homework and reading packet. Homework will always be given out on a Friday, it could be either written, practical or interactive through Seesaw. So it is really important that you check Seesaw every Friday for homework instruction updates. Please ensure that homework packets are sent into school on Friday mornings, so that homework can be sorted out and given back to your child.
Reading
As you are aware we had a big push on reading last year in school. It is really important to read daily with your child to encourage fluency and comprehension and it is great to see regular evidence of your child reading through Seesaw, however don't forget to record when your child reads in their new reading record book. This year it will be a whole class team effort for a reading prize, so please help the team and read regularly, so that we can get the highest amount of readers and win a prize each week! The children will be asked to independently change their books every Tuesday and Friday and a photograph of the books they choose will be added to their learning journey on Seesaw.
Seesaw
We love Seesaw in Year 1 and it is our key tool for observations, assessment and communication. You will receive daily updates of your child's progress and I am sure that you will enjoy seeing what they get up to everyday! As stated above we use Seesaw as a regular tool for communication, sending school and class messages through it, so please remember to check it regularly. It is also important that just like in Reception you continue to contribute to your child's learning journey by sending regular observations of your child's home learning and experiences.
This half term.... Spring 1 (January - February 2019)
Over the next half term our topic will be: Polar Adventures
Literacy - This half term we will look at a various Fiction texts that relate to our topic 'polar regions' including 'Betty and the Yeti' 'Where snowflakes fall' William's Winter Wish' and 'The Snowy Day.' Focusing on a book at a time, we will share them as a whole class and will focus on the Year 1 objectives such as: adding the suffixes 'er, est, ed and ing' as well as adjectives and the prefix 'un.' We will continue our work on building full sentences using full stops and capital letters combining this with story writing.
Numeracy - We will begin the half term by focusing on geometry and shape specifically being able to identify and sort 2D and 3D shapes. We will discover new vocabulary linking with the different properties of shape and continue to build our confidence on problem solving and reasoning. From this we will then begin to extend the work done on addition and subtraction from last half term and this half term learn to add numbers within 20 by counting on, finding and making numbers bonds and crossing tens barriers.
Topic - We will become explorers, ready to explore 'The Polar Regions'. We will begin our topic by identifying where the Arctic Regions are, work on identifying the 7 continents and oceans of the world. We will then look at the climate in the Arctic regions, compared to the UK, particularly looking at the number of daylight hours. From this we will focus on the human and physical features of the cities and towns within the Arctic circle and towards the end of the topic will compare life in the Arctic to the UK and decide where we would prefer to live. Within History we will look at the Inuit people, what their life was like in the past and compare it to the modern day in the Arctic. We will complete various Science investigations, exploring different materials that you might need to keep warm in the Arctic, the animals that live in the Arctic and even what the animals eat by investigating poo!
Art-

We will look closely at the work of artist Wilson Bentley. This artist focused closely on the catching and recording of snowflakes, we will study the different types of snowflakes closely just like him and by the end of the unit will have planned, drawn and made our own unique snowflake from wax.
RE- This half term we will be looking at a unit called Jesus was Special. Initially we will take a close look at our own relationships with friends, thinking about how we make and sustain friendships and what these mean to us. From this we will then begin to look at the special friends of Jesus and how they tried to follow his teachings. We will focus on the stories within the New Testament, discovering the characters and power of Jesus through stories such as: The calling of the Disciples, The Stilling of the Storm, The Feeding of the Five Thousand and Jesus turns Water into Wine.
HEARTSMART- 'Too Much Selfie isn't Healthy!' In this unit we will learn that being 'HeartSmart' means knowing that just as we are important, other people around us are important too. As we become aware of the people around us and consider their needs as well as our own, our hearts and theirs strengthen.
Dates for your Diary:
P.E. days are Tuesdays and Fridays
Parents Evening: 12th and 13th February 2019
Enrichment Day: 15th February 2019
NEWS!
During Autumn term 2...
We have worked very hard and have enjoyed learning about various topics.
We have become very knowledgeable on the Great Fire of London across this half term and have been engaged with topic from start to finish. We began by focusing on where, when and how the fire started, enjoying looking at various non-fiction and fiction texts as we developed through the topic and using these to extend our knowledge and understanding. We have developed our enquiry based skills through building, asking and answering questions throughout the topic, enjoying finding out about life in London in 1666 and comparing this to modern day. (Finding it almost unbelievable that they didn't even have light bulbs back then!) Across the topic the children have produced some fantastic pieces of writing, from factual reports about the events of the fire to personal recount letters in role as a person experiencing the fire first hand. They have shown their growing confidence in being able to use specific grammar and punctuation independently when writing, particularly basic sentence punctuation such as capital letters and full stops and I look forward to seeing this independence grow even more in the coming term! The class worked really hard across the topic and to finish it off in style created some great 3D houses from basic materials and equipment for the DT project on houses and homes.
The children have worked hard across the term as we have taken our time to secure our learning of addition and subtraction within 10 and 20. We have worked hard on being able to identify addition facts to numbers within 10 and quick recall facts of number bonds 10. We are now all mostly secure with these and are ready to move on next term, although it is always good to keep working on these basic skills. We have also continued to work hard within RWI, moving quickly through the levels with most of us now working within the orange band, we have now learnt all of the set 3 sounds and are beginning to work on being able to confidently read these within both real and 'alien' words. It is really important to keep up the hard work with the set 2 and 3 sounds in the coming term alongside regular reading, as preparation for the Phonics Check get under way.
The children have really enjoyed this half term's RE unit and found it particularly interesting when it started with a surprise, unopened gift! We have worked hard thinking about the gift that Jesus was to the world, understanding the 'true' meaning of Christmas and the children have truly inspired me with their ability to think about others and about the importance of how gifts that cost little to no money to others.
During Anti bullying week we shared the story of 'Monty the Manatee' enjoying the simplicity of the story line that highlighted the importance of not judging a book by its cover. The children demonstrated maturity when discussing bullying issues and how to deal with these within and outside the school environment.
We have enjoyed our PE unit across the half term, developing our balancing skills whilst exploring the surface of the moon as astronauts. We have also been lucky enough to have some lessons directed by Wigan Athletic, further extending our work on balancing through the playing of team games.
I have thoroughly enjoyed this half term and look forward to seeing how the children develop across Spring term 1. Well done everyone!
What a busy half term we have had! All of the children have settled into Year One very well and have shown a real love of learning.
In Science this half term we have enjoyed the topic 'All About Me!' exploring animals including humans. We started our learning by labelling life size versions of ourselves, thinking about each body part and how we use them. From this we then discovered that we have 5 senses and learnt all about what these are, what part of the body they are linked to and how we use these to do basic daily tasks. We also explored the question 'Are humans animals?' We enjoyed learning about the different types of animals the groups that they belong to and comparing them to ourselves and were shocked to learn that humans are in fact animals!
As a class we have really enjoyed exploring the books of familiar author Julia Dondalson, some of these being; Sharing a Shell, The Snail and the Whale, The Scarecrow's wedding and The Gruffalo. We have shared one each week, focusing on, the different rhyming strings within each story, main characters and basic story plots and everyone has really enjoyed making simple predictions whilst reading. A particular class favourite was 'The Gruffalo' and the children were very good at joining in with the repeated refrains whilst reading and everyone tried really hard with the independent writing activities provided through continuous provision. We enjoyed the story of 'The Gruffalo' so much that we used this as a base for creating our moving pictures, enjoying learning all about pulley mechanisms and working independently to create our own mechanism, making our favourite story characters move as we retold the story.
This half term we have been extremely lucky to have a specialist music teacher (Mrs Loughney) in our class for an hour a week! During this time we have been exploring the basics of music, being able to find the pulse, beat and rhythm within a simple song. We began our learning by completing lots of 'follow me' rhythm games and by listening to the song 'Funky Big Bear.' We built on this further and were introduced to the musical instruments claves and then used these to help us to find and make the rhythm within the song. We were so good at this we then moved onto creating our own rhythms!
In Geography this half term we have enjoyed completing lots of outdoor practical activities to develop our basic mapping skills. We started by going into the playground and learning how to orientate a basic map, from this we learnt how to navigate ourselves and our partner around the playground following the map. Through this topic we have enjoyed learning all about aerial perspective and enjoyed pretending to be birds as we learn how to plot on a map from a 'bird's eye' view. We then learnt all about landmarks, enjoying using chalk on the playground to draw out local landmarks between school and the park. To finish our topic we put all of our new mapping skills into practice with a walk to the park! Once at the park we then became scientists, using all of our new knowledge about the human senses to look for signs of Autumn, taking pictures of these on the Ipads!
The children have really impressed me so far with their hard work in RWI and it is great to see such enthusiasm and eagerness to read and write. The children enjoyed our trip to the park this half term and from this used all of their writing skills to produce a great piece of independent descriptive writing based on Autumn! Well done everyone!
In RE we enjoyed learning all about Harvest, learning how and why as Christians we celebrate it within England and enjoyed putting this into practice through our church Harvest celebration.