A very warm welcome to our Year 6 class page. Year 6 is a hard year, but a memorable one. The children are our oldest pupils and they are therefore expected to be role models to the rest of the school. It is our intention that the children's experiences will stay with them and they will be able to look back at their time at Christ Church with fond, happy and special memories.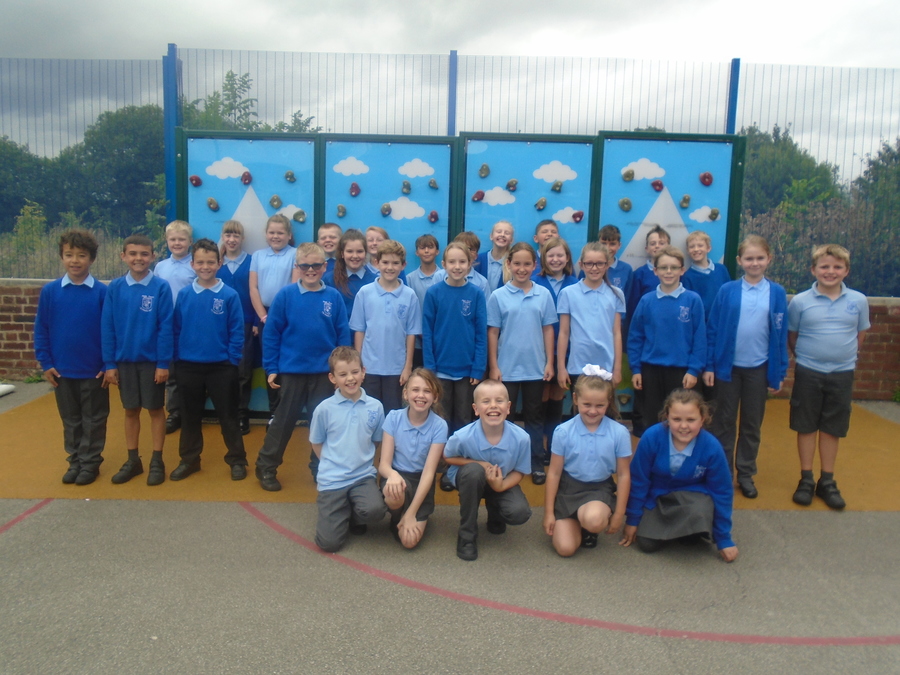 Our Year 6 Class 2017-2018
Class Information
Who's Who?
Mrs Malley - Year 6 teacher
Mrs Percy - Deputy headteacher and Year 6 teacher
Mr Southern - Learning Mentor

Mrs Carney - DEAR reader
Homework
Homework will be set on a Friday and should be handed in on a Wednesday. There will generally be Literacy and Numeracy work and, on occasions, topic work. In addition, they will also have spelling homework from their spelling group. Children are encouraged to ensure that their homework is completed to a high standard.
Reading
Whilst most children now are independent readers, reading at home is still crucial. Children should read for 15 minutes each night - this could be their home reader or a book of their own choice. This will be more productive if it is carried out in a calm, quiet environment. Parents/ carers are encouraged to sign the planners to acknowledge this please. Every Friday a child is chosen to be the class 'Reading Champion'.
P.E.
P.E. lessons take place on a Monday and Friday. All children are expected to take part in a full P.E. kit and trainers/pumps. Earrings can be worn at school but, for health and safety reasons, they are not allowed during P.E.
This half term.... Autumn 1 (Sept-Oct 2017)
Over the next half term our topic will be 'Survival'
We will be learning about how humans survive in different places and situations like earthquakes, polar regions, climbing high mountains and trekking through the rainforest. We will look at the work of Bear Grylls and will read his book as a class reader, 'Gold of the Gods'. In art, we will look at camouflage in the natural world and will look at the structure of shelters in different environments.
In Science, we will be looking at adaptation and evolution. We will look at how plants and animals have adapted to suit their environment in different ways. We will study how adaptation can lead to evolution and that living things can change over time.
In Literacy we will be looking at descriptive and narrative or fictional writing. We will recap the structure of a story and look at various techniques for opening a story. In addition, we will look at the variety of sentence types and where they are best used in a story. Grammar is taught both through writing and in a 'stand alone' lesson and we will begin the year by looking at word classes and sentence types. Inspiration for writing will be from 'The Literacy Shed', notably a unit of work enititled, 'The Ridge'. Spelling will continue through our scheme and it is important that the children recap on spellings at home from their green spelling log.
In Numeracy we will ensuring that place value is secure. Children need to be confident with the value of all digits up to 1,000,000 including decimals. We will also be learning how to use standard written methods for all four operations: addition, subtraction, multiplication and division. In all of these topics, we will be applying fluency, reasoning and problem solving skills. These are now non-negotiables for Year 6 and are crucial for their end of year SATs tests. There is also a big push on recall of number facts. Children in Year 6 are expected to know all their number bonds, be able to halve and double mentally and recall all the facts from their times tables (up to 12 x 12). It is important that children spend time at home rehearsing these if they do not already know them.
RE - We have a lovely first topic for RE, 'Life as a Journey'. We will be looking at the symbolism of life as a journey and what it means to us as Christians. We will also create sculptures using wire.

SEAL- New Beginnings and Heartsmart - 'Don't forget to let love in'

Dates for your Diary:
Robinwood: 6th-8th October

Parents' Evening: week beginning 16th October (dates TBC)

Online Safety Enrichment Day: Friday 20th October