A very warm welcome to our Year 6 class page. Year 6 is a hard year, but a memorable one. The children are our oldest pupils and they are therefore expected to be role models to the rest of the school. It is our intention that the children's experiences will stay with them and they will be able to look back at their time at Christ Church with fond, happy and special memories.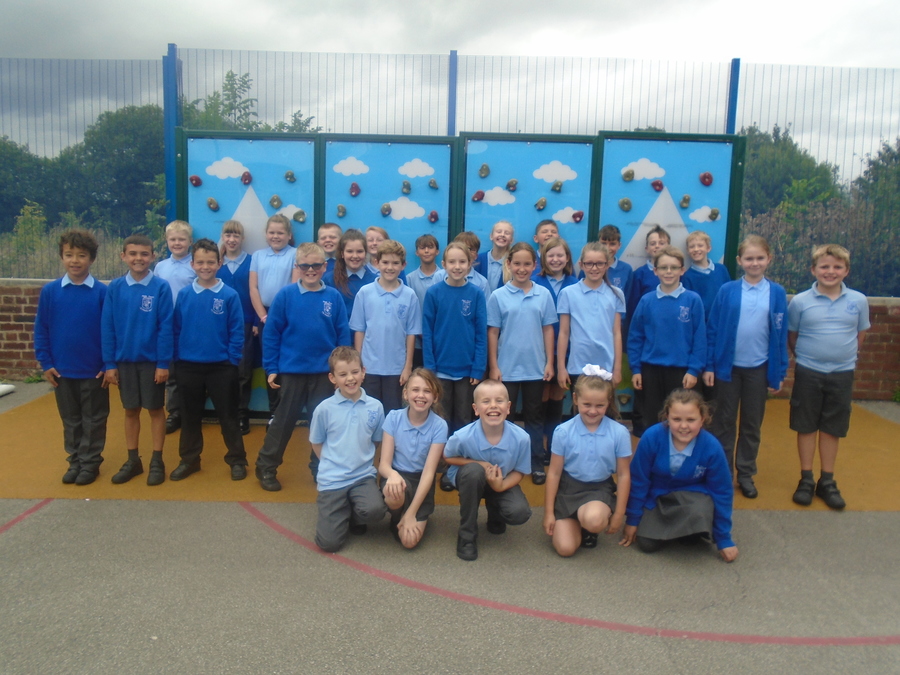 Our Year 6 Class 2017-2018
Class Information
Who's Who?
Mrs Malley - Year 6 teacher
Mrs Percy - Deputy headteacher and Year 6 teacher
Mr Southern - Learning Mentor

Mrs Carney - DEAR reader
Homework
Homework will be set on a Friday and should be handed in on a Wednesday. There will generally be Literacy and Numeracy work and, on occasions, topic work. In addition, they will also have spelling homework from their spelling group. Children are encouraged to ensure that their homework is completed to a high standard.
Reading
Whilst most children now are independent readers, reading at home is still crucial. Children should read for 15 minutes each night - this could be their home reader or a book of their own choice. This will be more productive if it is carried out in a calm, quiet environment. Parents/ carers are encouraged to sign the planners to acknowledge this please. Every Friday a child is chosen to be the class 'Reading Champion'. Please also take the time to look at 'readingplus' online - logins are in the children's planners.
P.E.
P.E. lessons take place on a Monday and Friday. All children are expected to take part in a full P.E. kit and trainers/pumps. Earrings can be worn at school but, for health and safety reasons, they are not allowed during P.E.
This half term.... Summer 2 (June-July 2018)
The next half term is a very exciting one as we prepare for transition to high school and celebrate leaving Christ Church!
We will continue to build our writing portfolio and the necessary evidence which is needed for our assessment of writing. We have some exciting and scary pieces planned which are guaranteed to hook the children in: a story about a little girl named Alma and an extended story about Whitby Abbey are to name but a few.
In Maths we will continue to revisit arithmetic daily ensuring that the children are confident in all the written methods with whole numbers, decimals and fractions in order to send them to high school confident in calculation. We will also carry out challenges to keep the children up to speed on their problem solving - these will include creating a new bedroom with a budget and logic problems.
In Science we will be revising all the topics that are covered at Key Stage 2, but we our designated topic is 'Classifying Critters'. During this topic, the children will revise work already covered on vertebrates and invertebrates and what this means. The will explore the five kingdoms of living things and look at kingdoms not yet encountered, such as fungi and microbes.
In RE our topic will be entitled 'People of Faith'. We will explore what it means to have a faith and how it can empower you in your daily life.
Topic work will look at how our world is changing, exploring environmental issues in our locality and further afield. The children will develop mapping skills, research skills and broaden their vocabulary in geographical terms.
Heartsmart- No way through isn't true.
Finally, we have lots of 'end of year' celebrations to look forward to, including our production of 'Ali Baba and the Bongo Bandits', our 'Big Day Out' and the Year 6 prom night. What a busy half term!
Dates for your Diary:
Manchester Cathedral (Leavers' Service): Wednesday 13th June (children only)
Sports Day: Tuesday 19th June 1.30pm
Big Day Out: Thursday 21st June
Class Photographs: Monday 25th June
Summer Fayre: Saturday 30th June 12pm
Y6 production of Ali Baba and the Bongo Bandits': Monday 16th July (2pm & 6:00pm)
Prom night: Tuesday 17th July (6:00pm)
Leavers' Service in Church: Thursday 19th July (9am)
Last day of term: Thursday 19th July (finish at 3.30pm as usual)
NEWS!
We are glad that we have Summer Term 1 under our belts - SATs are well and truly over with! The build up to SATs is always hard work. Each and every lesson really counts as we try to ensure that the children are fully prepared for their assessments. The children completed their tests in admirable style: they all tried their absolute best and that is all we can ask.
We were really grateful for the attendance at Maths Family Learning: to see the children and their family members working together was heart warming. Lots of questions appeared on the SATs linked to these topics, so well done everyone.
After SATs, we had a brilliant day at Pennington Park: it was lovely to see children being children, swinging on swings, playing games and just having fun! We also had a lovely phone call in school to say what lovely manners the children had.
Writing was predominantly non-fiction based: an informative leaflet about London. After researching famous landmarks and attractions in London, the children all created a leaflet showcasing their ability to use the full range of punctuation. As a treat for their efforts, we then made the attractions from junk materials and arranged them geographically in the classroom. Year 5 were most impressed when they came to visit!
A new book has been launched after another World Cup of books: The London Eye Mystery! A young boy is set to disappear from The London Eye - can we unravel the mystery?
And finally... a royal wedding where we had our traditional street party in the playground celebrating the marriage of Prince Harry and Meghan Markle.
During Spring Term 2, albeit a short half term, the children have all worked incredibly hard. Once again they have written some amazing pieces of writing and showcase pieces would be: The Piano and their Easter writing about how Jesus' mother, Mary, from the Easter story felt about Jesus' trial and crucifixion.
In Maths, the children are becoming more confident in problem solving and recalling their number facts - we are seeing the impact of TT Rockstars! They have been introduced to algebra and we can confidently say that every child can solve an algebraic equation! They have all risen to the challenge of assessment and have quite enjoyed finding out their scores on their tests! Thank you for all your support by attending our Family Learning sessions - pictures are on the school Twitter account and Seesaw.
We started the term with some art work linked to our WW2 topic and the results were incredible. Using a video as a tutorial, the children all sketched a WW2 Spitfire. Comments from parents on Seesaw were extremely positive: in fact some parents didn't believe it was their child's work!
Buddying has continued in earnest. Together with their buddies, Year 6 held a Mothering Sunday worship in school which was attended by families of Reception and Year 6. It can only be described as beautiful and there wasn't a dry eye in the house!
Let's Sing was again a resounding success at Robin Park. It was nice to sing along with our local Lowton and Golborne schools this year. Francesca was an absolute star singing her solo with such control of pitch and confidence.
Our class novel, The Boy in the Tower, was a gripping read. It was a new book for all of us and to say the ending was tense is an understatement! We tweeted the author as we enjoyed it so much!
World Book Day took the form of 'Book in a Box' this year and we were blown away by all the entries. I think the children enjoyed looking at everyone else's as much as making their own! Congratulations to our winners, Jack and Jamie B!
The term ended with our Easter Worship in church. After listening, many commented on how emotive the children's writing was in Year 6 - they really felt compassion for Jesus' mother, Mary. The singing as ever was stunning, but we especially enjoyed our new ISingPOP song, 'See those hands upon the cross'.
Spring Term1 started by going back in time. We had a memorable and productive day with Frank and Angela reliving the war years. We all gained so much from this day and it really got the topic off to a flying start. The photographs from this day can be found below.
We had a visiting student teacher, Mr Anthony, who brought an added dimension to the classroom and was a font of knowledge on our topic of WW2. Did you know that there are iron railings missing from St. Luke's Church in Lowton because they were used during WW2 and haven't yet been replaced? He also delivered some memorable Science lessons - the children loved sending messages to each other around the corner using mirrors!
We have started the 'SATs revision' process and the children have generally responded well to the challenge. Arithmetic tests are under way: scores and times are improving, but there's still a way to go. Revision books have been handed out to all the children that ordered them and we hope that you find them useful. We have started to look at past papers; these are a shock to some children. Please do talk to your child about these and encourage them in whatever way that you can. If you have any concerns, please do pop in to see us.
We had a treat when we welcomed Jess and iSingPOP in school. You could feel a real 'buzz' in the hall as the music lifted everyone's spirits and everybody threw themselves into it! The songs will now be used in worship - so look out for them in our Easter Worship.
In February, we launched TT Rockstars in style! Thank you for the effort that you all went to with the costumes and the impact from this is already clearly evident. Rock speeds are improving all the time and there is a tension in the classroom when we are playing. Mrs Malley isn't happy though as Luke Sayner has currently pipped her at the post for the top spot on the leader board! I wonder what next term's news will bring with this!
We also continued to see great improvement in most children's reading speeds and comprehension as a result of the Reading Plus. As the trial has now come to an end, school has purchased some licenses and these will be used on targeted children.
Dan Worsley, a firm favourite at Christ Church, visited to tell us some more about the adventures of Eric Appleby. He is so talented and tells his tales in such a brilliant way! He delivered a lesson in Year 6 and all of the children were inspired. Their Bazza writing was simply amazing - it was a pleasure to read and we have forwarded some to Dan to include in his blog.
Finally, on the last day of term, we had a road safety them day following on from our e-safety day in October. Wigan Road Safety Team spoke to Year 6 as they are becoming more independent and are starting to travel to and from school on their own. Simple things like when you're on your mobile phone and asked a question ignite an instinctive reaction to look up or down - simple things that prevent us keeping our wits about us when crossing the road.
During Autumn Term 2 the children have continued to grow and mature in their attitude and outlook. We think that all of Year 6 would say that a highlight of this half term has been the buddying activities. Each child in Y6 has been paired up with a buddy in Reception. To see the oldest children working with the youngest children is heart warming and we're sure these relationships will flourish.
The children have continued to inspire us with their thirst for learning. Many children have started to see marked progress in their Big Maths Clic Tests and Learn Its, as well as becoming much more proficient in explaining their reasoning in mathematics. Could you explain why 5611 is NOT a multiple of 8?
Equally, in writing, the children have gone from strength to strength. The quality of their narratives and newspaper reports was strengthened as a result of them recognising the importance of those all important 'non-negotiables'! Reading Explorer discussions have been invaluable in developing our higher level reading skills of inference and deduction.
Other highlights from the term include:
Our visit to the Digital Roadshow where we were amazed at all the different technology on show. We also met the stars of Educating Manchester!
We all made lots of progress in our reading through the use of Reading Plus!
Anti-bullying activities, based around the theme of 'All different, all equal'.
Work on mountains in topic where we were amazed that all mountains don't actually have to have a pointed peak!
We also welcomed Mr Anthony, a student teacher who is with us until February.
We celebrated Christmas in style with parties, a Cinema trip and pantomime. However, I think it is fair to say that all of the children will have taken away the true meaning of Christmas from our Advent discussions around the crib and our traditional carol service inspired by a book The Christmas Promise.
It's been a busy first half term and the class are beginning to rise to the challenge of meeting Year 6 expectations. All of the children have been assigned Reception buddies and it's been heart warming to see the relationships develop. The children have been busy thinking about the next step in their school journey and have visited high schools on taster mornings and open evenings.
We have had lots of amazing experiences already, the highlight of which has to be Robinwood! The children were a credit to themselves, their families and our school family. Many of the children faced real fears head on and it was heart warming to see their determination and self belief develop. The staff at Robinwood spoke very highly of our children and we were all so proud of them all. Do take time to look at the pictures on the gallery tab of the website.
We've been working hard on our Literacy and Numeracy skills, but there is still a way to go given the requirements and demands of the new curriculum. Learn It scores are improving steadily and recall of facts is improving. Place value work and addition and subtraction skills are pleasing and the children's resilience to problem solving is getting better. In Literacy, we've enjoyed reading Gold of the Gods: a story testing the characters' survival skills! Narrative writing has shown promise and the children all have targets to work on. As always, we're trying to master the non-negotiables, but we do still see missing full stops and capital letters.
Our Survival topic has been most enjoyable. Highlights have been learning about animal adaptations, investigating birds' beaks in the bird beak buffet, camouflage art work and learning all about hurricanes.
On our final week of term, we learned about Internet Safety. In an ever changing and evolving world, the children recognise the importance of staying safe online and made some impressive videos.
So, all in all, a very busy first half term - we're planning a quiet November in school to fill up our lovely new exercise books which are coming along nicely.