A very warm welcome to our Year 6 class page. Year 6 is a hard year, but a memorable one. The children are our oldest pupils and they are therefore expected to be role models to the rest of the school. It is our intention that the children's experiences will stay with them and they will be able to look back at their time at Christ Church with fond, happy and special memories.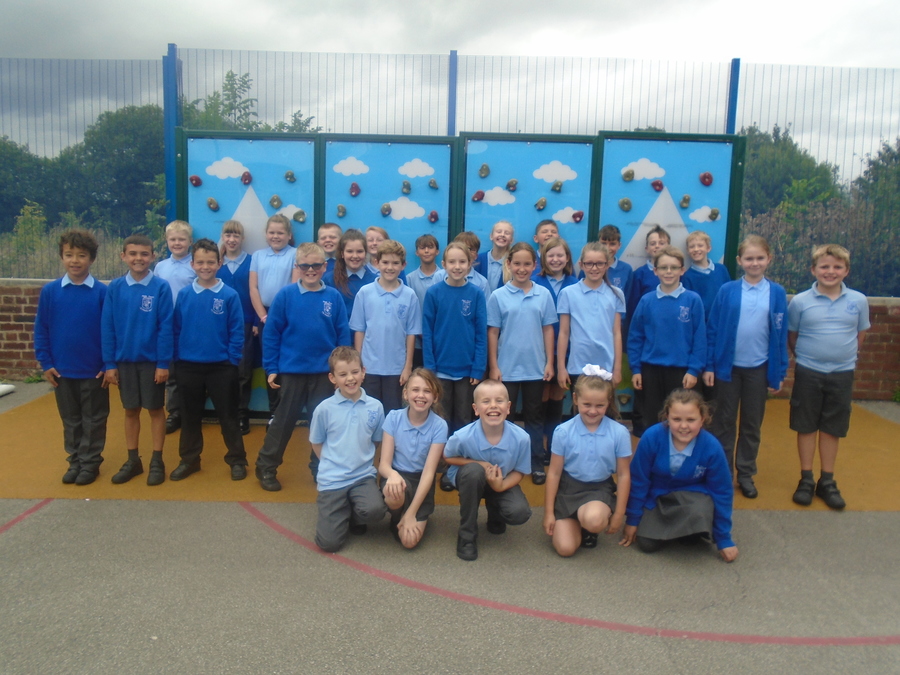 Our Year 6 Class 2017-2018
Class Information
Who's Who?
Mrs Malley - Year 6 teacher
Mrs Percy - Deputy headteacher and Year 6 teacher
Mr Southern - Learning Mentor

Mrs Carney - DEAR reader
Homework
Homework will be set on a Friday and should be handed in on a Wednesday. There will generally be Literacy and Numeracy work and, on occasions, topic work. In addition, they will also have spelling homework from their spelling group. Children are encouraged to ensure that their homework is completed to a high standard.
Reading
Whilst most children now are independent readers, reading at home is still crucial. Children should read for 15 minutes each night - this could be their home reader or a book of their own choice. This will be more productive if it is carried out in a calm, quiet environment. Parents/ carers are encouraged to sign the planners to acknowledge this please. Every Friday a child is chosen to be the class 'Reading Champion'. Please also take the time to look at 'readingplus' online - logins are in the children's planners.
P.E.
P.E. lessons take place on a Monday and Friday. All children are expected to take part in a full P.E. kit and trainers/pumps. Earrings can be worn at school but, for health and safety reasons, they are not allowed during P.E.
This half term.... Autumn 2 (Oct-Dec 2017)
Over the next half term our topic will continue to be Survival

In this unit, the topic has a Geographical focus. We will look at geographical locations or phenomena where survival may be required e.g. mountainous regions, volcanoes, earthquakes and avalanches. The children will work in groups and will use their design skills to make a shelter fit for a specific purpose and will also design a Christmas decoration in the run up to Christmas.
In Literacy we shall continue to look at narrative writing and narrative techniques with a focus on remembrance. In addition, we will look at journalistic writing and the features of a newspaper report. We will continue to explore and embed different sentence types, focussing on selecting the right sentence type for the particular genre of writing. Children will be encouraged to edit their writing by re-reading and re-drafting, fine tuning their language choice and punctuation. Grammar work will continue and will be taught through writing and, on occasions, as a stand alone lesson. The focus for this half term will be clauses and punctuation. Spelling continues with our new scheme; this half term we will look at the rules associated with adding suffixes to different root words. We will also do some cross-curricular writing linked to our RE and topic work. Don't forget also to log in to Reading Plus - our personalised reading intervention!
In Numeracy we will be really concentrating on developing out reasoning skills to explain our mathematical thinking. We shall complete the final written methods of calculation: multiplication and division, which is always the trickiest, trying to master the 'bus shelter' method. In addition we shall begin to look at fractions, decimals and percentages and make links between them. We will try to develop a 'sense of number' in regards to these and learn how to add, subtract, times and divide these. This is a major part of the Year 6 curriculum and it is tested in both the arithmetic and the reasoning papers. Geometry, position and direction will also be studies which requires the children to understand shape, angles and co-ordinates.
RE - We will continue to look as Life as a journey and explore pilgrimage for Christians and people from other faiths, thinking about what pilgrimage is, why it's undertaken and the impact it can have on your life. In the run up to Christmas, we will look at Advent considering why it is important to prepare for Christmas and the coming of Christ.
In Science our topic is Staying Alive. This topic considers life processes that are internal to the body, such as the circulatory system, parts of the digestive system and how they transport fluids around the body. The impact of diet, exercise, drugs and lifestyle on bodies, particularly of humans, is also considered. The children will plan and carry out investigations, thinking about fair testing. Here's a fun fact - did you know the heart beats around 3 billion times in the average person's lifetime?
Heartsmart- Too much selfie isn't healthy!
Dates for your Diary:
Christmas Panto: Friday 1st December
Cinema Trip: Monday 11th December
Junior Christmas Party: Tuesday 19th December
Junior Carol Service: Wednesday 20th December
NEWS!
It's been a busy first half term and the class are beginning to rise to the challenge of meeting Year 6 expectations. All of the children have been assigned Reception buddies and it's been heart warming to see the relationships develop. The children have been busy thinking about the next step in their school journey and have visited high schools on taster mornings and open evenings.
We have had lots of amazing experiences already, the highlight of which has to be Robinwood! The children were a credit to themselves, their families and our school family. Many of the children faced real fears head on and it was heart warming to see their determination and self belief develop. The staff at Robinwood spoke very highly of our children and we were all so proud of them all. Do take time to look at the pictures on the gallery tab of the website.
We've been working hard on our Literacy and Numeracy skills, but there is still a way to go given the requirements and demands of the new curriculum. Learn It scores are improving steadily and recall of facts is improving. Place value work and addition and subtraction skills are pleasing and the children's resilience to problem solving is getting better. In Literacy, we've enjoyed reading Gold of the Gods: a story testing the characters' survival skills! Narrative writing has shown promise and the children all have targets to work on. As always, we're trying to master the non-negotiables, but we do still see missing full stops and capital letters.
Our Survival topic has been most enjoyable. Highlights have been learning about animal adaptations, investigating birds' beaks in the bird beak buffet, camouflage art work and learning all about hurricanes.
On our final week of term, we learned about Internet Safety. In an ever changing and evolving world, the children recognise the importance of staying safe online and made some impressive videos.
So, all in all, a very busy first half term - we're planning a quiet November in school to fill up our lovely new exercise books which are coming along nicely.