A very warm welcome to our Year 6 class page. Year 6 is a hard year, but a memorable one. The children are our oldest pupils and they are therefore expected to be role models to the rest of the school. It is our intention that the children's experiences will stay with them and they will be able to look back at their time at Christ Church with fond, happy and special memories.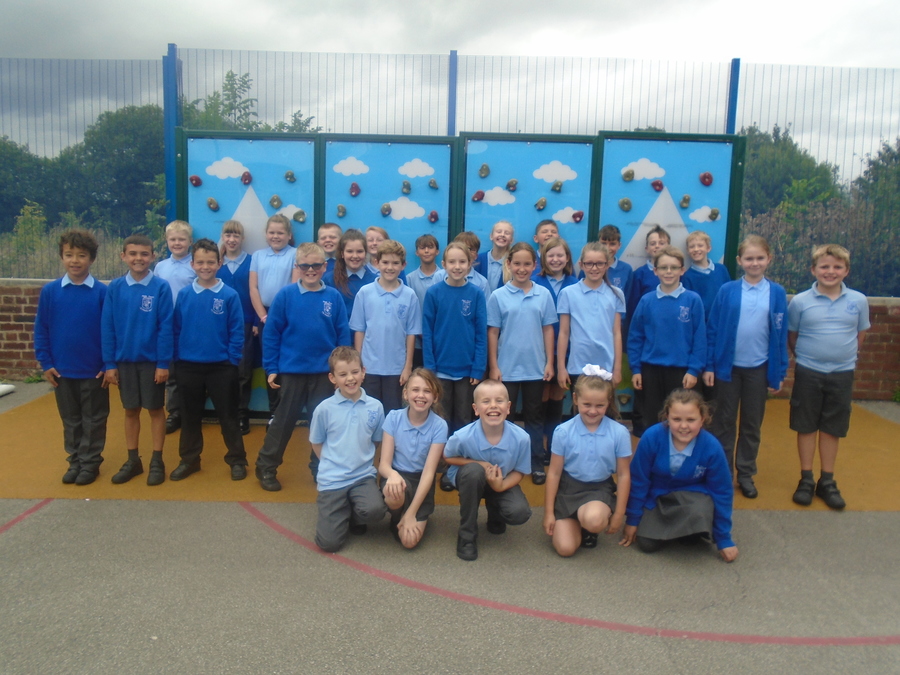 Our Year 6 Class 2017-2018
Class Information
Who's Who?
Mrs Malley - Year 6 teacher
Mrs Percy - Deputy headteacher and Year 6 teacher
Mr Southern - Learning Mentor

Mrs Carney - DEAR reader
Homework
Homework will be set on a Friday and should be handed in on a Wednesday. There will generally be Literacy and Numeracy work and, on occasions, topic work. In addition, they will also have spelling homework from their spelling group. Children are encouraged to ensure that their homework is completed to a high standard.
Reading
Whilst most children now are independent readers, reading at home is still crucial. Children should read for 15 minutes each night - this could be their home reader or a book of their own choice. This will be more productive if it is carried out in a calm, quiet environment. Parents/ carers are encouraged to sign the planners to acknowledge this please. Every Friday a child is chosen to be the class 'Reading Champion'. Please also take the time to look at 'readingplus' online - logins are in the children's planners.
P.E.
P.E. lessons take place on a Monday and Friday. All children are expected to take part in a full P.E. kit and trainers/pumps. Earrings can be worn at school but, for health and safety reasons, they are not allowed during P.E.
This half term.... Spring 1 (January - February 2018)
Over the next half term our topic will be based around a significant event from British History: 'World War 2'.
This is a really popular topic and we will be looking at what life was like in Britain at the time of WW2. We will start the topic by studying when the war started, who was involved and why. We will learn about bombing raids and how people protected themselves. We will look at evacuation and find out about the experiences of evacuees. We will also look at rationing and what life was like on the 'Homefront'. In Art and Design, the children will design and make their own life-like WW2 figure using modroc and other materials. All of this will be brought to life with a visit from Frank and Angela from Pegasus who will bring in an array of WW2 memorabilia and a wealth of knowledge. Children are all invited to dress in WW2 outfits on this day.

We will develop our skills in Literacy wthrough the topic of World War 2.
We will write to:
Persuade (Evacuation leaflets)
Entertain (Diary, descriptions, emotive recount)
We will use formal and informal language and a range of sentence types for effect.
We will develop these reading skills:
Exploring the meaning of new vocabulary
Retrieving, recording & presenting information from different sources
Asking questions to improve understanding
Summarising key ideas from what we have read
Comparing sources of information
To support our World War 2 topic, we also have a class reader 'Goodnight Mister Tom' and all of the children will have their own copy! Grammar will continue to be taught through reading and writing. Spelling will be taught using 'Read, Write, Inc.' and will focus on suffixes and the 'sh' sound (spelt ti, ci, si, ssi) and words containing silent letters.
In Numeracy we will be staring to prepare for our upcoming SATs tests. It is crucial that all children continue to be competent and confident in using formal written methods for addition, subtraction, multiplication and division. These will be practised on a daily basis in 'Morning Maths'. During lesson time, we will continue with our topic of fractions, decimals and percentages, focussing on:
Recognising equivalent fractions and equivalent fractions, decimals and percentages e.g. 1/5 = 0.2

Comparing and ordering fractions (with different denominators) and a mixture of fractions, decimals and percentages

Finding fractions and percentages of amounts in real-life contexts

Adding and subtracting fractions (with different denominators)

Multiplying and dividing fractions
In all of the above, reasoning and problem solving will be a key focus. For example: Sam has eaten 1/5 of the pizza, John has eaten 25% of the pizza. Who has eaten the most and how much is left? Explain your answer.
RE - Our topic is 'Ideas about God'. We will make links between Bible stories and beliefs and ask questions about God, encouraging the children to reflect on their own beliefs. We will also look at who God is to other faiths.
HEARTSMART-Too much Selfie isn't Healthy!
In Science our topic is entitled 'Let it Shine'. As the title suggests, we will be looking at light: how it travels; how shadows are formed and how shadows may change. We will work practically and as scientists, carrying out investigations and recording then in a scientific way.
Dates for your Diary:
SATS Meeting: 10th January (3:30pm)

World War 2 Themed Learning Day: 15th January (Remember your outfits!)
Parents' Evening: 13th and 14th February 2018
Enrichment Day: 16th February 2018
NEWS!
During Autumn Term 2 the children have continued to grow and mature in their attitude and outlook. We think that all of Year 6 would say that a highlight of this half term has been the buddying activities. Each child in Y6 has been paired up with a buddy in Reception. To see the oldest children working with the youngest children is heart warming and we're sure these relationships will flourish.
The children have continued to inspire us with their thirst for learning. Many children have started to see marked progress in their Big Maths Clic Tests and Learn Its, as well as becoming much more proficient in explaining their reasoning in mathematics. Could you explain why 5611 is NOT a multiple of 8?
Equally, in writing, the children have gone from strength to strength. The quality of their narratives and newspaper reports was strengthened as a result of them recognising the importance of those all important 'non-negotiables'! Reading Explorer discussions have been invaluable in developing our higher level reading skills of inference and deduction.
Other highlights from the term include:
Our visit to the Digital Roadshow where we were amazed at all the different technology on show. We also met the stars of Educating Manchester!
We all made lots of progress in our reading through the use of Reading Plus!
Anti-bullying activities, based around the theme of 'All different, all equal'.
Work on mountains in topic where we were amazed that all mountains don't actually have to have a pointed peak!
We also welcomed Mr Anthony, a student teacher who is with us until February.
We celebrated Christmas in style with parties, a Cinema trip and pantomime. However, I think it is fair to say that all of the children will have taken away the true meaning of Christmas from our Advent discussions around the crib and our traditional carol service inspired by a book The Christmas Promise.
It's been a busy first half term and the class are beginning to rise to the challenge of meeting Year 6 expectations. All of the children have been assigned Reception buddies and it's been heart warming to see the relationships develop. The children have been busy thinking about the next step in their school journey and have visited high schools on taster mornings and open evenings.
We have had lots of amazing experiences already, the highlight of which has to be Robinwood! The children were a credit to themselves, their families and our school family. Many of the children faced real fears head on and it was heart warming to see their determination and self belief develop. The staff at Robinwood spoke very highly of our children and we were all so proud of them all. Do take time to look at the pictures on the gallery tab of the website.
We've been working hard on our Literacy and Numeracy skills, but there is still a way to go given the requirements and demands of the new curriculum. Learn It scores are improving steadily and recall of facts is improving. Place value work and addition and subtraction skills are pleasing and the children's resilience to problem solving is getting better. In Literacy, we've enjoyed reading Gold of the Gods: a story testing the characters' survival skills! Narrative writing has shown promise and the children all have targets to work on. As always, we're trying to master the non-negotiables, but we do still see missing full stops and capital letters.
Our Survival topic has been most enjoyable. Highlights have been learning about animal adaptations, investigating birds' beaks in the bird beak buffet, camouflage art work and learning all about hurricanes.
On our final week of term, we learned about Internet Safety. In an ever changing and evolving world, the children recognise the importance of staying safe online and made some impressive videos.
So, all in all, a very busy first half term - we're planning a quiet November in school to fill up our lovely new exercise books which are coming along nicely.