A very warm welcome to our Year 3 class page. In Year 3 the children are new to the juniors, so they need to spend time adjusting to new routines and expectations. The children enjoy the opportunity to develop their skills further and generally settle in really quickly to Key Stage 2. They become confident working independently in groups and sharing their ideas, but especially enjoy Wednesdays because they get to go swimming!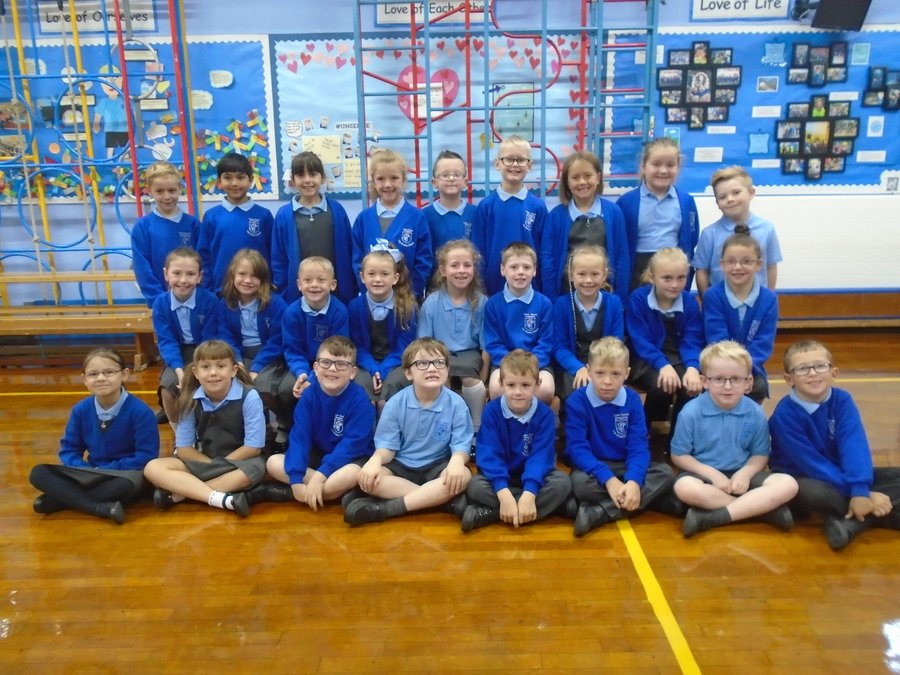 Our Year 3 Class 2018-2019
Class Information
Who's Who
Mrs Evans- Year 3 teacher
Mrs Kirkman- Part-time teacher
Mrs Cottrell- Teaching Assistant
Miss German- 1 to 1 Teaching Assistant
Things to remember
Please remember that homework is due in on WEDNESDAY each week.
P.E. lessons are on a Tuesday afternoon, the children must wear full kit.
Swimming is on Wednesdays so don't forget your kit!
Please remember to write your child's name on all of their uniform and sports kits to avoid confusion within class.
It is important that children read regularly at home, we appreciate that it may not always be possible but encourage you to do so.
This half term.... Autumn 1 (Sept-Oct 2018)
Over the next half term our theme will be - Stone Age Boys and Girls (and a frozen ice man!)

English - As our History topic this half term is all about The Stone Age, Iron Age and Bronze Age, so is lots of our writing! We will be reading 'The Stone Age Boy' which will help us to understand more of what it would be like to have lived in these times. We will use the story and our knowledge from history lessons to write our own version of the story. We will also be reading 'How to Wash a Woolly Mammoth'. This is a really fun book giving instructions on how to give your big hairy prehistoric animal a bath! We will be using this to learn what we need to write instructions, as well as focusing on adverbs. All the way through, we will be playing detectives and finding words for our magpie board to help improve our vocabulary. it will also provide lots of opportunities for the children to work together in groups and share ideas, which always helps with writing.
Maths- We will begin with Number and Place Value in order to let the children 'get to grips' with 3 digit numbers. The children will use equipment, drawings, LOTS of maths talk and reasoning about numbers to help them to learn and progress. Once we are confident here, we will then move on to Addition and Subtraction. Telling the Time will be a constant thread throughout the year as it is something the children must be able to do by the end of Year 3 (no easy task!) so any help and support you can give them children everyday with this will be hugely beneficial. Aswell as this, we will be counting in 3s and 4s to begin to help us learn our next times tables.
History - We begin Year 3 with a very interesting topic for the children which comes jam packed with learning! We will be finding out about what Britain was like during the Stone Age aswell as the Iron Age and Bronze Age. Once we understand what 'prehistory' is, and a little of how we know about it, we will ask questions like 'Were prehistoric humans good inventors?', 'Who was Otzi?' and 'Would I like to live in Stone Age?'. We will also have a visit from History Alive so that we can find out more and handle some artefacts too!
Science - Our first science topic is 'Light' where we find out if we can see in the dark (real dark, dark!), if we can see behind us, how shadows are made and if they change and design our own sunglasses. We also do some mad things with mirrors! We aim to allow the children to investigate, explore and observe science, and try to let them take a lead in discussions. These often prove very interesting and are a real eye opener into how children see the world. We can then address what the truth is - for example, that the moon is not a light source!
Art - We will use blending techniques to create a sunset or twilight effect to make Stonehenge silhouette art. This follows on from our learning on shadows and makes a very effective display.
PE - We will have PE every Tuesday, as well as the children going swimming every Wednesday.
RE - We begin our Year 3 RE with Harvest. The children will already know a little as they take part in the school Harvest service in church every year. As such, we will create opportunities for them to ask questions of the topic to see what else they might like to find out. We will also learn about what goes in to a Christian celebration, who else celebrates Harvest and how. Being closely linked to the Christian value of 'Thankfulness', the children will also spend time reflecting on what exactly we are thankful for at this time.
French - All About Me! The children will begin their French lessons in Year 3, starting with learning how to introduce themselves and say a little bit about their family. The children always enjoy learning a new language and we try to give opportunities within class to use it!
Heart Smart - Our Heart Smart (and Boris!) theme for this half term is Get Heart Smart
Dates for your Diary:
Parents Evening- 16th & 17th October
Online Safety Enrichment Day- Friday 19th October