A very warm welcome to our Year 3 class page. In Year 3 the children are new to the juniors, so they need to spend time adjusting to new routines and expectations. The children enjoy the opportunity to develop their skills further and generally settle in really quickly to Key Stage 2. They become confident working independently in groups and sharing their ideas, but especially enjoy Wednesdays because they get to go swimming!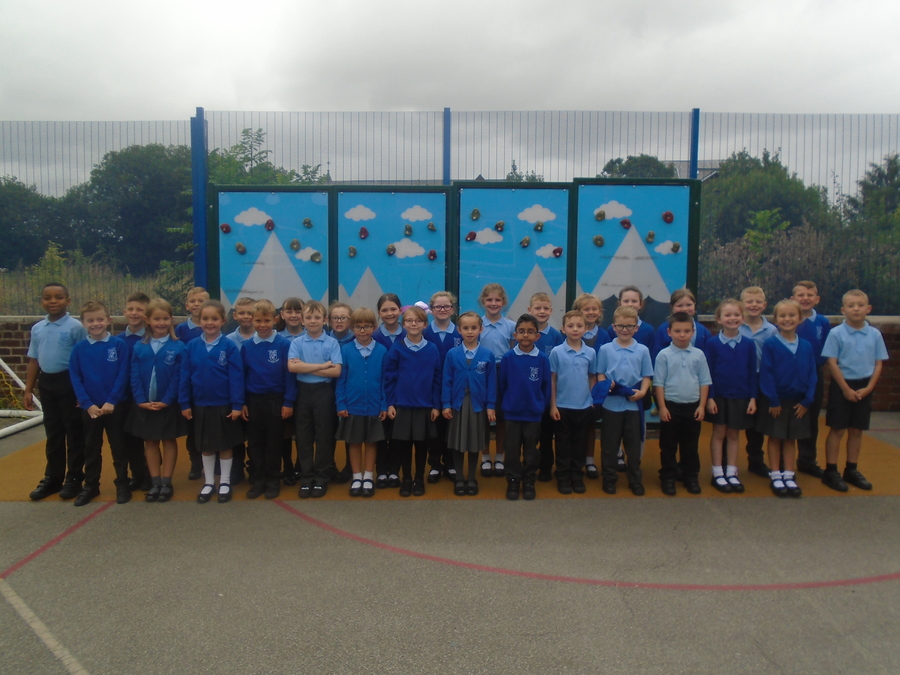 Our Year 3 Class 2017-2018
Class Information
Who's Who
Miss Brothwood- Year 3 teacher
Mrs Carroll- Teaching Assistant
Mrs Carney- Higher Level Teaching Assistant
Things to remember
Please remember that homework is due in on WEDNESDAY each week.
P.E. lessons are on a Tuesday afternoon, the children must wear full kit.
Swimming is on Wednesdays so don't forget your kit!
Please remember to write your child's name on all of their uniform and sports kits to avoid confusion within class.
It is important that children read regularly at home, we appreciate that it may not always be possible but encourage you to do so.
This half term.... Spring 1 (January - February 2018)
Over the next half term our topic will be - 'Local History'

Other work covered....
Literacy - Real Life Giants and Funny Poems! - The children will be writing a non-chronological report on Real Life Giants, focusing on learning and using the key features of non-fiction writing. The children will be challenged by finding some information themselves and choosing the right formal language to write for the correct audience.
Numeracy- In order to support their Science work, the children will be first focusing on graphs and charts, followed by telling and writing the time in analogue and digital. They will then return to addition and subtraction to learn written methods of these. Throughout all this, the times tables will be continuing, learning multiplication and division facts for x3 x4 and x8.
Science - 'How does your garden grow?' Through looking at real plants, we will identify and describe functions of different parts of flowering plants. Children also explore the requirements of plants for life and growth, and how they vary from plant to plant and we will use food colouring to show plants taking up water. The children will also plants bulbs and spring plants for the front of school. Some of the children's work should be showcased on Seesaw (to be launched soon) for you to see.
Computing - 'We are presenters' - The children will be videoing performances of their funny poems that we will be looking at during our Literacy lessons. We will learn how to shoot a film, understanding the qualities of effective videoing, discussing the importance of camera angles and how to edit the final product.
French - Quel tom temps fait el? What is the weather like? The children learn how to describe the weather and their work will be displayed on Seesaw for you to view.
RE - Jesus - The Man who Changed Lives. This unit explores how, why and when Jesus has and can change lives of people in the past and today.
HEARTSMART- 'Too much selfie isn't healthy' - The children will develop their ability to think about how others feel.
SEAL- Going for Goals
Dates for your Diary:
Parents Evening: 13th and 14th February 2018
Enrichment Day: 16th February 2018
NEWS!
During Autumn 2 we carried on working our socks off! The children are now thoroughly settled into Year 3 life. As always the children worked VERY hard in November and had an exciting December beginning to celebrate Christmas. We have continued improving our narrative writing skills following the theme of giants and have been thinking very carefully about building super sentences using new vocabulary and skills. Using the technique of SLOW writing, we learnt to build up short pieces of writing sentence by sentence. This is exactly what it says on the tin - writing SLOWLY and CAREFULLY but producing high quality writing to be proud of. We also completed a short narrative, based on the John Lewis Christmas advert 2012. All the children should be proud of the writing they have produced this half term!
In Maths we began to review telling the time. This is an ongoing learning strand and should also be practiced at home. Children need to be able to tell the time accurately to the minute on an analogue and digital clock. We will return to this regularly in class but the more you can do at home, the better! We also continued hurting our brains by practising mental strategies for addition and subtraction before moving on to multiplication and division. The children found division really tricky and worked hard to persevere in linking it with multiplication for 3, 4 and 8 time tables. We also investigated some common misconceptions such as 'Does it matter where the = goes?' and how to balance calculations using different symbols. Finally we have begun to learn the grid method for multiplication as a written method - and learnt to be careful with our recording!
As always, the children have enjoyed Science this half term with a focus on rocks and soils. In Year 3 we like to teach Science in a very practical way and this certainly seems to help the children's understanding. We have investigated different types of rocks and their properties. Within Science, maths is always cropping up! We developed our working scientifically skills by recording results in tables and bar charts and we will be progressing with this further in Spring. The children are also becoming more aware of creating and conducting fair tests. Finally, we looked at fossils! The children were very enthusiastic about this topic and keen to learn about how fossils are formed. We are even re-creating our own dinosaur fossils, at the beginning of the Spring term. I always enjoy teaching the children Science; I hope they have enjoyed learning as much!
Mrs Baines was very impressed with the amount of effort the children have put into their French projects this term. The children have worked really hard and found out a lot of information about living in France and the French way of life. During this term, we will be having a celebration afternoon to reward the children's effort. Tres Bien tout le monde!
In order to complete our America topic, the children drew their own Aztec sunstones to create a lovely classroom display. The class enjoyed creating patterns and thinking about symmetry in order to do this! We also had a Stone Age workshop which was a lovely introduction to the topic. The children thoroughly enjoyed the workshop and were able to handle various artefacts (as seen in the photos above). Furthermore, the children all received a swimming certificate this half term, and have really worked hard to become little fishes! I am amazed by the amount of progress that they have all made in such a small amount of time. During P.E. we have focused on social skills and have shown our skills whilst working as a team!
Our R.E. journey has led us to think about people who have been Called by God. We learnt about some of the Prophets, including Abraham and Jonah, thinking of questions we might ask them now. The children were able to retell the stories and discuss whether they would like to be a prophet. Towards Christmas we discussed the Christmas story and how this helps us to feel God is with Us. The children always make some perceptive and thoughtful comments during lessons and show a real maturity. The end of term carol concert was fantastic and the whole class read and sang beautifully. We were fantastically proud!
During the first half of Autumn term........
We were very busy settling in, and we did a great job too! We have carried out some super investigations in our Science work, finding out about reflective materials, how light travels and creating shadows (you'll be able to see these on the dark photos!). We have worked really hard on our 3 digit numbers, beginning to add them and building on number knowledge to make this easier. In our writing we have written about some super beasts and made and written instructions for Dream Catchers. The children have also found out about North American countries, cities and states and used the 8 points of a compass to find our way around an atlas. And of course, we've been swimming!! We are all amazed by how quickly the children have grown in confidence. I think it is our favourite time of the week (hopefully, as we get used to it we will stop being so sleepy on a Wednesday afternoon, too!).
We can't wait to get cracking next half term - it's a busy one!