A very warm welcome to our Year 3 class page. In Year 3 the children are new to the juniors, so they need to spend time adjusting to new routines and expectations. The children enjoy the opportunity to develop their skills further and generally settle in really quickly to Key Stage 2. They become confident working independently in groups and sharing their ideas, but especially enjoy Wednesdays because they get to go swimming!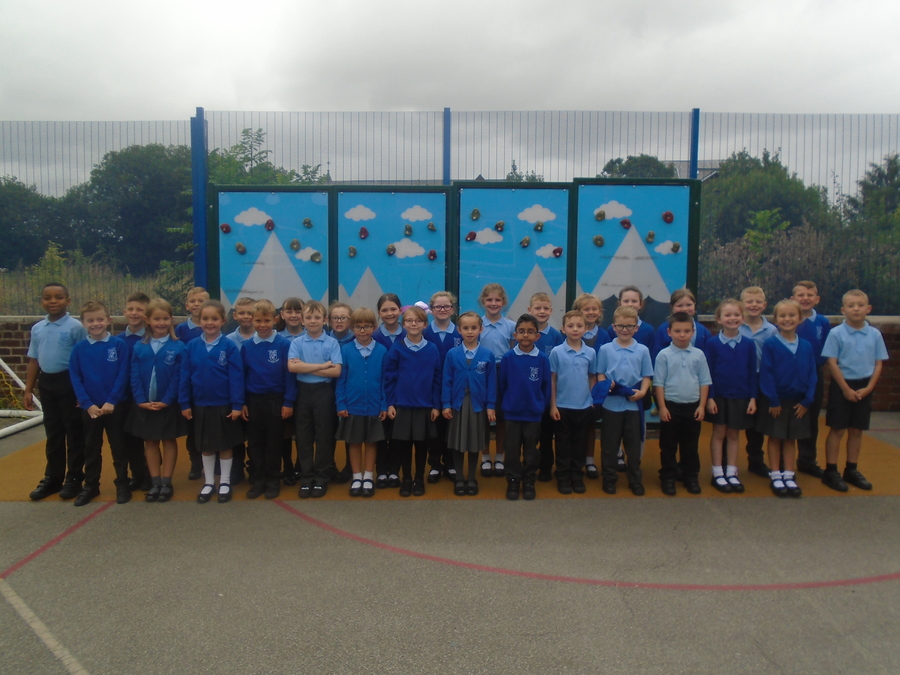 Our Year 3 Class 2017-2018
Class Information
Who's Who
Miss Brothwood- Year 3 teacher
Mrs Carroll- Teaching Assistant
Mrs Carney- Higher Level Teaching Assistant
Things to remember
Please remember that homework is due in on WEDNESDAY each week.
P.E. lessons are on a Tuesday afternoon, the children must wear full kit.
Swimming is on Wednesdays so don't forget your kit!
Please remember to write your child's name on all of their uniform and sports kits to avoid confusion within class.
It is important that children read regularly at home, we appreciate that it may not always be possible but encourage you to do so.
This half term.... Summer 1 (April-May 2018)
English - Our English this half term will concentrate mainly on Play Scripts and using Dialogue, using the Twits by Roald Dahl as inspiration. The children always enjoy the gruesome antics of the two main characters and will first learn to use inverted commas correctly, and to use words other than 'said'. They will then rewrite their favourite part of the book as a playscript. This is another different type of genre for the children and they will learn to follow guidelines such as no speech marks, using stage directions etc. They will discuss and compare dialogue and playscripts and then write and perform their own. It should be good fun! We will continue our SPaG learning too. The children will be receiving spelling homework each week during the summer term.
Maths- Shape, Money and Fractions We still have some work to cover with fractions - being able to find different fractions of a set of objects or of a shape that is split into equal parts. The children have dealt very well with using the bar method to help them to find fractions of amounts and this will help them in the above tasks. Children will be looking at properties of shapes, both 2D and 3D including counting faces, vertices and edges. We will be review right angles within shapes and angles that are greater or less than a right angle. It is always useful to spot properties of shapes, lines and angles in the real world and so at some point during the summer term we will venture to the park to see what we can find. It's also a great way to use measurement in real life too and we will introduce this to the children during the visit. Now all the children have used a written method of column addition they will also begin to look at money, adding and subtracting to find change and using place value to add and subtract pounds, 10ps and 1ps. We will also review telling the time and introduce 24 hour clocks.
Science - We will be completing our 'How does your garden grow?' and 'Earth Rocks' units this half term, linking to our Extreme Earth topic in Geography. The children will investigate properties of soils and discuss how seeds can spread - understanding what seedlings need to grow into healthy plants. We already know that seeds don't need soil to germinate, and we will be monitoring our new class plants. They will also build on their 'Flower Power' by taking part in our sunflower competition. We will start this competition in school, but it will then be the job of the children to maintain their sunflower by applying what they have learned at home. The children will move on to our 'Food and our bodies' unit, before the end of this half term.
History - during the last few weeks of the half term we will begin our 'Romans' topic, which will be linked closely to the local Wigan area to help the children understand that Romans were around here! This topic will rollover to Summer 2 also.
PE - We will be continuing with our real PE scheme, hoping to see how much our skills have developed. The children assess themselves at the end of each lesson and try to beat their colour level, in the next level. It is a great way for the children to see that they are making progress, as most children develop their skills each lesson. We love PE!

RE - Rules for Living - this unit looks at Christian Rules for Living and the Commandments, as well as thinking about rules in everyday life - making them, breaking them and using them to help us.
French - Les Fruits- This half term we will be learning the names of a variety of fruits, as well as discussing our likes and dislikes. This topic will start with some food tasting.
SEAL- 'Relationships'
HeartSmart - 'Don't rub it in! Rub it out!
Challenges and shared work will be available throughout the half term on SeeSaw. Homework may also be sent home through this app sometimes.
Dates for your Diary:
None as yet.
NEWS!
During Spring Term 2......
This half term whizzed by! With no swimming we gained an extra maths lesson and worked hard on our fractions using the bar method. This was a new visual method for the children who all used it really well! This will set them in good stead for our continued work and further work in later years. We now know what a 'whole' is and how to add and subtract fractions with the same denominators as well as ordering them. We had a brief introduction to tenths shown as decimals too! We also hammered the Learn Its tests and a few more children managed to progress on a level - Well done! We have been learning to count in 8s as well - this is proving tricky for many and should be practised at home often. Reasoning skills were developed, always looking for the answer to 'How do you know?'. In the four operations, the children were introduced (very successfully!) to column addition and subtraction (as per the Year 3 progression booklet) and also used the partitioned grid method to multiply 2 digit numbers by 3 digit numbers. Lots of numbers to hurt our brains!!
We had great fun in English working on Poetry. We looked at narrative, free verse, performance, acrostic and shape poems! The children were great at performing 'Heard it in the Playground' and really practised their expression and gestures at home. We wrote a class version of 'The Sound Collector' too, thinking about keeping the verses in the same rhythm. After writing an acrostic poem about ourselves we then worked on verbs, adverbs and fronted adverbials to consider shape poems and their impact. We also learned how to write a diary entry and the children loved writing from the perspective of James, from our class reader (James and the Giant Peach), to create their own diary entries. They all did an amazing job and I thoroughly enjoyed reading their work.
RE was a challenge this half term; we looked at Easter and the changing emotions of Christians during Holy Week. The children were fabulous at learning the Easter Story from Maundy Thursday through to Easter Sunday, and performed their part of the Easter worships superbly! We found it quite difficult to explain in a little more detail WHY we feel these emotions, putting ourselves in the shoes of a disciple in Jesus' time. These a challenging topics for the children and their perseverance and depth of though it to be commended!
Our topic work saw us completing the Stone Age and visiting the Turnpike to learn about local history. We had lots of fun learning all about local mining and we had the privilege of handling some artefacts and completing an art activity with these. We also carried on with our learning about the Earth and its layers. We used eggs to discuss the different layers of the Earth and the children created their own paper models. This will be important for Summer 1 when we look at rocks and where they come from. In Science we began by modelling how plants and flowers are pollinated by insects - some of us were butterflies, some of us were bees! We then set up lots of experiments to investigate what seeds need to germinate and what plants need to grow healthily. We will then apply this learning in Summer 1 when we plant our sunflowers to begin our competition which will continue at home. We learned that seeds don't need soil to start to grow, but they do need nutrients from it to keep growing. We will also have two plants which will be maintained within class so that we can monitor progress and generate scientific discussion.
In PE the children enjoyed developing their own ability with a variety of skills as we continued with our real PE. The children are enjoying the aspect of beating their personal best, as oppose to concentrating on what other children are doing. PE is always enjoyed by the children and they are always keen to be involved and give their all. Also, we had some practise lessons learning about tri-golf with Wigan Athletic. A small team of Year 3 will be taking part in a friendly competition with other schools, on the first week back. Wednesday afternoon break football is always the highlight of the week too!!
Well done everyone - keep working hard. You're doing a grand job!!
During Spring Term 1 we had a fabulous time, lots of hard work... phew!
We did ALOT of work on introducing paragraphing, learning to group similar information together and understanding that this helps us to organise our writing. We did this in the context of non-fiction writing, firstly as a group with information about Robert Wadlow, the World's tallest man, and then writing a report about Sloths. Our focus was on grouping information together, writing appropriate subheadings and using conjunctions and phrases to make given sentences more interesting and flow a little better. We also used editing stations to complete our final draft. We worked really hard on this and copies of our work will be sent home, to show how proud we are of what we have achieved. Also, we linked this work with our Computing unit and created news reports about Sloths. The children worked in groups and each had their own role to play in the creation of their reports. The videos were uploaded to Seesaw for everyone to see.
We have spent time in Maths on some work away from number, looking at angles, quarter and three quarter turns, time (hard!) and moving on to column addition before the end of term. We have also developed our knowledge of using the grid method for multiplication and the number line method for division. Further, we have seen our Reasoning and Problem Solving challenges increase in number, which will continue further into Spring 2. How to reason, both verbally and in a written way, is a skill the children need to be taught and practise. Sometimes it's frustrating but it's also very satisfying when we find a solution! Moreover, the children have been very excited since the launch of Times Table Rockstars. Keep up the hard work!
We have learnt about some survival skills of the Stone Age, and different types of houses that historians think were around in Britain all that time ago. We know about some animals that lived then too and how early humans used them to survive (and to make jewellery!).
In our PE lessons, we developed our social and cognitive skills. We found using our social skills tricky to start with, however we worked really hard and completed numerous team building activities to help us. We also finished our swimming lessons this half term. The children have worked very hard throughout their swimming time and I have thoroughly enjoyed watching them progress. They were always a credit to the school on their journey to and from the pool and the teachers spoke highly of their effort and perseverance. It was a pleasure to take them - I will miss it and I am sure they will too!
We have investigated plants in Science, learning about how water travels through a plant, the parts of the plant and the parts of a flower. Next we need to understand how these parts help plants to reproduce and what plants need to grow properly. This continues in Spring 2.
In RE this term, we looked at the story of Zacchaeus and discussed the children's thoughts and feelings. They wrote their own version of the story and were very mature in their ability to accept different opinions. This linked in well with our HEARTSMART lessons as we discussed how Zacchaeus was not very good and letting love in, until the end of the story.
Here's to another jam packed half term!
During Autumn 2 we carried on working our socks off! The children are now thoroughly settled into Year 3 life. As always the children worked VERY hard in November and had an exciting December beginning to celebrate Christmas. We have continued improving our narrative writing skills following the theme of giants and have been thinking very carefully about building super sentences using new vocabulary and skills. Using the technique of SLOW writing, we learnt to build up short pieces of writing sentence by sentence. This is exactly what it says on the tin - writing SLOWLY and CAREFULLY but producing high quality writing to be proud of. We also completed a short narrative, based on the John Lewis Christmas advert 2012. All the children should be proud of the writing they have produced this half term!
In Maths we began to review telling the time. This is an ongoing learning strand and should also be practiced at home. Children need to be able to tell the time accurately to the minute on an analogue and digital clock. We will return to this regularly in class but the more you can do at home, the better! We also continued hurting our brains by practising mental strategies for addition and subtraction before moving on to multiplication and division. The children found division really tricky and worked hard to persevere in linking it with multiplication for 3, 4 and 8 time tables. We also investigated some common misconceptions such as 'Does it matter where the = goes?' and how to balance calculations using different symbols. Finally we have begun to learn the grid method for multiplication as a written method - and learnt to be careful with our recording!
As always, the children have enjoyed Science this half term with a focus on rocks and soils. In Year 3 we like to teach Science in a very practical way and this certainly seems to help the children's understanding. We have investigated different types of rocks and their properties. Within Science, maths is always cropping up! We developed our working scientifically skills by recording results in tables and bar charts and we will be progressing with this further in Spring. The children are also becoming more aware of creating and conducting fair tests. Finally, we looked at fossils! The children were very enthusiastic about this topic and keen to learn about how fossils are formed. We are even re-creating our own dinosaur fossils, at the beginning of the Spring term. I always enjoy teaching the children Science; I hope they have enjoyed learning as much!
Mrs Baines was very impressed with the amount of effort the children have put into their French projects this term. The children have worked really hard and found out a lot of information about living in France and the French way of life. During this term, we will be having a celebration afternoon to reward the children's effort. Tres Bien tout le monde!
In order to complete our America topic, the children drew their own Aztec sunstones to create a lovely classroom display. The class enjoyed creating patterns and thinking about symmetry in order to do this! We also had a Stone Age workshop which was a lovely introduction to the topic. The children thoroughly enjoyed the workshop and were able to handle various artefacts (as seen in the photos above). Furthermore, the children all received a swimming certificate this half term, and have really worked hard to become little fishes! I am amazed by the amount of progress that they have all made in such a small amount of time. During P.E. we have focused on social skills and have shown our skills whilst working as a team!
Our R.E. journey has led us to think about people who have been Called by God. We learnt about some of the Prophets, including Abraham and Jonah, thinking of questions we might ask them now. The children were able to retell the stories and discuss whether they would like to be a prophet. Towards Christmas we discussed the Christmas story and how this helps us to feel God is with Us. The children always make some perceptive and thoughtful comments during lessons and show a real maturity. The end of term carol concert was fantastic and the whole class read and sang beautifully. We were fantastically proud!
During the first half of Autumn term........
We were very busy settling in, and we did a great job too! We have carried out some super investigations in our Science work, finding out about reflective materials, how light travels and creating shadows (you'll be able to see these on the dark photos!). We have worked really hard on our 3 digit numbers, beginning to add them and building on number knowledge to make this easier. In our writing we have written about some super beasts and made and written instructions for Dream Catchers. The children have also found out about North American countries, cities and states and used the 8 points of a compass to find our way around an atlas. And of course, we've been swimming!! We are all amazed by how quickly the children have grown in confidence. I think it is our favourite time of the week (hopefully, as we get used to it we will stop being so sleepy on a Wednesday afternoon, too!).
We can't wait to get cracking next half term - it's a busy one!