A very warm welcome to our Year 3 class page. In Year 3 the children are new to the juniors, so they need to spend time adjusting to new routines and expectations. The children enjoy the opportunity to develop their skills further and generally settle in really quickly to Key Stage 2. They become confident working independently in groups and sharing their ideas, but especially enjoy Wednesdays because they get to go swimming!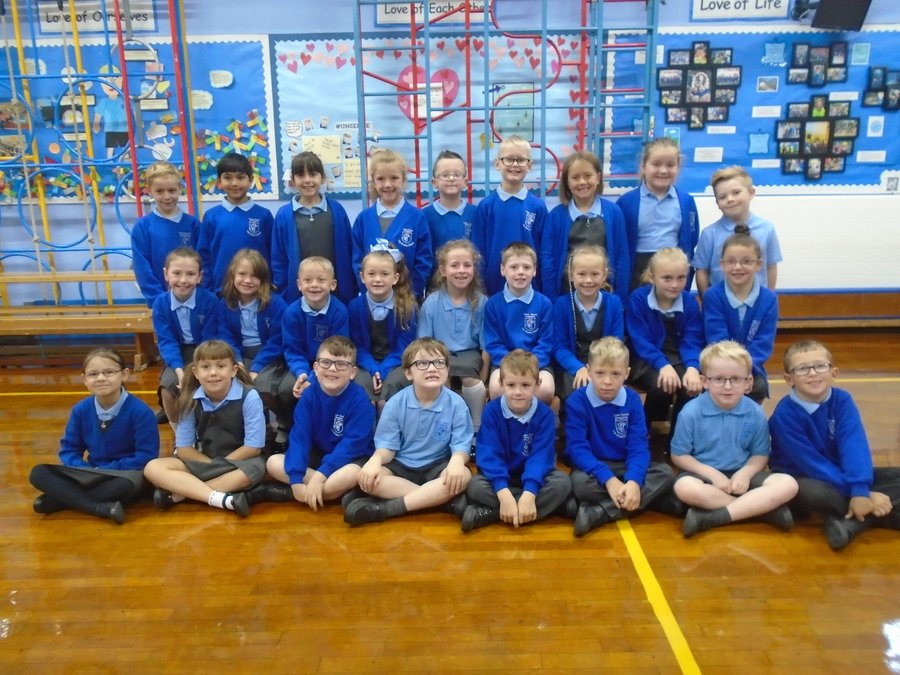 Our Year 3 Class 2018-2019
Class Information
Who's Who
Mrs Evans- Year 3 teacher
Mrs Kirkman- Part-time teacher
Mrs Cottrell- Teaching Assistant
Miss German- 1 to 1 Teaching Assistant
Things to remember
Please remember that homework is due in on WEDNESDAY each week.
P.E. lessons are on a Tuesday afternoon, the children must wear full kit.
Swimming is on Wednesdays so don't forget your kit!
Please remember to write your child's name on all of their uniform and sports kits to avoid confusion within class.
It is important that children read regularly at home, we appreciate that it may not always be possible but encourage you to do so.
This half term.... Spring 1 (January - February 2019)
We have lots to do - in not a lot of time! This half term will be jam-packed with School's 150th birthday celebrations, a special RE project, learning about Greeks, reading maps, swimming and a visit to the Guide Dog Centre! Phew!
English & Computing - We will be learning all about what a Myth is, so that we can write our own Greek myth. After reading some of the well known Myths and Legends, the children will invent their own Greek monster (always something they love!) and their own Greek hero. Once they have written their story, thinking about simple paragraphing and conjunctions, they will then create a movie trailer for it complete with dramatic music! They will link their Science work into their English writing by putting together an information page all about the bones in our body. They will be challenged to do some of their own research and use appropriate language for the audience.
Maths- We will keep the written methods for addition and subtraction bubbling, but at the same time, moving onto multiplication and division. For Year 3 we focus on x3 x4 and x8, learning multiplication and division facts as well as looking how they are related. For example 2x6 = 12 4x 6 = 24, which is double. By the end of the term we aim to have the children familiar with written methods for each of the operations. We will dip in and out of digital and analogue time too.
Science - Nutrition This begins with us looking at the food groups, and understanding some similarities and differences between humans and animals. We also consider how plants make their food. We will investigate the school menu to try to work out whether it is balanced or not, and compare it to the lunchboxes to see which is the most balanced lunch time offering! Through understanding what we mean by a 'balanced' diet, we will also change an unhealthy wrap into a healthy one, and then make it (and eat it!). Following this, the children look at bones and muscles and try understand why we need them, what job they do and how this is made harder if we don't lead a healthy lifestyle.
Geography - we have some work left to complete on our UK topic. We are looking closely at different maps of 3 different areas; Blackpool, Sheffield and Windermere. The children will compare each area with maps from different times, thinking about what changes they notice and moving their thinking on to understand why these changes happened. For example, Blackpool really started to change when a train line was built to it because more people could get their for their very trendy beach holiday. They will also compare each area with each other, thinking about how they differ and why.
History - once we have completed our map work, we move onto the Ancient Greeks. We find out HOW we know about them (mostly through vases!), and what the evidence can tell us about their daily life and what proof there is that some of the famous stories actually happened. Then we will consider how Athens managed to be so powerful at the time and how their ways of thinking about Democracy made them so special. We think about the Legacy they have left too, such as the Olympics. Importantly, the children will also come to know how the Greeks 'started' and who took over from them once their empire started to become smaller.
Computing - 'We are presenters' - The children will film a short movie trailer for their Greek Myth, understanding how to hold the camera steady, create scenes of different lengths and edit and cut the film, as well as adding sound effects.
We are Network Engineers - The children will learn about the physical hardware needed for technology to be on a network, what the World Wide Web is and some basic features of internet protocols.
Design Technology - The children will apply their knowledge of a balanced and healthy diet to design and make their own wrap. They will also look at Greek vases, design their own and then make it!
French - Quel tom temps fait el? What is the weather like? The children learn how to describe the weather and their work will be displayed on Seesaw for you to view.
RE - What Rules should we follow? - The children have already learnt lots about Christian rules; Moses and the Ten Commandments and how Jesus came to fix our relationship with God. We will be returning to this unit to look at what religious rules Judaism follows and how this compares to Christianity.
HEARTSMART- 'Too much selfie isn't healthy' - The children will develop their ability to think about how others feel.
Dates for your Diary:
Parents Evening: 12th and 13th February 2019
Guide Dog Centre Trip: 14th February 2019
Last swimming lesson: 13th February 2019
Enrichment Day: 15th February 2019
NEWS!
During Autumn 2 we carried on working our socks off! The children are now thoroughly settled into Year 3 life. As always the children worked VERY hard in November and had an exciting December beginning to celebrate Christmas. We have continued improving our narrative writing skills using The Girl with the Yellow Bag to introduce adverbs (the 'how' or the 'when') and prepositions (the 'where') to expand our sentences. We are always looking out for new vocabulary to wow readers with too and we certainly found some when we wrote instructions for How to Wash a Woolly Mammoth! Following some drama work, the children also wrote some wonderful poems for anti-bullying week based on the clip 'For the Birds'. We also completed a letter to the Man on the Moon, based on the John Lewis Christmas advert 2012. All the children should be proud of the writing they have produced this half term!
In Maths we began to review telling the time. This is an ongoing learning strand and should also be practiced at home. Children need to be able to tell the time accurately to the minute on an analogue and digital clock. We will return to this regularly in class but the more you can do at home, the better! We have worked on fluency with addition and subtraction, looking at patterns for adding or subtracting 10 or 100. We worked out which questions were trickier ones, when other columns change. The children were also introduced to the written methods for both addition and subtraction. These are drawn as base 10 to allow the children to understand exchange ready for Year 4. The children also met Roman Numerals for the first time in preparation for telling the time from a Roman Numeral clock. They loved it!
As always, the children have enjoyed Science this half term with a focus on magnets and forces. In Year 3 we like to teach Science in a very practical way and this certainly seems to help the children's understanding. They have been very enthusiastic when it comes to investigating magnets and understanding their force. We conducted a test based around friction, encouraging the children to plan and carry this out themselves in groups. They also had to record results themselves in tables which all supported their working scientifically skills.
Mrs Baines was very impressed with the amount of effort the children have put into their French projects this term. The children have worked really hard and found out a lot of information about living in France and the French way of life. During this term, we will be having a celebration afternoon to reward the children's effort. Tres Bien tout le monde!
During our Geography work, the children learnt about some of the counties of the UK using interactive maps. They also discovered where some cities were, building on their knowledge of capital cities. We used the 8 compass points to explain where cities were in relation to each other. Trickier than you might think!!
At swimming, all the children have really worked hard to become little fishes! They haven't got many weeks left and I hope that all the children continue to swim, but especially those children who were brand new swimmers. We still have many who can not yet swim 25m and so we would encourage home, if possible, to continue their lessons in this hugely important skill. That said, I am amazed by the amount of progress that they have all made in such a small amount of time and the amount of courage they have shown. I suspect their highlight this half term was parents and family members coming to watch! Personally, mine was the whole class singing Jingle Bells all the way to the Sports Village! During P.E. we have focused on social skills and have shown our skills whilst working as a team, also practicing attacking and defending as well as agility!
Our R.E. journey has led us to think about why we have rules and how they help us. We have considered which People of God were important in helping God pass his rules to us, and how The Fall of Man shows us who didn't follow them! We read the story of Moses receiving the Ten Commandments and discussed had quite an in-depth discussion about which one is hardest to follow! Towards Christmas we discussed the Christmas story and how this helps us to feel God is with Us. This centers around the Incarnation and the understanding that Jesus was God's way of being on Earth with us. This is quite a difficult concept for the children to grasp but they made some perceptive and thoughtful comments during the lessons. We read the story of Papa Panov to show how, by helping others, we are helping God too. When discussing how we might help others, the class decided to sponsor a Guide Dog. This fitted well with the school value of Generosity and with their RE unit, and so we welcomed Fletcher to the class! The end of term carol concert was fantastic and a very fitting end to the term.
During the first half of Autumn term........
We were very busy settling in, and we did a great job too! We are all now used to the Key Stage 2 routines and have really tried to bring our behaviour up to the same expectations and of course earn those all important Dojo points! The children have made good head way into more independent decision making and organisation. Moving into Year 3 has been a huge step and I look forward to watching the children grow even more during the coming weeks.
In our learning, we have become very knowledgeable on the Stone Age, and particularly enjoyed furthering this learning with our History Alive visitor. The children were very engaged with the artefacts and costumes and asked some amazing questions! The children also learned about the topic through the book Stone Age Boy. This is a wonderful story, with lovely illustrations and really brings to life the idea of how alien the Stone Age would be to the children now. The class have worked hard on 3 digit numbers, trying hard to secure their place value knowledge. We have also worked on our recall of basic facts and have definitely improved, but got some way to go too! We have learnt about how different countries celebrate Harvest, as well as thinking about why and how we celebrate it. PE has seen us practising our hopscotching backwards as well as side stepping with a pivot! This has proved trickier than the children expected but are good fundamental co-ordination skills to master! And of course, we've been swimming!! We are all amazed by how quickly the children have grown in confidence. They proud smiles really do fill up our days! I think it is our favourite time of the week (hopefully, as we get used to it we will stop being so sleepy on a Wednesday afternoon, too!). At the end of term, we thought really carefully about diversity and people who inspire us and were introduced to Erik. Erik is a blind adventurer who has conquered all of the world's highest summits, as well as sky diving and extreme kayaking. We had some truly thought provoking conversations about celebrating people's differences and having a 'no barriers' attitude to our learning and the children should some real maturity and acceptance in this.
The class has genuinely made me smile this half term, in so many different ways. It is a pleasure to see them become Juniors!
We can't wait to get cracking next half term - it's a busy one and always has a lovely feel as we move towards Christmas!