A very warm welcome to our Year 3 class page. In Year 3 the children are new to the juniors, so they need to spend time adjusting to new routines and expectations. The children enjoy the opportunity to develop their skills further and generally settle in really quickly to Key Stage 2. They become confident working independently in groups and sharing their ideas, but especially enjoy Wednesdays because they get to go swimming!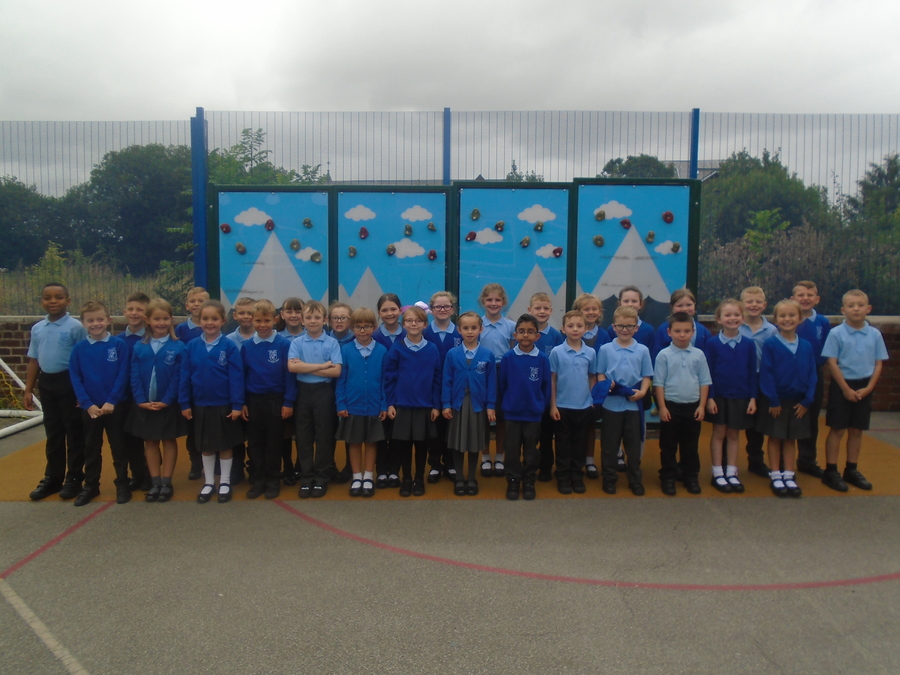 Our Year 3 Class 2017-2018
Class Information
Who's Who
Miss Brothwood- Year 3 teacher
Mrs Carroll- Teaching Assistant
Mrs Carney- Higher Level Teaching Assistant
Things to remember
Please remember that homework is due in on WEDNESDAY each week.
P.E. lessons are on a Tuesday afternoon, the children must wear full kit.
Swimming is on Wednesdays so don't forget your kit!
Please remember to write your child's name on all of their uniform and sports kits to avoid confusion within class.
It is important that children read regularly at home, we appreciate that it may not always be possible but encourage you to do so.
This half term.... Autumn 1 (Sept-Oct 2017)
Over the next half term our theme will be - A Big Friendly American Adventure! This is a packed half term, which the children (and adults!) will love!

English - Our Literacy work this half term will be based around The BFG. We will be looking at the characters and creating our own, including our own giant. We will also work on describing settings. This gives us lots of opportunity to learn new words!! There's also a report to research and write on real life, record breaking giants (maybe we will even have one 'visit' the class!) and, of course, we will have to write instructions on making a Dream Catcher. All very exciting!
Maths- We will begin with Number and Place Value in order to let the children 'get to grips' with 3 digit numbers. We will then move on to Addition and Subtraction. Telling the Time will be a constant thread throughout the year as it is something the children must be able to do by the end of Year 3 (no easy task!).
Geography - We will be using our map skills to find out all about North and South America as we go on our 'American Adventure'. We will discover states and cities in North America and some of the countries in South America, aswell as some of the amazing geographical sights there. We will also go down Route 66!
DT - This ties in with both The BFG and America as we will be designing and making Dream Catchers!
Science - Our first science topic is 'Light' where we find out how shadows are made and what types of materials make the best reflective bag! We also do some mad things with mirrors!
PE - We will have PE every Tuesday, as well as the children going swimming every Wednesday.
RE - We begin our Year 3 RE with Harvest. The Harvest Festival is early this year! We will find out all about what goes in to a Christian celebration and who else celebrates Harvest and how. This is closely linked to the Christian Value for the half term which is 'Thankfulness'.
SEAL- New Beginnings
Dates for your Diary:
Parents Evening- 17th & 18th October
Online Safety Enrichment Day- Friday 20th October