A very warm welcome to our Year 3 class page. In Year 3 the children are new to the juniors, so they need to spend time adjusting to new routines and expectations. The children enjoy the opportunity to develop their skills further and generally settle in really quickly to Key Stage 2. They become confident working independently in groups and sharing their ideas, but especially enjoy Wednesdays because they get to go swimming!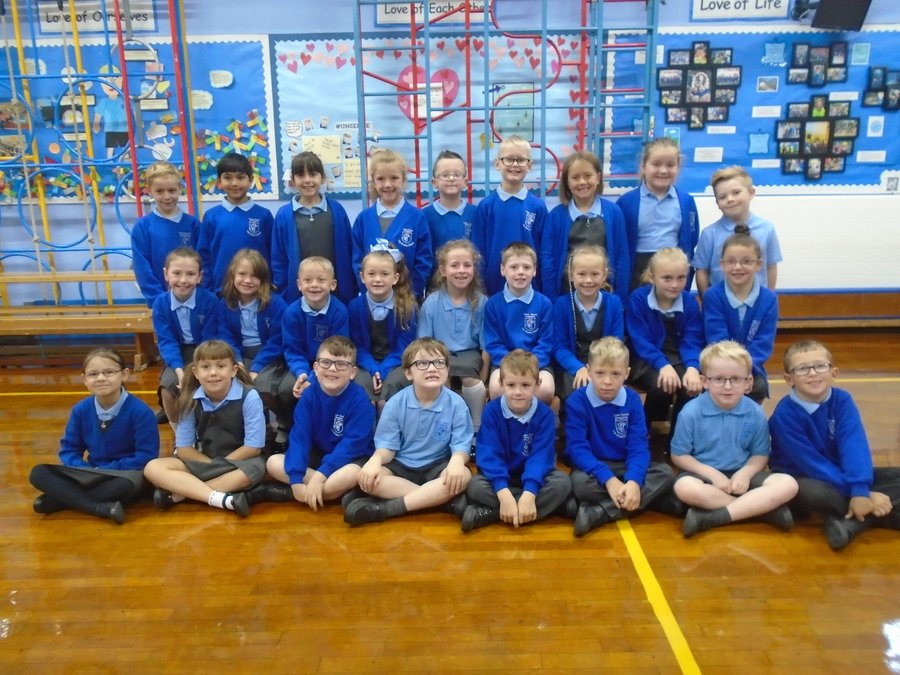 Our Year 3 Class 2018-2019
Class Information
Who's Who
Mrs Evans- Year 3 teacher
Mrs Kirkman- Part-time teacher
Mrs Cottrell- Teaching Assistant
Miss German- 1 to 1 Teaching Assistant
Things to remember
Please remember that homework is due in on WEDNESDAY each week.
P.E. lessons are on a Tuesday afternoon, the children must wear full kit.
Swimming is on Wednesdays so don't forget your kit!
Please remember to write your child's name on all of their uniform and sports kits to avoid confusion within class.
It is important that children read regularly at home, we appreciate that it may not always be possible but encourage you to do so.
This half term.... Autumn 2 (Oct-Dec 2018)
Over the next half term we will be Scientists and Geographers!
English - We completed some fabulous work on the Stone Age last half term, and just have our instructions on How to Wash a Woolly Mammoth outstanding! This will be our first little project, before moving on to introducing dialogue and direct speech through our class reader The Twits. We will write a narrative based on the wonderful The Lighthouse from Literacy Shed before finishing for Christmas with a letter to The Man in the Moon from the John Lewis advert.
Spellings - statutory words for this half term to learn are...
Words given for your child as targets in Parents' Evening. If you have misplaced these feel free to come and ask!
When completing homework with your child please encourage them to try to spell words correctly that they should know, for example, Year 1 and 2 common exception words or words ending in -ing, -ed, -ies.
Mathematics- we haven't rushed the children through Place Value as understanding the value of digits in numbers is of such importance. This will continue to be embedded through starter activities and homework as we move on to addition and subtraction. For this, teaching will follow the school's calculation policy and would encourage parents to call in to class if you would like to see how we teach addition and/or subtraction. This will help you to support your child at home, particularly as man of the strategies are different from several years ago. Children will also spend a little time on Time as well feel this needs to be 'drip-fed' and referred to often. If children have a watch at home, they are welcome to wear it in school (though please only watches with hands and no beeping!).
Science - Light - this unit will be completed first before moving on to Magnets where children will have great fun investigating magnets and all the weird and wonderful things they can do! We will think about poles, how magnets can be used in real life as well as testing some. We aim to let the children lead the learning as much as possible, guiding them in designing fair tests and using some scientific language as we go.
Topic - We are Geographers this half term. We will be learning about counties and cities, using the 8 compass directions to help us work out where they are. We will find some of Britain's most important natural features; the longest river, the tallest mountains etc and will then compare 3 different cities. The children always enjoy map work, it seems to capture their imagination so I am sure they will thoroughly enjoy getting to know the British Isles a little better!
PE - As well as continuing swimming lessons, the children will have PE delivered by Wigan Athletic this half term.
RE - As this year is the centenary of Remembrance Day, we will spend a little time thinking about Remembrance. We then move on to God with Us. This is our unit focusing on the Christmas story which thinks about how God is with us at this time and what it feels like to be in the presence of God. We think about how we prepare for a special visitor and read the story of Papa Panov.
Heartsmart- 'Don't Forget to let Love In'
Dates for your Diary:
Christmas Panto: Friday 7th December
Cinema Trip: Monday 10th December
Junior Christmas Party: Thursday 20th December
Junior Carol Service: Friday 21st December
NEWS!
During the first half of Autumn term........
We were very busy settling in, and we did a great job too! We are all now used to the Key Stage 2 routines and have really tried to bring our behaviour up to the same expectations and of course earn those all important Dojo points! The children have made good head way into more independent decision making and organisation. Moving into Year 3 has been a huge step and I look forward to watching the children grow even more during the coming weeks.
In our learning, we have become very knowledgeable on the Stone Age, and particularly enjoyed furthering this learning with our History Alive visitor. The children were very engaged with the artefacts and costumes and asked some amazing questions! The children also learned about the topic through the book Stone Age Boy. This is a wonderful story, with lovely illustrations and really brings to life the idea of how alien the Stone Age would be to the children now. The class have worked hard on 3 digit numbers, trying hard to secure their place value knowledge. We have also worked on our recall of basic facts and have definitely improved, but got some way to go too! We have learnt about how different countries celebrate Harvest, as well as thinking about why and how we celebrate it. PE has seen us practising our hopscotching backwards as well as side stepping with a pivot! This has proved trickier than the children expected but are good fundamental co-ordination skills to master! And of course, we've been swimming!! We are all amazed by how quickly the children have grown in confidence. They proud smiles really do fill up our days! I think it is our favourite time of the week (hopefully, as we get used to it we will stop being so sleepy on a Wednesday afternoon, too!). At the end of term, we thought really carefully about diversity and people who inspire us and were introduced to Erik. Erik is a blind adventurer who has conquered all of the world's highest summits, as well as sky diving and extreme kayaking. We had some truly thought provoking conversations about celebrating people's differences and having a 'no barriers' attitude to our learning and the children should some real maturity and acceptance in this.
The class has genuinely made me smile this half term, in so many different ways. It is a pleasure to see them become Juniors!
We can't wait to get cracking next half term - it's a busy one and always has a lovely feel as we move towards Christmas!