A very warm welcome to our Year 3 class page. In Year 3 the children are new to the juniors, so they need to spend time adjusting to new routines and expectations. The children enjoy the opportunity to develop their skills further and generally settle in really quickly to Key Stage 2. They become confident working independently in groups and sharing their ideas, but especially enjoy Wednesdays because they get to go swimming!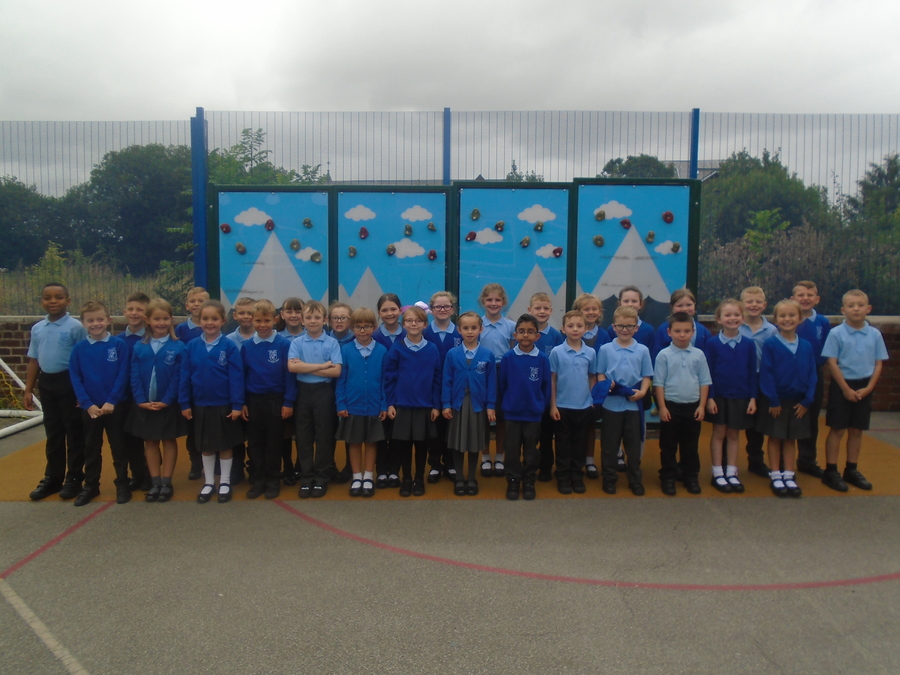 Our Year 3 Class 2017-2018
Class Information
Who's Who
Miss Brothwood- Year 3 teacher
Mrs Carroll- Teaching Assistant
Mrs Carney- Higher Level Teaching Assistant
Things to remember
Please remember that homework is due in on WEDNESDAY each week.
P.E. lessons are on a Tuesday afternoon, the children must wear full kit.
Swimming is on Wednesdays so don't forget your kit!
Please remember to write your child's name on all of their uniform and sports kits to avoid confusion within class.
It is important that children read regularly at home, we appreciate that it may not always be possible but encourage you to do so.
This half term.... Autumn 2 (Oct-Dec 2017)
Over the next half term we will be continuing on our Giant American Adventure.
English - We are sticking with giants for the first half of the term, working settings before developing our research skills to help us to write a report on real life giants. We will then be turning our attention to performance poetry, using what we learn, after visiting Chester Zoo. We will create our own poems and perform them with lots of expression.
Spellings - statutory words for this half term to learn are...
accident, accidentally, actual, actually, appear, address, arrive, although, answer,
believe, bicycle (always a tricky one!), breath, breathe, build, busy, business.
Mathematics- Lots of addition and subtraction work! Especially those mental maths! x3 and x4 tables - let's get singing! Children will also cover work on time and measurement.
Science - Earth Rocks - The children will work scientifically on a variety of quick challenges and longer tasks to learn about rocks. This topic covers the properties and uses of rocks, the rock family, soils and finally fossils. The children will also find out more about fossils and the evolution of animals during our trip to Chester Zoo. They really enjoy science so anything you can do at home to let them investigate will provide them with experiences to bring into class.
Topic - We will be completing our study of North and South America and going down Route 66, before moving on to the Stone Age in Britain.
PE - We will continue to follow the real PE scheme, looking at unit 2, and considering our social skills element. This unit will encourage all children to support others and to work well as a team.
RE - Called By God - this topic introduces the children to the Prophets, who were called by God, and people today who may have been. They will then move on to Christmas and how this shows that God is With Us.
SEAL- Getting on and falling out
Dates for your Diary:
Educational Visit to Chester Zoo- Monday 27th November
Christmas Panto: Friday 1st December
Cinema Trip: Monday 11th December
Junior Christmas Party: Tuesday 19th December
Junior Carol Service: Wednesday 20th December
NEWS!
During the first half of Autumn term........
We were very busy settling in, and we did a great job too! We have carried out some super investigations in our Science work, finding out about reflective materials, how light travels and creating shadows (you'll be able to see these on the dark photos!). We have worked really hard on our 3 digit numbers, beginning to add them and building on number knowledge to make this easier. In our writing we have written about some super beasts and made and written instructions for Dream Catchers. The children have also found out about North American countries, cities and states and used the 8 points of a compass to find our way around an atlas. And of course, we've been swimming!! We are all amazed by how quickly the children have grown in confidence. I think it is our favourite time of the week (hopefully, as we get used to it we will stop being so sleepy on a Wednesday afternoon, too!).
We can't wait to get cracking next half term - it's a busy one!