Meet Our School Ethos Group.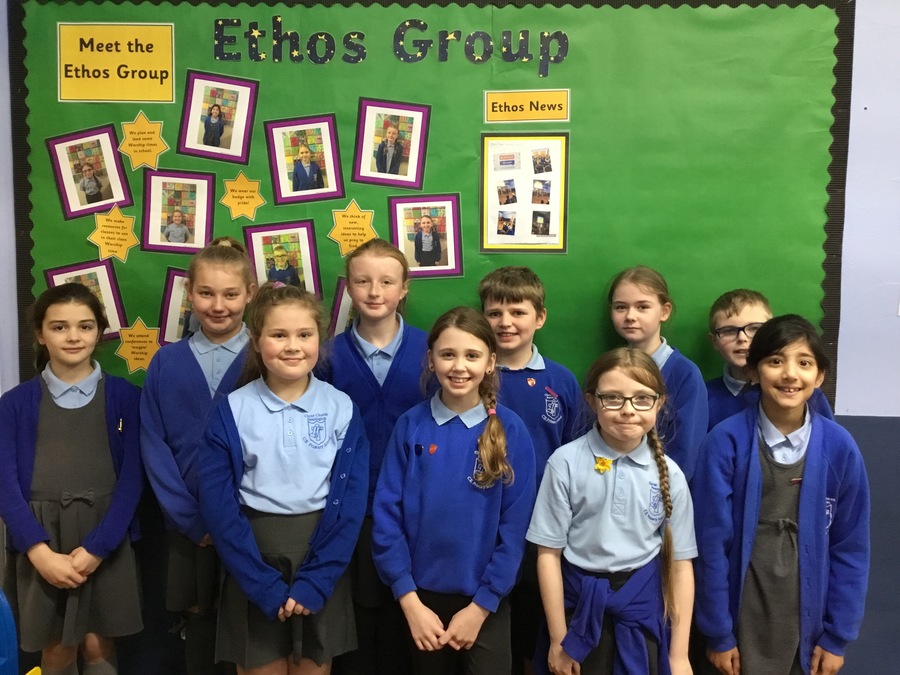 We are very pleased to introduce our School Ethos Group 2017/18. They have lots of ideas on how to make Christ Church even better!
Children in Need 2018
After discovering that the BBC One's Team Rickshaw would be riding past our school on their way to Media City in Manchester for Children in Need, the Ethos Team decided that it would be a great idea to make banners and signs offering messages of support to help them as they completed the last leg of their challenge. During our Ethos meeting we discussed each of the children that were riding the bike and the difficult challenges that they had overcome in life. We thought carefully about what kind of messages we needed to put on our signs and how it would make them feel when they saw them.
New Ethos Group for 2018
Applications for our new Ethos group closed on Friday 9th November and we had our first meeting of the year on Wednesday 14th during lunchtime.
During the meeting we discussed things that we would like to do before Christmas. These were:
Create banners and signs of support for 'The BBC One Show's Team Rickshaw' who will be riding past our school on Children in Need Day.

Be part of creating the school's new Mission and Vision statement.

Meet every Wednesday to Make Christmas decorations to sell at our Christmas Fayre.

Christmas Stocking Competition

Prepare a worship for our Christmas Carol Concert.
Trust Worship
In February the Ethos Group planned a worship on Trust. During the worship we asked the children to volunteer to come out to the front and they had to close their eyes and do something trust related. There was a table and on it were some bowls of food, some foods were good, but unfortunately there were also some bad foods. We asked "Do you trust Hannah, Leah and Dean to give you a nice food?" It was very funny watching them and their faces. Don't forget the worship was about trusting others and knowing that God is with you. Afterwards we gave examples, such as 'we trust our teachers to care for us during learning times.
Key Stage 2 Christmas Carol Service
During the Christmas Carol Service the Ethos team did a presentation about 'The True Meaning of Christmas.' We all had different letters that we put together that spelt words related to Christmas. First we made words such as 'cash' and then we made words such as 'manager' We finished it by summing up the true meaning of Christmas and then had a good sing.
Selling Hospice Teddies
During the weeks leading up to Christmas we also sold teddies in school to raise money for Wigan and Leigh hospice. In total we raised a massive £337.00. Thank you to everyone who bought one.
Christmas Bauble Competition- December 2017
At Christmas time we organised a Christmas bauble competition. Everybody got a chance of making a bauble and we picked a winner and a runner up from each class. They were all amazing and it was an extremely tough decision. Well done to everyone who participated. You never know we might do another one next year and you could be a winner!
Congratulations to this years winners:
Reception- Evie Nicholson and Logan Spiers
Year 1- Thomas Coop and Luca Jones
Year 2- Delilah Marrs and Hollie Jones
Year 3- Elizabeth Nugent and Freya Holroyd
Year 4- Melody Mills and Jake Smith
Year 5- Leo Arkwright and Grace Mills
Year 6- Jamie Black and Hannah Kendrick
Children in Need- 17th November 2017
Thank you to everyone who went 'Dotty!' for Children in Need and helped us to raise a phenomenal £496.06 by:
Creating Pudsey sweet bags and selling them

Selling Pudsey Bear cakes

Pin the Patch on Pudsey game

Bring and Buy book stall

Dressing in all kinds of spotty outfits
What an achievement!
Ethos Conference
At the end of June 2017, three Year 6's and three Year 5's attended an Ethos Conference on Peace at Bishop Bridgeman Primary School in Bolton. There were many different RE activities for them to explore from the 'Prayer Tree House' to the 'Painting a quote bubble.' The children came back to school extremely enthusiastic about the things that they had seen and shortly after this visit we set up our very first school Ethos Group for 2017/18.